Obasanjo says Buhari does not seek his advices
- Obasanjo praised Buhari's anti-corruption war
- Ex-president advised the incumbent government to tackle economy problems like the Boko Haram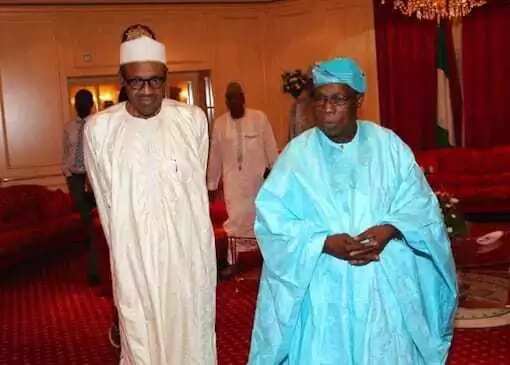 Ex-president Olusegun Obasanjo has disclosed that Muhammadu Buhari didn't invite him to discuss vital issues.
Obasanjo while speaking from Uganda on the Hausa Service of the BBC monitored in Jos defined President Buhari as a man of his words, stating that prior to the 2015 general poll Buhari vowed to fight corruption and was now being witnessed fighting it.
READ ALSO: President Buhari spotted with Obasanjo in Ethiopia
He said: "No, I am the one looking for him but he did not give me the permission to see him."
Former president added that the current fight against corruption embarked upon by Buhari was on the right course, saying he is in support of the fight.
"I support the fight against corruption of the incumbent administration. Buhari had prior to 2015 election vowed to fight corruption and he is doing it. We are seeing how he is collecting the stolen money from corrupt officials," Obasanjo said.
When he was further asked on whether Buhari could save the economy of Nigeria from its current difficulties to the improvement of Nigerians politician said: "Yes, Buhari could do it. If he approached the economy like the way he handled Boko Haram problem, he would help the economy of the country."
When Obasanjo was a military ruler in the 1970s, Buhari held the key post of minister of petroleum affairs.
Relations between the two former generals may now thaw following what seems to be an endorsement for Mr Buhari from Mr Obasanjo in his recently released autobiography.
READ ALSO: OBJ calls on Buhari to start anti-corruption war from the top
Obasanjo was a founding member of the PDP and led the party to two resounding victories after military rule ended in 1999.
However, he defected from the party before the last year election.
Despite his pledge not to defect to another party, ex-president has been vocal in his support for Buhari, the candidate of the All Progressives Congress, while he has fallen short of offering an outright endorsement.
Source: Legit.ng