VIDEO: PDP Leaves APC Leaders Shocked And Speechless
The events at the National Assembly left the APC leaders speechless. As they left the International Conference Centre in Abuja where they were supposed to have a meeting with President Mohammadu Buhari, they couldn't give any clear comment on what have happened at the National Assembly.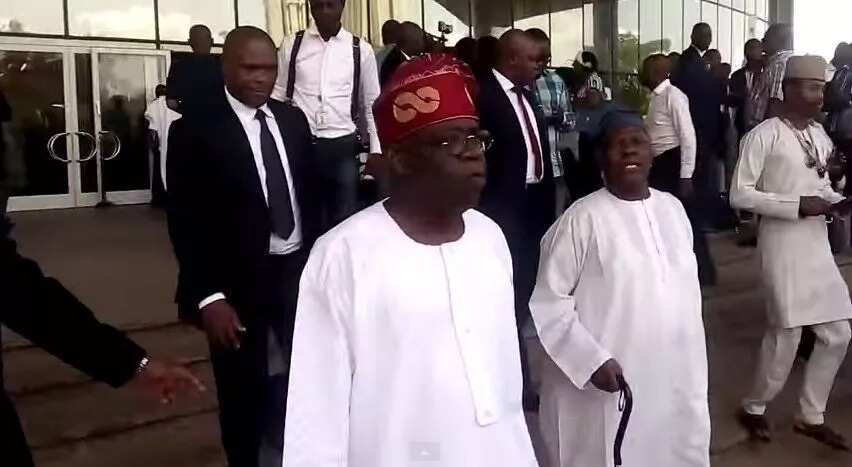 It seems that the PDP not only robbed the APC of the top positions at the Senate but of the power of speech as well.
Asiwaju Bola Tinubu  wasn't even able to comment Bukola Saraki's appointment to the post of the President of the Senate.
"I have no comment, I have no reaction," told the national Leader of the APC, leaving the International Conference Centre in Abuja, where the APC leaders were waiting in vain for Muhammadu Buhari.
John Odigie-Oyegun, the APC National Chairman, added that"we just watched it [on TV] but we will address you when the whole situation has been re-examined."
Nigeria's President Muhammadu Buhari was reportedly absent at the meeting scheduled to renew peace among the groups in the leadership struggle of the 8th National Assembly.
The legislators-elect of the All Progressives Congress (APC) and some leaders of the party had come together only to get to know that elections were going on at the National Assembly and that Senator Bukola Saraki had become the new Senate President.
Meanwhile, PDP's Senators were reportedly partying on each others' backs at the National Assembly, celebrating Bukola Saraki's emergence as the freshly chosen Senate President.
One of the PDP's Senators, representing Anambra state, who declined to be identified, told the press that, given the fact that Bukola Saraki and Ike Ekweremadu have just managed to get the top positions at the Senate, the PDP party gets a strong chance for political resurrection.
Besides that, Yakubu Dogara has just been chosen as the speaker  of the House of Representatives. This is huge blow to the APC party, but most especially to Bola Tinubu, who backed Femi Gbajabiamila for this post.
After the Senate earlier decided that Senator Bukola Saraki (Kwara) will lead them for the next four years, the House of Reps elects were deciding who will represent them at the helm.
Source: Legit.ng