How APC Lost Senate Presidency To PDP
Senator Bukola Saraki may have emerged as the senate president on the platform of the All Progressives Congress, but the victory was not secured by the party.
Analysis of the senators present during the process showed that 51 senators allegedly loyal to Ahmed Bola Tinubu, the national leader of the APC, were absent during the process, which automatically meant that the opposition had the upper hand in deciding the fate of the next senate president.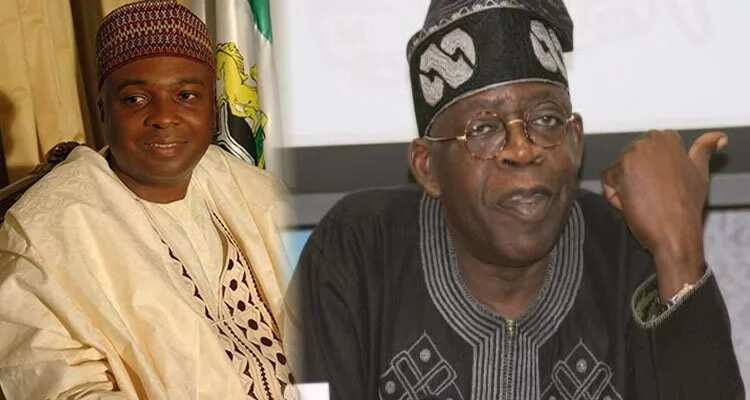 Sources close to the APC leader alleged that, the former governor of Lagos state was against the emergence of his former counterpart from Kwara state, a reason the in-house election was carried out to ensure the candidacy of Ahmed Lawan when the election process kicks off.
READ ALSO: Saraki Becomes New Senate President, Ekweremadu Elected Deputy
And at the time the senators were at the premises of the national assembly, the party leadership were reportedly at the international conference centre, Abuja, waiting for president Muhammadu Buhari, who was said to be convening a peace meeting with the APC leaders.
As the results of the nomination process showed, Saraki seemed to have rallied the senators elected on the platform of the Peoples Democratic Party as well as those of his party, who were present at the national assembly and emerged as the winner of the election unopposed.
When nominations were thrown open for the post of the deputy speaker, Senators Ike Ekweremadu (PDP) and Mohammed Ali Ndume (APC), were up for nomination.
READ ALSO: Nigerians React To Saraki Being Elected Senate President
The result; Ekweremadu polled a massive 54 votes, defeating Ndume with a total of 20 votes by his colleagues in the house.
After the announcement of the deputy speaker's retention of his post, Ndume embraced the deputy speaker-elect as all the members congratulated one another in what seemed like a unified election of the speaker and his deputy.
Final outcome: PDP ensured Saraki won the senate presidency while Ekeremadu, their candidate, retained his place as the deputy speaker of the assembly.
While Saraki is not seen as one who will bow to pressure from the national leadership of the APC, his romance with the former members of the PDP is not going to be seen in a good light as he may be on the verge of a return to his old allies.
READ ALSO: PDP Members Endorse Saraki, Dogara As Candidates
In all of these, the APC may have their candidate as Nigeria's number three man but the real actors in the decision making process were the PDP senators.
Only time will tell if the APC, as the ruling party, will be able to hold on to power in the national assembly since they were not the ones who ensured the emergence of their candidate.
Source: Legit.ng