Iyabo Ojo's Rise to Fame As Queen of TikTok During the Heat of a Global Pandemic
- Actress Iyabo Ojo was an interesting part of the coronavirus induced lockdown in Nigeria
- The Nollywood celebrity took social media by storm with her rib-cracking TikTok skits
- Legit.ng's Adeyinka Odutuyo takes a look at the movie star's impressive rise to fame during this period
PAY ATTENTION: Legit.ng is on a mission to support vulnerable children of Calabar – join the initiative on Patreon, let's change more lives together!
Like people all over the world, 2020 started on a hopeful note for many Nigerians and some were hoping to achieve goals and complete projects that had been rolled over from the previous year.
Although cases of COVID-19 were already picking up in other countries, a lot of Nigerians just didn't expect that it would be a large spoon of bitter medicine that they would also get to shove down their throats.
Perhaps, this convenient assumption had a lot to do with rumours and speculations that the virus couldn't thrive in hot and humid regions.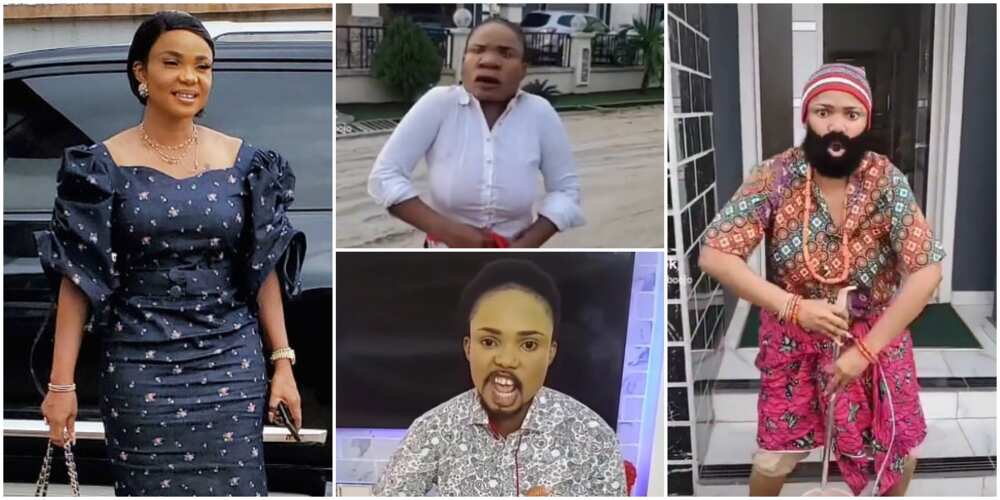 However, many people were jolted out of reality when cases started to climb up in the country and state governments were forced to take the drastic measures of issuing stay-at-home orders or 'lockdown' as it eventually came to be called.
What started off as a simple two-week order stacked up into months thereby bringing the activities of many sectors to an abrupt halt.
Like other industries which were affected, the entertainment industry took a heavy hit. The livelihoods of celebrities known to flaunt a flamboyant lifestyle on social media were brought to a halt.
Clubs were shut down, concerts couldn't go on as planned and the powerhouse of the entertainment industry, Nollywood, was forced to suspend activities. Producers and directors with big ideas couldn't proceed with movie productions.
Actors and actresses ever willing to captivate the audience with their performances were confined to their home.
Pay Attention: Join Legit.ng Telegram channel! Never miss important updates!
Seeking solace on social media
Since activities in the entertainment industry had been forced to shut down and means of livelihood had become threatened, a lot of entertainers started seeking alternative ways to stay relevant and at least keep the paychecks coming in.
So the typical scenario was such that many Nigerians who were observing lockdown needed content to keep them entertained or better still, help them get their minds off the overwhelming news of COVID-deaths.
Consequently, this created an avenue for creators to take advantage and feed a hungry audience with the right content. No doubt, there was a massive surge in the amount of traffic that social media platforms like Instagram, Facebook, Twitter and Snapchat received.
Interestingly, one platform that shone like a knight in armour amid it all was TikTok; a social media platform where users are able to record a variety of short-form videos that have a duration from 15 seconds to one minute.
Although not entirely different in terms of the features it affords, TikTok users were majorly hooked on the fear of missing out (FOMO) hence the surge in use. The last thing anybody wanted during lockdown was to be missing in action.
PAY ATTENTION: Click "See First" under the "Following" tab to see Legit.ng News on your Facebook News Feed!
How Iyabo Ojo came into the picture
Like other entertainers in the movie industry who couldn't make new films or be part of movie productions, Iyabo also felt the brunt of lockdown.
A visit to the movie star's page on Instagram around March 2020 shows that she was posting her regular social media content which included a lot of personal pictures, movie trailers and YouTube teasers.
However, with the lockdown looking like it wasn't going anywhere and reports of more cases springing up in the country, Iyabo took a leap of faith and delved into new waters.
Perhaps, it wasn't entirely new territory for her considering that she is a seasoned actress with impressive experience in front and behind the cameras, and switching into characters as required by different projects.
Unlike an audience that would always clap in her favour, the Tiktok users majorly comprised of the GenZ and millennials who already nurtured some form of resentment against Nollywood productions.
Appealing to their preference was not going to be a piece of cake, yet, undeterred, the actress gave it a shot especially since her initial intention was to have fun.
On April 2, 2020, Iyabo posted her first TikTok video. It was a simple selfie-styled recording in which the actress pretended to be confused by the several forms of her face.
A look at the video in recent times shows that it has garnered 195k views, 10k likes and 207 comments. It probably didn't garner as much engagement when she posted it at the time.
Watch the clip below:
PAY ATTENTION: Do you have news to share? Contact Legit.ng instantly
Perhaps, thrilled by the warm reception she was given after the video, Iyabo spurred into action and got extremely busy at a time when fellow colleagues were lounging away in their homes due to the work restriction caused by the lockdown.
Videos upon videos were being belted out of Iyabo's apartment at the time. A plethora of characters was brought to life on her mobile phone and she didn't just stop at herself, family members - her children Priscilla and Felix - were also assigned roles and characters.
Watch a cute family Christmas video below:
To ensure that her 4.2 million followers on Instagram were not missing out on the thrill, Iyabo also exported Tiktok videos to her page.
Fans and colleagues in the industry were always in her comment section piling up laughter emoji's under her post or at other times, begging her not to kill them with laughter.
Watch some of her videos below:
PAY ATTENTION: Read best news on Nigeria's #1 news app
When asked about her favourite Tiktok celebrity, a social media user, Ugo, had this to say about Iyabo:
"Yes. She definitely is my favourite. I think this because her acting is very natural, you can see how much effort she puts in creating the characters. She is so effortlessly funny and it's so easy to see that she loves doing it. I followed her on IG because of it."
Another social media user, Nugwa, who mentioned the actress as her favorite Tiktok celebrity said:
"I'm not on Tiktok but I like her stuff I see on Instagram. All her Odumeje and pastor impersonations crack me up."
Upcoming artist Hardelekey had this to say about Iyabo:
"She has assumed every possible character with full artistic performance and not just basic lip syncing like most others."
Reward for hard work
After months of churning out loads of creative and rib-cracking videos, the accolades started to pour in for the mother of two.
In December 2020, Legit.ng conducted an online poll seeking to find out the celebrities that made the lockdown period enjoyable and interesting with their social media contents.
Iyabo was paired alongside Don Jazzy, Toke Makinwa and BBNaija star, Tacha. As expected, many cast their votes in support of the actress thereby crowning her as the Queen of TikTok, but that was not the height of her reward.
The movie star was also recognised by TikTok Nigeria and honoured with an award for her outstanding content on the platform.
Watch a video of Iyabo posing with her award below:
A source of inspiration for colleagues
With Iyabo's growing fame and influence on the social media platform, several other colleagues in the movie and music industry have gotten more involved with TikTok.
Social media expert, Keem Tunde, also highlights the freedom of expression the platform offers as a reason.
"Personally, I think it's because it gives room for expression. Unlike Instagram that was predominantly photo-based, TikTok allows the celebrities be in their element. They don't have to worry if their selfie game is good or not. TikTok is like being in front of the camera where they can call the shots."
Watch more videos of celebrities making the waves on TikTok below:
Source: Legit.ng