Humans are Money to Me, Nigerian Real Estate Mogul and Business Man Stephen Akintayo Gives Reasons
Business mogul and realtor Stephen Akintayo said he believes that one doesn't need money to make money.
In this exclusive chat with Legit.ng, he bares it all on his business principles and how he achieved success with just $10.
PAY ATTENTION: Legit.ng is on a mission to support vulnerable children of Calabar – join the initiative on Patreon, let's change more lives together!
What has Stephen Akintayo been up to?
My company (Gtext Global) has been into our targeted construction of 25,000 houses, recruiting workers and helping to change the human capital level when it comes to the workplace as humans are money - they are the most important resources to any country or organization.
My foundation has been doing very well on the other hand.
This past February, my foundation paid the tuition fees of 50 kids to school and of course, I just completed my latest book called the Billionaire Habits. It is going to be a life-changing book.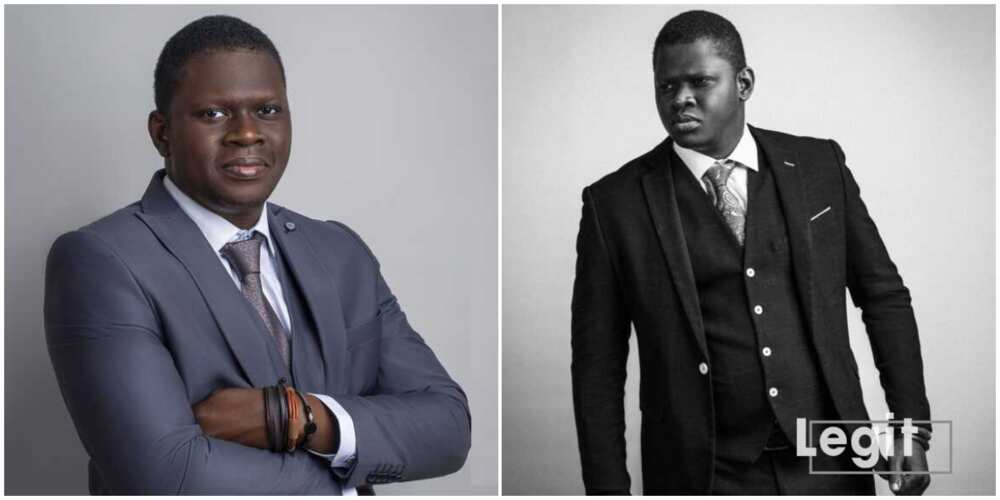 Kindly give us a brief summary of yourself as your profile on the media space seemed to be silent on some details, including about your dad and the course you read in Olabisi Onabanjo University (OOU), Ago-Iwoye, Ogun
My dad is very much alive and doing well. In fact, I and my brother recently built him a house. He sure is enjoying the benefits of having children like us.
Growing up, my dad was a very religious man. He was a prophet and one key thing he did was to train us in the way of the Lord. If you offend my dad the punishment is usually fasting, either a day fast, 3 or 7 days (laughs). But that helped me to be spiritual early and that has helped me today.
This is as there are a lot of fetish things one comes across doing real estate in Africa. Sometimes, you buy land because they want to chase you there to put rituals and if you're not spiritually strong, you may dump the land out of fear.
However, we were raised by my civil servant mum as my dad's business had crumbled even before we were born. And that's why we empower women more because I believe when you give them empowerment, you empower a community, unlike men that may be distracted by their desires.
My mother insisted I must go to school. She never literally owned a car just because everything had to be about her children and their future.
The course I read in Olabisi Onabanjo University (OOU) was microbiology and the reason it is not mentioned in the media space is that it is not immediately relevant to what I do today.
I am more into ICT, real estate, tech and e-commerce. My engagements are in sectors that have nothing to do with microbiology, but I strongly believe at some point, we (Gtext Global) will have to go into manufacturing and then maybe that microbiology part of me might find some expression.
My biggest breakthrough has been in video marketing. I have a diploma in video marketing from a UK institute.
In one of your past podcasts, you mentioned that you started off what is seen today with $10, how did this happen?
I started reading books on money and business between the ages of 17 and 18 and some of the first set of powerful books I read were Think and Grow Rich, Rich Dad Poor Dad and The Richest Man in Babylon.
And these books formed the crust of who I am today. They really changed my life, so I started trying different types of business I could lay my hands on. I remember hawking electronics from house to house. I also did popcorn business.
I used to go to Redeemed camp and The Experience in Lagos to sell popcorns. I was about to round off school when my mother died. My thought was that she'd loan me some money from her retirement benefits to help me fulfil my entrepreneurial dreams.
This made me start job-hunting. I did a cover letter that states my potential employer shouldn't pay me till I had done a good job for 6 months. Unfortunately, I wasn't given any chance.
My breakthrough came in my recharge card business which was started off in a small way until we hit our first N30 million in 2015 after 7 years in the venture. That same year, I ventured into real estate and now we are in our 13th year as a company.
There is nothing quick about where we are today.
It is said that you are from a humble background, how were you able to beat that and become the giant that you are today?
For me, books helped as they changed my life. I have written 35 books so far. I also attended paid seminars growing up and was mocked for it by my colleagues who thought I was foolish, but today, the case is different.
Books helped me understand that my background should not put me to the ground. I also learnt that I was already on the ground and the only way was up.
In one of your podcasts, you said one doesn't need money to make money. Can you expatiate on this?
Money is not the primary thing that one needs to succeed. There are two paramount things. They are mentorship (apprenticeship) and training. This is because you can't do better as an entrepreneur than the quality of information at your disposal.
Even if you don't have a mentor, get mentorship by reading the books of your model mentor. While one of the benefits of undergoing training is that, those trainers will most likely be your financiers because they've known you over time and your efforts in making another man's business work.
PAY ATTENTION: Click "See First" under the "Following" tab to see Legit.ng News on your Facebook News Feed!
Meanwhile, Legit.ng earlier reported that a businessman had told married women in a social media post that submission is not slavery.
According to him, a husband is the master of the home, adding that a wife cannot tell the master what to do. She, however, can only make a suggestion.
In his words:
"Your husband is your master. That is what it is. You can't your master what to do, unless you want to give him a suggestion. Submission is not slavery."
Source: Legit.ng