I have paid all the debts I owed - Young lady who makes a living as an electrician
- A young lady has become a beacon of hope, source of inspiration to many and a light in her family
- Obi Fortune Oluebube is proudly an electrician, she took to a profession often considered strictly for the agile male folks
- She said despite the challenges she has succeeded in paying all her debts and is the breadwinner of her family thanks to her electrician job
PAY ATTENTION: Click "See First" under the "Following" tab to see Legit.ng News on your Facebook News Feed!
Obi Fortune Oluebube is a young lady that has decided to thread a path many female folks wouldn't dream of taking.
She is certainly not your regular woman, she is completely 'off the regular track'.
The young Nigerian is an electrician, it is where she makes an honest living from.
Legit.ng recently caught up with the industrious lady and she unearthened interesting facts as to how she ended up an electrician.
Currently studying economics at the Federal University Otuoke, Bayelsa, the Imo indigene recounted how her financial travails as a student led her to the steps of the electrician profession.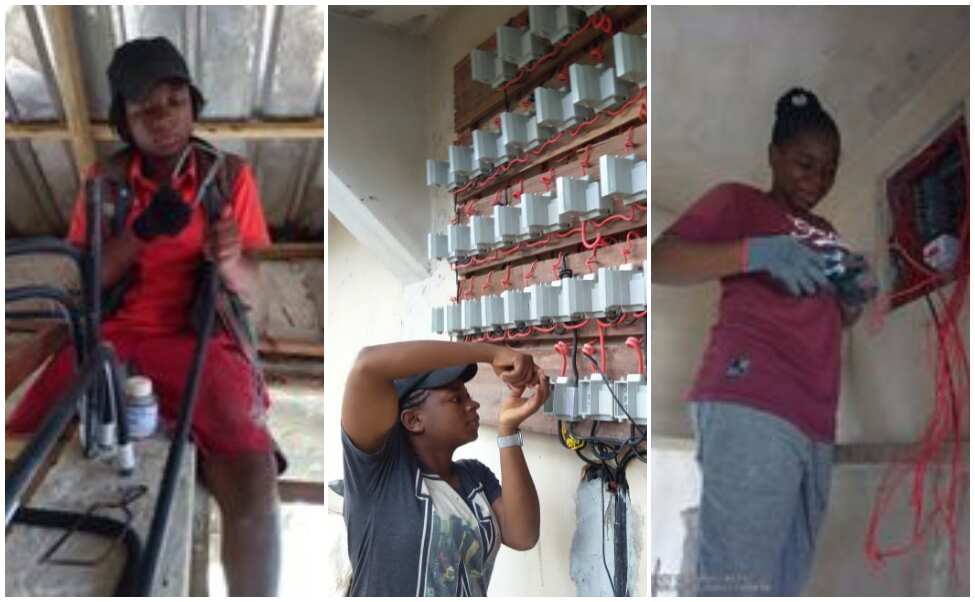 From a humble background, the 25-year-old said she almost quit school as she couldn't afford paying her school fees as well as rent for a hostel.
She had to borrow money from her fellow students to offset both bills with the hope that her dad who barely had any tangible source of income will give her the required sum but this wasn't the case.
Then came the Coronavirus outbreak which meant schools had to be shutdown. It was in the course of her job hunting that she met her elder brother's friend who was an electrician and he in turn gave her the needed training.
"I have someone who is my elder brother's friend and he is an electrician, I called him and he was willing to take me in... That was how I began my journey as an electrician", she told Legit.ng.
Now, she fends for her family and has been able to pay up all her debts with money she got offering her services as an electrician and even has some savings.
"...I feed my family and I have paid up all the debts I incurred and also have some savings for my next academic session."
While she wants to remain an electrician even after getting married and having kids she admitted it has not been an easy venture as in Nigeria it is considered a man's job.
But she keeps telling herself she has to be a man if she must succeed at the profession and that motivation is steadily paying off.
The native of Awo Idemili in Imo state advised ladies there are no fast lanes to success nor is success attainable by engaging in unpleasant activities because of money.
"Find a life, find a purpose for your life, discover your potentials and harness it."
PAY ATTENTION: Install our latest app for Android, read best news on Nigeria's #1 news app
Meanwhile, Legit.ng had earlier reported about a Nigerian lady who engages in the business of furniture making with her dad.
She had joined her father in his furniture making business as she didn't want to engage in businesses ladies are known to be doing.
Watch the video below to see what this talented artist who paints prominent Nigerians is up to - Legit TV
Source: Legit.ng