- Professor Angela Okatahi was born on June 1, 1950, and is taking a bow from service, having attained the mandatory retirement age of 70
- Okatahi spent over forty years in active service to humanity both in Nigeria and abroad
- The academic giant produced professors and senior administrators in various institutions in Nigeria and abroad
PAY ATTENTION: Click "See First" under the "Following" tab to see Legit.ng News on your Facebook News Feed
To many, Angela Orengwu Okatahi, a professor of Educational Psychology from the University of Abuja, defied comprehension but to her, she understood her purpose in life. She had, and still has a dream, a purpose in life.
A social commentator, Bernard Balogun, writes that as a child, Professor Okatahi rode a bicycle like boys, accompanied her dad to the cinema house in Okene, Kogi state, a rarity at the time, in an outfit designed only for the boys.
"In fact, at a point in her nascent life, she was called "Tom-boy" - meaning a boy in a lady's skin. And to compound that irony, (was it really an irony?), her biological father once wrote her a letter while in Teachers' College in Idah, in the present Kogi state thus: Dear son.
"For her dad had reasoned, she was a boy in a lady's skin. And she gave a bite to this notion because she undertook, voluntarily, tasks that were naturally assigned to boys of her age in her native town of Okene in Kogi state.
"She played the "Ayo" and "draught" games and she displayed an amazing skill, considering her age. Strangely, this was at a time it was thought the place of a lady was in the kitchen. In a nutshell, this is a brief background into the life of the celebrant," he said.
Professor Okatahi was born on June 1, 1950, and she retires gleefully and to the glory of God after a meritorious service to the university community in Nigeria and abroad, a service that spanned over 40years.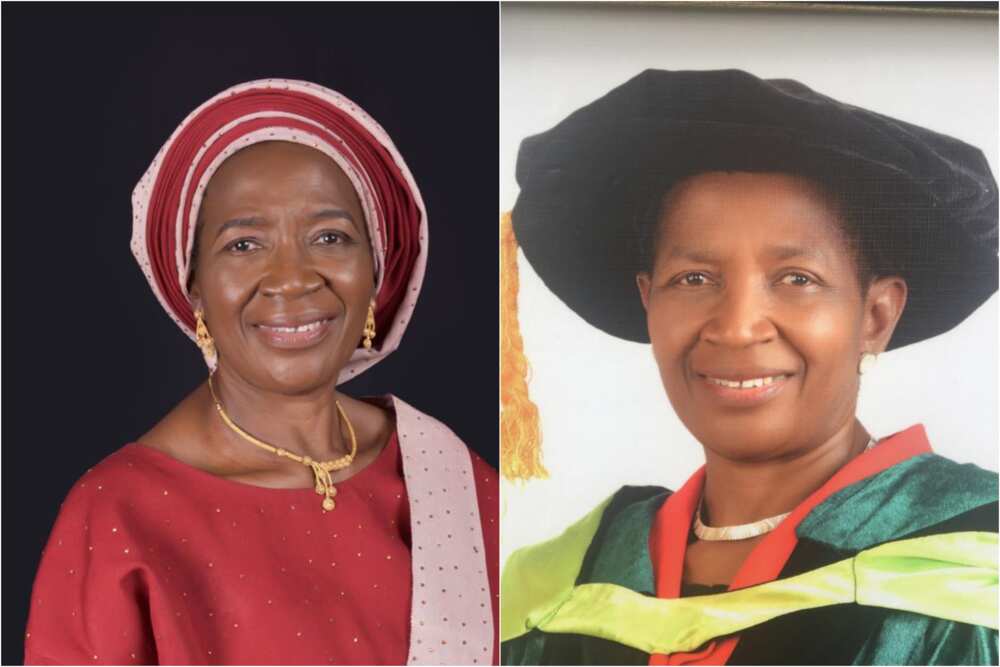 From today, June 1, 2020, therefore, her service comes to an end, having attained the mandatory retirement age of 70.
Balogun has this to say about Prof Okatahi: "I first came across Prof Angela Okatahi in the home of the Adabas. This was on the occasion of their 50th wedding anniversary in December 2016. She came in like every other guest. However, when she stood to speak, it was different and that gave her out.
"There was strength in her communication. Her words were simple but penetrating and of course, she dropped this. "...teacher Tom Adaba.....was my teacher in primary school. He taught me Arithmetic..." That is the woman we celebrate today - a blend of urban and rural configuration."
Within the space of her 40 years in the university, she had produced 54 postgraduate students and mentored a number of people, some of whom are professors and senior administrators in various institutions/organisations in Nigeria and abroad.
Her 51 years of teaching career have produced and touched the lives of many captains of industries, such as CG, Rtd Generals, and many other high net worth personalities.
At a time, her services were extended to other federal parastatals, which included board membership. She was also one of the eight pioneer members of Kogi state government council in 1992 when she was eventually appointed a special adviser. She was saddled with the responsibility of establishing the Kogi state polytechnic, Lokoja, which recorded astounding success.
She said: "Where ever I went, north or south, east or west, especially at the airports, someone would always walk up to me and say, Prof, l know you do not reçognise me anymore. You taught me at Ahmadu Bello University many years ago. For me, this is an earthly reward that cannot be quantified or bought with money in the market."
She has held numerous leadership positions in the universities including deanship and has many national and international researched publications to her credit. She has been awarded many academic awards and chieftaincy titles, including one from the council of chiefs in Ebiraland, which she cherishes so much.
That title is - "Ometere of Ebiralnad (Daudu)", meaning "one who does good" and another Christian title bestowed on her by St Paul Anglican Church, Okene Diocese in 2010 titled "Oniwoji Iragu."
Speaking on her life after retirement, Prof Okatahi said: "l run a community-based service under the name - Okatahi Foundation, which offers, among other humanitarian services award of scholarships to indigent students and empowerment of youths and widows."
PAY ATTENTION: Install our latest app for Android, read best news on Nigeria's #1 news app
Prof Okatahi was married to late Rev Dr. Stephen Okatahi in holy matrimony in 1970 and blessed with five adorable children, six adopted children, and eleven grandchildren. Each of these children is doing well in their respective chosen disciplines.
She was the first female to have obtained Ph.D., consequently a professor in Ebiraland. Her hobbies, unbelievable - cooking and visitation to orphanage homes.
Meanwhile, Legit.ng had previously reported that the federal government, through the office of the Accountant General of the Federation, alleged that there are some persons who are being on sabotaging the Integrated Payroll and Personnel Information System.
The OAGF said this while dismissing claims that the inability of the government to pay salaries of military personnel in the country was due to the incompetence of officials of the IPPIS.
Coronavirus: Youngsters celebrate Children's Day in Abuja | - on Legit TV