50 support quotes that will encourage you to reach new heights
In the present-day world, every human being faces difficulties and obstacles. For you to be okay physically, mentally, and even emotionally, it is essential to have a circle comprising of people who love and care about you. These people will be there for you in person or even via support quotes when you feel a little overwhelmed in life.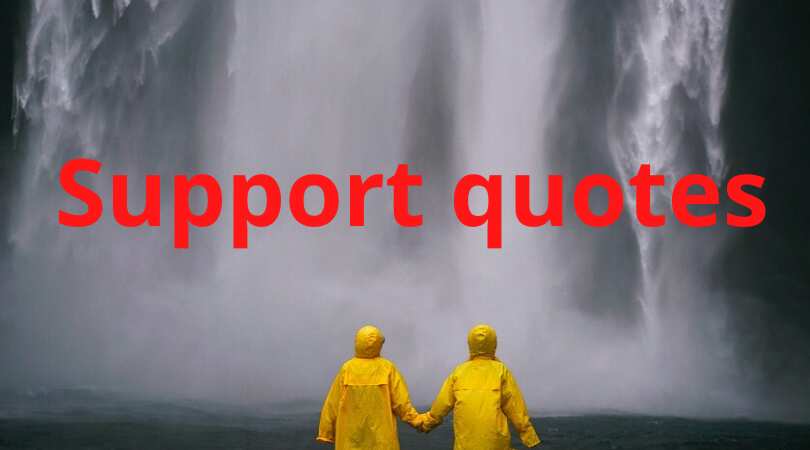 Having people who are there for you in life leads to a better-quality life because they encourage you whenever you walk through a stormy period in life. Their presence also reduces depression and anxiety. Support quotes encourage us not to give up and to be there for others who need a little encouragement in life.
Support quotes to encourage you to reach new heights
Receiving and giving support from other people is a basic human need. Words of support from people in our social circles can determine whether one presses on or gives up in life.
When we face rough times in life, we must not shy away from asking for help. We must also be willing to appreciate any help we receive from both people who matter most and strangers.
Sometimes, a support quote is all it takes to make life less overwhelming. For this reason, we have compiled the best quotes about supporting others that you should read and send to your loved ones who need a little encouragement in life.
Top quotations on support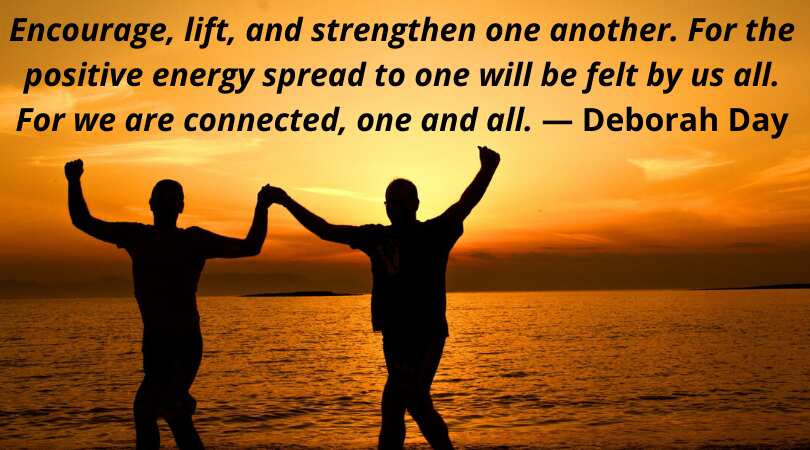 What are positive quotes? Positive quotes are those that uplift your spirits and remind you that you can accomplish anything in life or get out of a difficult situation. They encourage you to keep moving forward in life.
Knowing that you can count on someone regardless of your circumstances is a form of motivation in life. Here are some of the top quotes about support and encouragement for everyone;
If you want to support others you have to stay upright yourself. ― Peter Hoeg
Encourage, lift, and strengthen one another. For the positive energy spread to one will be felt by us all. For we are connected, one and all. ― Deborah Day
No person, trying to take responsibility for her or his identity, should have to be so alone. There must be those among whom we can sit down and weep, and still be counted as warriors. ― Adrienne Rich
The next time you want to withhold your help, or your love, or your support for another for whatever the reason, ask yourself a simple question: do the reasons you want to withhold it reflect more on them or on you? And which reasons do you want defining you forevermore? ― Dan Pearce
The human touch is that little snippet of physical affection that brings a bit of comfort, support, and kindness. It doesn't take much from the one who gives it, but can make a huge difference in the one who receives it. ― Mya Robarts
We all need encouragement in life. It helps us gain confidence and move forward. It is an indication that we did a good job and that we should continue what we started. Either by kind words or supporting actions, the power of encouragement helps a person to rise on his feet and achieve his dreams. Be a person who encourages others, and who accepts and appreciates any encouragement he receives.― Noora Ahmed Alsuwaidi
There are moments of frustration in life. You must build good relations to support you in these moments. You must also learn to encourage yourself and decide to stay determined in life. ― Lailah Gifty Akita
So next time you're struggling, instead of berating yourself for your weakness, look for whom God might have put into your life to hold you up. It might not be the people you imagined, but someone will offer you their strength until you can hold yourself up again. ― Rev. Elizabeth Ingram Schindler
Stand up for the underdog, the 'loser.' Sometimes having the strength to show loving support for unacknowledged others turns the tides of our own lives. ― Alexandra Katehakis
For a permanent solution to easing tension and soothe the rough waters of the world that cause people to go to drugs, drinking, gambling, pornography, overeating, or anything that will give them some temporary relief, you can't beat the support and encouragement of a friend. ― Jonathan Anthony Burkett
Support system quotes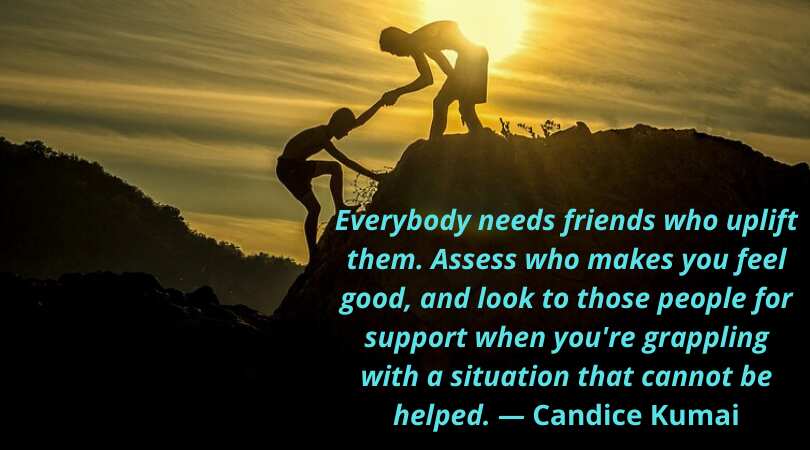 No human being is an island. We all need other people by our side to live a good-quality life. These may be friends, relatives, or even strangers.
The people we interact with daily and those who stand with us during our worst moments are our support systems. It is necessary for everyone to know who these people are, and to recognize their indispensable roles in our lives.
You can't achieve anything entirely by yourself. There's a support system that is a basic requirement of human existence. To be happy and successful on earth, you just have to have people that you rely on. ― Michael Schur
I'm lucky to have a great support system in my friends and some of my family. If you have those people that you trust, go ahead and fall back into them and let them be your hammock and cocoon and let them embrace you. ― Joanna Noelle Levesque
You have to rely on your support system. Growing up, I always thought it was a sign of weakness to ask for help, but now I realize it's really a sign of strength to say, 'I need help, I can't do it all.' ― Kerri Walsh
Everybody needs friends who uplift them. Assess who makes you feel good, and look to those people for support when you're grappling with a situation that cannot be helped. ― Candice Kumai
My friends and family are my support system. They tell me what I need to hear, not what I want to hear, and they are there for me in the good and bad times. Without them I have no idea where I would be, and I know that their love for me is what's keeping my head above the water. ― Kelly Clarkson
You're more likely to slip up when you're trying to accomplish your goals by yourself. It may be that you don't have an outer support system in place to help you maintain focus and provide the external encouragement everyone needs. ― Lauren Mackler
The life of a model isn't easy. But I try to keep a good head on my shoulders by staying close to my family and old friends. They're my support system. ― Constance Jablonski
There are moments that aren't great. And I think it's amazing for people to be able to have some insight, to be able to see the support system and what really happens. ― Allyson Felix
If someone comes in without having been on a spiritual path for long, he or she still will understand what is happening to them in their human lives, what is happening through the evolution, how their humanness is playing such an important role at this time, and where they are in their lives with their inner feelings. It actually gives them a support system, a base from which they can start to evolve naturally within themselves through the understanding of our humanness, of our imperfection. ― Christine McCormick Day
Each of these strategies-get a little better at it, design a support system, use one of your strongest themes to overwhelm your weakness, find a partner, and just stop doing it-can help you as you strive to build your life around your strengths. ― Donald O. Clifton
Support quotes for family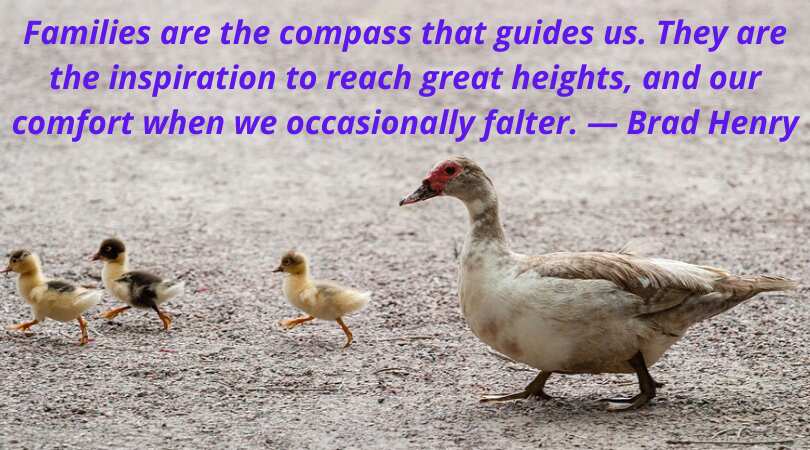 Families are the building blocks of the society in which we all live. We have both biological families and those that we create through close interactions with other people.
The best thing about families is that they are always there no matter what because the bond between family members is unbreakable. However, it is essential to be aware that some moments of strained relationships among family members are not unusual.
A quote about family support plays an essential role by reminding us to be there for our brothers, sisters, relatives, and other people we consider family. It may also teach us to accept a helping hand from those we love whenever we face challenges.
The fact is, there is no foundation, no secure ground, upon which people may stand today if it isn't the family. If you don't have the support and love and caring and concern that you get from a family, you don't have much at all. Love is so supremely important. As our great poet Auden said, 'Love each other or perish.' ― Mitch Albom
There is no doubt that it is around the family and the home that all the greatest virtues, the most dominating virtues of human society, are created, strengthened, and maintained. Having a family guarantees that you have a built-in support system, and although that system may not always be what you want it to be, when it comes down to the wire, your family will love you and stand behind you, no matter what. ― Winston Churchill
To us, family means putting your arms around each other and being there. ― Barbara Bush
Families are the compass that guides us. They are the inspiration to reach great heights, and our comfort when we occasionally falter. ― Brad Henry
If you don't have the gift of a loving, supportive family, be that gift for someone else. It doesn't have to be a relative, just someone you know who is alone or hurting over the holiday. ― Joel Osteen
That's what families are for, so no one person has to carry the weight of a burden by themselves. ― Martina Boone
Call it a clan, call it a network, call it a tribe, call it a family: Whatever you call it, whoever you are, you need one. ― Jane Howard
Other things may change us, but we start and end with the family. ― Anthony Brandt
Family means no one gets left behind or forgotten. ― David Ogden Stiers
Family is there for each other Leahara, as best as they can be. Sometimes it's the little things. Sometimes they are distanced because they have to be. Sometimes they do things that we don't understand. And sometimes the best families are the ones that we make in life, not the ones we are born with. ― Michael Kilman
Support quotes for work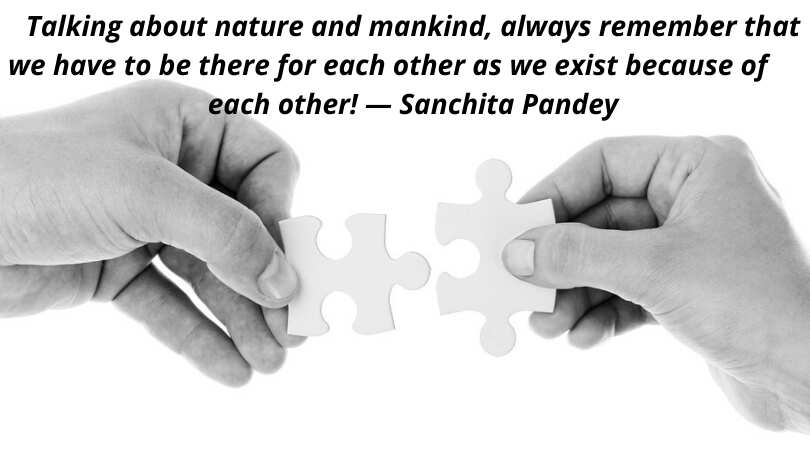 Everyone needs a holding hand as well as some encouragement and teamwork to succeed in their career. Like any other aspect of life, the workplace has both smooth and rough phases, and we need the motivation to make each working day productive and successful.
One can use supporting quotes to encourage their colleagues and teammates to achieve and even surpass their work targets. Below are some appropriate quotes that will let your co-workers know that you are there for them and remind you of the importance of receiving and issuing help to others;
Two main categories of people are needed in your circle; those who give you the necessary support to accomplish your dreams and those who become beneficiaries of what you achieve. ― Israelmore Ayivor
Life is a wall, you have to climb it by pushing others to climb over, and you will be pushed as well. Give a helping hand today. ― Bernard Kelvin Clive
Champions are pioneers, and pioneers get shot at. The companies that get the most from champions, therefore, are those that have rich support network so their pioneers will flourish. This point is so important it's hard to overstress. No support systems, no champions. No champions, no innovations. ― Tom Peters
The thing to remember with support is that true support always brings you back to your own sense of agency and confidence, not your need to rely on something or someone outside of you. A person who offers it to you with integrity does so in a way that makes space for your fear and insecurities and doubts, whether rational or not, but does not enable them. ― Jay Fields
If you want to lift yourself up, lift up someone else. ― Booker T. Washington
You need to be aware of what others are doing, applaud their efforts, acknowledge their successes, and encourage them in their pursuits. When we all help one another, everybody wins. ― Jim Stovall
There is no such thing as a self-made man. You will reach your goals only with the help of others. ― George Shinn
Talking about nature and mankind, always remember that we have to be there for each other as we exist because of each other! ― Sanchita Pandey
The person next to you is probably doing the best they can. But if they're not, try doing the best you can to help them do the best they can. ― Craig D. Lounsbrough
The way we behave, the way we treat others, the way we respond, the way we support, defines the work experience for everyone around us. ― Laurie Buchanan, PhD
Love and emotional support quotes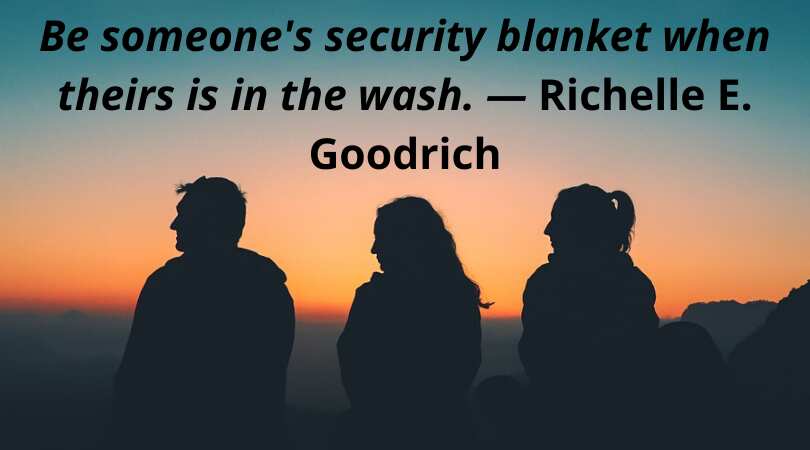 Loving someone means being there for them socially, physically, and even emotionally. It also means having the willingness to prioritize another's well-being or happiness above your own.
When those that we care about are facing rough times, we should go out of our way to be their source of strength and encouragement. You can do this by sharing a love and support quote to let them know that you will always be a person they can rely on through thick and thin.
The reason why you need emotional support is because it's essential for survivors to be heard. To be understood. To be able to express yourself without fearing criticism or harsh judgment. To be validated for your pain, suffering, and loss. For others to be there for you to encourage you, especially if you're having a bad day or feeling triggered. ― Dana Arcuri
People who are seeking emotional support find it in the craft because instead of looking to a savior or prophet, we are taught to save ourselves. ― Jessica Marie Baumgartner
Be someone's security blanket when theirs is in the wash. ― Richelle E. Goodrich
A worthy relationship is an agreement that challenges and supports both participants. ― Joseph Rain
Surround yourself with people who don't just ask how you are doing. Surround yourself with people who make an effort to make sure they are part of the reason you are doing so well. ― Jennae Cecelia
We've never been alone, and we have each other. Not everyone gets everything, and we are so lucky for so much. I'm learning my place, my responsibilities. ― Evelyn Araluen
Tremors hit, quaking her hard enough for him to feel them. He wrapped his arms around her and bent his face close to hers. He might not understand what was going on in her head, but a mighty squall was battering her hull, and if he couldn't figure out how to shelter her from it, he aimed to be her anchor until it passed. ― Karen Witemeyer
Our dreams come to light not because we're the luckiest or most blessed, but the silent voices(voices out of the glare of the public) behind the scenes helped shown our light. ― Wisdom Kwashie Mensah
It is not about our world collapsing. Rather, it's about another human being holding our hand in the collapse. For then the carnage is no longer about the loss, but about what both of these hands are going to build from it. ― Craig D. Lounsbrough
A true man's strength lies in supporting a woman, not in saving a woman. ― Sir P.S. Jagadeesh Kumar
Are you looking for supportive quotes to let someone you care about know that you will always be there for them? Well, the above list of support quotes offers you numerous thoughtful choices to use. Which is your favorite quote? Share with us in the comment section below.
Source: Legit.ng