Daniel Lissing bio: age, height, personal life, next project
It is undoubtedly not a mistake to read about Daniel Lissing, an amazing Australian actor. His acting escapade in When Calls the Heart says a lot about his entertaining prowess. He has bolstered a successful career having started as a cop in the Australian TV series, Pizza, in 2001. Nevertheless, acting is not all that the fantastic star does very well. Lissing is also a singer, and he plays the guitar very well too. Surprisingly, he has performed for the Australian troops serving overseas in East Timor and the Solomon Island.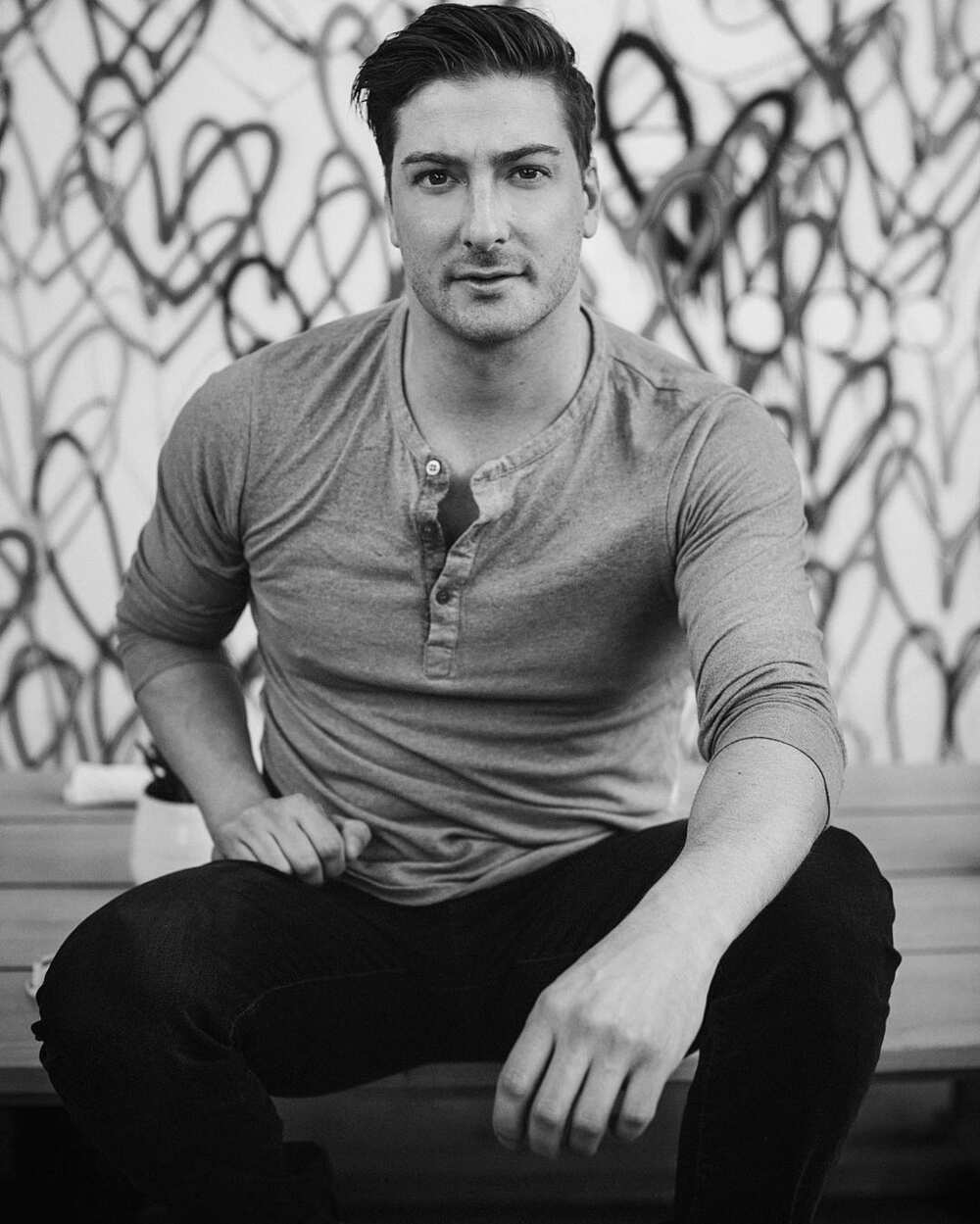 The celebrity's life has been surrounded by all kinds of dating speculations. Despite this, he has remained a professional actor. Then, interestingly, he is getting married soon. The handsome actor has also been outstanding in movies like Crownies, where he played the role of Conrad de Groot. After performing for the Australian soldiers serving in East Timor, the celebrity earned a formal recognition for his peacekeeping efforts from the Australian Defense Force.
Daniel Lissing profile summary
Name: Daniel Aaron Lissing
Date of birth: 4th of October, 1981
Age: 38 years old
Profession: Actor, musician, writer, and producer
Nationality: Australian
Place of birth: Sydney, New South Wales, Australia
Height: 5 feet and 11 inches
Parents: Inge Christophers and Jerry Lissing
Sibling: Tamara
Actor Daniel Lissing's personal life
The Australian actor was born in Sydney, New South Wales, Australia. His father, Jerry, owns a Navy Canteen while his mother, Inge Christophers, works for a non-profit organization known as Feros Care. He grew up with his only sibling, Tamara, at Bondi Beach close to Sydney harbor. According to the Australian actor, those days were one of the best in his life. There is no educational information about the actor.
The athletic actor has managed to keep his life private. Yet, being a handsome character, Daniel Lissing personal life has been at the center of so many dating rumors. For instance, is Daniel Lissing married? No, he is not. However, there are speculations that the handsome actor would get married later in 2020.
How old is Daniel Lissing?
Daniel Lissing age is 38 years currently. He was born on the 4th of October, 1981, which means that by the 4th of October this year, he would be celebrating his 39th year birthday.
Aaron's physical appearance
Daniel's physical attributes make him very striking. His hair color is light brown while his eye color is brown and all these features give rise to Daniel Lissing gay rumors. But then, how tall is Daniel Lissing? He is 180 centimeters tall, which is the equivalent of 5 feet and 11 inches.
His career information
In 2006, the athletic actor began his career as a guest in the Australian series, Home and Away. He featured as Dave Elder, a firefighter in the successful TV drama, which currently has more than 7,000 episodes. By 2011, Lissing was already on another Australian TV drama known as Crownies. In the series, he played Conrad De Groot, the character who was the fiancé of Tatum Novak.
The series shot him into the spotlight even though it lasted for just one season. However, he got a role in a 2011 movie known as Entwined. The Australian actor was back on another TV series in 2012. This time, he played the role of James King in the American military drama, Last Resort. Being his first role on American soil, the talented actor appeared with top actors like Scott Speedman, Andre Braugher, Autumn Reeser, and Daisy Betts.
Last Resort was not renewed for another season, but he was given a lead role in a 2012 movie, The Cure. The star actor was the character Ryan Earl in the film. He believed that he deserved better recognition for his performance in the movie. His fame eventually came in 2014 when he starred as Jack Thornton in Hallmark drama series, When Calls the Heart.
Daniel Lissing and Erin Krakow became the main attraction of the movie when their characters got engaged. Consequently, is Daniel Lissing married to Erin Krakow became the question fans raised from different quarters. While it should be noted that Erin Krakow and Daniel Lissing are not in any love relationship with each other, it is also worth noting that they are professional actors. Are Erin Krakow and Daniel Lissing still friends? The Australian actor explained that the onscreen couple is still in touch with each other.
In 2016, the Australian played the role of Seth in the movie, A December Bride. In the Hallmark Channel movie, Daniel Lissing and Jessica Lowndes were the main characters as the latter played the role of Layla. The Australian actor featured in another Hallmark movie in 2018. The movie titled Christmas in Love also starred Brooke D'Orsay.
Movies and tv shows
Below is a list of movies and television shows that the star actor has featured in.
Pizza
Home and Away Dave Elder
Out of the Blue
Packed to the Rafters
Underbelly: A Tale of Two Cities
Cops L.A.C
Crownies
Last Resort
When Calls the Heart
Eye Candy
Girlfriends' Guide to Divorce
A December Bride
Timeless
Blindspot
Christmas In Love
The Rookie
Whiteline
Multiple Choice
The Game
Fidelity
Entwined
The Cure
John Doe: Vigilante
The Answers
Daniel Lissing next project
The Australian actor is also working on his writing skills. According to him, he is working on a screenplay with his friend and producer, Michael Goode. What is Daniel Lissing doing now? He is still into acting roles as he currently features in ABC's drama, The Rookie. In the TV series, he plays Sterling Freeman.
In 2018, Lissing decided it was time to quit Hallmark Channel's popular drama, When Calls the Heart. The show, which featured Erin Krakow and Daniel Lissing together, is still running and is currently in its seventh season. But then, why did Daniel Lissing leave When Calls the Heart? The actor revealed to ET that, if he had remained on the show, he probably 'wouldn't have met Nadia.'
According to Lissing, he has never regretted his decision to leave Hallmark's show even though he missed the bond he shares with the crew. In his words, he said:
It's funny the way the world works. If I had stayed on the show, and been there during season 6 and shot and all that kind of stuff, then I wouldn't have met [my fiancee] Nadia, you know? And I wouldn't be getting married and I wouldn't be at this place in my life where I feel really in line with what I'm meant to be doing personally and professionally, so no regrets at all. How can I look at my future wife and say, 'Oh, I should've stayed on this job?' She's my life, you know? That's my personal life and that's exponentially more important to me than a job.
Who is Daniel Lissing dating now?
One of the questions that many fans have always desired to have an answer to is: Is Daniel Lissing gay? Interestingly, the young athletic actor is not gay as he is dating Nadia at the moment. In the coming months, she might end up becoming Daniel Lissing wife. The two of them met in 2018 at Reykjavik, Iceland. Narrating her experience to ET, Daniel Lissing girlfriend said:
I was traveling after graduating [with] my masters in business. A very happy, slightly intoxicated Australian approached me in a bar. My first impression was, 'This guy is hot but he might be a little crazy'. I'd never met anyone like him before, that's for sure! I felt an instant connection. There was an instant connection, deeper than anything physical, mental or even explainable. The way he makes me feel is as if we've always known each other. He just get me at my core and I get him like no one else.
What is Daniel Lissing's net worth?
According to Married Celeb, the star actor is reportedly worth $500,000. His primary source of income is acting. He has featured in several movies and television shows. Then, his producing and singing kills have contributed to his net worth.
It is evident that Daniel Lissing has done so much for himself, and he deserves the family life he desires.
Source: Legit.ng