Madison Pettis bio: age, height, ethnicity, net worth, boyfriend
Madison Pettis is one of the few celebrities who started a career in the entertainment industry early. She is a model and actress, and she also voices characters. Her breathtaking performance in the Disney movie, Cory in the House, shot her into the limelight, and since then, she has kept winning the hearts of many entertainment fans. Watching her act on the screen, you can see a combination of talent and skills on display.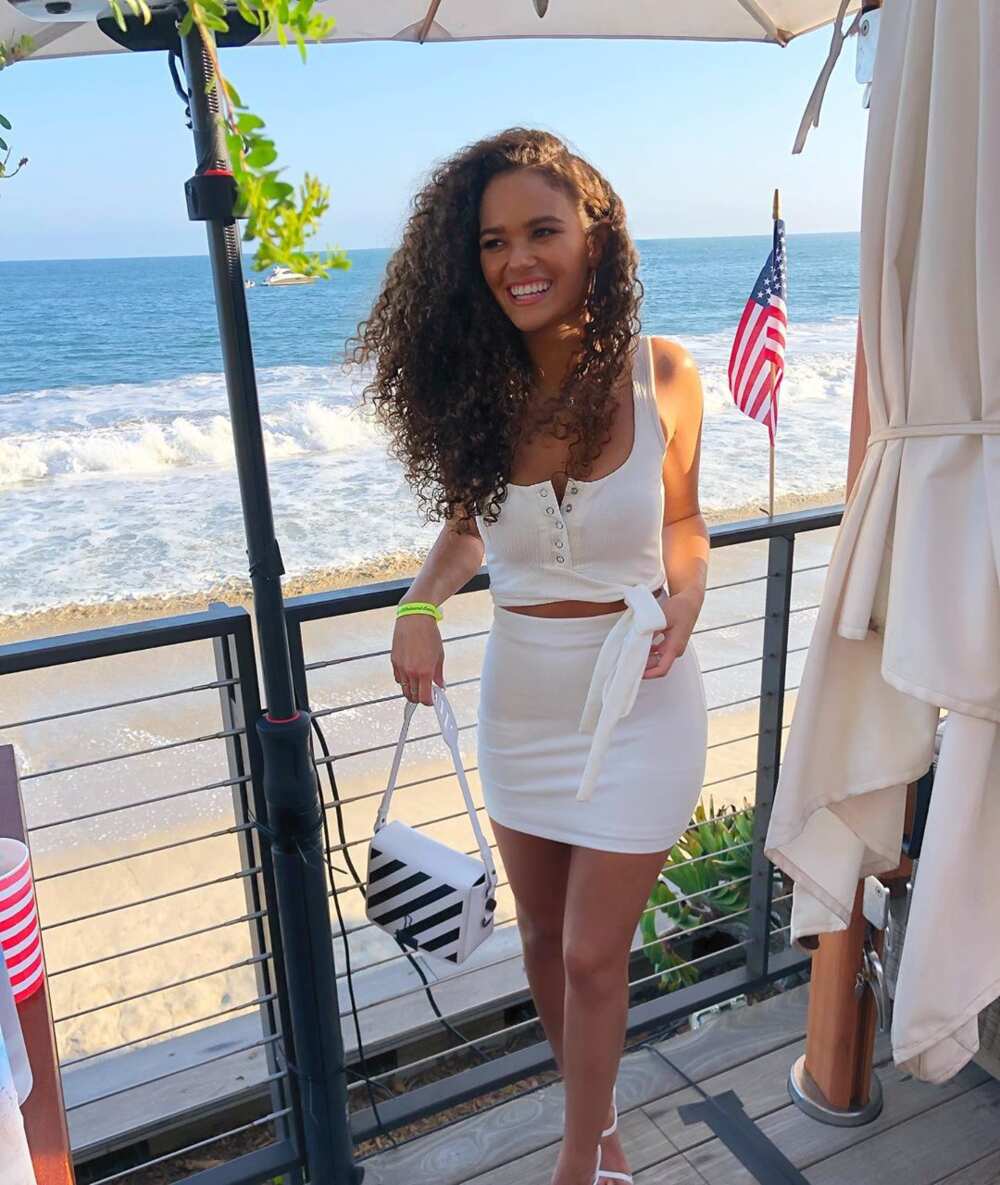 Apart from being a model and actress, the young talent once worked for Rock the Vote as their celebrity ambassador when they were motivating millennials to register and vote. When she performed the role of the President's daughter, Sophie, on Disney Channel's Cory in the House, she was the youngest star. As a young celebrity, she enjoys more than 3.7 million followers on her official Instagram page. Find out about how she started her career and several tv shows and movies that she has appeared so far in the following paragraphs.
Madison Pettis profile summary
Full name: Madison Michelle Pettis
Nickname: Maddie
Date of birth: 22nd of July, 1998
Nationality: American
Age: 21 years old
Birthplace: Arlington, Texas, United States of America
Sun sign: Cancer
Height: 1.57 m (5 feet and 2 inches)
Profession: Model, voice actress, and actress
Weight: 53 kg
Body measurement: 34-24- 36 inches
Hair colour: Black
Eye colour: Dark brown
Madison Pettis parents: Steven (father) and Michelle (mother)
Sexual orientation: straight
Marital status: single
Salary: $27,530
Partners/ex: Bryce Cass, Michael Porter Jr, Jaden Smith, Kalin White
Signature: Curly hair
The early life of Madison Pettis
Madison Pettis was born in Arlington, Texas. She grew up with her sister Antoniette Mia Pettis and a brother. Madison Pettis brother, interestingly, bears the same name as their father, Steven Pettis. Her mother's name is Michelle. There is no concrete information about Madison's schooling. However, it is established that she commenced her career since her early girlhood.
She cultivated an interest in acting and modelling, and her family gave her full support. Her journey into the entertainment world began when her mother joined the annual cover search organized by FortWorthChild, a local parenting magazine.
From there, the young Madison commenced modelling and acting in commercials at the age of five years. As Madison Pettis hot skills became more notable and the number of modelling requests for commercial increased, her parents employed an agent to take proper care of her career and also opened a website for her. While commenting on her career, she once noted:
I think that T.V. shows are more like working at a home. You know you're going to the same place every day, working with the same people, the same cast and crew. You're in a dressing room instead of a trailer, so I think that that's more of a normal sort of lifestyle.
Her body measurements
The American actress boasts of a fantastic figure. Apart from weighing 53 kilograms, Madison Pettis height is 5 feet and 2 inches, an equivalence of 1.57 meters. The size of her dress is 6 (US), and her shoe size is 6 (US).
How much is Madison Pettis worth?
Madison Pettis net worth is approximated to be $500,000 as of 2019. Apart from making money from her vocation as an actress, her modelling career also is an advantage to her. According to sources online, her average income as a model is $ 27,530, which indicates that she is earning in good digits.
How old is Madison Pettis now?
The American star model, Madison Pettis age, is 21 years. She was born on the 22nd of July 1998, which means she would be 22 years old on the 22nd of July this year.
What is Madison Pettis ethnicity?
Madison Pettis ethnicity is mixed. Her dad is an African-American while her mom is of French, Italian and Irish descent.
Madison Pettis career
In 2005 and 2006, Pettis performed in Barney and Friends as Bridget. She did not only act but also sang and danced. These acts left her viewers transfixed with awe. She also exhibited for Love Pastry alongside with Alli and Cody Simpson. Her most significant leading role was in 2006, in the movie Game Plan. She also portrayed as Bailey Bryant, the sister of Corbin Bleu's personality in the movie Free Style in 2007.
In 2008, she had a minute position in Dr Seuss' Horton Hears a Who!, and had another in Muppets Christmas: Letters to Santa. Additionally, she landed a trivial role as Lorena in the 2008 Will Smith movie, Seven Pounds. Pettis featured in the same year in the movie, Mostly Ghostly: Who Let the Ghosts Out? and its continuation, Mostly Ghostly: Have You Met My Ghoulfriend? in 2014, playing the part of ghost Tara Roland.
She also emerged in one of the episodes of Hannah Montana Forever playing the part of Sophie, the president daughter. She acted as Isabella Tyler in an episode of The 4400. She earned a voice role in the Disney Channel animated series Special Agent Oso, also, she was the 2007 Disney Channel anchorperson.
Is Madison Pettis in Lab Rats? Yes. In 2012, the star actress commenced a recurring part in the Disney XD series Lab Rats. On the 19th of October, 2014, she took to her Facebook page and disclosed that she would be guest featuring in The Fosters. In 2015, she received a voice role in the Disney Channel animated series The Lion Guard and its television film precursor The Lion Guard: Return of the Roar.
Madison Pettis movies and TV shows
The following is a list of different television shows and movies where the celebrity actress has appeared:
Barney: Can You Sing That Song?;
Barney: Let's Make Music;
The Game Plan;
Mostly Ghostly;
Seven Pounds;
Free Style;
The Search for Santa Paws;
Beverly Hills Chihuahua 2 and 3;
Mostly Ghostly: Have You Met My Ghoulfriend?;
Do You Believe?;
Jericho Stacy Clemons;
Cory in the House;
The 4400;
A Muppets Christmas: Letters to Santa;
Phineas and Ferb;
Are You Smarter Than a 5th Grader?;
Jake and the Never Land Pirates;
The Haunting Hour;
Life with Boys;
The Fosters Daria;
Parenthood;
Late Bloomer;
The Real O'Neals;
Law & Order: Special Victims Unit;
Five Points.
Who is Madison Pettis dating?
Beautiful Madison Pettis is not in a love relationship with anyone at the moment. However, before now, she had been in several relationships. In 2009, she was in a relationship with Bryce Cass. The former Madison Pettis boyfriend Bryce Cass was born in Dallas, Texas, the USA, on the 21st of November, 1997. He is an American actor, and he featured in several movies such as The Guardian (2006), Battle Los Angeles (2011), and Line of Duty (2013). Unfortunately, the relationship did not last for a long time. None of them spoke of the reason why they separated.
After parting ways with Cass, Madison entered into another relationship with Jaden Christopher Syre Smith. Jaden and Pettis are age mates. He was born on the 8th of July, 1998, to Jada Pinkett Smith and Will Smith, in Malibu, California, USA. He is an American rapper, songwriter, singer, and performer. In 2006, Jaden acted alongside his father in the movie, The Pursuit of Happiness.
He also performed in the remakes of The Day The Earth Stood Still in 2008 and The Karate Kid in 2010 and in the film After Earth with his dad in 2013. He turned away from the movie enterprise and decided to concentrate on music instead due to the critical planning of After Earth. Pettis and Jaden disclosed their relationship in 2010, and they were together until 2011. Pettis stayed aloof from dating for a while after her break up with Jaden.
In 2004, she was seen with her new lover, Kalin White. White is an American vocalist, who is widely known for his hip hop and R&B. They dated for a couple of years and separated when they began facing challenges. Moreover, Pettis started having an affair with Michael Porter Jr. Michael Porter was born on the 29th of June, 1998, in Columbia, Missouri. He is an American expert basketball player, and he played for the Denver Nuggets of the National Basketball Association (NBA).
He also played university basketball at the University of Missouri and was rated as one of the top candidates in the class of 2017. Unfortunately, Pettis's relationship with Micheal came to a halt in 2017. Similarly, rumours established that Pettis was once in a relationship with Cameron Boyce, an American actor in 2013. Still, both of them did not respond to the news to ascertain whether it was true or false.
From what is read so far, it is glaring that Madison Pettis has had a fantastic career since she picked a vocation in the entertainment industry. Her capacity to exhibit different skills depending on the demand at the moment is highly impressive. There is no doubt in the fact that she is on the path to becoming one of the best actors of all time.
Source: Legit.ng