Jeffrey Dean Morgan bio: Age, height, wife, kids
Jeffrey Dean Morgan is an American actor known for his portrayal of Denny Duquette in the ABC show Grey's Anatomy. He is also popular for his outstanding roles in Watchmen, The Walking Dead, and Supernatural, among many others. Here is all you need to know about his life.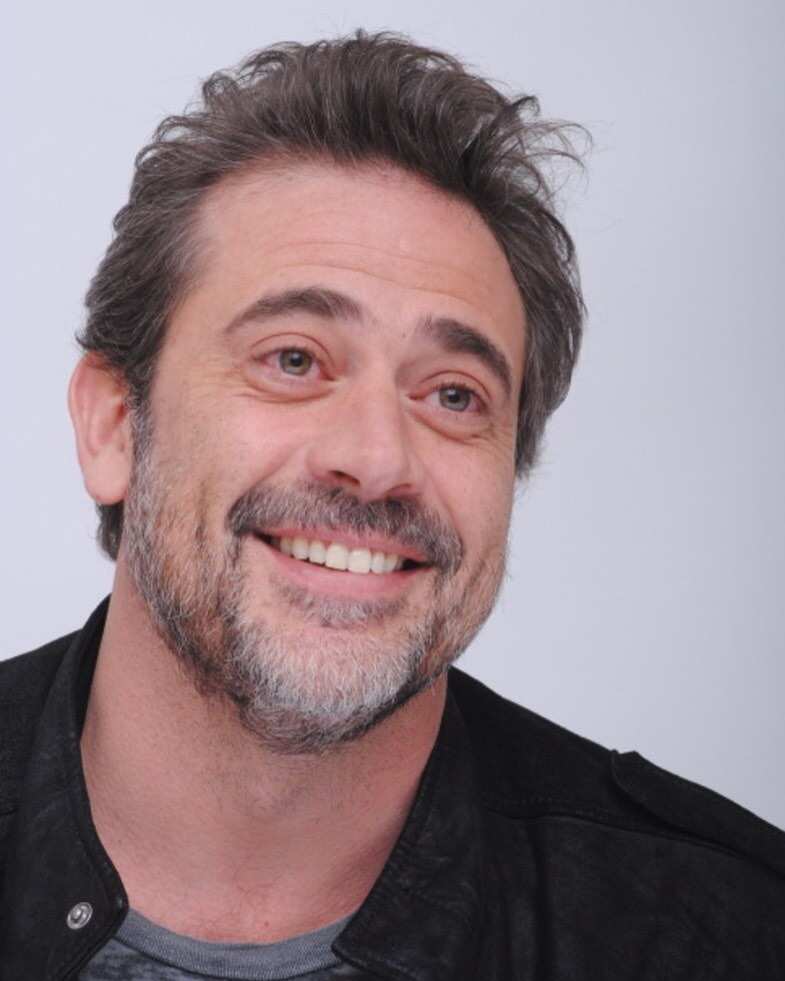 Jeffrey is well known for the villainous roles he plays in most productions. His tall and muscular physique also earns him numerous fans. Well known for his apathetic characters on screen, the real Dean has a soft side that you will get to learn in this article.
Profile summary
Birth name: Jeffrey Dean Morgan
Nicknames: Jeff, McNaughty
Birthdate: 22nd April 1966
Birthplace: Seattle, Washington, USA
Jeffrey Dean Morgan age: 53 years old
Nationality: American
Religion: Christianity
Parents: Sandy Thomas and Richard Dean Morgan
Zodiac sign: Taurus
Race: White
Heritage: Scottish
Spouse: Hilarie Burton (5 October 2019 - present)
Ex-wife: Anya Longwell (30th May 1992 - 19th July 2003)
Children: 2 (Augustus and George Virginia)
Height: 6 feet 2 inches/188 centimetres/ 1.88 metres
Weight: 83 kilograms/182.984 lbs
Eye color: Hazel
Hair color: Dark brown
Early life
Jeffrey was born on 22nd April in the year 1966 to parents Sandy Thomas (a big fan of Grey's Anatomy) and Richard Dean Morgan. He was born in Seattle, Washington, in the USA.
How old is Jeffrey Dean Morgan? He is currently 53 years old.
For his education, Jeffrey Dean Morgan young attended Ben Franklin Elementary School. He then joined Ross Hill Junior High and proceeded to Lake Washington School in Kirkland.
While in school, he dedicated his time to playing basketball and football. He was even the captain of his school's basketball team. He successfully led his team to win several school-level trophies.
For his college education, Dean went to Skagit Valley College. While at Skagit, he played for the college's basketball team until a knee injury tragically put an end to his career as an athlete.
With his career in basketball put to an end, Jeff decided to build a career in creative arts; he trained in graphic designing.
Jeffrey Dean Morgan height and other body measurements
'McNaughty' is well known for his tall frame and muscular physique that endears him to the ladies. How tall is Jeffrey Dean Morgan? He is quite tall, with a height of 6 ft 2 inches or 188 centimetres (1.88 meters).
His body measurements are 41-13¾-34 inches or 104-35-86 centimetres (Chest-arms/biceps-waist). His weight is approximated to be around 83 kgs, which translates to 182.984 lbs.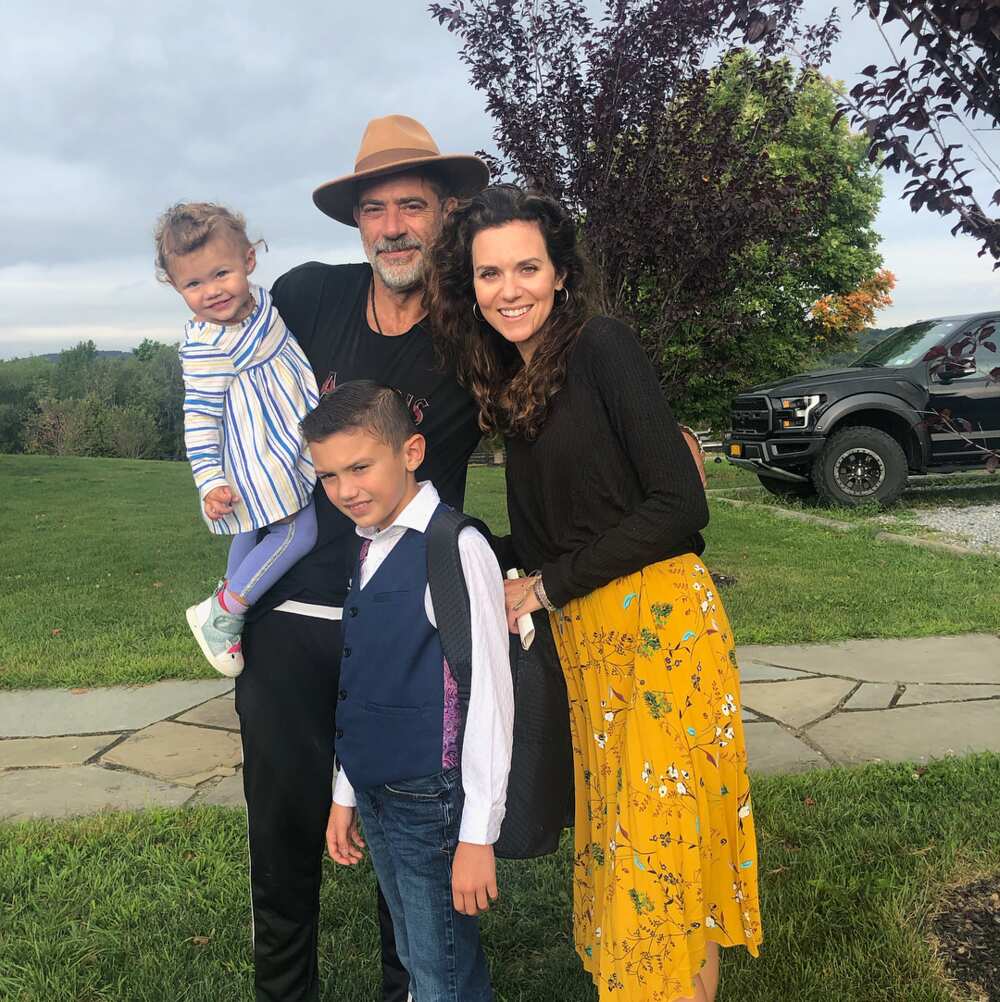 Career
Before embarking on a career in acting, Dean trained and worked as a graphic artist.
Sometime in the 1980s, he helped a friend move to Los Angeles, and while he was there, he decided to relocate to L.A and learn acting.
Soon, he began auditioning for roles. By the early 1990s, he had started getting a substantial amount of roles.
He made his acting debut in the year 1991 in Uncaged. Uncaged is a 1-hour 18-minute thriller film that was released on 5th April 1991 in the United States of America. Jeff had a minor role in the movie, but this catapulted him to fame. Other stars who acted in Uncaged include Leslie Bega and Pamella D'Pella.
Jeffrey has quite an amazing career, with 72 acting credits to his name. Here are all Jeffrey Dean Morgan movies and TV shows plus the roles he played in each.
TV shows
The Walking Dead - (2016 - 2020) - Negan
Supernatural (2005 - 2019) - John Winchester
Robot Chicken (2017) - Negan
The Good Wife (2015-2016 ) - Jason Crouse
Extant (2015) - JD Richter
Texas Rising (2015) - 'Deaf' Smith
The Secret Life of Marilyn Monroe (2015) - Joe DiMaggio
Shameless (2014) - Charlie Peters
Magic City (2012-2013) - Ike Evans
Grey's Anatomy (2006-2009) - Denny Duquette
Weeds (2005) - Judah Botwin
The O.C. (2005) - Joe Zukowski
The Handler (2004) - Mike
Monk (2004) - Steven Leight
Tru Calling (2004) - Geoffrey Pine
Star Trek: Enterprise (2003) - Xindi-Reptilian
CSI: Crime Scene Investigation (2003) - Bill Nolan
V.I.P. (2002) - Randall Waring
The Division (2002) - Father William Natali
AG (1995-2002) - Wally - CIA Technician / Weapons Officer
Angel (2002) - Sam Ryan
The Practice (2002) - Daniel Glenn
ER (2001) - Firefighter Larkin
Walker, Texas Ranger (2000) - Jake Horbart
The Burning Zone (1996-1997) - Dr. Edward Marcase
Sliders (1996) - Sid
Mystery Dance (1995) - Shay Astor
Extreme (1995) - Jack Hawkins
Black Sheep (1994) - Bobby Debeneke
Jeffrey Dean movies
Rampage (2018) - Harvey Russell
Batman v Superman: Dawn of Justice (2016) - Thomas Wayne (uncredited)
Guns for Hire (2015) - Bruce
Heist (2015/III) - Luke Vaughn
Desierto (2015) - Sam
Solace ( 2015/II ) - Joe Merriwether
The Salvation (2014) - Henry Delarue
They Came Together (2014) - Frank
Red Dawn (2012) - Sgt. Maj. Andrew Tanner
The Possession (2012/I) - Clyde
The Courier (2012) - The Courier
Peace, Love & Misunderstanding (2011) - Jude
Texas Killing Fields (2011) - Brian Heigh
The Resident (2011) - Max
Jonah Hex (2010) - Jeb Turnbull (uncredited)
Shanghai (2010) - Conner
The Losers (2010/I) - Clay
Watchmen (2009) - Edward Blake / Comedian
Taking Woodstock (2009) - Dan
Days of Wrath (2008) - Bryan Gordon
The Accidental Husband (2008) - Patrick
P.S. I Love You (2007) - William
Fred Claus (2007) - Older man getting a parking ticket (uncredited)
Kabluey (2007) - Brad
Live! (2007) - Rick
Jam (2006/I) - Dale
Chasing Ghosts (2005) - Detective Cole Davies
Six: The Mark Unleashed (2004) - Tom Newman
Road Kill (1999) - Bobby
Legal Deceit (1997) - Todd Hunter
In the Blink of an Eye (1996) - Jessie
To Cross the Rubicon (1991) - Rod (James' Friend) (as Jeff Morgan)
Uncaged (1991) - Sharkey
Apart from these roles, Jeff has also appeared in a commercial for Evony: The King's Return (King Arthur vs. George Washington) VG. together with Jeffrey Dean Morgan, Aaron Eckhart, and Bingbing Fan.
He has also voiced Negan, a video game character in Tekken 7 (2015)
Apart from this, he was also the executive director of The Courier (2012).
Awards
Jeff's enormous contribution to the entertainment industry has not gone without recognition. He has received a total of six award wins and three nominations. According to the Jeffrey Dean Morgan IMDb page, the actor has received the following awards and nominations.
Wins
In 2019, he received a Saturn Award( Academy of Science Fiction, Fantasy & Horror Films, USA) under the Best Guest Performance in a Television Series category. He received this award for his performance in The Walking Dead.
In 2007, he received the same award.
In 2020, he received the CinEuphoria Merit - Honorary Award (CinEuphoria Awards) for his character in The Walking Dead. This award was shared with other cast members of the show and the show's creators and directors.
In 2016, he won the Critics' Choice TV Award for Best Guest Performer in a Drama Series for his role in The Walking Dead.
During the 2017 Fangoria Chainsaw Awards, he received an award for Best TV Supporting Actor, also earned for his role in The Walking Dead.
Still, in 2017, he won an MTV Movie + TV Award under the Best Villain category for his role in The Walking Dead.
Nominations
Apart from the awards he has won, Jeff has also been nominated for some significant awards. His total nominations are three in number, and they are:
A 2017 MTV Movie + TV Award nomination for the Best Actor in a Show award for his role in The Walking Dead.
A 2017 iHorror Award nomination under the Best Actor - Horror Series category for his role in The Walking Dead.
A 2018 Saturn Award (Academy of Science Fiction, Fantasy & Horror Films, USA) nomination under the Best Guest Performance in a Television Series category, also for his role in The Walking Dead.
Jeffrey Dean Morgan net worth
Through his highly successful acting career, Jeff has amassed quite a considerable amount of wealth. How much is Jeffrey Dean Morgan worth? At the moment, Celebrity Net Worth reports that his net worth is $10 million.
Apart from acting, he also owns a farm in Rhinebeck. The farm has cows, chicken, and alpacas.
Jeff and Paul Rudd also co-own a candy store called Samuel's Sweet Shop. They have owned the shop since 2014. The candy store was previously owned by one of Jeff and Paul's friends who tragically died.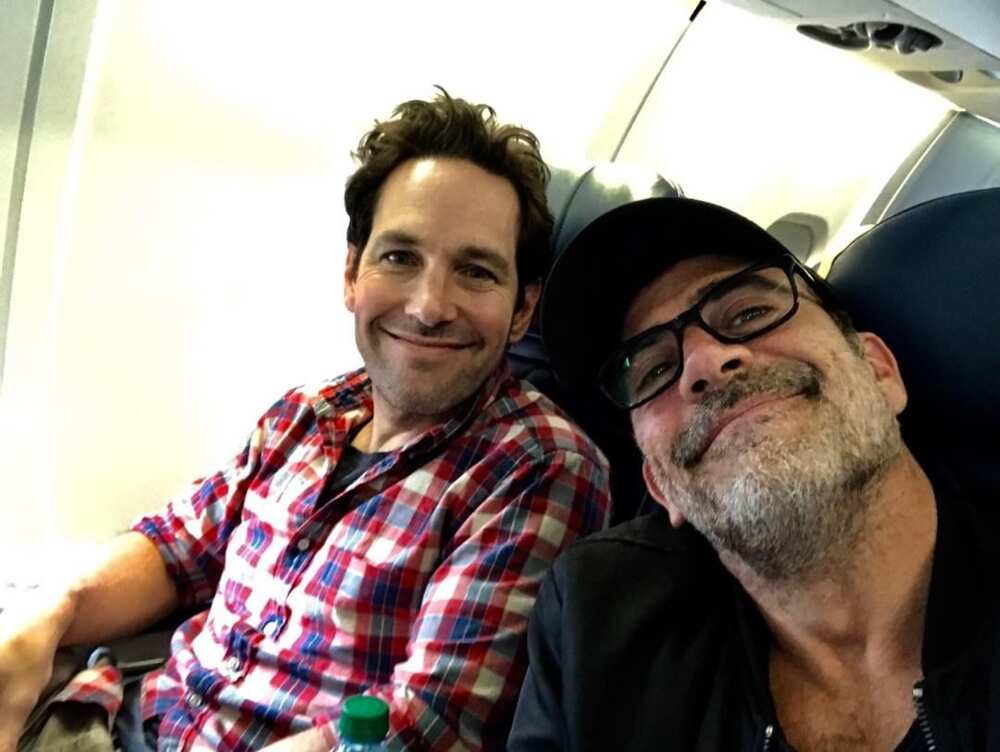 Dating history
On 30th May 1992, Jeff got married to Anya Longwell. The wedding took place in Las Vegas. The couple, however, divorced on 19th July 2003.
Dean started dating Sherrie Rose in 2004. They later broke up in 2005.
He was also rumored to have been involved with Marina Drujko.
He then dated Sara Lancaster from 2005 to 2006.
Jeff dated Mary Louise Parker from August 2006 to April 2009.
At the moment, Dean is happily married to actress Hilarie Burton, whom he married on 5th October 2019.
Who is Jeffrey Dean Morgan's wife?
The lady who bears this title is Hilarie Burton, an actress famous for her popular roles in One Tree Hill, The Secret Life of Bees, Surprised By Love, Lethal Weapon, and many others.
Hilarie was born on July 1st, 1982 in Sterling Park, Virginia. She was raised in Sterling Park as well.
She is the eldest of four kids and is the only girl in the family. Her younger brothers are Billy, Johnny, and Conrad. Her parents are Lisa, a real estate agent, and Bill, an antique collector.
For her education, Jeffrey Dean Morgan wife attended New York University.
How did Jeff Dean and Hilarie meet?
In the Hollywood scene, many actors know each other, and it is through such a friendship that Jeff and Hilarie met.
It is reported that Jeff's Supernatural co-star, Jensen Ackles, planned a double date for Jeff, Hilarie, himself, and his wife Danneel Ackles.
Jeff and Hilarie made their red carpet debut as a couple in 2010.
Wedding
The two wedded at a private ceremony held in New York. Their wedding was officiated by Jensen Ackles and Norman Reedus, who happen to be Dean's co-stars. Jensen Ackles acted in Supernatural while Norman Reedus starred in The Walking Dead.
One interesting fact about the occasion was the presence of a tattoo artist during the wedding reception.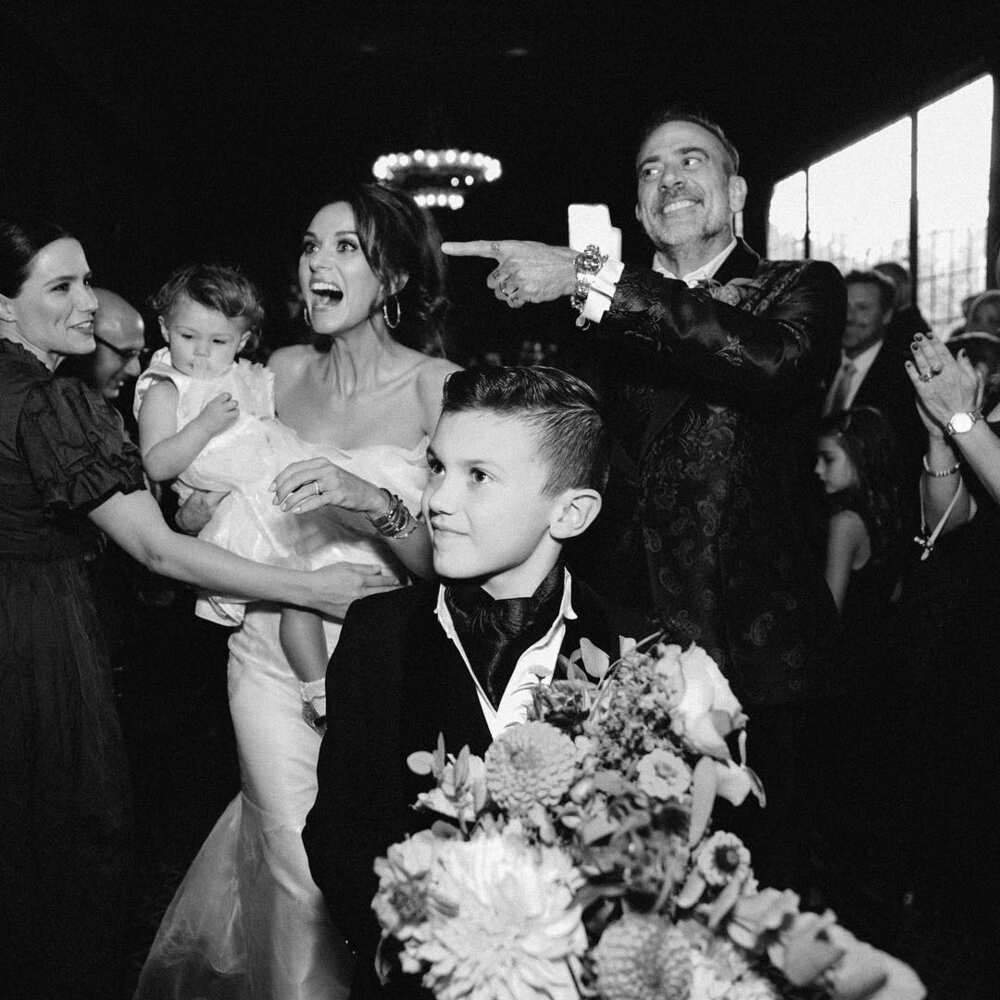 Jeffrey Dean Morgan kids
Jeff has two kids. On March 10th, 2010, Hilarie Burton gave birth to their first child, a boy by the name Augustus. After this pregnancy, Hilarie reportedly suffered multiple miscarriages.
On 16th February 2018, the couple was blessed with yet another child, a baby girl who they named George Virginia.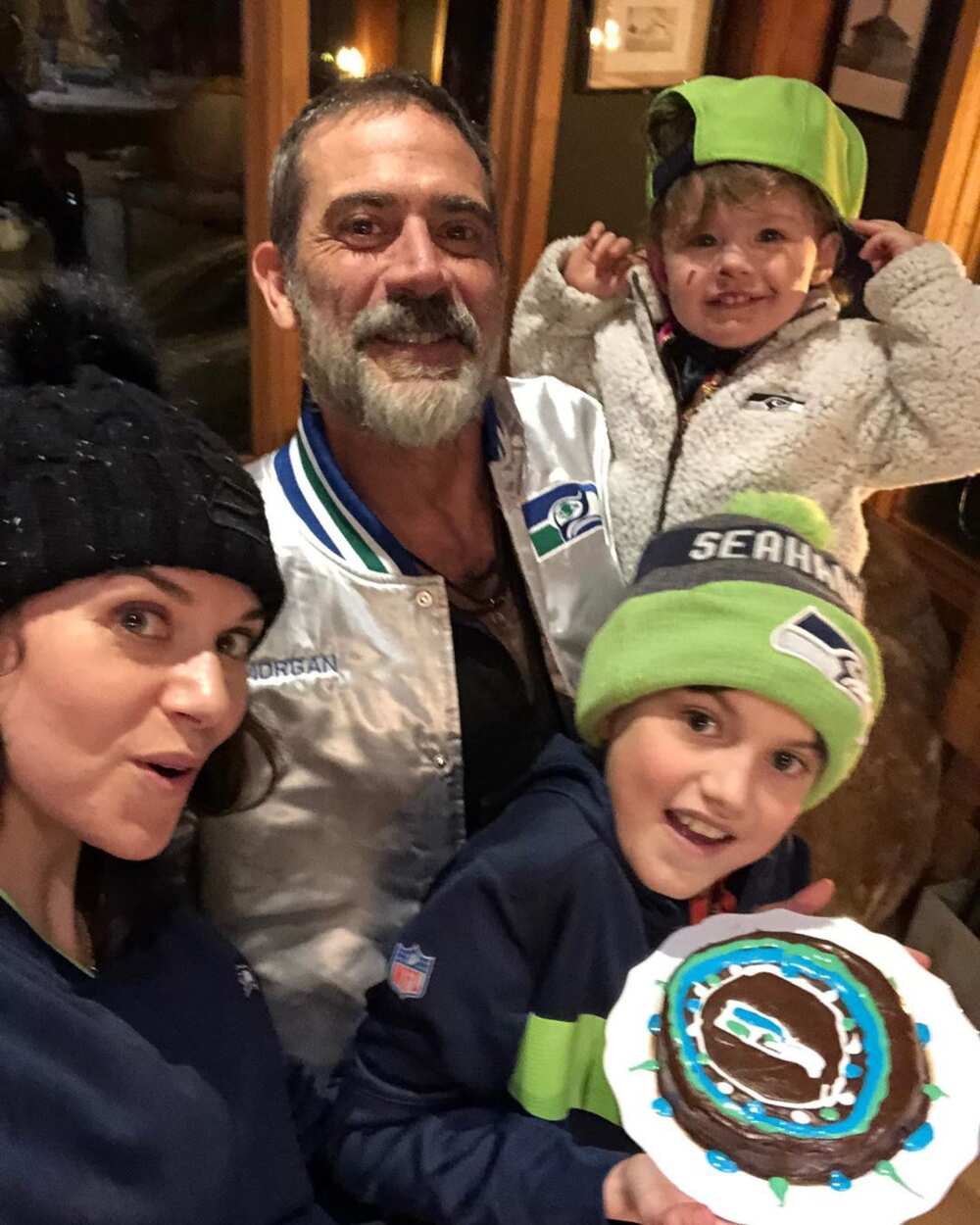 Philanthropy
Jeff Dean is known to be a dog lover. In the year 2011, he participated in a fundraiser to benefit a dog rescue charity called The Brittany Foundation.
Jeff is also a painter, and in 2009, he did a painting which he donated to the Race for the Rescues' Walk of Paws celebrity art auction on October 29, 2006. The money that was raised was used to help shelter cats and dogs in and around Pasadena, California.
Jeffrey Dean Morgan tattoos
The actor has about ten tattoos. Some of them include the following:
One for his daughter
In 2018, Jeff got a knuckle tattoo that reads 'XOGV' for his daughter. He got it while traveling in London with The Walking Dead. The tattoo is located on his right hand, and it reads 'Hugs and kisses George Virginia.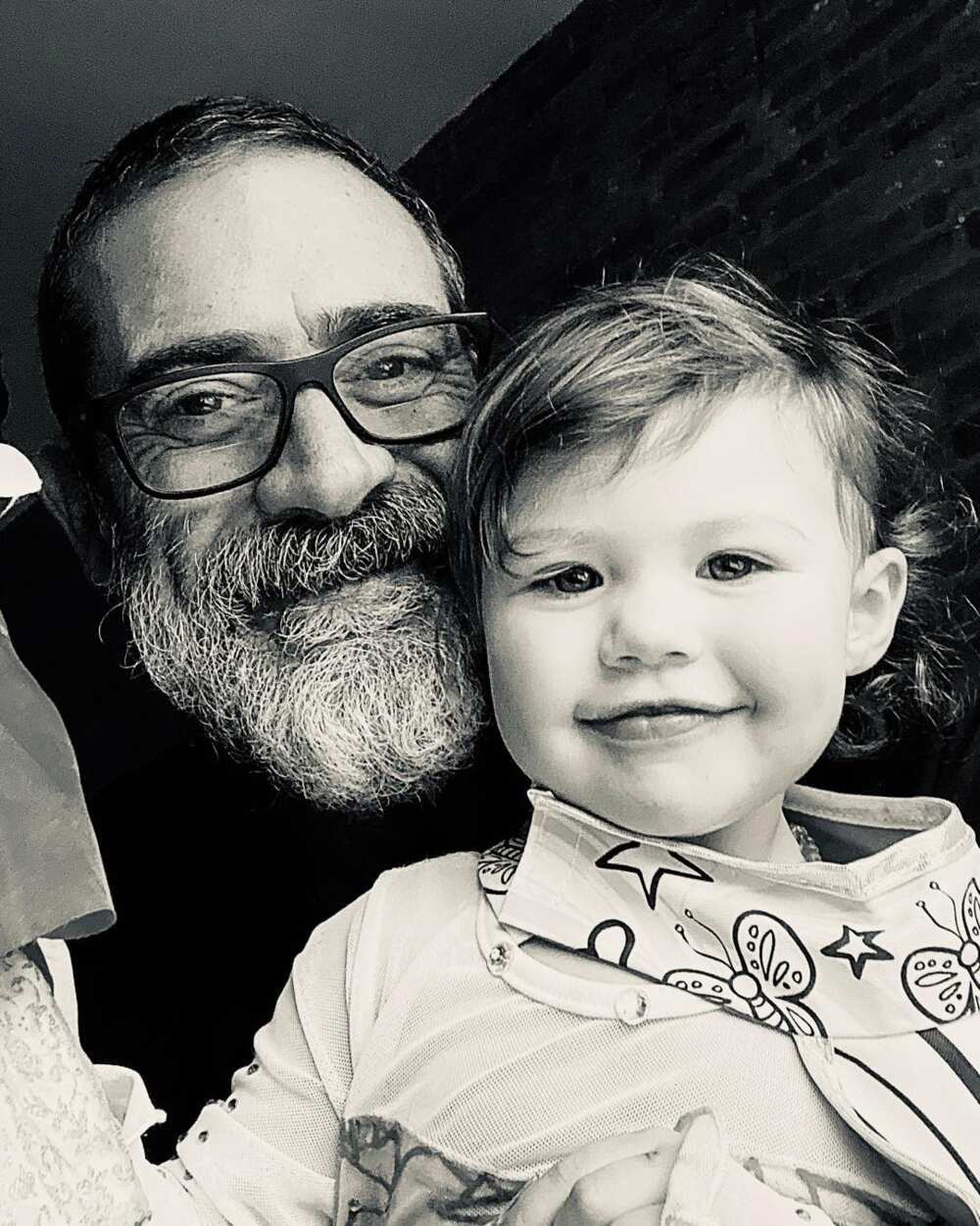 One for his son
His left knuckles have the tattoo 'Gusy'; which is his son Augustus' name in short.
A tattoo in memory of his dog
Jeff has the name 'Bisou' tattooed on his right arm. The name 'Bisou' translated to 'kiss' in French, and it is in reference to the actor's pup who passed away in 2015. Bisou was a pup that Jeff saved. When talking about Bisou during an interview with Hudson Valley News Network, Jeff said:
"I rescued her on the Venice boardwalk...some kids were selling three litters of puppies and I dug through the box and there was one, that, she was maybe four inches long, and I was like, I want to take that one that's not going to make it through the day. I bottle-fed her for about a month . . . two days after she passed I had her name tattooed on my arm. But oh, my god I miss her, I miss her so much."
A gun
The actor also has a tattoo of a gun on his inner forearm. The gun is in honor of his favorite prop in The Salvation.
A crown
During his wedding reception in 2019, Jeff, Jared Padalecki, and Jensen Ackles got matching tattoos of a crown. Jared and Jensen portrayed the roles of Jeff's sons on Supernatural.
Hilarie and Jeff had a tattoo artist at their wedding reception. The tattoo artist, Mike Lucena of Brooklyn, N.Y's Flyrite Tattoo, had a menu of about 20 small designs. The crown was the only design that Jeff had added to the list.
It is reported that Mike Lucena did approximately 50 tattoos during the wedding reception.
Social media presence
Jeff has an Instagram account with 2.9 million followers. His Twitter account has 789.6k followers. He joined Twitter in August 2016.
His Facebook page has over 400k followers and almost 400k likes as well.
Jeffrey Dean Morgan quotes
Here are some of the actor's most famous quotes:
"The only reason I went to college was to play basketball. I injured my knee and couldn't play."
"Sometimes in TV, it can get really stale, especially if you're doing these 23-episode years. It's a lot of work, and to put your family through that, on a location, is not always the greatest thing in the world."
"I can't say enough about Ireland. I can't. I'd move there."
"I would bend over backward to be back on Grey's. Any day, I'll choose lying in bed with Katherine Heigl looking over me over getting thrown against walls by supernatural persons at 5 in the morning."
"I've got a stack of the 'Walking Dead' comic books next to my bed here."
"The work I'm doing on 'Watchmen' is mind bending and physically just hard."
Jeffrey Dean Morgan is a man whose success in the entertainment industry is to be envied. Apart from this, he is also a husband and a father who treasures his kids, as evidenced in the tattoos he has.
Source: Legit.ng