David Corenswet biography: age, height, career, is he gay?
Henry Cavill is one of the best actors in the entertainment industry. He is best known for playing the role of Superman in the 2013 movie, Man of Steel. Interestingly, another actor who shares a striking resemblance with this superhero is David Corenswet. If you follow the Netflix series created by Brad Falchuk, Ryan Murphy and Ian Brennan, The Politician, then, you should know him for his portrayal as River Barkley.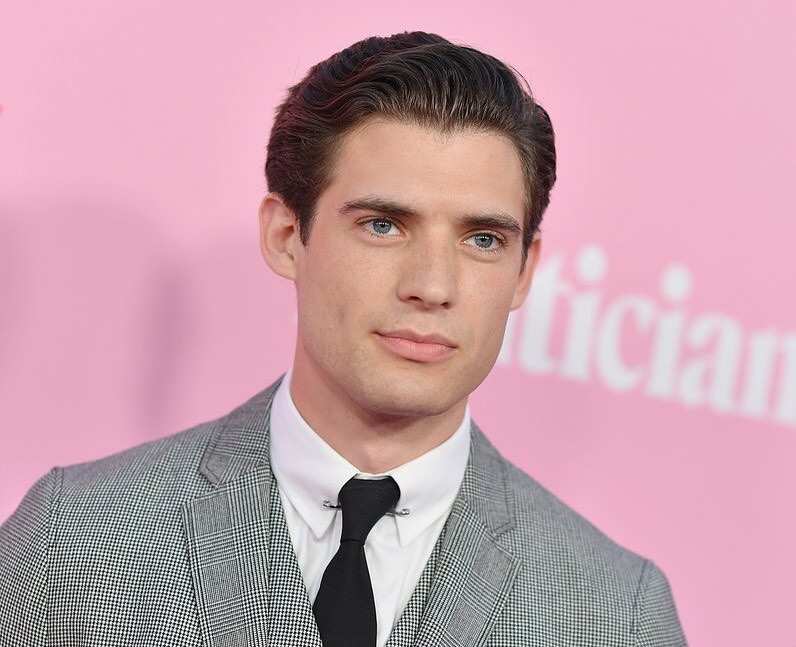 Corenswet's passion for the camera was ignited after he saw his sister acting on Fiddler on the Roof, a community theatre production. Then, he sought his parents' consent and in a little time after then, at the age of nine years, he landed his first paying acting job. Today, the professional actor has garnered fans across the world, and he keeps winning the hearts of other entertainment lovers.
David Corenswet bio summary
Full name: David Corenswet
Birthplace: Philadelphia, Pennsylvania
Birthdate: 8th of July, 1993
Age: 26 years old
Nationality: American
Religion: Christianity
Ethnicity: White
Relationship status: Single
Horoscope: Cancer
Sexual orientation: straight
Parents: John Corenswet
Siblings: 1
Height: 6 feet and 4 inches
Weight: 79 kg
Eye color: Blue
Hair color: Brown
Complexion: Fair
Profession: Actor and screenwriter
Favorite food: Italian
Favorite actor: Tom Cruise
Favorite actress: Emma Watson
School: Juilliard school
Net worth: $480,000
David Corenswet biography and early life
David Corenswet lives in his hometown, Philadelphia, Pennsylvania. He was born into the family of Corenswet, and belongs to the white ethnical background. His father, John Corenswet, was a stage actor, and he was from a Jewish family from New Orleans.
On the other hand, his mother is a homemaker. It appears that David has a strong bond with his father as he took to Instagram account in June 2019 to reveal the demise of his father and how greatly his absence would be felt.
He also shared a throwback picture of himself while he was a toddler with his father. Joe was brought up with his sister, and he frequently talks about her on his Instagram account as well. He attended the Juilliard School in New York City and finished with a Bachelor of Fine Arts in Drama. While sharing his passion for acting, David said:
I love being on set. I love working – getting to show up every day and play around, even if I'm just running up a flight of steps. I love being on set with a crew who loves what they're doing and is good at what they're doing, and a cast who's happy to be there. Any actor who gets to work, especially for longer than a few days here and there, is really lucky.
How old is David Corenswet?
David Corenswet age is 26 years. The actor was born on the 8th of July, 1993. By implication, David Corenswet birthday is always celebrated in July every year.
David's body measurements
How tall is David Corenswet? David Corenswet height is 6 feet and 4 inches. Also, he weighs 79 kg, and he has brown eyes with fair skin.
Career information
David Corenswet, known for his River The Politician role, started acting as a kid, following the footsteps of his late father. In 2002, he featured in the Arden Theatre Company's production of Arthur Miller's show, All My Sons and Hairspray, before he attended college. He made a debut in 2011 in a short film titled Following the Chase, produced by a Crossbow studio. He was also the mastermind behind the screenplay.
Besides, he featured as Clyde in Michael and Clyde in 2013 and played the role of Jerryweather in the Moe & Merryweather TV series. In 2018, David featured as Michael Lawson in Affairs of State, which was also a politically-oriented movie. His brilliant performance in this movie left Forbes astonished. Forbes.com praised and commented on his performance. Likewise, David played a character on House Oo Cards as Claire Underwood.
More so, he appeared as Jack, the lead actor, in Hollywood, according to Deadline. It is an upcoming Netflix series created by Ryan Murphy and Ian Brennan. Additionally, he has movie production and cinematography as some of his skills. He is a proficient director and editor, and he can as well speak English and French. Since he picked a career in the entertainment industry, the following is a list of some of David Corenswet movies and TV shows:
Moe & Jerryweather
One Bad Choice
Elementary
The Tap
Controversy
Instinct
House of Cards
The Politician
Hollywood
Following the Chase
Michael and Clyde
Affairs of State
Project Pay Day
Who plays River in The Politician Netflix series?
David Corenswet acted as River Barkley in The Politician series. He went as far as mastering Chinese for the role. Vanity Fair Magazine narrated his role in the movie as the influential, brilliant and sporty student who has mastered fluency in Chinese, and one who has soft spot only for the most popular and beautiful girls in the school. While his life looks like a picture-perfect on the outside, he had ugly issues to deal with on the inside.
What is David Corenswet's favorite pet?
The star actor is a lover of dogs. It is so evident that The Politician River Barkley is an incurable lover of pets. His Instagram page is filled with pictures of his dog and his cat. When he is not posting pictures about himself, he is either talking about his family or his pets. Although he has a soft spot for cats also, dogs are his favorite.
Is David Corenswet gay?
No. It is verified that he has a straight sexual orientation. However, in The Politician Netflix series, he played a gay role with his on-screen love, Payton Hobart. So, is David Corenswet single? The actor is quite tight-lipped regarding his private life, and there is no information regarding a romantic relationship with anyone.
David Corenswet is a brilliant actor who adds a touch of excellence to everything he does. His professionalism is evident in the roles that he takes in movies and television shows. There is no doubt that he would be one of the best actors of all time.
Source: Legit.ng