Classified Ad Review: Wondering what Delon classified ad is all about?
Wondering if you should use a classified ads website at all?
As an entrepreneur, you should know that it is not just enough to have a great product or great service to offer, It is also of utmost importance the offer reaches the targeted audience.
Advertising has been a very important tool for entrepreneurs or business organisations to bring awareness to their products. If people don't know what you are selling, you might as well not be selling.
However, there are different forms of advertisement, based on budget, the targeted reach and even the industry. For businesses or even individuals who want to advertise but have budgetary concerns, this is where classified ads come in.
What are classified ads website and why are they important?
Classified ads are also called "want" ads. They are a type of advertisement that is published in newspapers, online and on other types of periodicals that are usually sold for very cheap prices or even at no cost at all.
The term, "classified" was coined because the ads are usually grouped into classes. Classified ads have been used for years and it is important because of how inexpensive and inclusive it is.
These ads are like a lifesaver for small businesses that have small budgets and cannot afford the "big ads". On the other hand, they are inclusive because individuals can use classified ads to sell personal items, hire workers and so much more.
Before the internet, classified ads were mostly on newspapers and other periodicals, but the internet has made it easy to publish an ad from the comfort of our homes.
Delon classified ads website is one of such online classified ads platform that helps us publish and even view ads at our convenience.
What Delon classified ads website is all about
Delon classified ads website is Nigeria's top classified ads website that gives you the opportunity to publish ads at zero cost.
With a vision to uplift about one million Nigerians out of poverty, Delon classified ads website has created a platform that is completely inclusive.
Apart from retailers, service providers, importers, exporters and individuals who publish ads for personal items, the website is open to the unemployed to have a means of income or even the under-unemployed to have a side hustle.
The platform is open to anyone who can find a supplier of goods, get pictures, post the ads for buyers and make money off being the middle man.
In addition to that, job seekers can also search for jobs because employers in different fields have the opportunity to publish their vacancies.
The website also has a plethora of categories ranging from personal effects, real estate, and automobile to construction and repairs.
Besides that, Delon classified ads website also made searching easier for customers and clients by streamlining search based on the different locations in Nigeria and so, all you have to do is search for the location and limit your search within that space.
The website is constantly improving and already getting ads outside Nigeria, in the Middle East and other parts of Africa.
What makes it better than others?
There are so many classified ads website in Nigeria and globally. The internet has made it necessary to include so many aspects of life into the worldwide web that hitherto were handled manually. Classified ads are very important because of how easy it has made advertising for small businesses and individuals. However, there are certain qualities that make Delon classified ads website stand out from the rest.
Multiple categories: Delon classified ads platform provides the option of a good number of categories that are important but not common. The website made provisions to include every category you can think of and the platform has an excellent team that is still working tirelessly to regularly improve on what is presently attainable. There are the usual categories, such as cars, clothing and accessories, phones and tablets, real estate, home appliances and even job. Delon classified website, however, took it up a notch to introduce construction and repairs, fashion designing, food and herbs and services such as architecture, engineering, accounting and even event planning.
User-friendly website: It is always important that a website or an app should be user-friendly. What this means is that navigation is easy and completely simplified as much as possible, so that a layman can find his way around the interface without seeking professional help. The balance of a user-friendly website is that professionalism and aesthetics are not compromised. Delon classified website is organised, pleasant and also user-friendly. You can easily find your way around the website because directions are easy to understand and easy to find.
Location-based search: Most advertisements are location-sensitive because it is easier to buy a product in your geographical location than having to worry about delivery charges that come from delivery outside one's immediate location. For buyers, it is usually important to limit the search based on location and Delon ads website has made that available. You don't have to be overwhelmed by a volume of entries that are not useful to you; you can limit your search based on your location before proceeding.
Unlimited products and services: Buyers do not have to worry about not finding any item they want on the platform. Delon classified ads platform is very inclusive, accommodating all verified and legit advertisers. Therefore, there is a plethora of products and services at your fingers tips. Also, you are presented with different options at different prices, so you have the opportunity to choose the kind of product or service you want to patronise.
Commitment to the vision: The platform has the vision to uplift about one million Nigerians out of poverty. This is so refreshing because this is a platform with a heart for the people and a desire to give back. Delon classified ads website has also gone an extra mile to prove their commitment to the vision by encouraging the unemployed to start a business of their own at zero cost just by serving as a middle man between suppliers and buyers. All they have to do is find a supplier of certain goods, get pictures of the goods and publish them to get sellers.
Commitment to growth: Delon classified ads website is committed to growth and has proven this by constantly upgrading the website and their services. Presently, advertisers are not simply from Nigeria; the platform gets ads from other parts of Africa and the Middle East. They are also working towards getting importers from the United States and European countries. This will definitely translate to business opportunities or more streams of income for the unemployed and under-employed.
Excellent customer service: There is a provision for excellent customer service to all those who need to lodge any form of complaint, need any form of assistance or just have questions. There is a "contact page" on the website with the official phone number and email address of the platform. You could also use the contact form if you will prefer that option. All you have to do is reach out and you will be attended to accordingly.
How to start posting on Delon classified ads
You might be asking how to start posting on Delon classified ads website. It is really simple actually.
• Visit the website
• If you are first time visitor, you will need to register first before proceeding. Click on the "register" button.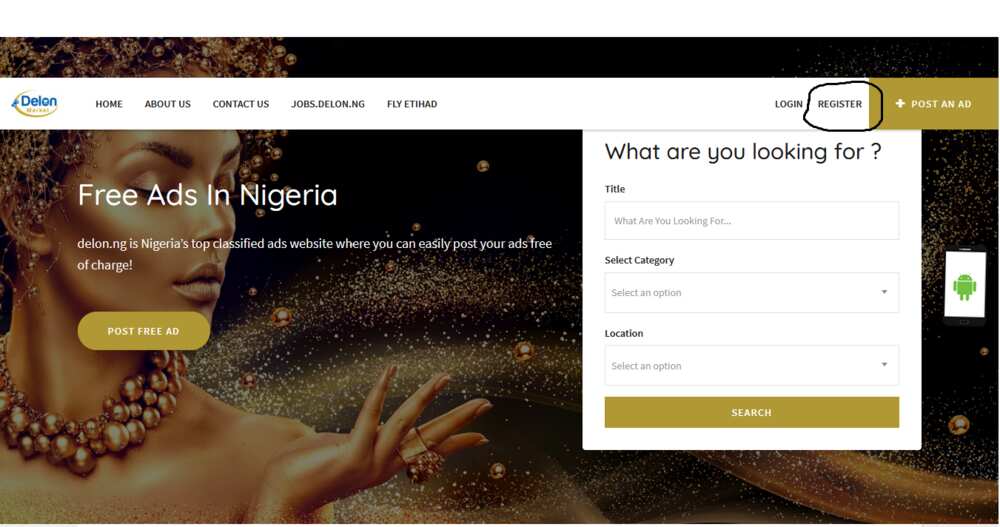 • Once you have clicked on to register, you will be directed to the register page, where you will be required to fill in your details in the spaces available.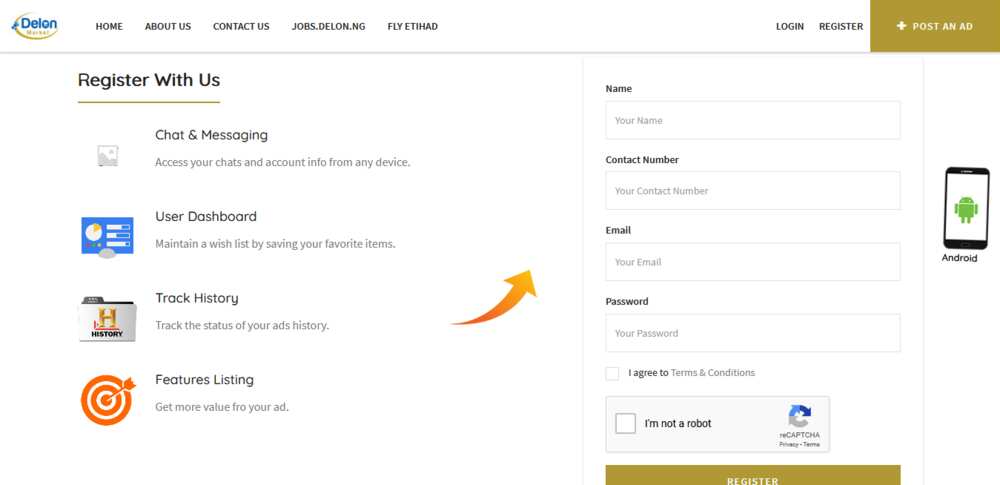 Don't forget to read the "terms and conditions", tick to indicate you agree and verify that you are not a robot before clicking the "register" button.
• After you are fully registered and verified, you will be given a dashboard.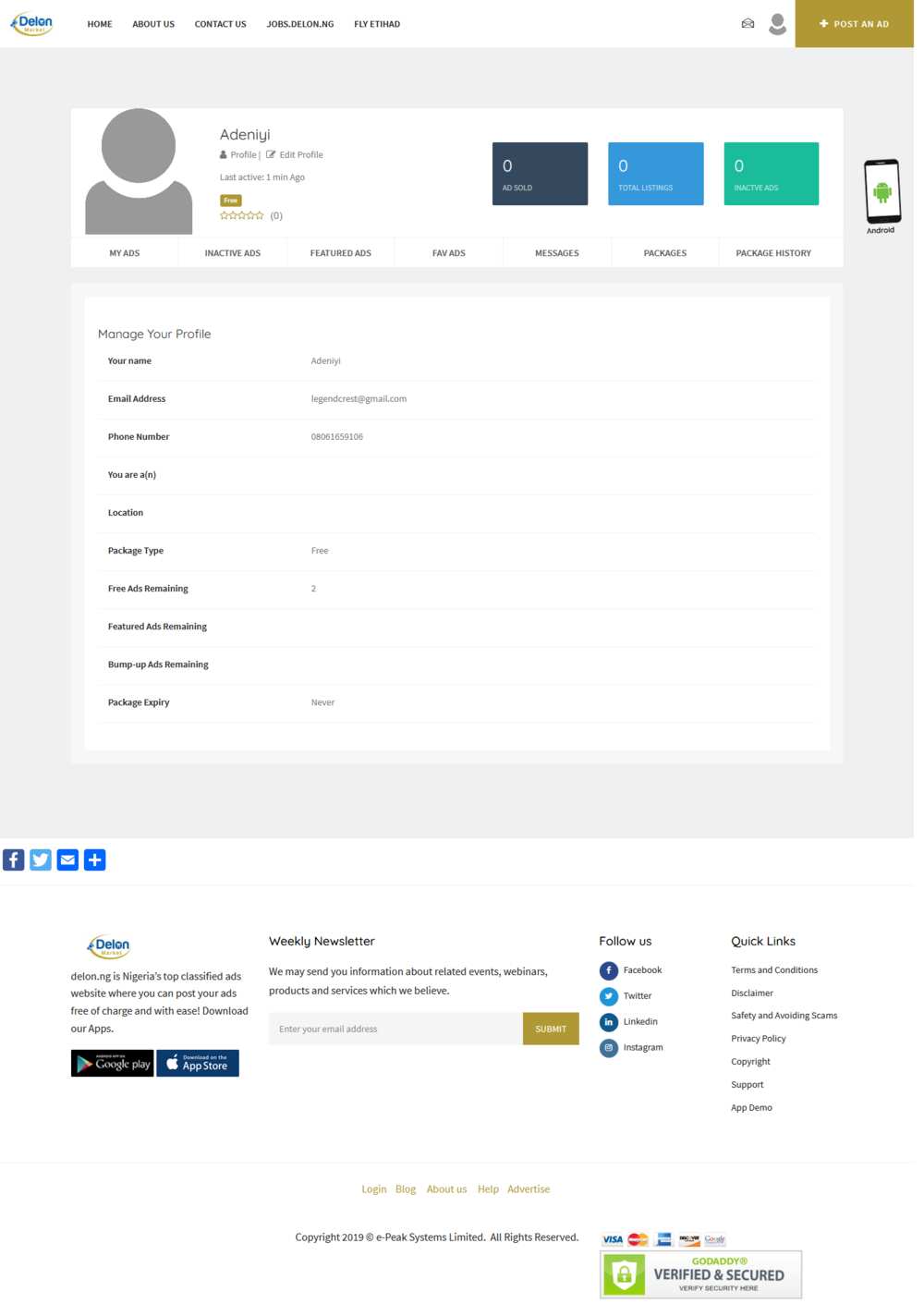 • To post an ad, you can click on the "post an ad" at the top right hand of the page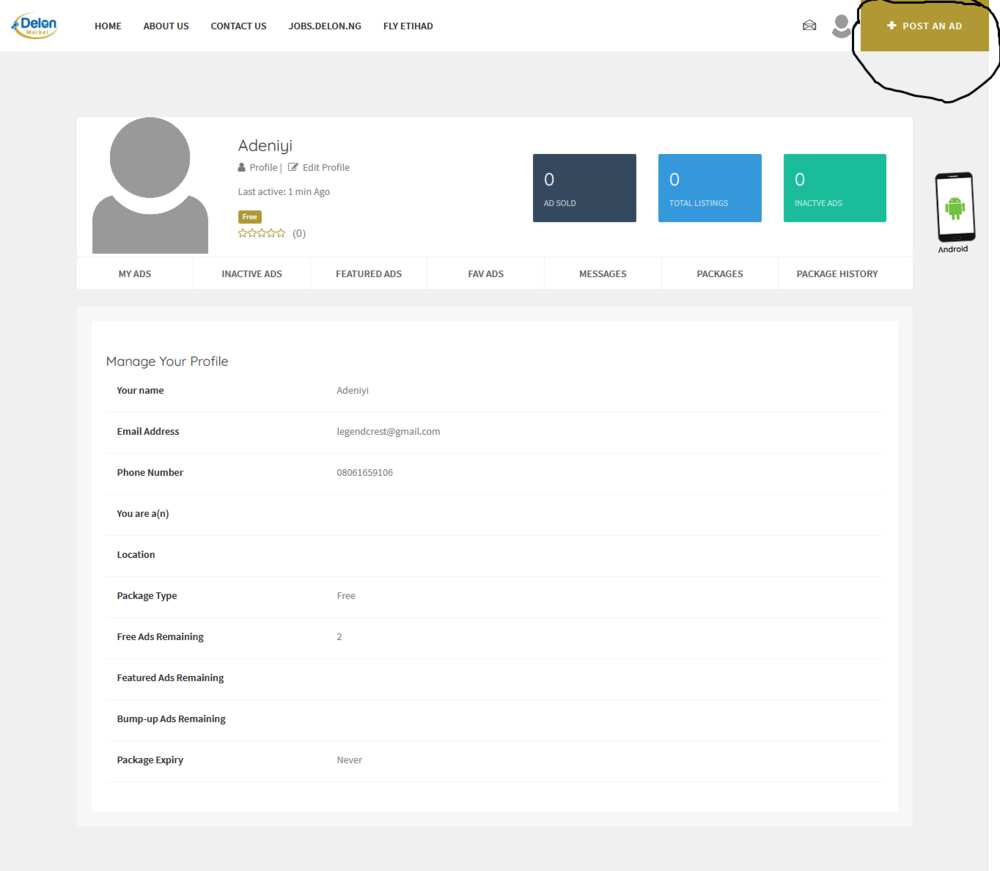 • You will be directed to a page where you are required to fill a form. There is a space for title and category. Enter your title, for instance, "house at Ibadan for sale" or second-hand phone for sale" and then choose the category your ad falls under. Then click on "next".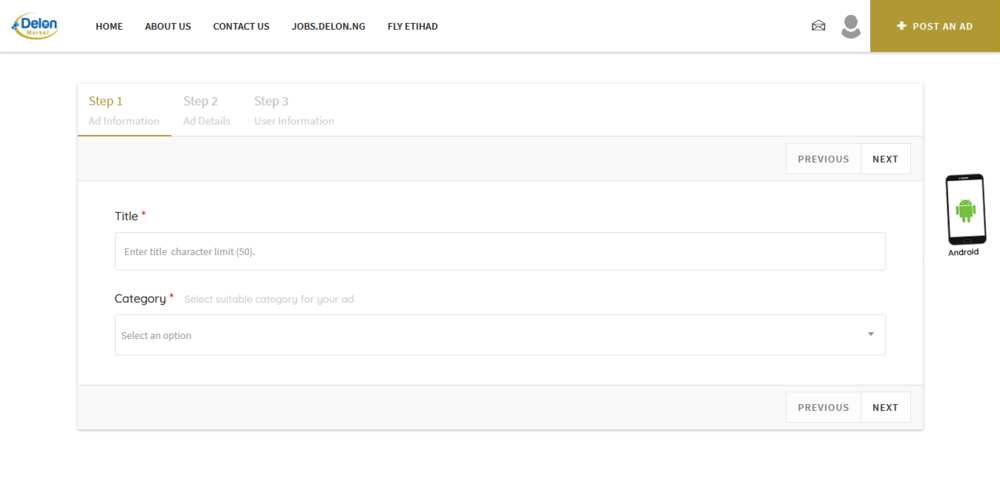 • You will move to the next page where there are further columns to fill. You will be required to fill "price type"; when you click on it, you will get a drop-down of options. Then enter your price. Remember if you chose the "negotiation" option in the price option, that means customers can negotiate. Next column is to select the currency.
• Then you will be required to upload images of the item or product. Then, add a description in the description box provided. You will proceed to choose the type of ad, the item condition, and whether your product has a warranty or not. You can also add tags to make your ad easier to find. Click next once you are done filling every column.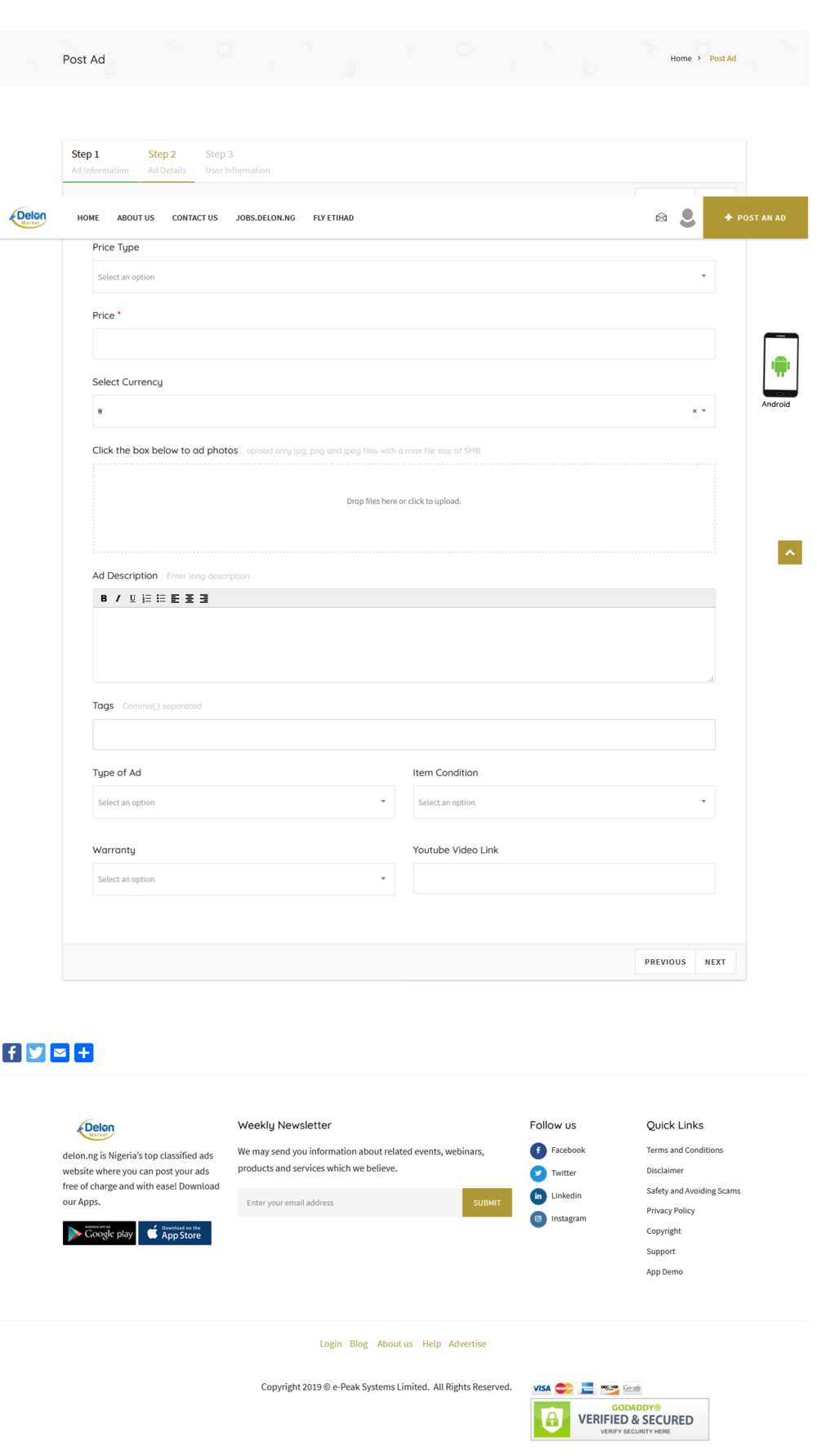 • The next page is the page for your personal information so those who see your ad can contact you. You can input the information you are comfortable sharing with the public.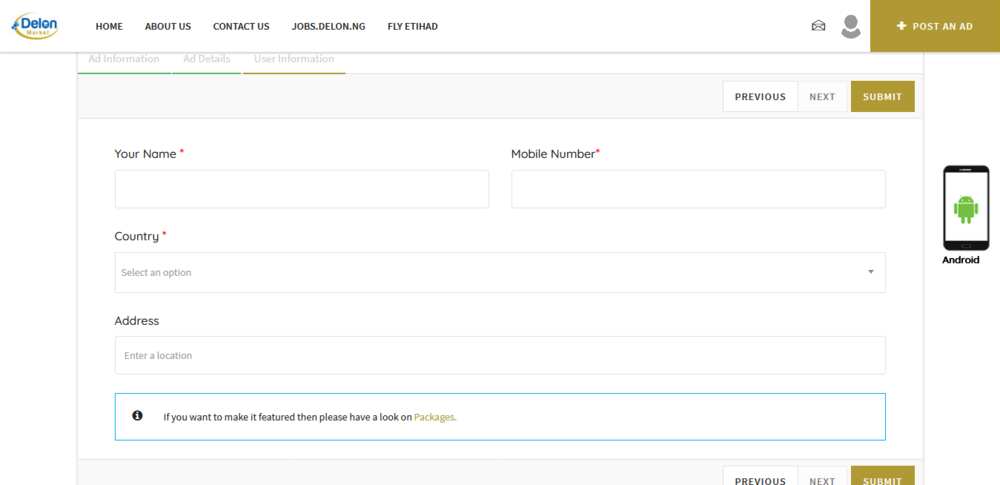 • Once you are done with that, click submit and your ad is now successfully added to the database.
Delon classified ads website has made the process very easy for users. Go on and start posting your free ads, so you can cash out and if you are a buyer, there are so many items at your disposal as well.
[Sponsored]
Source: Legit.ng