Great wedding card messages to impress the newlyweds
Are you attending a marriage ceremony soon? The newlyweds will be thrilled to receive a card with touching wedding sentiments. This way, they will know that you sincerely wish them a blessed union. Here are some of the best wedding wishes that you can include. You can use them to make your wedding card messages lovely and thoughtful for the people you care about, or you can also go for the hilarious ones to make them smile.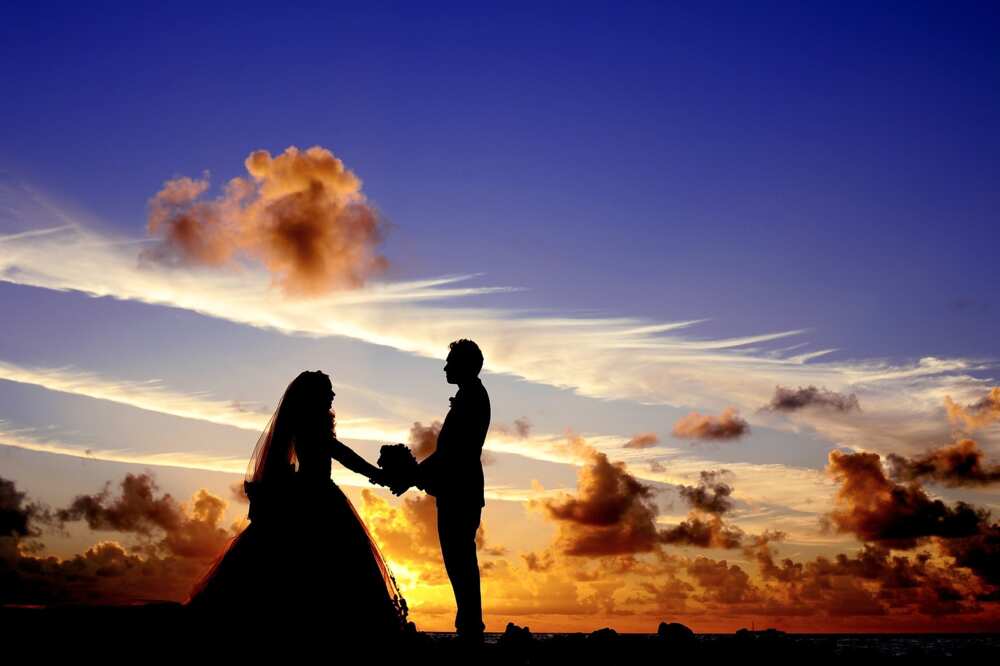 Have you ever been in a situation where you found an ideally designed card, but you struggled with the words to write on it? This is quite a common occurrence, and a lot of people have been in the same boat. What matters, however, is writing your wedding card message straight from the heart.
What to write on a wedding card
A lot of people have to brainstorm what to write in wedding card. Each card is different - there are regular ones that you can buy from the store; there are also homemade, or even digital ones. You can carry along any one of them to the marriage ceremony and write some beautiful wedding congratulations on them to melt the hearts of the newlyweds.
The best wedding quotes are sweet, genuine and fitting for the couple whose special day you are attending. It is important to consider your connection with this person. If your boss is getting married, it may be better to keep your wedding words formal. However, if you are congratulating your best friend and are wondering what to write in a wedding card, you can insert something funny and hilarious. Another significant factor is their personality and preferences, which you should remember about during your search for the perfect words.
Best wedding greetings for the happy couple
Here are some ideas that you can use when writing something in a congratulatory card meant for your friends. They are guaranteed to be suitable for any couple.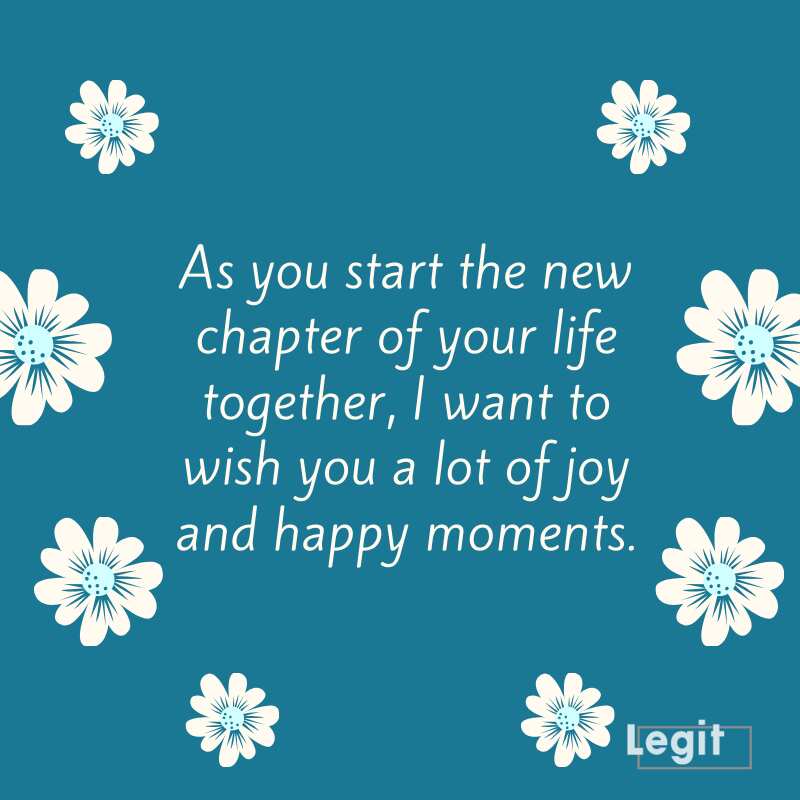 Seeing you so happy has been a joy to all of us! Wishing you all the best in your marriage.
May your love become stronger with every passing day.
I hope every day will be like that first day when you met and fell in love.
As you start a new chapter of your life together, I want to wish you a lot of joy and happy moments.
I am beyond honoured to see the birth of true and unconditional love that the two of you have. May your feelings blossom even more with every year.
Your marriage is something I will never stop believing in because you are just right for each other. Congratulations on your wedding!
May your story be better and more inspiring than the most enchanting fairy tales. I will always support your union!
I wish you to grow old together and eventually turn into the cutest old married couple. You have all the potential for it.
Today is a great day to start the rest of your life and run off into the sunset together.
Have the most memorable time at the ceremony and a fantastic future together. Hopefully, your feelings will always remain just as strong as they are today!
Hilarious wedding card messages for your friends
If you are attending a ceremony and have some funny ideas about what to say in a wedding card, you can totally go for it. They would be fitting for your buddies whom you have known for a long time. Funny wedding messages will bring a genuine smile to their face and remind them of your incredible sense of humour. They will treasure your card and laugh at it even many years later.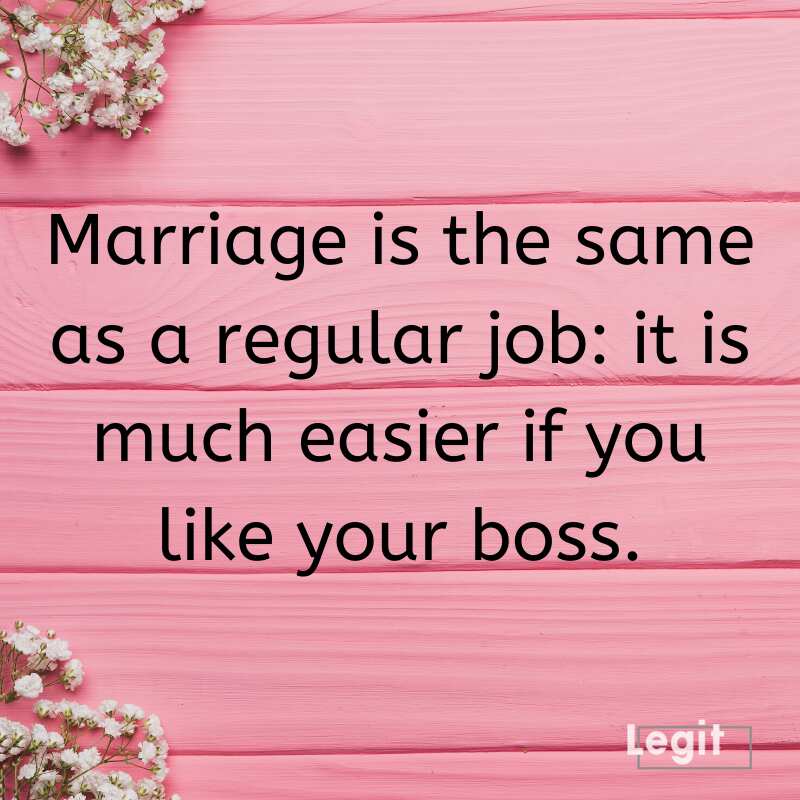 Marriage is the same as a regular job: it is much easier if you like your boss.
I hope your children grow up to be as weird as you two.
Every union works according to the "give and take" principle. The more you give, the more the other person will take.
Your kids can grow up and move out, but your spouse will not do it - just saying so you can brace yourselves. Good luck!
When two people fall in love and get married, never forget about the prenuptial agreement.
Don't mess this up. If it doesn't work out, don't worry about returning my gift.
Marriage is like Shakespeare's plays: there is a little romance, a bit of comedy, and lots of tragedy.
There is a common belief that opposites attract. If this is true, then your union really has a chance of working out.
Hey, if any of you changes your mind, then I know a great travel agency.
Now you have two bank accounts and twice as much debt. Welcome to marriage!
Important wedding day quotes
These wedding sayings by famous and wise people will remind you of the significance of marriage. With them, your card can be truly unique. Who knows, maybe this gesture will make the married couple bond even stronger as they consider what is important in their union. After all, these quotes are very romantic and inspiring.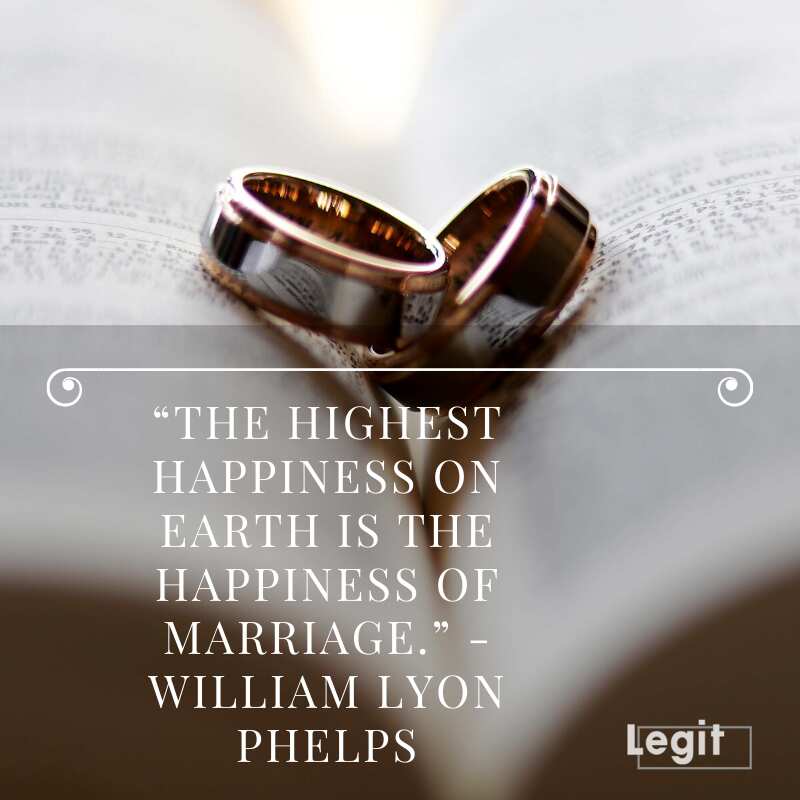 "Being deeply loved by someone gives you strength while loving someone deeply gives you courage." - Lao Tzu
The truth is that mutual love makes us stronger and braver in every possible way.
"The highest happiness on earth is the happiness of marriage." - William Lyon Phelps
Finding a partner who understands you is the most valuable gift that life can give you.
"You know you're in love when you can't fall asleep because reality is finally better than your dreams." - Dr. Seuss
"A successful marriage requires falling in love many times, always with the same person." - Mignon McLaughlin
Falling in love does not just happen once; it happens every day.
"I would rather share one lifetime with you than face all the ages of this world alone." - J. R. R. Tolkien
Living a happy life with someone is better than being immortal yet alone.
"A great marriage is not when the "perfect couple" comes together. It is when an imperfect couple learns to enjoy their differences." - Dave Meurer
A healthy relationship takes a lot of work to build and maintain.
"Faith makes all things possible. Love makes all things easy." - Dwight Moody
Love is the answer to every problem.
"For it was not into my ear you whispered, but into my heart. It was not my lips you kissed, but my soul." - Judy Garland
Emotional demonstrations of affection are so much deeper than physical ones.
"I know by experience that the poets are right: love is eternal." - E.M. Forster
All the deep poetic works did not just appear by themselves. They had a lot of inspiration behind them.
We hope these outstanding wedding card messages will offer great assistance when writing heartfelt wishes to your friends.
Source: Legit.ng