50+ have a great day wishes and messages to send to your loved ones
There is a nice feeling that comes from seeing our loved ones happy. One of the things that can put a smile on their faces is sending them have a great day messages. This automatically brightens up their day as it is a beautiful gesture to remind them that they are in your thoughts.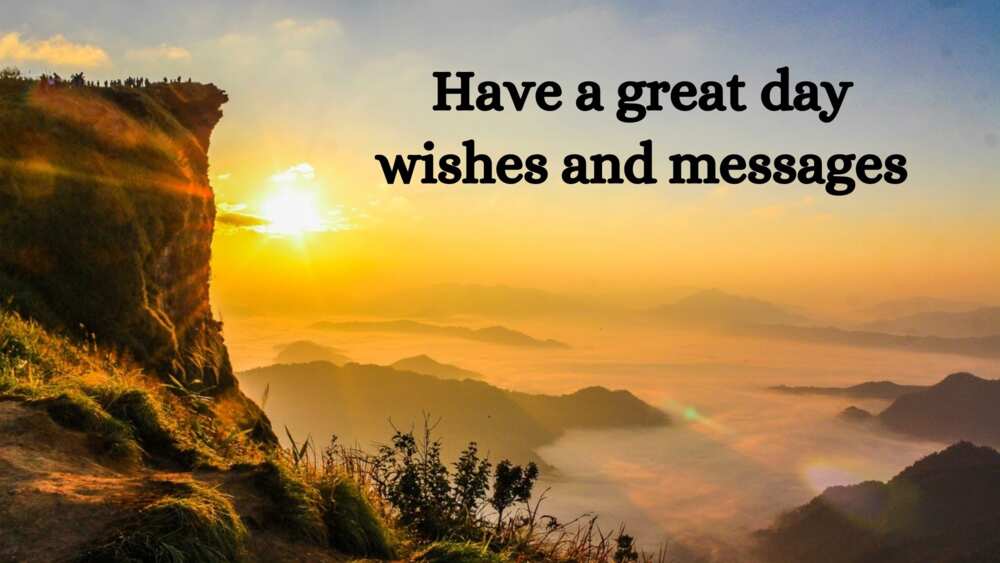 When you are able to enjoy your day, you feel happy and at peace. As we want our loved ones to experience happiness and peace, sending them have a lovely day wishes and messages can remind them to face the day with positivity as they are loved and cherished.
10 lovely have a great day wishes
These wishes can serve as a reminder to your loved ones that you have their best interests at heart.
All the very best for the day, and may luck be with you always and forever. I wish you a great day ahead.
I wish you a great day because seeing you happy is the most amazing thing in my life. Stay positive and be confident.
Be the best version of yourself and let the world see what they are missing out on. Sending love and smiles on your way.
I believe you can achieve anything in life that you want to. You are very hard working, so go out there and make your dreams come true.
The future is in your hands. What you do now determines what you will become in the future.
Each morning is a new page in your life. Write you a great story, and always remember there is someone who loves you so much.
Begin your day with confidence, and everything will be fine.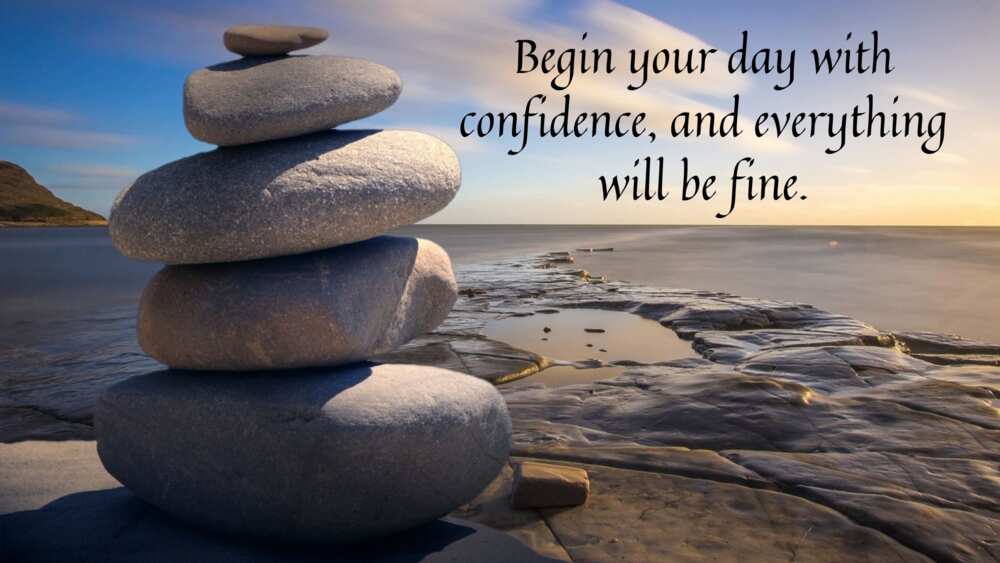 As the sun rises, it comes with so many blessings. May the rays of the sun touch your heart and give you the joy and happiness you desire.
I hope you face these next twenty-four hours with positive thoughts and with a mind free of tension and worries.
Love yourself for a peaceful and happy life. Dream big and focus your efforts on what is important to make your dreams come true. Put your ego on the side and always show up to make your life better.
10 incredible have a blessed day messages
Blessings are believed to make good things come our way. Send these messages to your friends and brighten up their day.
Everything you pray for will be yours, and your dreams will surely come true someday. It may not be exactly what you wanted, but it will be what is best for you because God's plans are better. He will always bless you with what he deems best for you.
May the rays of sunlight that illuminate your morning fill you with the warmth and love of the Almighty Father.
Always make your day a great one because it is God's gift for a new beginning, blessing, and hope.
You are blessed and highly favoured because you are alive. May you have the strength and resilience to make every second you have been blessed with count.
May God bless you with his best and make your life a heaven on earth.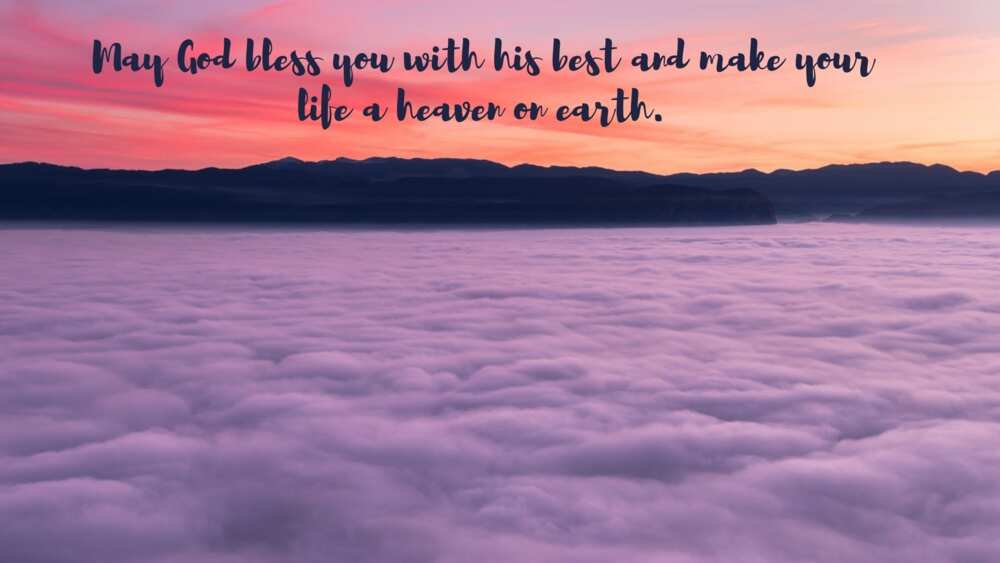 Begin another twenty-four hours, remembering that not everyone got the opportunity to wake up from their sleep this morning. The mere fact that you can witness this beautiful moment in good health is the biggest sign that you have been abundantly blessed.
As another twenty-four hours unfold, I pray that each moment will be filled with purpose, meaning, and love.
I want to remind you that you have the ability to make all your dreams become what you really want them to be. You are powerful. You are blessed. You are great. May you never forget these things.
I pray that God floods your mind with thoughts of goodness and your heart with love.
What a beautiful morning to wake up to! And as the hours go by, may it only get more beautiful.
10 thoughtful have a wonderful day wishes
There is a beautiful feeling that comes when we know that someone is thinking about us. Send your friends these wishes and let them feel your love throughout the day.
This is one of the most beautiful days of your existence. You will never get it again throughout your earthly journey, so do not let anything hinder you from making it count. Enjoy life.
Ups and downs are part of life. The sun shines in the sky, and then the rain falls too. However, do not worry if there is any unfavourable condition because the sun and the rain meet to make a rainbow.
So, you made some mistakes yesterday? Who does not? Just learn from them and be joyful for being blessed with another period to make things right.
Be sure to engage in all that brings you joy and contentment, for life is not very long.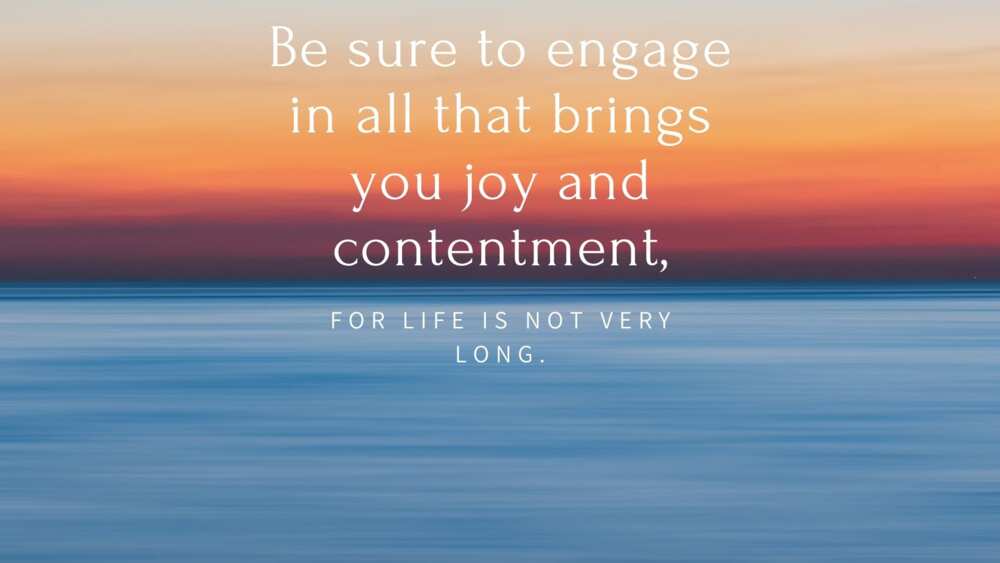 God gave you this life because He has such strong faith in you. Do not try to prove him wrong.
There is nothing that guarantees great results more than persistence. Keep chasing after your dreams with all the strength in you, and you shall definitely win.
There is nothing more precious than being alive. Be happy and grateful for this priceless gift you possess.
Do not engage or respond to rude and hateful people. Mind your business and protect your energy.
I know that life is not easy. But guess what? You are stronger and tougher than life. Do not ever give up because you will accomplish extraordinary things. I know it! I feel it!
Every single action or inaction you choose to make will determine how bright your tomorrow becomes. Endeavour to make good choices.
10 inspiring have a beautiful day messages
Inspiring messages from a loved one will help anyone to start their day in a new spirit. Which are the best have a beautiful day messages?
Never regret anything that happens in your life. Good things make you happy, and the bad things give you experience.
You will find your luck when you stop searching for it by putting all your struggles and efforts into what you are going to achieve. So, have faith in yourself and step ahead to achieve your goals.
Smile and have confidence that you can achieve your desires by your efforts.
The Universe only gives you as much as you can handle! Be confident in yourself.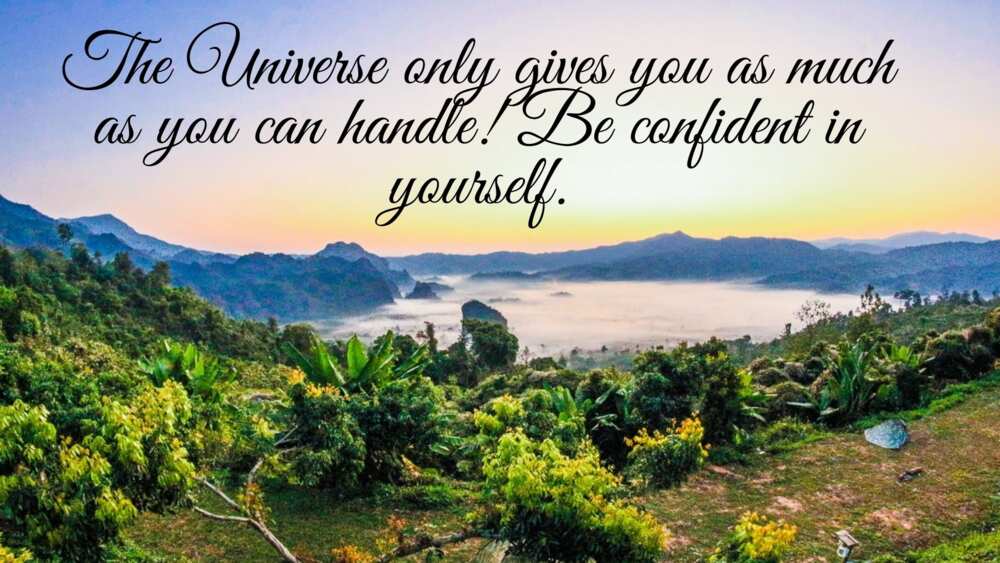 Living in good and bad situations is part of life, but surviving through all the situations with a smile on your face is the real art of life.
All you need is a good head on your shoulders, a smile on your face, and just a hint of optimism telling you that it is all going to work out in the end!
What seems harder to do is oftentimes more rewarding, so be bold enough to take on challenges with the confidence of a champion.
Luck is like an elevator, while hard work is like steps. The elevator may get stuck sometimes, but you will get to the top for sure through the steps. So, put your best foot forward and work hard for the successful life you desire.
I hope that you will enjoy yourself so much that your face muscles will be sore from smiling and laughing all through.
When it seems like the world is conspiring against you, be daring enough to fight and prove to yourself that you are capable, inspiring, and worth it.
10 delightful good morning have a great day wishes
Here are some ideas of what you can write to your loved ones to wish them a great day.
No matter what comes your way, do not give up, for I see pure greatness in you. You are fabulous! Hope you have a great day!
Every sunrise marks the rise of life over death, hope over despair, and happiness over suffering.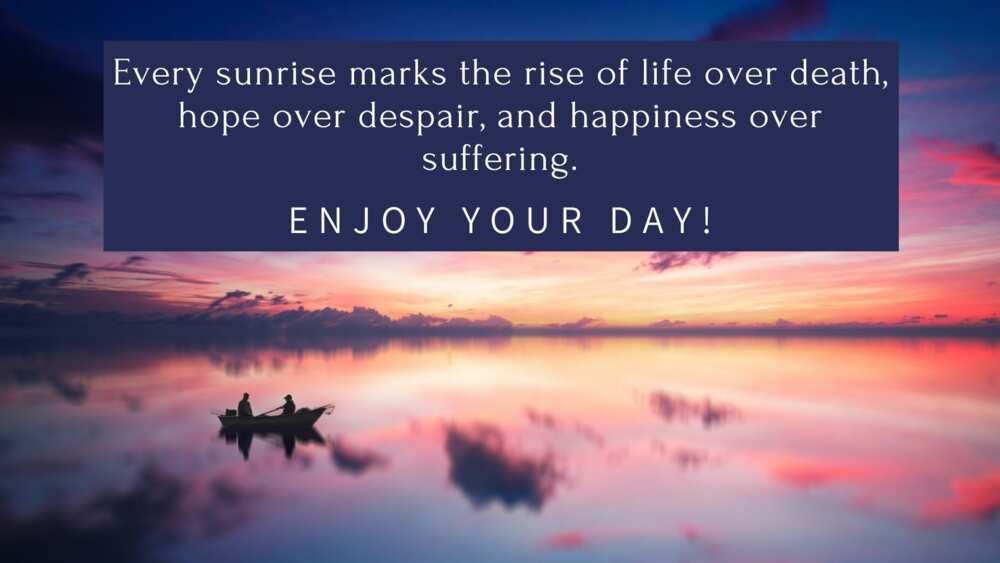 If your plan A did not work yesterday, remember that there are 25 more wonderful letters in the English alphabet.
Wake up like the sun every morning and light up the world with your awesomeness. You have so many great things to achieve!
I assure you that your toils and sacrifices will never be in vain. Keep on persevering, and you shall definitely get there.
Breathing in the fresh morning air makes you healthier and wiser. Do not ignore the blessings that every morning has to offer.
Wake up like the superstar you are and let the world know you will not stop until you get what you deserve.
Never doubt yourself, for you are one of the few people in the whole wide world whom I have total faith in. You are a winner, now and forever.
The darkness of night has ended. Now, a new light is up there to guide you towards a life so bright and blissful.
It is time to get up, take a deep breath, and enjoy the sweetness of nature with all your heart.
10 amazing have a good day quotes
It is never a bad idea to start your day by wishing those close to you a good day.
Think less and do more! Keep your faith and trust that the Universe is working in your favour!
May your cup overflow with peace, love, and pure awesomeness!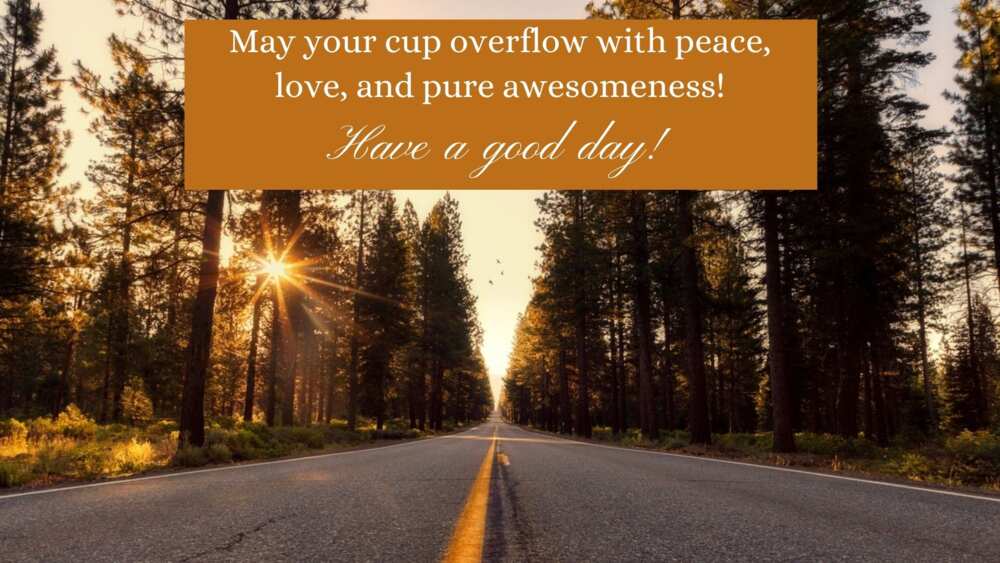 Do not store dreams in your eyes, for they may roll down with tears. Store them in your heart, for each heartbeat will inspire you to fulfil them.
Be spontaneous, be daring, and get things done! Direct your energy towards the things that matter the most to you.
When you arise in the morning, think of what a precious privilege it is to be alive; to breathe, think, enjoy, and love a little more.
Never allow anything to stop you from seeing the beauty around you, for happy are those who see the beauty in life.
Every single moment is a great one, no matter how bright or dark it is, because it always brings an opportunity to start a positive beginning in your life.
Life is too short to start your day with broken pieces of yesterday; it will definitely destroy your wonderful today and ruin your great tomorrow. Enjoy what you have now!
Awaken to joy, awaken to pleasure. Awaken to friendship and love without measure.
In the journey of life, we pass through pleasures and pain. There will be sunshine and rain alongside loss and gain. Nevertheless, we must learn to smile again and again.
Have a great day messages should not be sent only when there is a special event happening. Being alive is the special occasion!
READ ALSO: 50+ wonderful happy birthday dad messages, wishes and quotes
Legit.ng recently reported that parents are important people in the lives of their children. Most of them sacrifice their comfort for the sake of their family.
Therefore, among the many ways of honouring their efforts is to remember them on important occasions such as their birthdays. Use happy birthday dad messages to convey your deep feelings towards your father.
Source: Legit.ng