Jaden Smith bio: age, height, net worth, is he gay?
Singer, songwriter, rapper, and actor Jaden Smith has been in the limelight for most of his life. He was born of celebrity parents who are supportive of his interests and passions. The young man is known for his unique fashion style and boldness in what he believes in. Most people recognise him from the remake of The Karate Kid and the filmThe Pursuit of Happyness.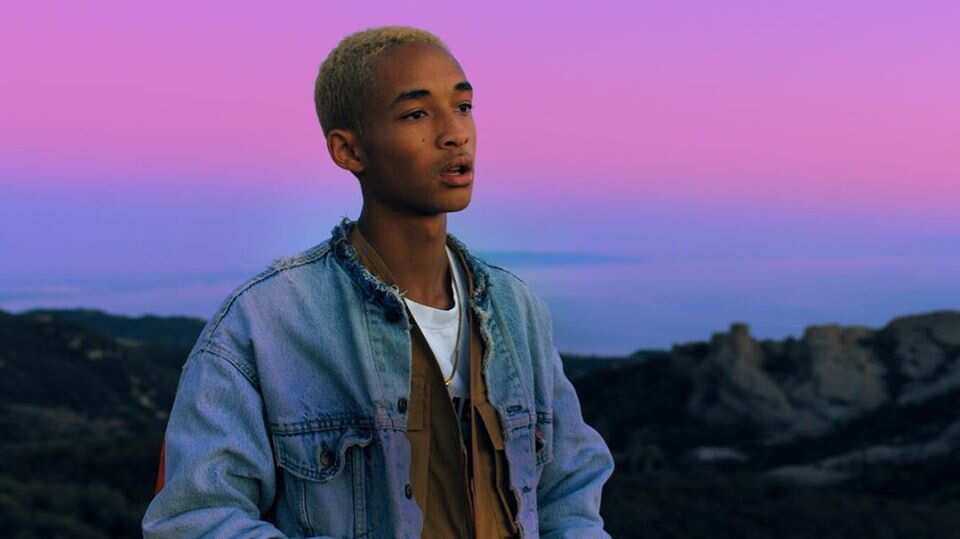 Who is Jaden Smith? He is an actor, songwriter, and musician from America. He is the son of Will and Jada Pinkett, who are both household names in Hollywood. How old is Jaden Smith? The young star was born on the 8th of July 1998. Presently, Jaden Smith age is 21 years, and his star sign is Cancer. He was born in Malibu, California, so his nationality is American.
Profile summary
Full name: Jaden Christopher Syre Smith
Age: 21 years
Date of birth: 8th July 1998
Place of birth: Malibu, California, United States of America
Nationality: American
Zodiac sign: Cancer
Father: Will Smith
Mother: Jada Pinkett
Sister: Willow
Half-brother: Trey
Height: 5 feet 8½ inches (174 centimetres/ 1.74 metres)
Weight: 65 kilogrammes (143 lbs)
Hair colour: Dark brown
Eye colour: Dark brown
Profession: Actor, singer, rapper, songwriter
Net worth: $8 million
Jaden Smith's background
The talented young man has one sister and one half-brother. His older half-brother is Trey, who was born in 1992. His only younger sister is named Willow. She was born in 2000. His father and mother, Will and Jada, are both actors who are experienced in the Hollywood entertainment and film production industry.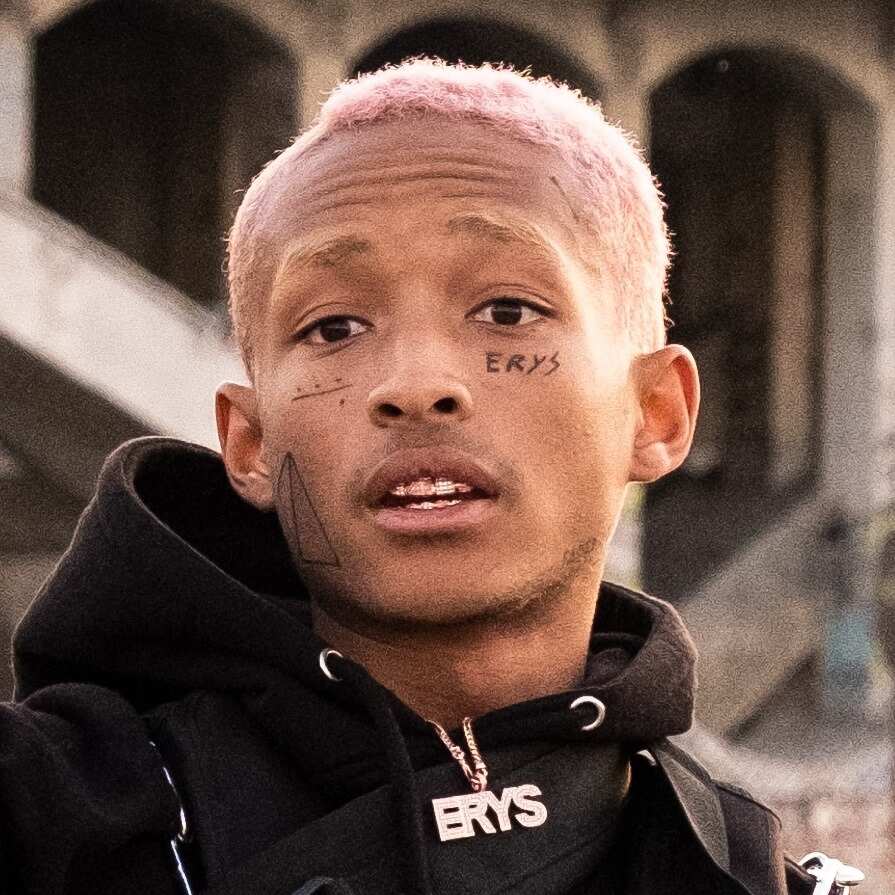 Education background
The rapper went to New Village Leadership Academy for a while. His parents later decided to home-school him. As a child, the young boy faced challenges due to the status of his parents. He missed on a normal childhood due to this, so he did not make friends. To cope with the situation, he joined the skateboarding scene, where it was difficult to recognise him.
Jaden Smith height and measurements
How tall is Jaden Smith? The young star, who has an athletic build, is 5 feet 8½ inches (174 centimetres/ 1.74 metres) tall. He weighs about 65 kilogrammes (143 lbs) and has dark brown hair and eyes. His shoe size is 8 (US) or 41 (EU).
Career
The young man is multi-talented. He is active in both the acting and music industry. He made his acting debut in 2006 and joined the music scene in 2010. His career timeline is as follows;
Acting career
Before making his acting debut in 2006, the young actor had an uncredited cameo role in a music video back in 2002. Since his debut, he has starred in different television shows and films. These are;
Movies
The Pursuit of Happyness (2006): He starred in this film alongside his famous father. He portrayed Christopher Gardner Jr. in this award-winning film.
The Day the Earth Stood Still (2008): He portrayed Jacob Benson Jr.
The Karate Kid (2010): He acted as Dre Parker in this remake film that also starred Jackie Chan.
After Earth (2013): He portrayed Kitai Raige. He acted alongside his father, Will. Together, they acted as father and son.
Skate Kitchen (2018): He featured in the film as Devon.
Life in a Year (2019): Jaden Smith 2019 has post-production credits in this film. He portrays the character of Daryn.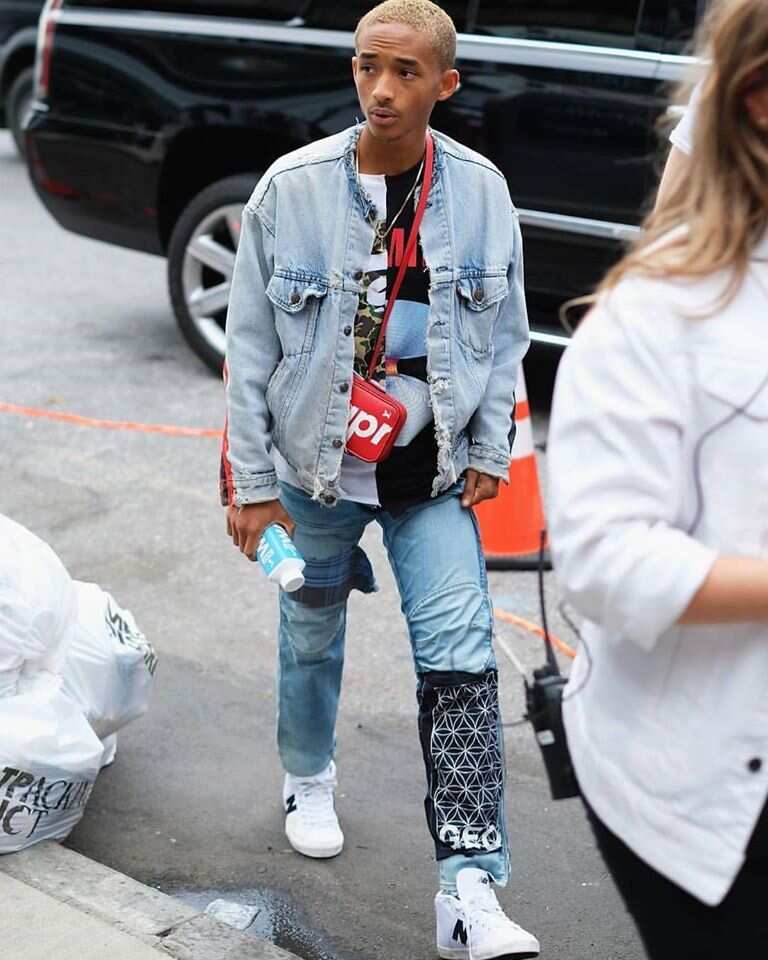 Television shows
The young actor has featured in the following television shows as well;
All of Us (2003-2006): He acted as Reggie. He had a recurring role which saw him making an appearance in six episodes.
The Suite Life of Zack & Cody (2008): He featured as Travis in the episode, Romancing the Phone.
The Get Down (2016- 2017): He had the leading role of Marcus "Dizzee" Kipling. He appeared in 11 episodes of the show.
Neo Yokio (2017): He voiced the character of Kaz Kaan.
Nashville (2017): He appeared as himself.
Music career
The multi-gifted star made his debut in the music industry back in 2010. Jaden Smith songs are catchy and trendy. In 2010, he rapped in the song, Never Say Never, alongside Justin Bieber. The song did very well in the music charts.
On the 1st of October 2012, he released his first-ever mixtape, The Cool Café. On the 8th of November 2014, he released his second mixtape, CTV2, which was a sequel of the first. In 2014, the young musician started working on the first Jaden Smith album. It took him three years to complete it.
Towards the end of 2016, he announced that the title of his debut album would be Syre. The lead song in the album, Fallen, came out on the 5th of December 2016. He then released three singles, Batman, Watch Me, and Falcon in 2017. The album was released on the 17th of November 2017.
After Syre, he announced that he was working on his second album, Erys. On his 20th birthday, the musician released Syre: The Electric Album, which was a rework of Syre. The project was inspired and influenced by The Beatles and Jimi Hendrix. On the 5th of July 2019, his second studio album, Erys, was released.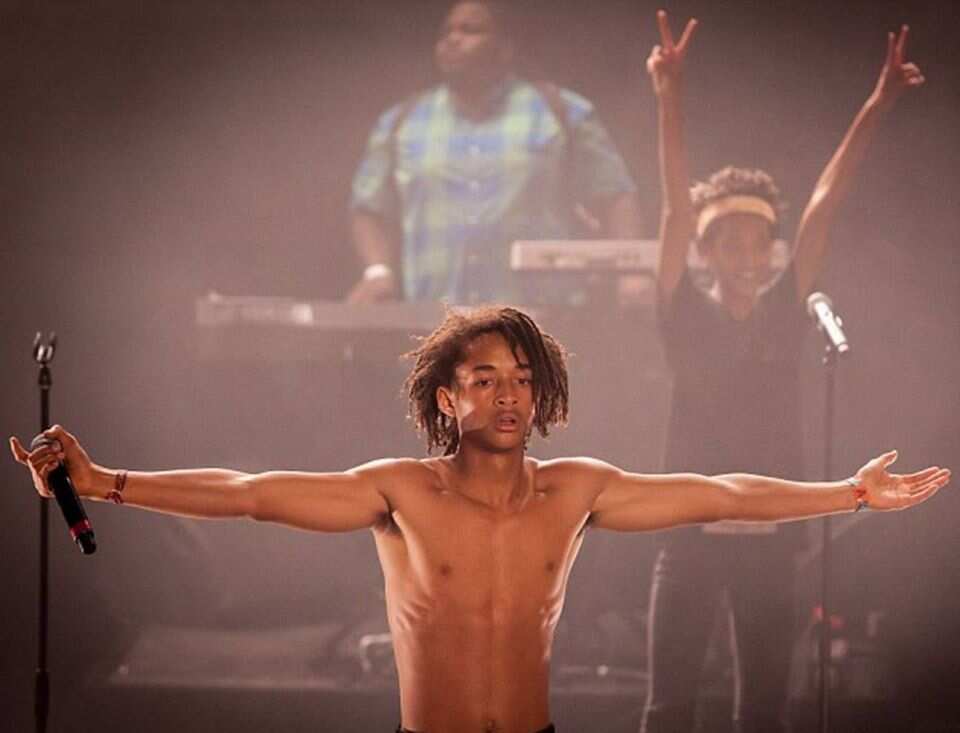 Other career ventures
Besides music and acting, the young star is a fashion icon. He claims that his fashion idols are Batman, Tyler, the Creator, and Poseidon. The young star owns a lifestyle and clothing brand known as MSFTSrep. His clothes collections include vests, hoodies, T-shirts, and trousers.
In 2016, the young entrepreneur was a model in a Louis Vuitton womenswear campaign. He chose to wear a skirt. Upon questioning, he reported that he made the choice to combat bullying. Throughout the rest of that year, he wore womenswear.
In 2018, he founded a denim line in collaboration with G-Star. He is also a partner at Just Water, which is a spring water company. The company officially launched in the United Kingdom in 2018. It aims to assist with water infrastructure that can be used in poorer countries.
Nominations and awards
The musician and rapper has been nominated for different awards over the years. He has won some of them. His nominations and awards include the following;
In 2009, he won the Best Performance by a Younger Actor Saturn Award for his role in The Day the Earth Stood Still.
In 2011, he won the YoungStars Award during the BET awards. He was nominated for the same award in 2013, 2014, and 2015. In 2017, he was also nominated for the YoungStars BET Award for his work in The Get Down.
In 2007, he was nominated for the Best Breakthrough Performance Black Reel Award for his role in The Pursuit of Happyness.
In 2007, he was nominated for a Critics Choice Award (Best Young Actor) for his role in The Pursuit of Happyness.
In 2011, he was nominated for an Empire Award UK (Best Newcomer) for his role in The Karate Kid.
In 2011, he was nominated for the Best Actor Black Reel Award for his role in The Karate Kid. He was also nominated for the award of Best Song alongside Justin Bieber and the writers of the song.
In 2011, he was nominated for the Blimp Kids' Choice Award (Favourite Movie Actor) for his work in The Karate Kid.
In 2007, he won the Breakthrough Performance Award (MTV Movie Award) for his role in The Pursuit of Happyness. In 2011, he was nominated for Biggest Badass Star, and in 2013, he was nominated for Summer's Biggest Teen Bad A** for his role in After Earth.
In 2011, he was nominated for the People's Choice Awards, USA (Favourite On-Screen Team), alongside Jackie Chan, for their roles in The Karate Kid.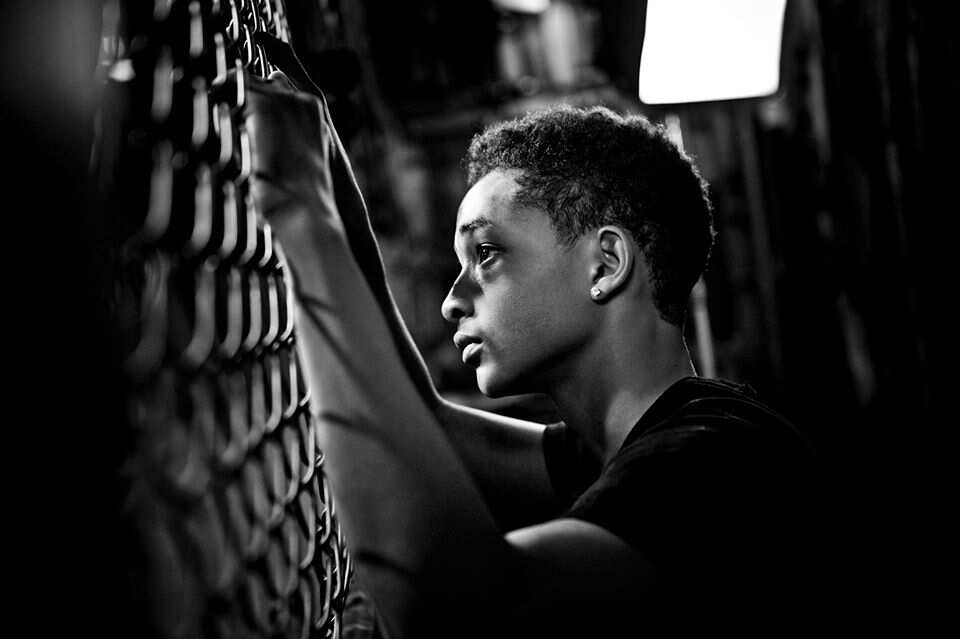 Jaden Smith net worth
Jaden Smith now has an estimated net worth of $8 million. The young man made his fortune from acting, his music career and his entrepreneurial ventures.
Jaden Smith relationship
The rapper and actor has dated a few people in the past. In August 2006, Madison Pettis became the first Jaden Smith girlfriend who was known publicly. At the time, the actor was only eight years old. The two were good friends, and they had an on and off relationship until 2011 when the actor started dating Stella Hudgens.
The relationship with Stella began in July 2011 and lasted until August 2012. Stella is Vanessa Hudgen's younger sister. She is three years older than the actor. In November 2012, the young celebrity began dating Sofia Richie. The pair split in January 2013.
In March 2013, the actor allegedly started dating socialite and business mogul, Kylie Jenner. They split in October 2013. Neither he nor Kylie confirmed the relationship. He then dated actress Amandla Stenberg from 2014 to 2015.
From May 2015, the actor dated model Sarah Snyder. The relationship ended in September 2016. In April 2017, the rapper and actor was captured kissing actress Odessa Adlon. The two are allegedly still an item.
Is Jaden Smith gay?
Jaden Smith gay rumours started circulating the moment he wore female clothes during the Louis Vuitton womenswear campaign. His sexual orientation has been questioned over the years. In 2018, he announced that Tyler, the Creator, a rapper, was his boyfriend. He announced during the Camp Flog Gnaw Festival in Los Angeles.
Tyler, the Creator, shook his head as Jaden made the announcement. Later, the actor and rapper took to Twitter, where Tyler responded that he was neither confirming nor denying his relationship with the musician.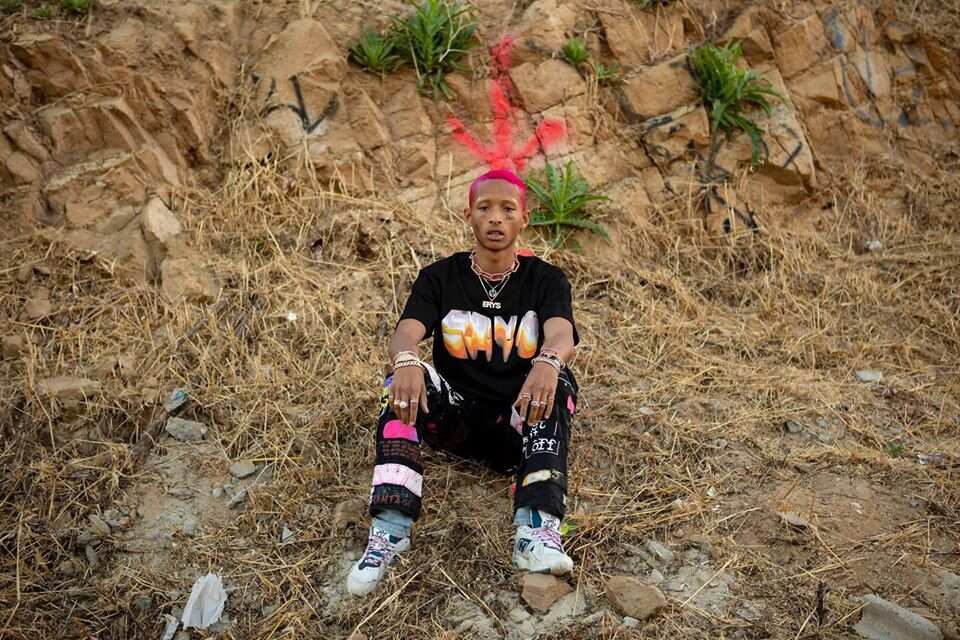 Social media
The young star is very active on social media. He has a Facebook page with over 10.5 million followers. He also has a Twitter account with over 8.1 million followers and an Instagram account with at least 14 million followers. Additionally, the musician and actor has a YouTube channel with at least 2.3 million subscribers. He uploads his music on this platform.
Other facts
The rapper and actor, alongside his siblings, were the youth ambassadors for Project Zambi in Zambia. The project assisted Zambian children who were orphaned by HIV/AIDS. It was a collaborative project with Hasbro.
The rapper is a vegan.
On his 15th birthday, the young star pursued an emancipation ruling as his birthday present. The young man wanted his own residence. In 2017, he moved out of Will and Jada's house into his Hidden Hills home, which was worth $4 million at the time.
Jaden Smith is a household name in most parts of the world. He is the son of famous actor Will and his wife, Jada Pinkett. The actor, musician and entrepreneur was exposed to Hollywood at a young age. He has made a name for himself in the music and acting scenes despite having wealthy parents. Numerous young people from across the world love him for his boldness in life.
Source: Legit.ng