Kimberly Guilfoyle bio: age, net worth, salary, boyfriend
Kimberly Guilfoyle is a renowned American television host and attorney. She is best known for her co-anchor role in the Fox News show The Five. Before she became a media personality, she served as an Assistant District Attorney in San Francisco. The outspoken television host is also a former first lady of San Francisco.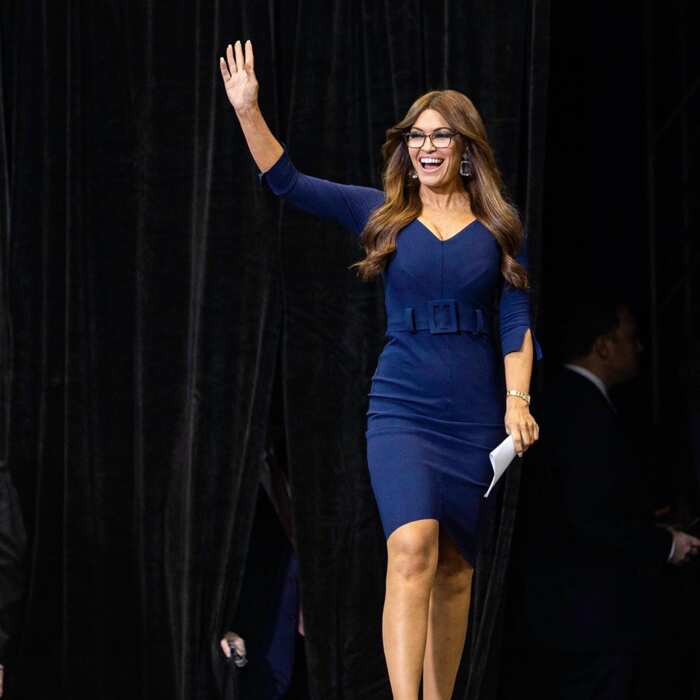 How old is Kimberly Guilfoyle? She was born on March 9, 1969, in San Francisco, California. Her parents, Mercedes and Anthony Guilfoyle, have both passed on. Her mother worked as a teacher in a special needs school and passed away when Kimberly was only eleven years old. Her father, on the other hand, served in the army for four years and later worked as a real estate investor. He passed on in 2008.
Profile summary
Name: Kimberly Ann Guilfoyle
Date of birth: March 6, 1969
Place of birth: San Francisco, California
Parents: Mercedes and Anthony Guilfoyle
Zodiac: Pisces
Ethnicity: Irish and Puerto-Rican
Height: 5 feet 7 inches
Weight: 55 kgs
Nationality: American
Net worth: $20 million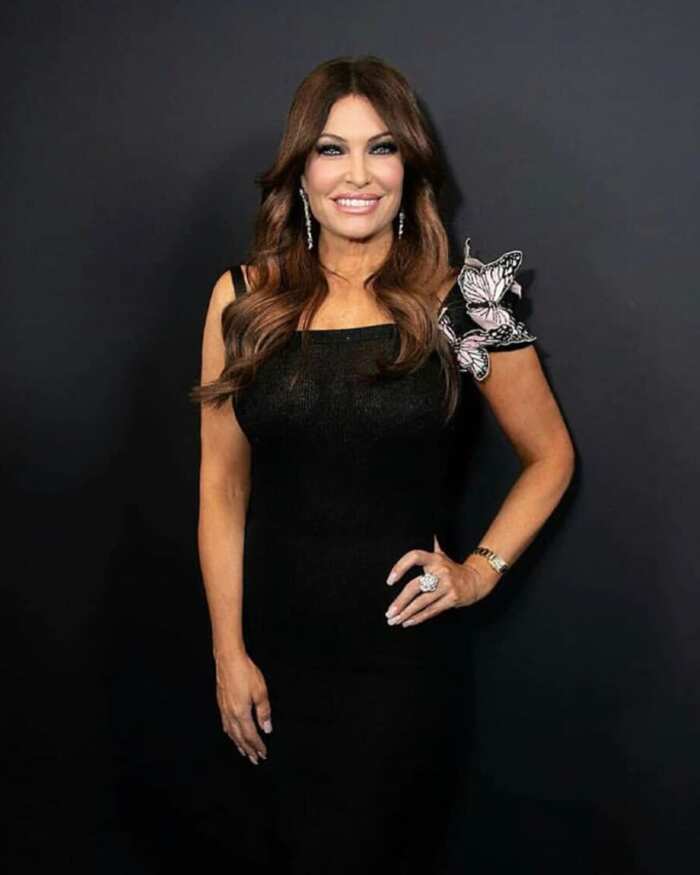 Education
Kimberly grew up in a Catholic family and attended the all-girls Mercy High School. She then attended the University of California and later got her Doctor of Jurisprudence in 1994 from the University of San Francisco's School of Law. After graduating, she joined the Trinity College in Dublin for further studies where she published her research focusing on European Economic Community law.
Career
After her graduation from the School of Law at the University of San Francisco, Guilfoyle received an internship offer from the District Attorney's chamber in San Francisco. Around this time, she also worked as a freelance model for the bridal collection of Macy's magazine. Kimberly then worked as a prosecutor in San Francisco, a position she lost when Terence Hallinan was elected as the District Attorney.
After losing her prosecutor job, she began working as a Deputy District Attorney dealing with adult and juvenile cases. She pursued issues related to narcotics, robbery, kidnapping, domestic violence, sexual assault, and h*micide. Her terrific work and numerous achievements earned her various awards from the Los Angeles District Attorney's Chamber of Law. In 2002, she joined the La Raza Lawyers Association.
She ventured into the television industry after working in the field of law for a while. Her first job involved hosting a television show titled Both Sides on Court TV. At this time, she also worked as a legal analyst for the show, Anderson Cooper 3600. Guilfoyle later joined Fox News where she hosted the show, The Lineup, which was scrapped shortly afterwards. She then joined the show, The Five, as a co-host. Other shows in which she has worked include Hannity, Fox and Friends, Justice with Judge Jeanine and The O'Reilly Factor.
Leaving Fox
Where is Kimberly Guilfoyle now? In 2018, the television host announced that she was leaving Fox News. CNN reported that she would be accompanying Donald Trump Jr. on his father's campaign trail. She later joined the Political Action Committee (PAC) known as America First Policies. Behind the scenes, there were reports that Kimberly's exit from Fox was acrimonious and that she was forced out on allegations of sexual misconduct.
Several sources said that Kimberly's alleged bad behaviour included showing images of male private parts to colleagues (and identifying the owners), discussing s*xually-related matters in the workplace and being emotionally abusive to the support staff. Her attorneys, however, refuted the allegations and claimed that it was all a plot by some employees to create a whisper campaign against her.
Kimberly Guilfoyle and Donald Trump Jr.
Kimberly's love life is arguably one of the most talked-about aspects of her life. She has been dating the US President's son since 2018. The Donald Trump Jr Kimberly Guilfoyle relationship comes after two of Kimberly's marriages ended in divorce. She was first married to Gavin Newsom, a businessman who is also the Lieutenant Governor of California. The two got married in 2001 and divorced in 2006.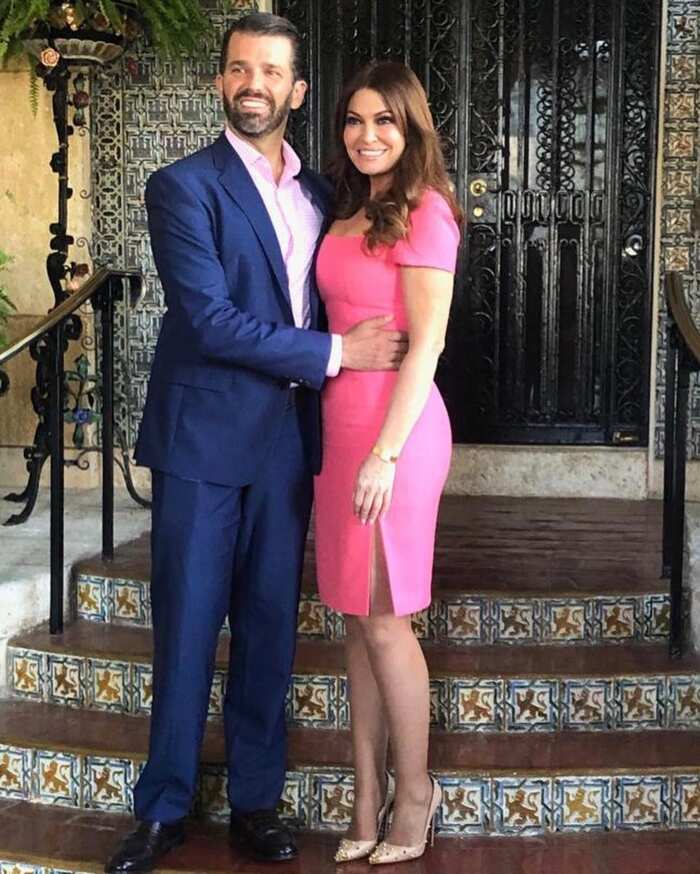 Approximately three months after her divorce, Guilfoyle got married to Eric Villency, the CEO of Villency Design, which deals in interior and product design. The two had a son together before getting divorced. The Kimberly Guilfoyle Donald Trump Jr relationship is often talked about because the two are often seen together on campaign trails.
Kimberly Guilfoyle net worth
Kimberly Guilfoyle salary at Fox News was $8 million a year. She worked at the network for 12 years before exiting. Besides the wages from her former employer, Guilfoyle had other sources of income. She worked as a commentator and even had a brief acting stint.
In 2004, she was among the cast members for the film Happily Ever After. In 2015, she released a book titled Making the Case: How to be Your Own Best Advocate. Her current net worth is estimated at $20 million.
Body measurements
One might not correctly guess Kimberly Guilfoyle age just by looking at her. The television host has an amazing hourglass-shaped body. There are rumours that she has undergone surgical procedures to alter her appearance. However, none of these is confirmed.
She weighs 55 kilos and has a height of 5 feet 7 inches. Her body measures 34-24-35 inches at the bust, waist and hips respectively. Kimberly Guilfoyle hot pictures often circulate in the media every time she is in public.
This Kimberly Guilfoyle bio paints the picture of a successful attorney and media personality who has scaled the heights of education and career. Her affiliation with high-ranking people and offices is undoubtedly bound to keep her in the limelight. Kimberly's ability to deliver results has seen her succeed in her former workplaces. She is an inspiration to numerous people all over the world.
Source: Legit