30 romantic love poems for her and him
"I loved her not for the way she danced with my angels, but for the way the sound of her name could silence my demons" goes a line by Christopher Poindexter. Imagine the look on a lady's face when her partner dedicates such a thoughtful line to her. There are many love poems for her and him that can make your significant other feel special. Use them to let them know that you truly adore them.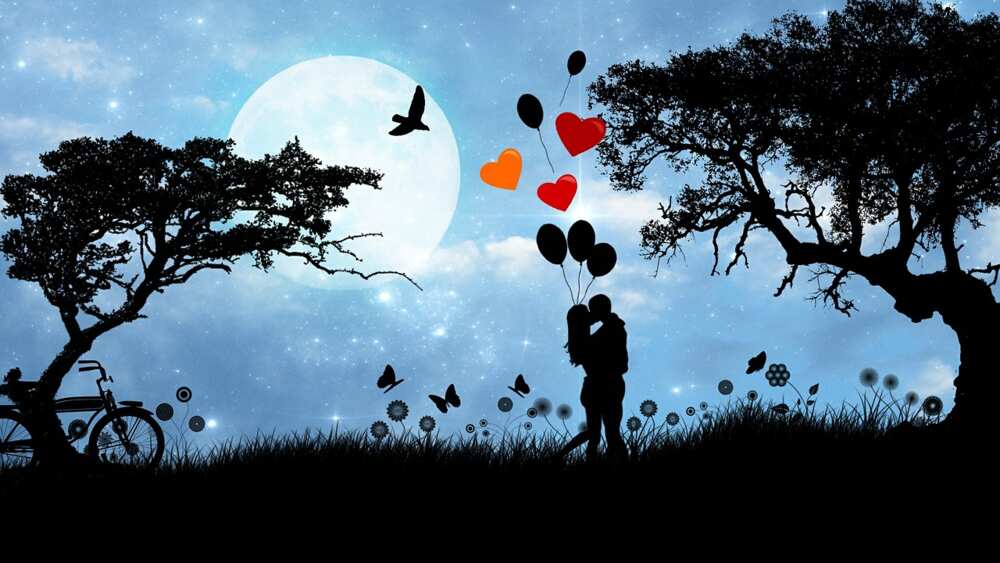 Not everyone has a way with words. You may truly love your partner, but unfortunately, may not have the words to express this feeling through I love you poems. Fear not, because the authors of our time and years before skillfully created wonderful love poems for him and her that you can use to express your adoration.
Famous love poems: Top 35 most romantic poems for her and him
Is your partner's love language words of affirmation? If yes, why not send them a special appreciative card with an I love you poem or love poem for her that they will surely appreciate? Romantic poems not only make someone feel special, they also have lessons embedded in them, and as we all know, knowledge is power!
Use the following short love poems, famous love poems, and poems about love for him and her to voice your emotions.
1. Annabel Lee by Edgar Allan Poe
It was many and many a year ago,
In a kingdom by the sea,
That a maiden there lived whom you may know
By the name of ANNABEL LEE;
And this maiden she lived with no other thought
Than to love and be loved by me.
I was a child and she was a child,
In this kingdom by the sea;
But we loved with a love that was more than love-
I and my Annabel Lee;
With a love that the winged seraphs of heaven
Coveted her and me.
And this was the reason that, long ago,
In this kingdom by the sea,
A wind blew out of a cloud, chilling
My beautiful Annabel Lee;
So that her highborn kinsman came
And bore her away from me,
To shut her up in a sepulchre
In this kingdom by the sea.
The angels, not half so happy in heaven,
Went envying her and me-
Yes! - that was the reason (as all men know,
In this kingdom by the sea)
That the wind came out of the cloud by night,
Chilling and killing my Annabel Lee.
But our love it was stronger by far than the love
Of those who were older than we-
Of many far wiser than we-
And neither the angels in heaven above,
Nor the demons down under the sea,
Can ever dissever my soul from the soul
Of the beautiful Annabel Lee.
For the moon never beams without bringing me dreams
Of the beautiful Annabel Lee;
And the stars never rise but I feel the bright eyes
Of the beautiful Annabel Lee;
And so, all the night-tide, I lie down by the side
Of my darling- my darling- my life and my bride,
In the sepulchre there by the sea,
In her tomb by the sounding sea.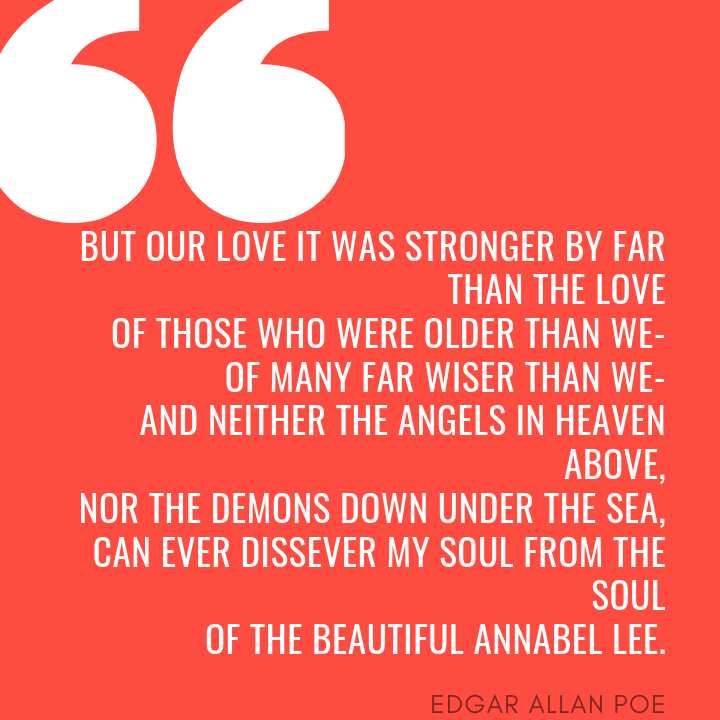 2. Remembrance by Maya Angelou
Your hands easy
weight, teasing the bees
hived in my hair, your smile at the
slope of my cheek. On the
occasion, you press
above me, glowing, spouting
readiness, and mystery rapes
my reason
When you have withdrawn
yourself and the magic, when
only the smell of your
love lingers between
my breasts, then, only
then, can I greedily consume
your presence
3. And Because Love Battles by Pablo Neruda
And because love battles
not only in its burning agricultures
but also in the mouth of men and women,
I will finish off by taking the path away
to those who between my chest and your fragrance
want to interpose their obscure plant.
About me, nothing worse
they will tell you, my love,
than what I told you.
I lived in the prairies
before I got to know you
and I did not wait love but I was
laying in wait for and I jumped on the rose.
What more can they tell you?
I am neither good nor bad but a man,
and they will then associate the danger
of my life, which you know
and which with your passion you shared.
And good, this danger
is danger of love, of complete love
for all life,
for all lives,
and if this love brings us
the death and the prisons,
I am sure that your big eyes,
as when I kiss them,
will then close with pride,
into double pride, love,
with your pride and my pride.
But to my ears they will come before
to wear down the tour
of the sweet and hard love which binds us,
and they will say: "The one
you love,
is not a woman for you,
Why do you love her? I think
you could find one more beautiful,
more serious, more deep,
more other, you understand me, look how she's light,
and what a head she has,
and look at how she dresses,
and etcetera and etcetera".
And I in these lines say:
Like this I want you, love,
love, Like this I love you,
as you dress
and how your hair lifts up
and how your mouth smiles,
light as the water
of the spring upon the pure stones,
Like this I love you, beloved.
To bread I do not ask to teach me
but only not to lack during every day of life.
I don't know anything about light, from where
it comes nor where it goes,
I only want the light to light up,
I do not ask to the night
explanations,
I wait for it and it envelops me,
And so you, bread and light
And shadow are.
You came to my life
with what you were bringing,
made
of light and bread and shadow I expected you,
and Like this I need you,
Like this I love you,
and to those who want to hear tomorrow
that which I will not tell them, let them read it here,
and let them back off today because it is early
for these arguments.
Tomorrow we will only give them
a leaf of the tree of our love, a leaf
which will fall on the earth
like if it had been made by our lips
like a kiss which falls
from our invincible heights
to show the fire and the tenderness
of a true love.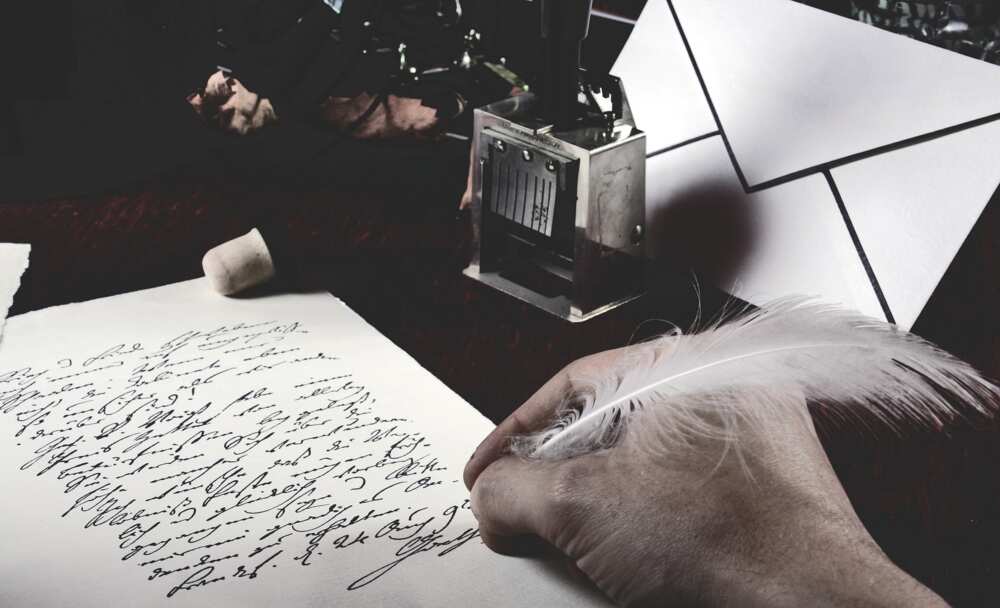 4. A Valentine by Edgar Allan Poe
For her this rhyme is penned, whose luminous eyes,
Brightly expressive as the twins of Leda,
Shall find her own sweet name, that nestling lies
Upon the page, enwrapped from every reader.
Search narrowly the lines! - they hold a treasure
Divine- a talisman- an amulet
That must be worn at heart. Search well the measure-
The words- the syllables! Do not forget
The trivialest point, or you may lose your labor
And yet there is in this no Gordian knot
Which one might not undo without a sabre,
If one could merely comprehend the plot.
Enwritten upon the leaf where now are peering
Eyes scintillating soul, there lie perdus
Three eloquent words oft uttered in the hearing
Of poets, by poets- as the name is a poet's, too,
Its letters, although naturally lying
Like the knight Pinto- Mendez Ferdinando-
Still form a synonym for Truth- Cease trying!
You will not read the riddle, though you do the best you can do.
5. When You Come by Maya Angelou
When you come to me, unbidden,
Beckoning me
To long-ago rooms,
Where memories lie.
Offering me, as to a child, an attic,
Gatherings of days too few.
Baubles of stolen kisses.
Trinkets of borrowed loves.
Trunks of secret words,
I Cry
6. Don't Go Far Off by Pablo Neruda
Don't go far off, not even for a day, because --
because -- I don't know how to say it: a day is long
and I will be waiting for you, as in an empty station
when the trains are parked off somewhere else, asleep.
Don't leave me, even for an hour, because
then the little drops of anguish will all run together,
the smoke that roams looking for a home will drift
into me, choking my lost heart.
Oh, may your silhouette never dissolve on the beach;
may your eyelids never flutter into the empty distance.
Don't leave me for a second, my dearest,
because in that moment you'll have gone so far
I'll wander mazily over all the earth, asking,
Will you come back? Will you leave me here, dying?
7. A Dream Within A Dream by Edgra Allan Poe
Take this kiss upon the brow!
And, in parting from you now,
Thus much let me avow-
You are not wrong, who deem
That my days have been a dream;
Yet if hope has flown away
In a night, or in a day,
In a vision, or in none,
Is it therefore the less gone?
All that we see or seem
Is but a dream within a dream.
I stand amid the roar
Of a surf-tormented shore,
And I hold within my hand
Grains of the golden sand-
How few! yet how they creep
Through my fingers to the deep,
While I weep- while I weep!
O God! can I not grasp
Them with a tighter clasp?
O God! can I not save
One from the pitiless wave?
Is all that we see or seem
But a dream within a dream?
8. A Conceit by Maya Angelou
Give me your hand
Make room for me
to lead and follow
you
beyond this rage of poetry.
Let others have
the privacy of
touching words
and love of loss
of love.
For me
Give me your hand.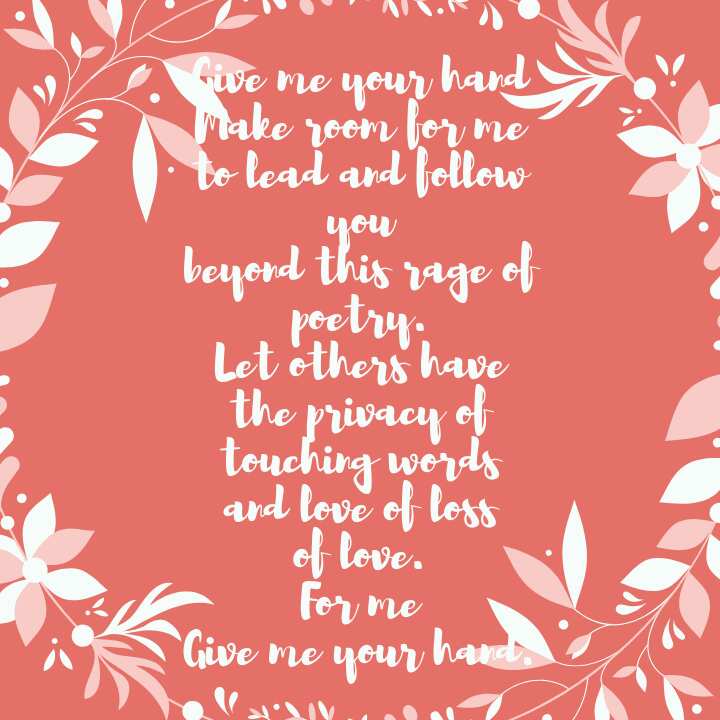 9. Love Sonnet XI by Pablo Neruda
I am hungry for your mouth, your voice, your skin
I wander in streets without food, quiet
Bread does not sustain me, dawn disquiets me
All day I search for the liquid sounds of your feet
I am hungry for your silken laughter,
For your hands the color of savage harvest,
Hungry for the pail stones of your fingernails.
I want to eat your skin like a whole almond
I want to eat the sun rays burnt by your beauty
The royal nose of your proud face
The fleeting shadows of your lashes
And I come hungry sniffing the twilight
Searching for you, your hot heart
Like a puma in the solitude of Quitratue.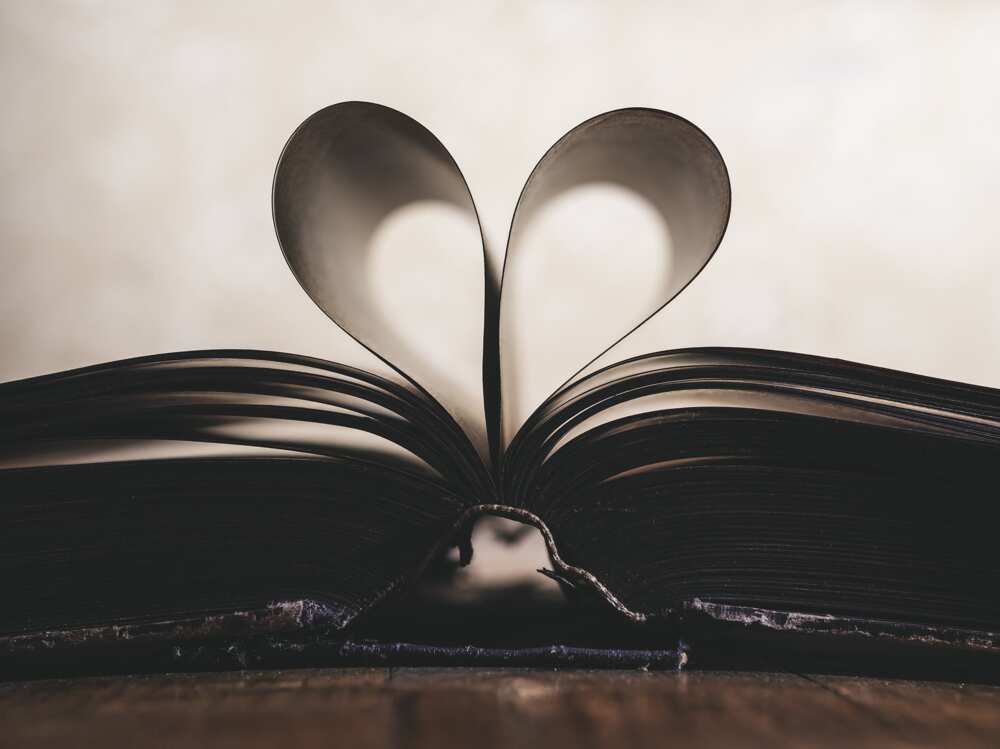 10. Passing Time by Maya Angelou
Your skin like dawn
Mine like musk
One paints the beginning
of a certain end.
The other, the end of a
sure beginning.
11. Love Sonnet 154 By William Shakespeare
The little Love-god lying once asleep
Laid by his side his heart-inflaming brand,
Whilst many nymphs that vow'd chaste life to keep
Came tripping by; but in her maiden hand
The fairest votary took up that fire
Which many legions of true hearts had warm'd;
And so the general of hot desire
Was sleeping by a virgin hand disarm'd.
This brand she quenched in a cool well by,
Which from Love's fire took heat perpetual,
Growing a bath and healthful remedy
For men diseased; but I, my mistress' thrall,
Came there for cure, and this by that I prove,
Love's fire heats water, water cools not love.
12. Love Sonnet 148 by William Shakespeare
O ME! what eyes hath love put in my head,
Which have no correspondence with true sight:
Or if they have, where is my judgment fled
That censures falsely what they see aright?
If that be fair whereon my false eyes dote,
What means the world to say it is not so?
If it be not, then love doth well denote
Love's eye is not so true as all men's: No,
How can it? O how can love's eye be true,
That is so vex'd with watching and with tears?
No marvel then though I mistake my view:
The sun itself sees not till heaven clears.
O cunning Love! with tears thou keep'st me blind,
Lest eyes well-seeing thy foul faults should find!
13. Every Day You Play by Pablo Neruda
Every day you play with the light of the universe.
Subtle visitor, you arrive in the flower and the water,
You are more than this white head that I hold tightly
as a bunch of flowers, every day, between my hands.
You are like nobody since I love you.
Let me spread you out among yellow garlands.
Who writes your name in letters of smoke among the stars of the south?
Oh let me remember you as you were before you existed.
Suddenly the wind howls and bangs at my shut window.
The sky is a net crammed with shadowy fish.
Here all the winds let go sooner or later, all of them.
The rain takes off her clothes.
The birds go by, fleeing.
The wind. The wind.
I alone can contend against the power of men.
The storm whirls dark leaves
and turns loose all the boats that were moored last night to the sky.
You are here. Oh, you do not run away.
You will answer me to the last cry.
Curl round me as though you were frightened.
Even so, a strange shadow once ran through your eyes.
Now, now too, little one, you bring me honeysuckle,
and even your ******* smell of it.
While the sad wind goes slaughtering butterflies
I love you, and my happiness bites the plum of your mouth.
How you must have suffered getting accustomed to me,
my savage, solitary soul, my name that sends them all running.
So many times we have seen the morning star burn, kissing our eyes,
and over our heads the grey light unwinds in turning fans.
My words rained over you, stroking you.
A long time I have loved the sunned mother-of-pearl of your body.
Until I even believe that you own the universe.
I will bring you happy flowers from the mountains, bluebells, dark hazels, and rustic baskets of kisses.
I want to do with you what spring does with the cherry trees.
14. Touched by an Angel by Maya Angelou
We, unaccustomed to courage
exiles from delight
live coiled in shells of loneliness
until love leaves its high holy temple
and comes into our sight
to liberate us into life.
Love arrives
and in its train come ecstasies
old memories of pleasure
ancient histories of pain.
Yet if we are bold,
love strikes away the chains of fear
from our souls.
We are weaned from our timidity
In the flush of love's light
we dare be brave
And suddenly we see
that love costs all we are
and will ever be.
Yet it is only love
which sets us free.
READ ALSO: 30 funny love quotes for him and her
15. Love Sonnet 153 by William Shakespeare
Cupid laid by his brand, and fell asleep:
A maid of Dian's this advantage found,
And his love-kindling fire did quickly steep
In a cold valley-fountain of that ground;
Which borrow'd from this holy fire of Love
A dateless lively heat, still to endure,
And grew a seething bath, which yet men prove
Against strange maladies a sovereign cure.
But at my mistress' eye Love's brand new-fired,
The boy for trial needs would touch my breast;
I, sick withal, the help of bath desired,
And thither hied, a sad distemper'd guest,
But found no cure: the bath for my help lies
Where Cupid got new fire--my mistress' eyes.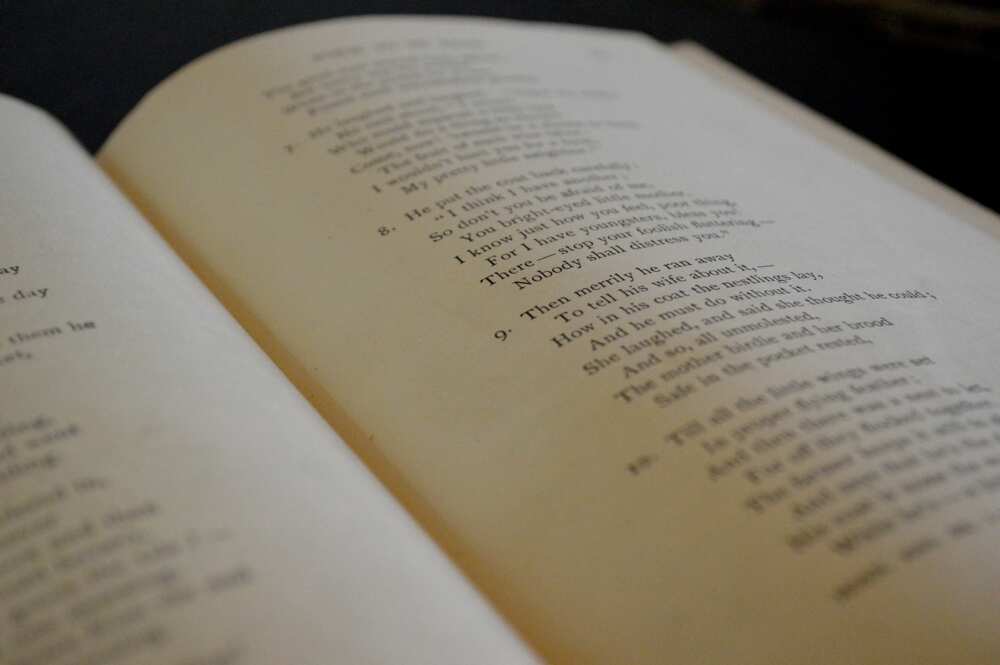 16. Reluctance by Robert Frost
Out through the fields and the woods
And over the walls I have wended;
I have climbed the hills of view
And looked at the world, and descended;
I have come by the highway home,
And lo, it is ended.
The leaves are all dead on the ground,
Save those that the oak is keeping
To ravel them one by one
And let them go scraping and creeping
Out over the crusted snow,
When others are sleeping.
And the dead leaves lie huddled and still,
No longer blown hither and thither;
The last lone aster is gone;
The flowers of the witch hazel wither;
The heart is still aching to seek,
But the feet question 'Whither?'
Ah, when to the heart of man
Was it ever less than a treason
To go with the drift of things,
To yield with a grace to reason,
And bow and accept the end
Of a love or a season?
17. Love Sonnet 147 by William Shakespeare
My love is as a fever, longing still
For that which longer nurseth the disease,
Feeding on that which doth preserve the ill,
Th' uncertain sickly appetite to please.
My reason, the physician to my love,
Angry that his prescriptions are not kept,
Hath left me, and I desperate now approve
Desire is death, which physic did except.
Past cure I am, now reason is past care,
And frantic-mad with evermore unrest;
My thoughts and my discourse as mad men's are,
At random from the truth vainly expressed.
For I have sworn thee fair, and thought thee bright,
Who art as black as hell, as dark as night.
18. Sonnet XXXIV(You Are The Daughter Of The Sea) by Pablo Neruda
You are the daughter of the sea, oregano's first cousin.
Swimmer, your body is pure as the water;
cook, your blood is quick as the soil.
Everything you do is full of flowers, rich with the earth.
Your eyes go out toward the water, and the waves rise;
your hands go out to the earth and the seeds swell;
you know the deep essence of water and the earth,
conjoined in you like a formula for clay.
Naiad: cut your body into turquoise pieces,
they will bloom resurrected in the kitchen.
This is how you become everything that lives.
And so at last, you sleep, in the circle of my arms
that push back the shadows so that you can rest--
vegetables, seaweed, herbs: the foam of your dreams.
19. Beauty and Simplicity by Maya Angelou
The wind blows.
The chimes sound.
The words sing.
I would have my ears filled
with the world's music.
Let me hear all sounds of life and living.
20. Wind and Window Flower by Robert Frost
Lovers, forget your love,
And list to the love of these,
She a window flower,
And he a winter breeze.
When the frosty window veil
Was melted down at noon,
And the cagèd yellow bird
Hung over her in tune,
He marked her through the pane,
He could not help but mark,
And only passed her by,
To come again at dark.
He was a winter wind,
Concerned with ice and snow,
Dead weeds and unmated birds,
And little of love could know.
But he sighed upon the sill,
He gave the sash a shake,
As witness all within
Who lay that night awake.
Perchance he half prevailed
To win her for the flight
From the firelit looking-glass
And warm stove-window light.
But the flower leaned aside
And thought of naught to say,
And morning found the breeze
A hundred miles away.
21. Sonnet 10 - Yet, Love, Mere Love, Is Beautiful Indeed by Elizabeth Barrett Browning
Yet, love, mere love, is beautiful indeed
And worthy of acceptation. Fire is bright,
Let temple burn, or flax; an equal light
Leaps in the flame from cedar-plank or weed:
And love is fire. And when I say at need
I love thee . . . mark! . . . I love thee—in thy sight
I stand transfigured, glorified aright,
With conscience of the new rays that proceed
Out of my face toward thine. There's nothing low
In love, when love the lowest: meanest creatures
Who love God, God accepts while loving so.
And what I feel, across the inferior features
Of what I am, doth flash itself, and show
How that great work of Love enhances Nature's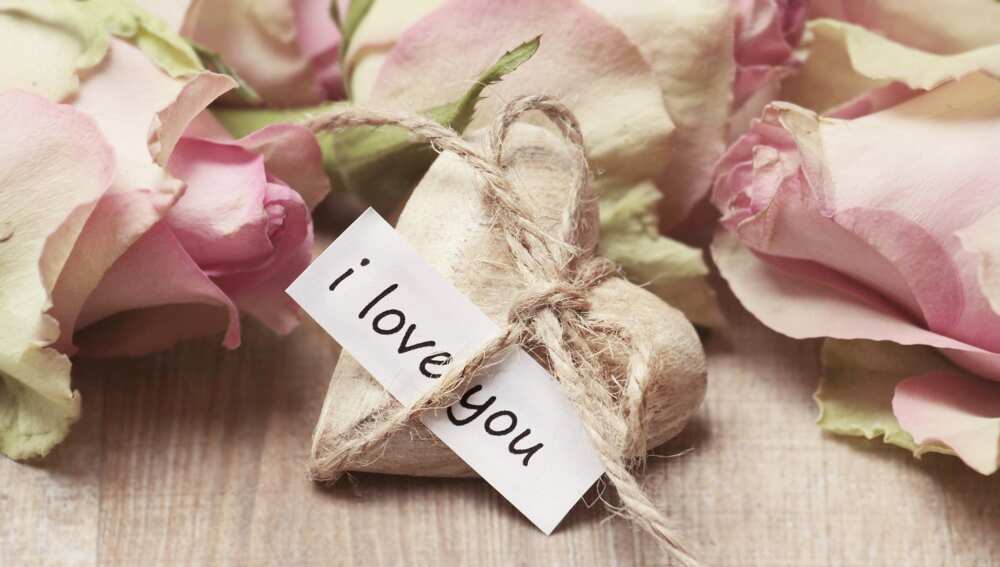 22. Love and A Question by Robert Frost
A stranger came to the door at eve,
And he spoke the bridegroom fair.
He bore a green-white stick in his hand,
And, for all burden, care.
He asked with the eyes more than the lips
For a shelter for the night,
And he turned and looked at the road afar
Without a window light.
The bridegroom came forth into the porch
With, 'Let us look at the sky,
And question what of the night to be,
Stranger, you and I.'
The woodbine leaves littered the yard,
The woodbine berries were blue,
Autumn, yes, winter was in the wind;
'Stranger, I wish I knew.'
Within, the bride in the dusk alone
Bent over the open fire,
Her face rose-red with the glowing coal
And the thought of the heart's desire.
The bridegroom looked at the weary road,
Yet saw but her within,
And wished her heart in a case of gold
And pinned with a silver pin.
The bridegroom thought it little to give
A dole of bread, a purse,
A heartfelt prayer for the poor of God,
Or for the rich a curse;
But whether or not a man was asked
To mar the love of two
By harboring woe in the bridal house,
The bridegroom wished he knew.
23. If You Forget Me by Pablo Neruda
I want you to know
one thing.
You know how this is:
if I look
at the crystal moon, at the red branch
of the slow autumn at my window,
if I touch
near the fire
the impalpable ash
or the wrinkled body of the log,
everything carries me to you,
as if everything that exists,
aromas, light, metals,
were little boats
that sail
toward those isles of yours that wait for me.
Well, now,
if little by little you stop loving me
I shall stop loving you little by little.
If suddenly
you forget me
do not look for me,
for I shall already have forgotten you.
If you think it long and mad,
the wind of banners
that passes through my life,
and you decide
to leave me at the shore
of the heart where I have roots,
remember
that on that day,
at that hour,
I shall lift my arms
and my roots will set off
to seek another land.
But
if each day,
each hour,
you feel that you are destined for me
with implacable sweetness,
if each day a flower
climbs up to your lips to seek me,
ah my love, ah my own,
in me all that fire is repeated,
in me nothing is extinguished or forgotten,
my love feeds on your love, beloved,
and as long as you live it will be in your arms
without leaving mine.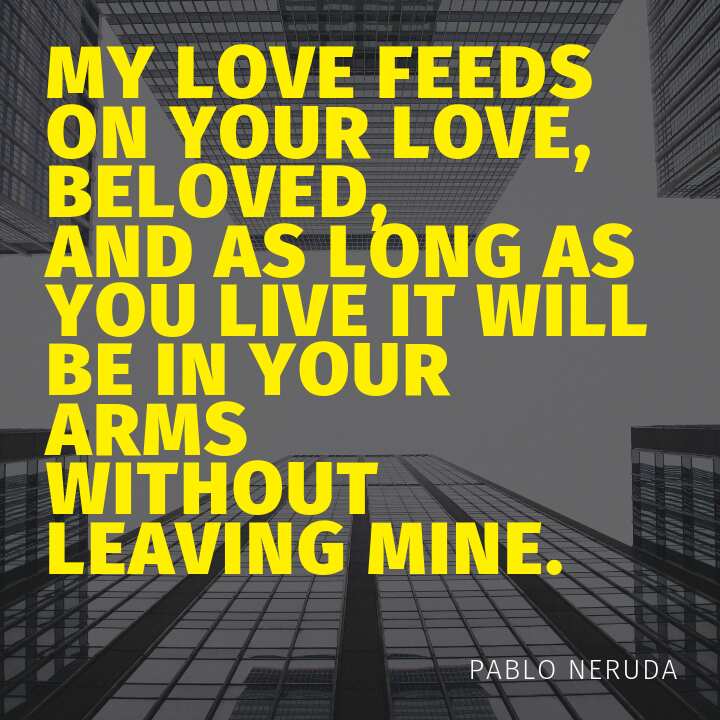 24. XVII (I Do Not Love You...) by Pablo Neruda
I do not love you as if you were salt-rose, or topaz,
or the arrow of carnations the fire shoots off.
I love you as certain dark things are to be loved,
in secret, between the shadow and the soul.
I love you as the plant that never blooms
but carries in itself the light of hidden flowers;
thanks to your love a certain solid fragrance,
risen from the earth, lives darkly in my body.
I love you without knowing how, or when, or from where.
I love you straightforwardly, without complexities or pride;
so I love you because I know no other way
than this: where I does not exist, nor you,
so close that your hand on my chest is my hand,
so close that your eyes close as I fall asleep.
READ ALSO: 50 sweet and cute love quotes for her and him
25. I Do Not Love You Except Because I Love You by Pablo Neruda
I go from loving to not loving you,
From waiting to not waiting for you
My heart moves from cold to fire.
I love you only because it's you the one I love;
I hate you deeply, and hating you
Bend to you, and the measure of my changing love for you
Is that I do not see you but love you blindly.
Maybe January light will consume
My heart with its cruel
Ray, stealing my key to true calm.
In this part of the story I am the one who
Dies, the only one, and I will die of love because I love you,
Because I love you, Love, in fire and blood.
26. Love Sonnet 138 by William Shakespeare
When my love swears that she is made of truth,
I do believe her though I know she lies,
That she might think me some untutored youth,
Unlearned in the world's false subtleties.
Thus vainly thinking that she thinks me young,
Although she knows my days are past the best,
Simply I credit her false-speaking tongue:
On both sides thus is simple truth suppressed:
But wherefore says she not she is unjust?
And wherefore say not I that I am old?
O! love's best habit is in seeming trust,
And age in love, loves not to have years told:
Therefore I lie with her, and she with...
27. A Red, Red Rose by Robert Burns
O my Luve's like a red, red rose
That's newly sprung in June;
O my Luve's like the melodie
That's sweetly play'd in tune.
As fair art thou, my bonnie lass,
So deep in luve am I:
And I will luve thee still, my dear,
Till a' the seas gang dry:
Till a' the seas gang dry, my dear,
And the rocks melt wi' the sun:
I will luve thee still, my dear,
While the sands o' life shall run.
And fare thee well, my only Luve
And fare thee well, a while!
And I will come again, my Luve,
Tho' it were ten thousand mile.
28. The Passionate Shepherd To His Love by Christopher Marlowe
Come live with me and be my love,
And we will all the pleasures prove
That valleys, groves, hills, and fields,
Woods, or steepy mountain yields.
And we will sit upon rocks,
Seeing the shepherds feed their flocks,
By shallow rivers to whose falls
Melodious birds sing madrigals.
And I will make thee beds of roses
And a thousand fragrant poises,
A cap of flowers, and a kirtle
Embroidered all with leaves of myrtle;
A gown made of the finest wool
Which from our pretty lambs we pull;
Fair lined slippers for the cold,
With buckles of the purest gold;
A belt of straw and ivy buds,
With coral clasps and amber studs;
And if these pleasures may thee move,
Come live with me, and be my love.
The shepherds's swains shall dance and sing
For thy delight each May morning:
If these delights thy mind may move,
Then live with me and be my love.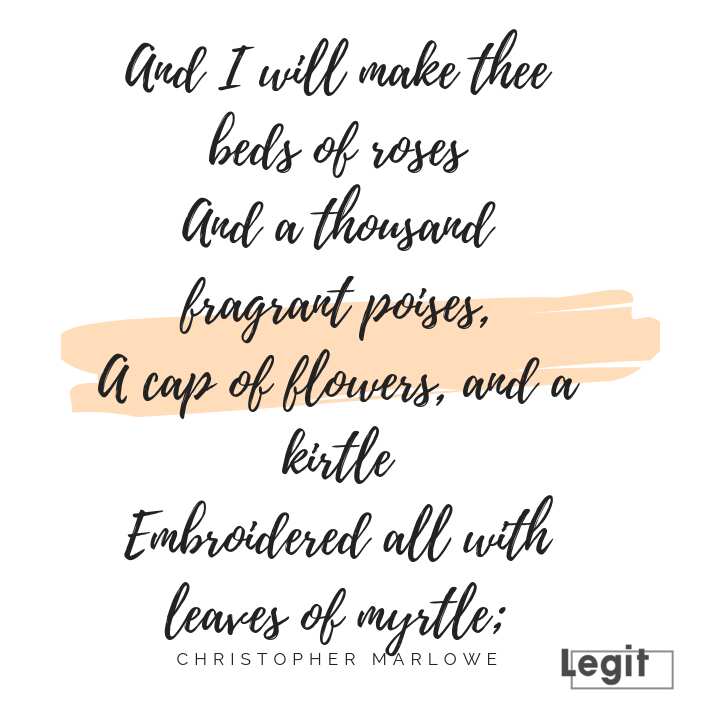 29. Meeting At Night by Robert Browning
The grey sea and the long black land;
And the yellow half-moon large and low;
And the startled little waves that leap
In fiery ringlets from their sleep,
As I gain the cove with pushing prow,
And quench its speed i' the slushy sand.
Then a mile of warm sea-scented beach;
Three fields to cross till a farm appears;
A tap at the pane, the quick sharp scratch
And blue spurt of a lighted match,
And a voice less loud, thro' its joys and fears,
Than the two hearts beating each to each!
30. Love's Philosophy - Poem by Percy Bysshe Shelley
The fountains mingle with the river,
And the rivers with the ocean;
The winds of heaven mix forever
With a sweet emotion;
Nothing in the world is single;
All things by a law divine
In another's being mingle-
Why not I with thine?
See, the mountains kiss high heaven,
And the waves clasp one another;
No sister flower could be forgiven
If it disdained its brother;
And the sunlight clasps the earth,
And the moonbeams kiss the sea; -
What are all these kissings worth,
If thou kiss not me?
31. I Loved You by Alexander Sergeyevich Pushkin
I loved you, and I probably still do,
And for a while the feeling may remain...
But let my love no longer trouble you,
I do not wish to cause you any pain.
I loved you; and the hopelessness I knew,
The jealousy, the shyness - though in vain -
Made up a love so tender and so true
As may God grant you to be loved again.
32. Wild Nights! Wild Nights! by Emily Dickinson
Wild Nights! Wild Nights!
Were I with thee,
Wild Nights should be
Our luxury!
Futile the winds
To a heart in port, --
Done with the compass,
Done with the chart!
Rowing in Eden!
Ah! the sea!
Might I but moor
To-night in Thee!
33. Bright Star by John Keats
Bright star, would I were stedfast as thou art-
Not in lone splendour hung aloft the night
And watching, with eternal lids apart,
Like nature's patient, sleepless Eremite,
The moving waters at their priestlike task
Of pure ablution round earth's human shores,
Or gazing on the new soft-fallen mask
Of snow upon the mountains and the moors-
No- yet still stedfast, still unchangeable,
Pillow'd upon my fair love's ripening breast,
To feel for ever its soft fall and swell,
Awake for ever in a sweet unrest,
Still, still to hear her tender-taken breath,
And so live ever- or else swoon to death.
34. Another Valentine by Wendy Cope
Today we are obliged to be romantic
And think of yet another valentine.
We know the rules and we are both pedantic:
Today's the day we have to be romantic.
Our love is old and sure, not new and frantic.
You know I'm yours and I know you are mine.
And saying that has made me feel romantic,
My dearest love, my darling valentine.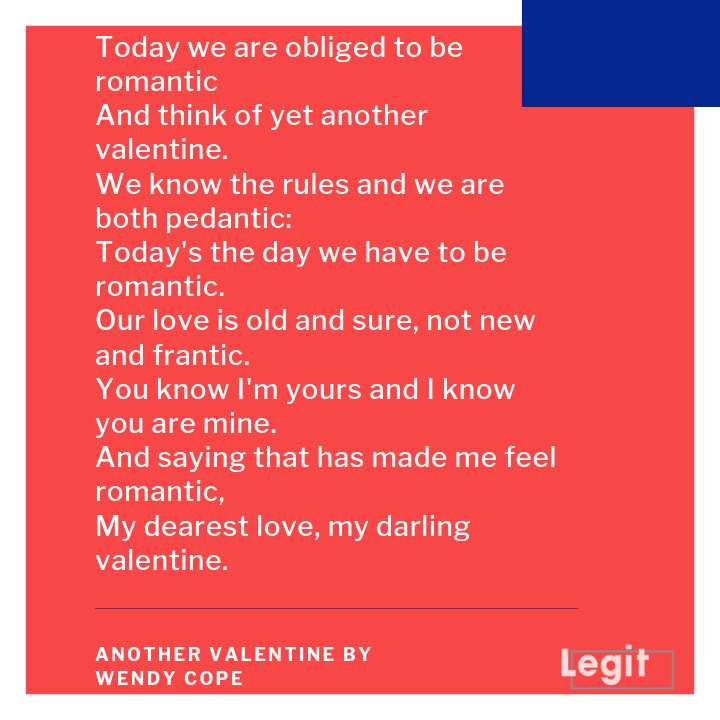 35. How Do I Love Thee? by Elizabeth Barrett Browning
How do I love thee? Let me count the ways.
I love thee to the depth and breadth and height
My soul can reach, when feeling out of sight
For the ends of Being and ideal Grace.
I love thee to the level of every day's
Most quiet need, by sun and candlelight.
I love thee freely, as men strive for Right;
I love thee purely, as they turn from Praise.
I love with a passion put to use
In my old griefs, and with my childhood's faith.
I love thee with a love I seemed to lose
With my lost saints, -- I love thee with the breath,
Smiles, tears, of all my life! -- and, if God choose,
I shall but love thee better after death.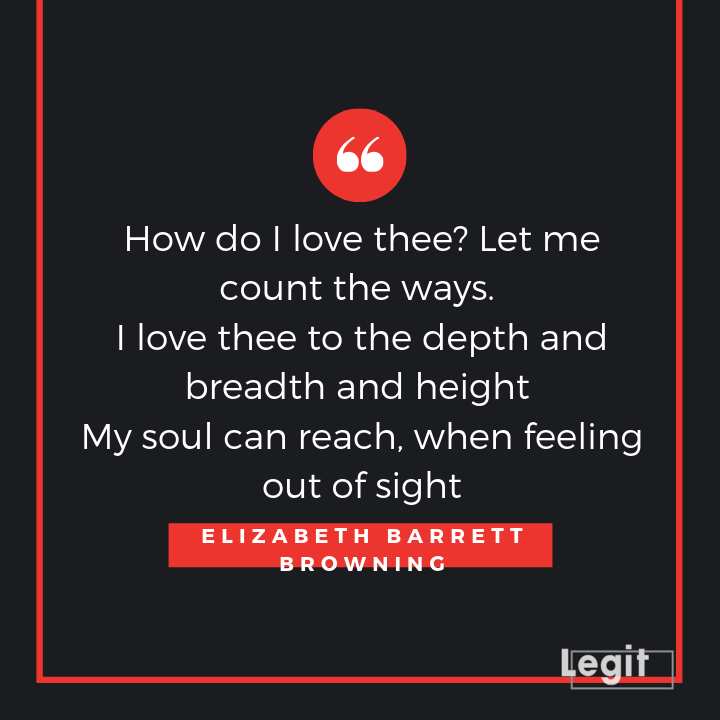 Which of these love poems for her or him were your favourite? Did you enjoy the short love poems such as Maya Angelou's A Conceit or are you a fan of the longer famous love poems such as Pablo Neruda's And Because Love Battles? Let us know what you think in the comments section below.
READ ALSO:
30 wedding quotes for your most special day
30 best true love quotes for her and him
50 cute things to say to your girlfriend
Source: Legit.ng