15 mohawk fade haircut ideas for men
The mohawk haircut has become increasingly popular among men in a recent couple of decades. Now, not only spiky and edgy styles are popular – hairdressers are going out of their way to come up with something creative. Today, we will check out fantastic variations of this timeless hair option – the mohawk fade hairstyle. Combined with fade, the mohawk hairstyle gains additional charm and personality, and hopefully, you can find something for yourself here!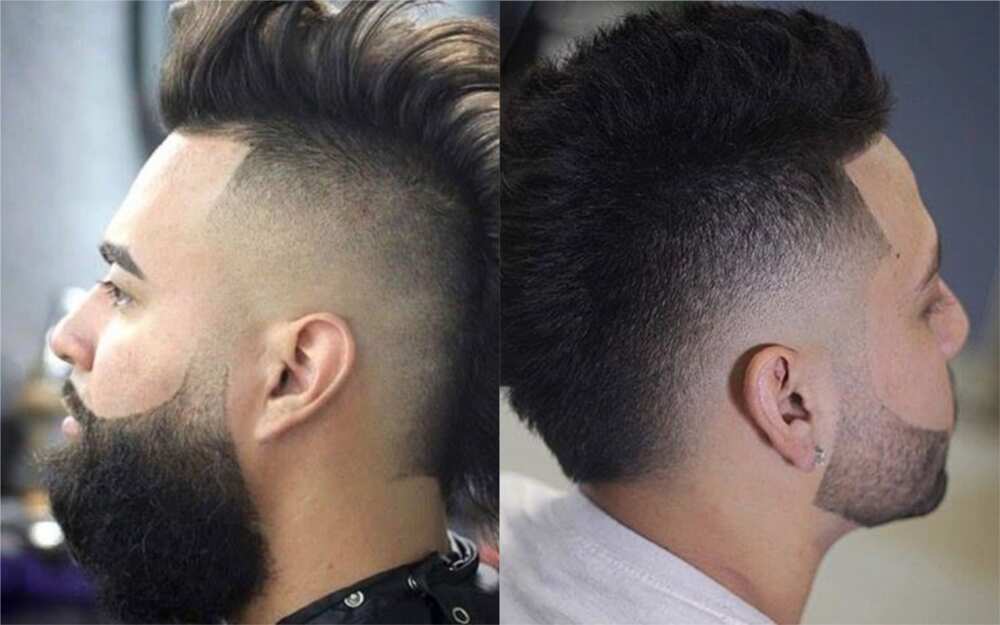 Mohawk hairstyles are effortless to wear and make a unique mark of your own. The perfect mohawk hair can be thick, wavy, straight or curly – it does not matter, as long as you want this style and is confident that you can pull it off. There are a lot of different types of Mohawk haircuts, so you have plenty of options to choose from!
Mohawk hairstyles for men
Check out some of the most beautiful mohawk fade haircut styles which you can make on your own. Once you fall into the multidimensional world of mohawk styles, you will find yourself carried away!
1. Edgy wide mohawk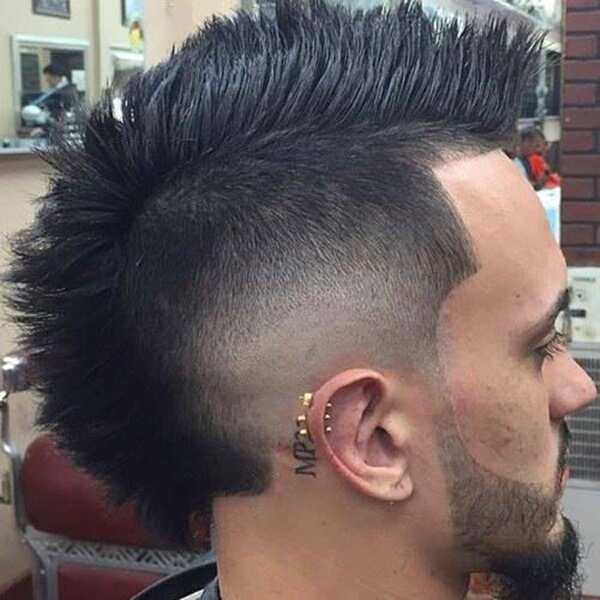 In the past, this hairstyle was known as a sign of rebels and people who want to be edgy. If you would like to add a little spark of rebellion to your image, but still maintain your professional look and combine it with your avant-garde style in a balanced way, you can go for this one. The fade here adds some texture and volume to the hairstyle and nicely phases into the beard.
2. Faded mohawk with original designs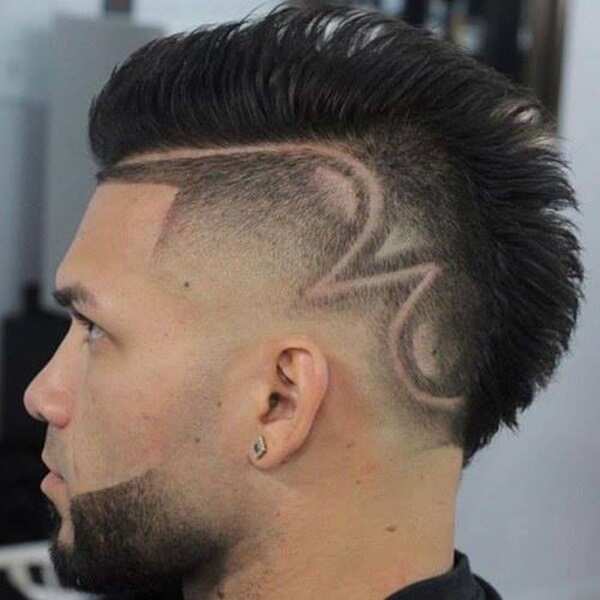 You can start bringing excitement into your life, starting with the haircut change. You can opt for the regular option with the hair slicked back and usual fade area, or you can go a little crazy and shave some interesting designs on the sides of your head. Remember that such a choice needs maintenance and frequent trimming, though.
3. Curly blonde style with dark roots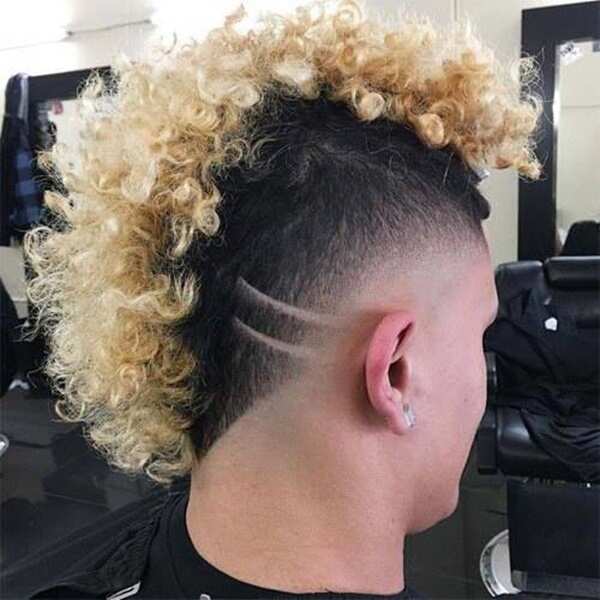 Quite often, we see all these options where the roots and the hairstyle are of the same colour, and we just want something new and fresh. Well, it comes with the decision to dye your curls and style them in a frohawk kind of way. This interesting word is a combination of afro and mohawk, and it is prevalent among those people who have afro-textured locks. What is also interesting about this style are small stripes in the fading area, the purpose of which is to add some originality.
4. Spiky style with low fade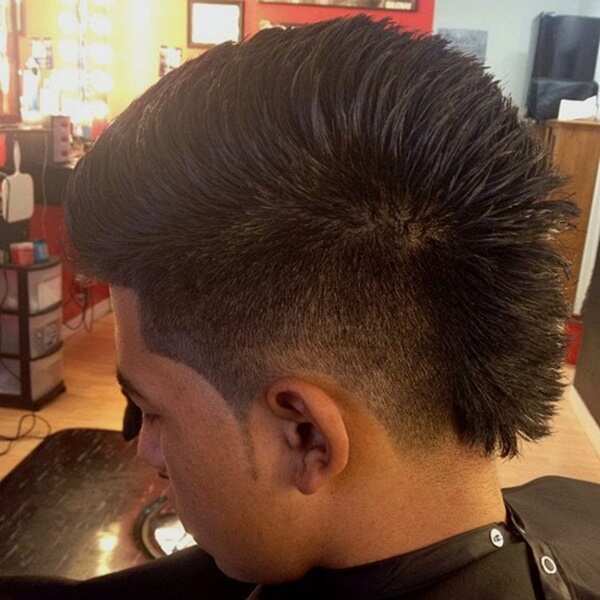 Even the least cooperative hair can be slicked back or combed neatly. In this example, we see a spunky haircut which makes emphasis on your playful personality. Notice how the fade starts under the main bunch of hair and then gradually vanishes. Another thing which is worth noticing about this style is the sideburns.
5. Another spiky style with fade art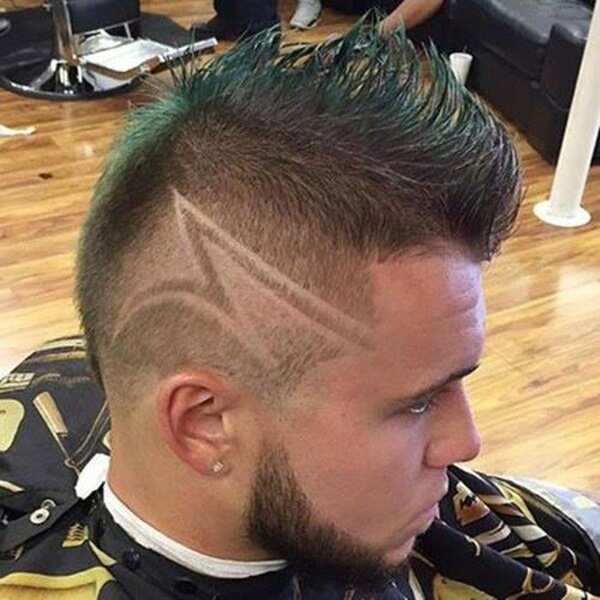 The fading area can be a good canvas for expressing yourself. So, if you are bold, fast and have a fiery personality, you can shave sharp, edgy designs on your head. The spiky fade style will only add spirited vibe to your look and help you approach new people with confidence. The beard which starts from the fade will only be an additional perk of this look.
READ ALSO: Dreadlock styles for ladies and gentlemen
6. Black mohawk for tough guys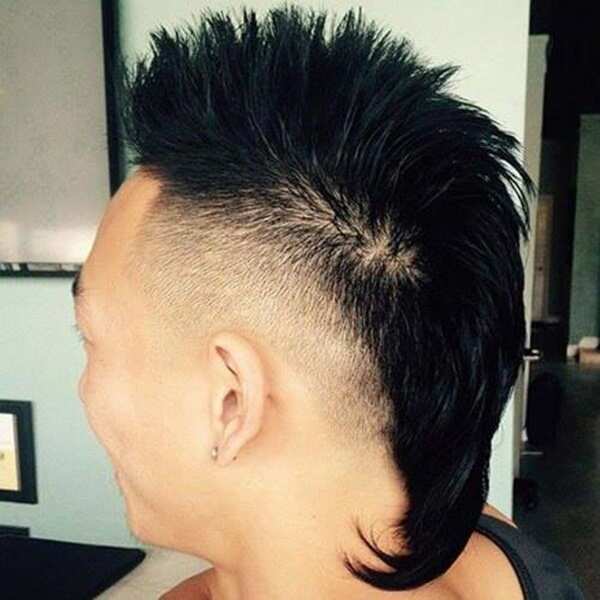 If you always wanted to try something sensational instead of going with common options, here is the chance of your lifetime. The originality of this haircut is some spiky hairs at the top of the head and extra hair at the bottom, all combined with the skin fade. By the way, piercings look gorgeous together with such a style – it gives you a sort of rock star vibe.
7. High fade mohawk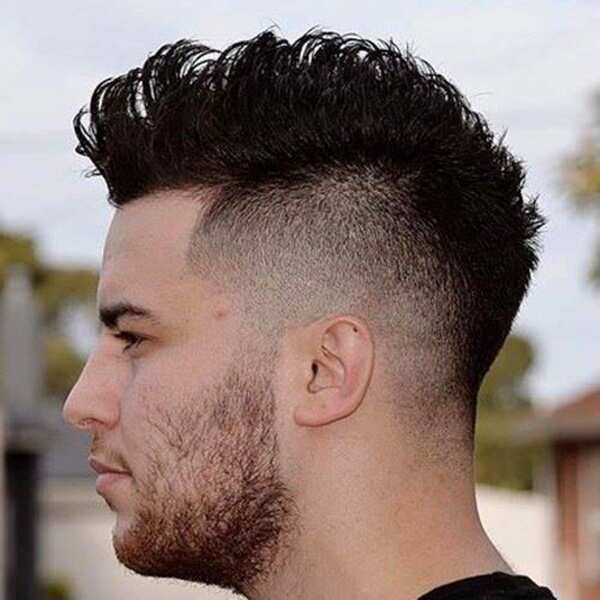 The high fade hairstyles are usually suitable for people who have a round face and want to make it visually longer. Not only the fading will give this effect but also the hair styled distinctly. Besides, there is a belief that the guy with such a hairstyle is cool, which is one more reason to get it.
8. Fluffy hairstyle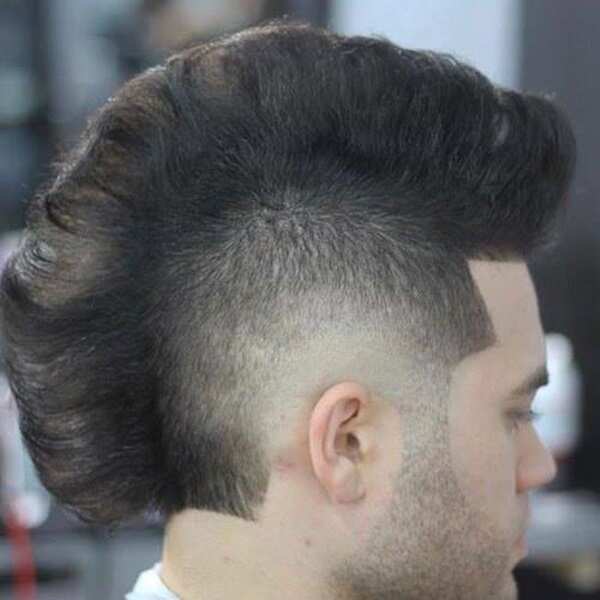 If you were always fond of your smooth long hair and are not in a mood to completely get rid of it, you can leave it as a long mohawk and shave the sides of your head in a fading way. A special feature of this hairstyle is not only the soft hair which everyone would want to touch but also the interesting fade type which reaches the beard. The fading technique starts on top of the head, and by the time it gets to the beard, it is barely visible. Such a choice attracts more attention to the haircut.
9. Long hair mohawk with a lush beard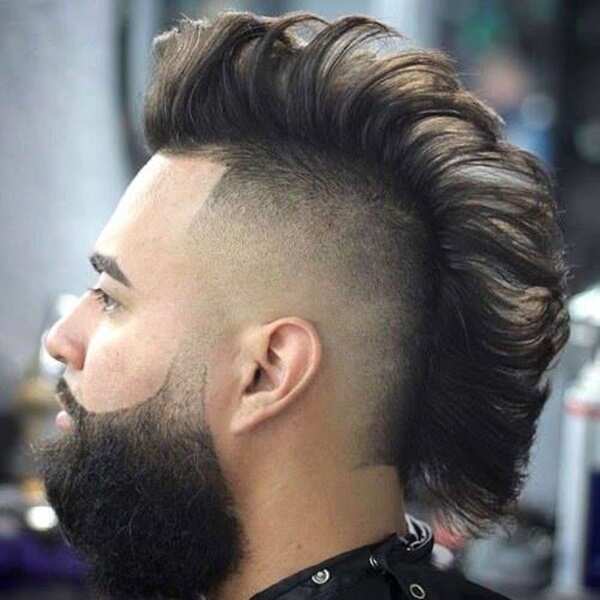 This way of styling your hair could do if you are a confident and strong man. Perhaps, it would be good for the men in the music or fashion industry, because it looks very stylish and reminds of adventurous rock stars. The strands combed back will give an effect of wind going through your hair. Also, the skin fade has a very nice transition into the abundant beard, which makes you look more collected.
10. Red afro with imaginative fade designs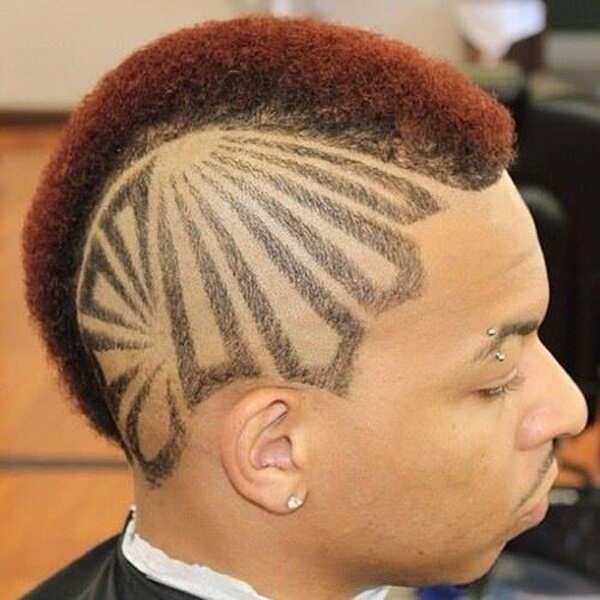 The frohawk like this can blow away people's minds because it looks so out of this world. For black men, mohawk hairstyle means a lot because it is one of the options that would make them look the most presentable. This short style can express your individuality in a way no other haircut could. For starters, dying your afro red is for the most courageous people. It is always impressive how many beautiful things can be shaved on the fading area, and instead of these, you can opt for your own original designs.
11. Smooth short mohawk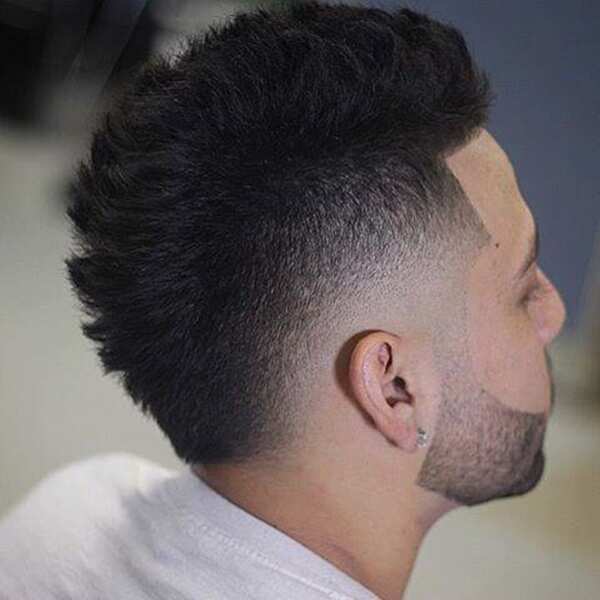 Look at the class of this hairstyle: it has enough potential to make a great impression. If you are one of those people who always wanted to try an edgy cut but do not want to go over the top, this haircut is just what you need. The short mohawk fade always captures a lot of attention and looks beautiful no matter what.
12. Straight mohawk with magnificent fade designs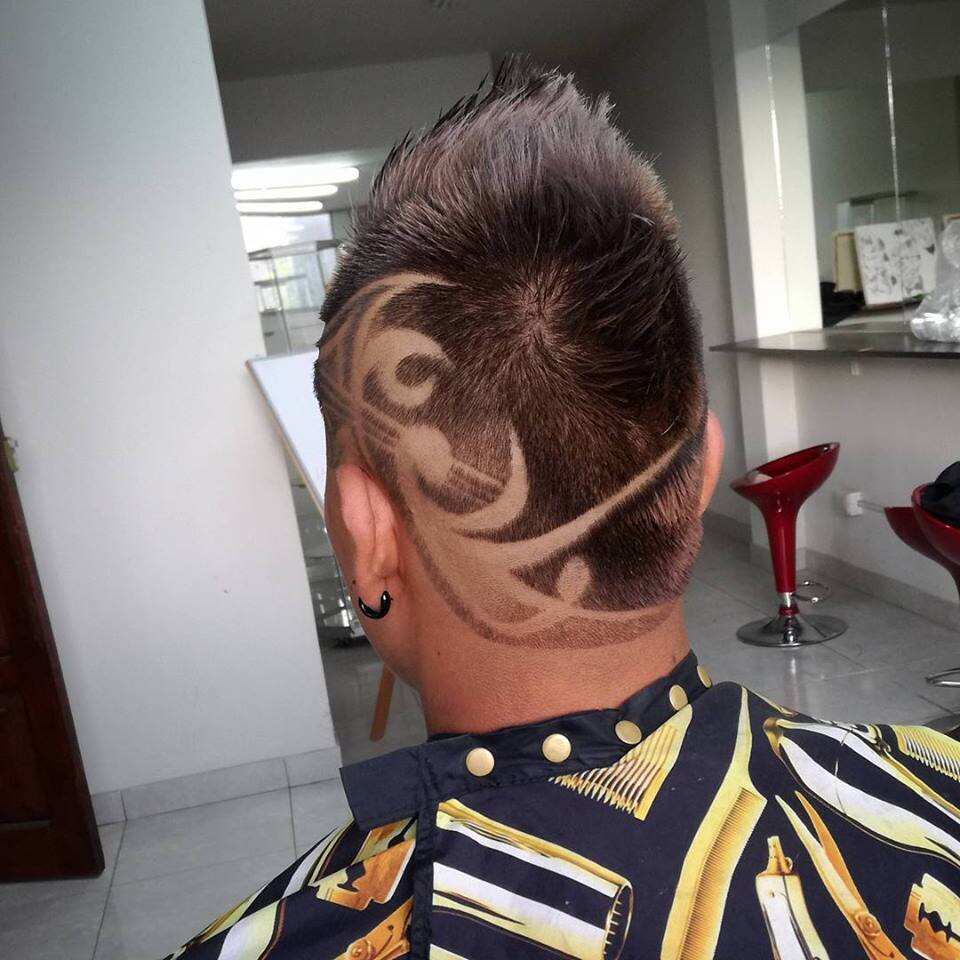 The fading area of this hairstyle is bumpy and inconsistent, but it is still visible, and it creates a beautiful basis for some artistic designs, which look like eternal flames. As for the main hair, it is also styled a lot like fire. If you are one of these people with a passionate and dedicated personality, then you could make this cut your next pick.
13. Textured spiky cut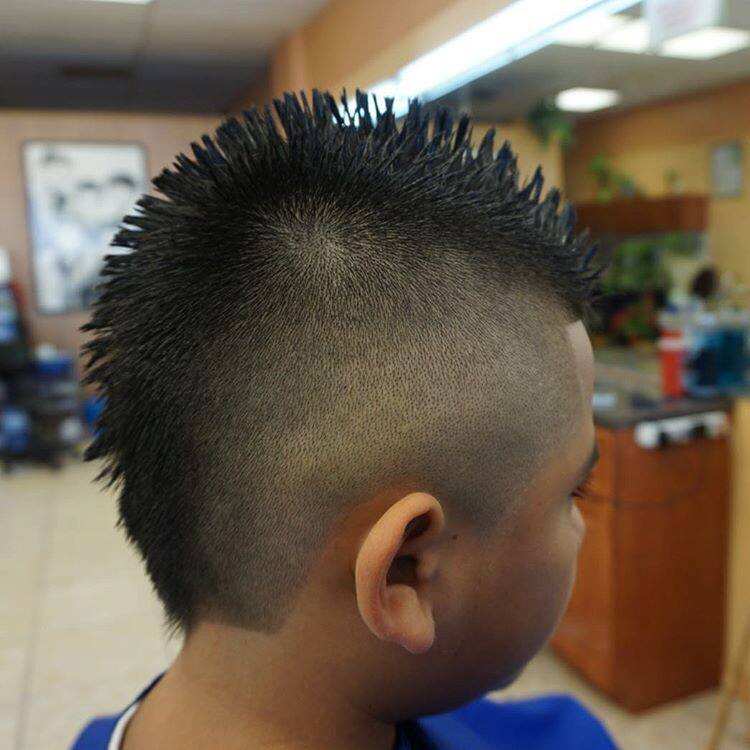 Take a look at these spikes of hair – they look very detailed and textured. For this option, you will usually need to use some styling hairspray. In the end, however, this style looks pretty great, because the texture together with the transition from top to bottom of the head do their thing and make you super attractive.
14. Afro buzz cut with a fade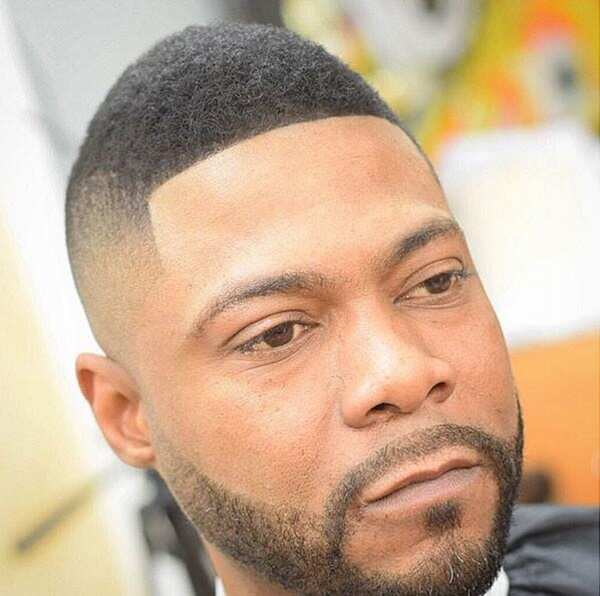 Buzzcut, like many other styles, can be successfully combined with mohawk fade haircut. This is one of the cases when afro comb looks professional and neat instead of casual and fun. Those little curls together with the alluring high fade from the forehead line to the beard will make a long-lasting impression wherever you appear.
15. Undercut mohawk with fiery afro
If frohawks are your kind of thing, do not miss the opportunity to make them as creative as possible! First of all, the undercut adds a lot of charisma to the hairstyle and makes you look way more self-assured. Secondly, the transition to the beard, which has a sharp, imaginative form, has a very captivating vibe of it. Last, never be shy to demonstrate your roots by letting your afro shine!
Mohawk fade hairstyles are something that every guy should try at least once in his life. They make the hair look more vibrant and make a person more cheerful. We hope that these styles caught your eye!
READ ALSO: Trendy Afro hairstyles for men
Source: Legit.ng