If you love watching Hollywood movies, then you definitely know who Jackie Sandler is! She is a beautiful actress whose movies leaves most of us glued to the screen as we cannot get enough of her! Famous and renowned for her modeling from an early age, news has it that she attended the same High School with Ian Grushka, Chris Marrs Pilero, and Jarett Grushka. Jackie joined the acting world where she fits perfectly. Interesting to note, Jackie Sandler's star shone brighter, and she became more famous after getting married to Adam Sandler.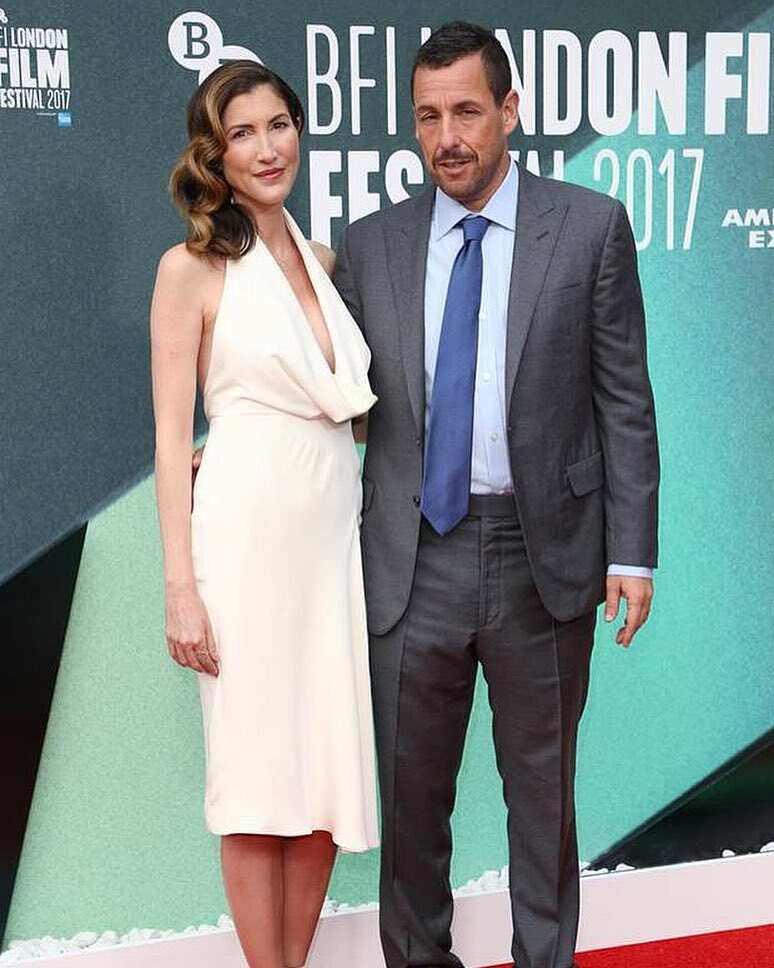 Ever asked yourself who Jackie Sandler is? Here are the answers you may need to know.
Who is Jackie Sandler?
Jackie was born in the year 1974 on September 24 at the heart of Coral Springs, Florida in the USA. With that said, you may be asking what Jackie Sandler age is? Well, she is 44 years old. What is Jackie Sandler height? Her height is 5'9". She was born to Joseph Titone and Lila Titone. Her parents divorced, and so, she continued living with her mother. She has always had a passion for modelling and thus, at an early age while still in high school, she started chasing her dream. Some of the countries she visited to spearhead her modeling career included Brazil. After this, she joined some renowned modeling agencies and soon, became an international model.
Jackie's first movie was in the year 1999 titled "Big Daddy." Her second movie was Deuce Bigalow: Male Gigolo in the same year. Other movies pinned to her name include Eight Crazy Nights in 2002 and the renowned Hotel Transylvania in 2012 where she voiced the loving character, Martha. Other films include The Do-Over, The Goldbergs, and Kevin Can Wait in the year 2016. Other movies she has taken part include Deported, Real Rob, and Sandy Wexler. As you read on, you will get to enjoy pictures of Jackie Sandler.
Adam Sandler and Jackie Sandler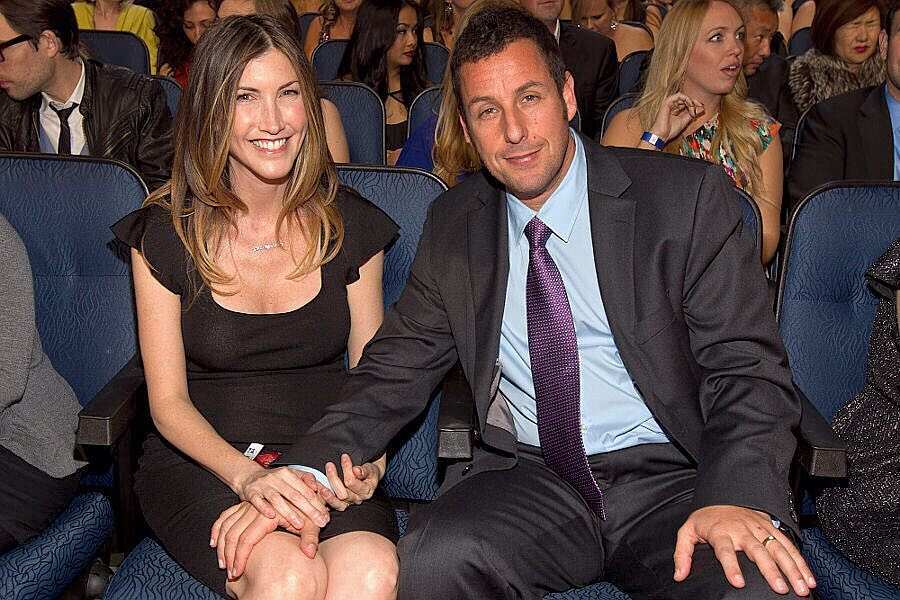 READ ALSO: ESPN Suzy Kolber: age, height, net worth, husband
Jackie gained much popularity after her marriage to the famous comedian, actor, film producer and screenwriter, Adam Sandler in 2003. Their love story blossomed after meeting during the filming of the movie "Big Daddy" between the years 1999 and 2000. It was during this period that the two started dating. The two were madly in love, and shortly after, Jackie changed her religion and converted to Judaism.
Adam and Jackie were engaged to each other for two years and later tied the knot in 2003. They celebrated their love in a traditional Jewish glamorous wedding which was held at Malibu. What will you stun you more is that Adam's "best man" was his bulldog "Meatball" that took that special role. Jackie walked down the aisle in a gorgeous and elegant Herrera gown to say "I do" to the love of her life. Some people that came to celebrate their big day include Sharon Osborne, Rob Schneider, Dustin Hoffman, and Jennifer Aniston. Jackie Sandler wedding was the talk of the town as many of her followers were excited by the news. The couple is now counting almost 16 years of marriage.
Jackie Sandler kids
The couple has two beautiful daughters called Sadie Madison and Sunny Madeline. The girls were born in the year 2006 and 2008 respectively. As of now, their daughters can be said to be following their parents' big footsteps in the acting world. Their eldest daughter Sadie has featured in the movies Grown Ups in 2010, Hotel Transylvania in the year 2012, and Blended in 2014. Their youngest daughter has not been left behind as she also featured in the movies Blended, Grown Ups, and Just Go With It in the year 2011. This only shows that Adam Sandler has succeeded in making sure that all the Sandlers take part in doing what they do best!
Adam and Jackie Sandler movies together
Rob Schneider has played a huge role in Jackie's acting career as he offered her the huge role of Sally in the movie "Deuce Bigalow: Male Gigolo," which practically brought her into the limelight. Interesting to note, it was Rob that introduced the couple to each other. The couple has featured in some movies together such as 50 First Dates in the year 2004 and Big Daddy in the year 1999. Jackie's appearances on her husband's movies are something that her fans are always excited about!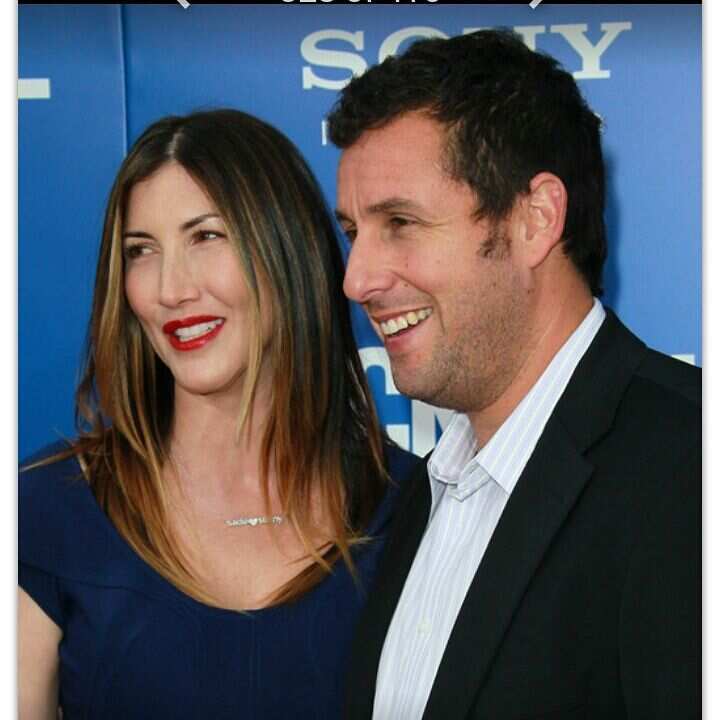 Jackie Sandler net worth
Despite not having ample information about Jackie's actual income, it is presumed that her net worth amounts to about $5 million while her husband's is about $300 million. The couple resides in Los Angeles in a house whose net worth is $12 million. This house was previously owned by renowned actor Kurt Russel & Goldie Hawn. According to Forbes Magazine, Adam was named as the world's 4th highest paid actor in the year 2017 with a net worth of $50.5 million. With Jackie's roles in numerous movies, it is seen that her net worth will also go a notch higher in the years to come.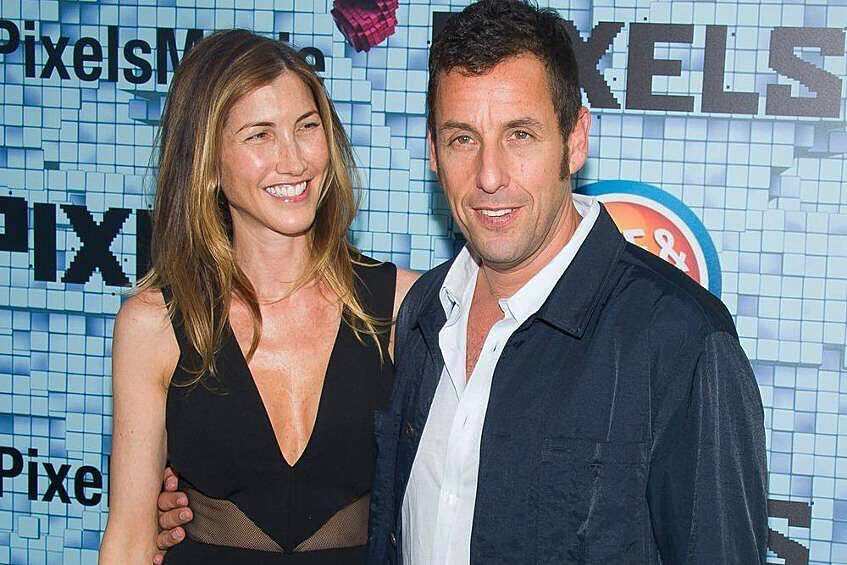 Adam and Jackie Sandler's philanthropic deeds
Talk of golden hearts and this couple has all to do with it! Jackie and Adam donate part of their earnings to charities. Recently, the couple showed love to the Boys & Girls Club in Manchester by donating $1 million. At the same time, they also reached out to the former New York Republican Mayor Rudy Guiliani's Presidential Campaign and donated $2,100.
The power couple has also funded foundations such as Toys for Tots, Ante Up for Africa, Life Rolls on Foundation, and Autism Speaks.
The Sandlers have become a family that depicts the power of love, passion, and purpose. They are a role model for most families, and we can only continue following them to see what next big thing they have for us, maybe soon we will get to watch a movie with Jacke Sandler and her entire family as the cast.
READ ALSO: Singer Banky W pays surprise visit to his family in US (video)