Latest Flavour songs you need to listen to as soon as possible
Flavour N'abania, or simply Flavour, is a Nigerian singer, songwriter and multi-instrumentalist. He is famously known across Africa for his great music. Flavour has achieved great success from his career as a musician and is bound to rise to greater heights. So, what are some of the latest Flavour songs?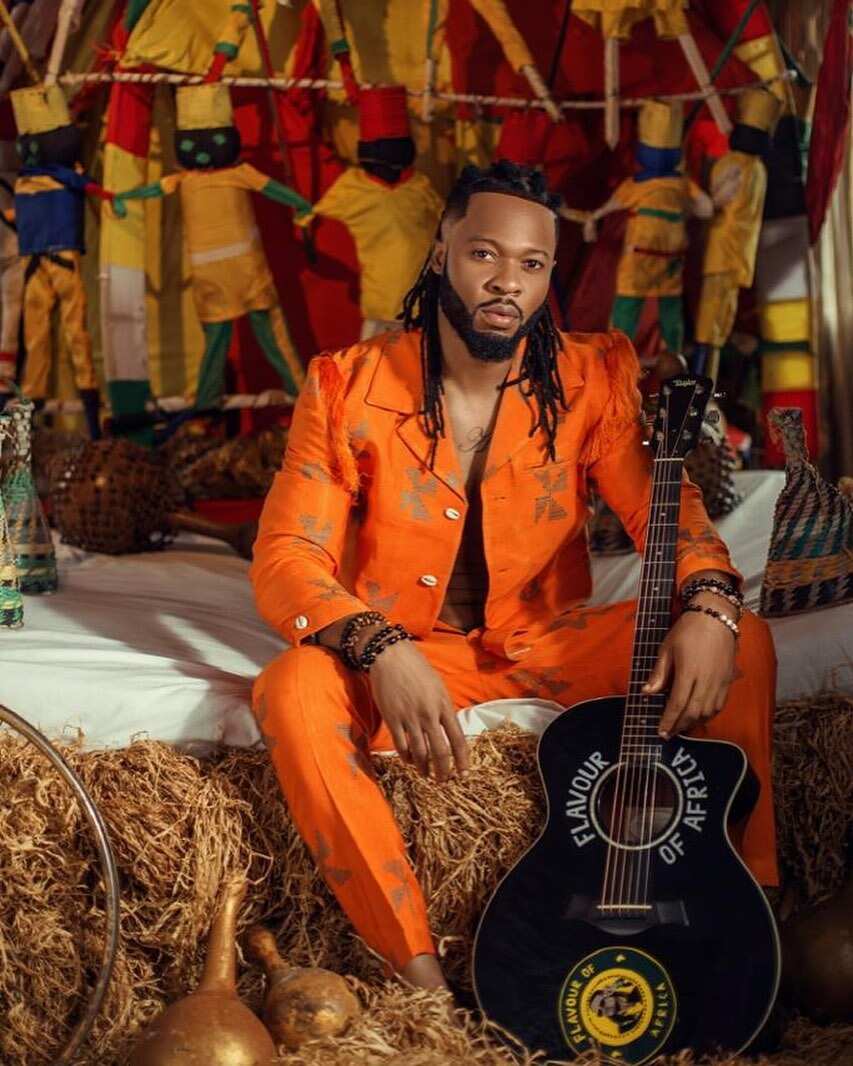 Flavour was born on 23rd November 1983 in Enugu State, Nigeria. He is popularly known across Africa and the world for his hit Nwa Baby .
He is a great musician who can sing fluently in the Igbo language. The singer began his music career at the age of 13 when he learnt how to play various musical instruments.
He is currently signed to 2nite Entertainment. Let us have a look at some recent hits by Flavour.
Latest Flavour songs
Since his debut in the music industry, he has released many hits. Songs by Flavour have been played widely across Africa.
In 2020-2021, the singer released a considerable number of tracks that can touch your soul as well.
So what are some of Flavour Nabania songs 2020-2021? Have a look at Flavour latest songs that will warm your heart.
Mon Bebe
Mon Bebe is a great collabo between Flavour and Patoranking. It is among one of Flavour new songs with over 2.3 million views.
As we all know, Patoranking is one of the best Nigerian musicians whose music has hit large across Africa. Well, if you are a great fan of the two musicians, then don't miss out on this new video of Mon Bebe.
Chop Life
Chop Life song is a collaboration between Flavour and Phyno. The music depicts the importance of appreciating our fellow friends when they are still alive.
The singer emphasizes on the importance of celebrating life when you make progress because we are not here forever. He says this life is for the living; hence Chop Life when necessary for tomorrow is not promised.
Doings
Doings is a great song sung in a different accent. It is a collaboration between Flavour featuring Phyno.
In music, they mix both English and their native language. The hit is mainly sung to a girl during a night out party.
Looking Nyash
Looking Nyash is a romantic song describing how pretty a certain woman is. In the song, Flavour says that her body is sweet like chocolate, making him salivate.
He finalizes by saying that no matter the kind of Nyash you get, whether big, small, large, extra-large, even extra small, all Nyash matters.
Good Woman
Good Woman is a song sung in both English and native language. The music appreciates the nature of a good woman with good traits.
In the song, Flavour insists that he who finds a wife finds a good thing and that a good woman is a blessing from God.
He talks more about appreciating a good woman because you can never replace her once you lose her.
Umuigbo
The song features Flavour and Biggie Igba. It has a perfect beat that conveys the unique African culture.
Omo T'emi
Omo T'emi song is a beautiful love song with slow beats. Flavour sings for this woman called Omo T'emi, who she describes as very beautiful with no wrinkles on her face.
According to Flavour, Omo T'emi is a woman with cute dimples and a very simple attitude; she is a heavenly beauty.
The singer says that he gets the best days when he spends time with her and that falling in love with her every day is something he cannot avoid.
Product of Grace
Product of Grace is a beautiful gospel song with amazing lyrics. It is one of his best songs that portrays how important God's grace is.
In the song, he appreciates everything God has done for him. God has saved him through his mercy, and that it is all by God's grace. Indeed God is the greatest.
Odoyewu
Odoyewu is a love song with amazing lyrics. Flavour sings to this woman called Odoyewu, who he can't stop thinking of every day.
In the song, he says that he is ready to load her account with money and spend more on her since she scatters his heart.
Ebube
Ebube is a song sung in his native language. Like most of his music, the song has great traditional beats, and the lyrics are a charming tune to listen to.
Omeiheoma
Have a look at this Omeiheoma song that Flavour sung in pure Igbo language.
Berna
Bema is a collabo of Flavour featuring Fally Ipupa and Tekno. The three famous musicians bring out good music about this fine girl called Berna.
It is good music that will make you shake your waist from its beats.
Egwu Ndi Oma
Flavour is an artist who keeps impressing his fans with good music. Every time he releases a song, it turns out to be great music to listen to.
If you love Flavour, then don't miss out on this great music.
Beer Parlor Discussions
Beer Parlor Discussion is a music lyrics collabo between Flavour and Waga Gee. It's a love song that brings out the emotions of a man who is in love.
Even though most of the lyrics in his native language, he still mixes some few English words to tell you how deep he feels.
Sawa Sawa
Sawa Sawa is a remix from his very first song Nwa Baby. He collaborates with Beenie Man, who raps the first stanza before Flavour responds with the sawa sawa sawaleh lyrics.
The song generally has the old beats of the original music.
Albums
Here are some of the albums the singer has released:
2005: N'abania
2010: Uplifted
2012: Blessed
2014: Thankful
2017: Ijele-The Traveler
Igbo music is gaining increasing popularity. Using this African language adds charm to songs. This feature makes Flavour N'abania songs special and unique.
Time after time, he shows a high level of professionalism, not only in recording his tracks but also in live performances. He does have a large number of awards, and an even more significant amount of nominations.
Flavour's success is not surprising at all because his music is an art. Hope you get to enjoy the new Flavour songs.
READ ALSO: Black Lightning cast Season 4: who is starring in the show in 2021?
Legit.ng recently posted an article about the cast of Black Lightning Season 4. The cast for the new season includes almost all the actors from the previous season.
The only star who will not appear in it is Damon Gupton (Bill Henderson), as his character was killed in last year's shocking finale. So who is starring in the show in 2021?
Source: Legit.ng