How to make pap with cheese
Today, we want to show you how to make pap, a traditional South-African dish. We are going to study some fantastically easy recipes everyone will be able to perform. We have prepared for you three best and most popular recipes of pap. So, let's go and find them out.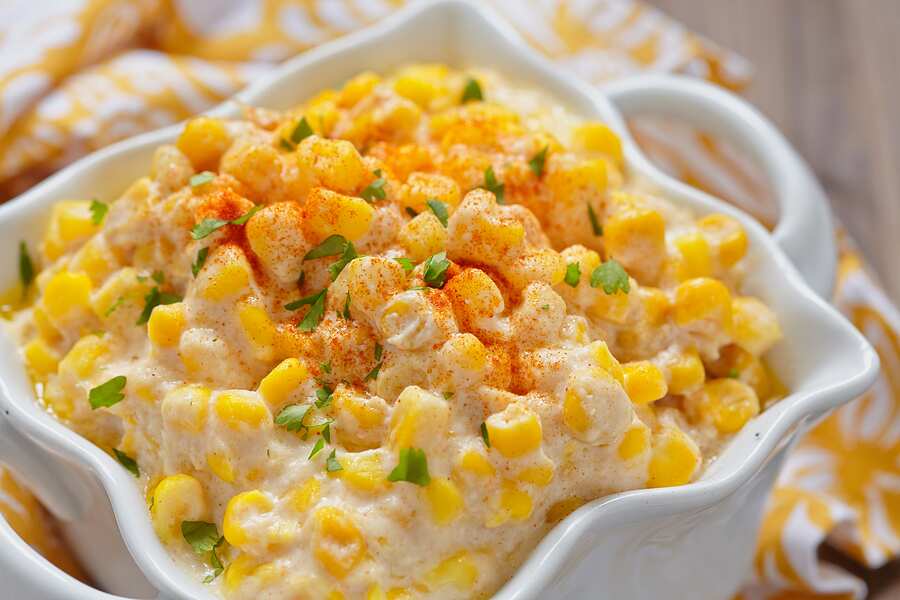 How to make pap easy and fast
Pap is made from corn, but to call it corn porridge or cornbread is not possible since it is a cross-section of consistency. At the same time, they almost do not have a taste. To be completely honest, there is absolutely no taste. However, pap is very rich in carbohydrates and leaves a feeling of fullness for a long time without feeling heavy.
Also, this dish contains a number of trace elements, including iron, that is so necessary for the construction of red blood cells and hemoglobin. They do not eat pap as a main dish. It is rather a side dish that is served either with stewed vegetables or with chicken or meat. There are many variations.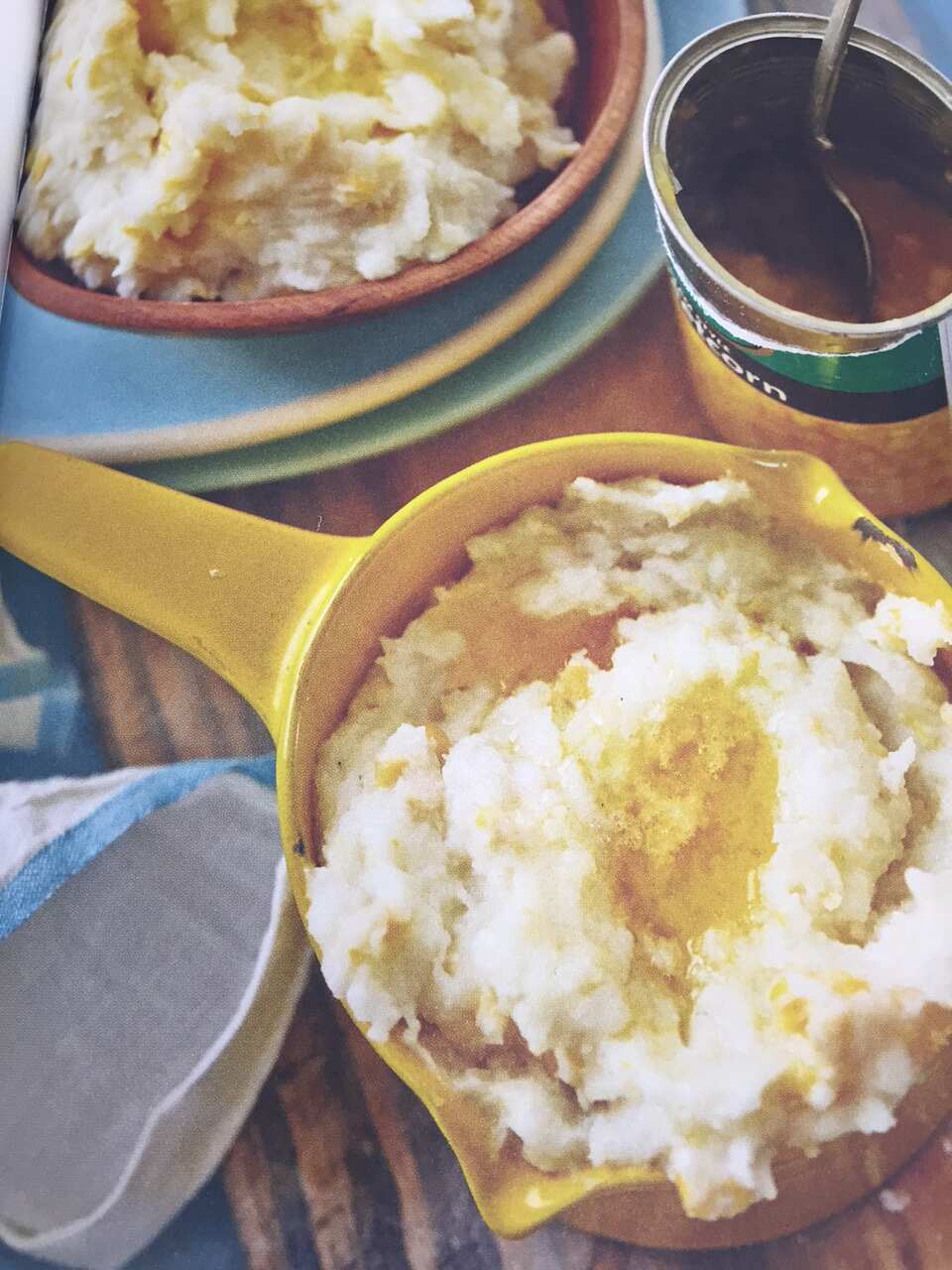 Pap is a national and essential dish of countries in the South African region. If you manage to cook it appropriately, it will have fantastic taste and satisfy your hungry stomach, as pap is very nutritious food. By the way, this dish is very straightforward to prepare and won't take too much time. So, now we want to present you traditional pap recipe.
Ingredients:
2-2.5 glasses of water;
1 teaspoon of salt;
2-3 cups of corn flour;
a small amount of butter;

READ ALSO: How to prepare vegetable salad at home
Preparation:
Take the aluminium saucepan. Put it on the stove. Turn the stove on medium heat. Before you proceed directly to the process of cooking this dish, heat the saucepan. If you cook on a gas stove, turn it on medium heat. The gas stove heats up much faster than the electric one. You can also use a pot of other material, such as copper or steel. However, aluminium conducts heat well, so food in such pans is cooked quicker.
Pour water into the pot. Pour into a saucepan approximately 2-2.5 glasses of water (500-600 ml). Bring water to a boil. Add one teaspoon of salt. Make sure that the water does not boil off. If you use a deep saucepan, reduce the heat or, if necessary, pour some water from the pot into the sink.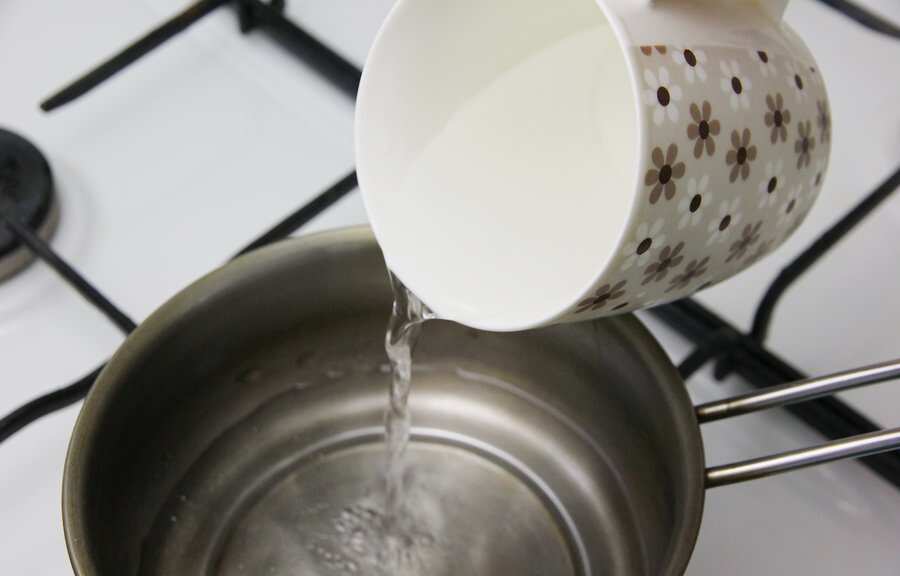 Add cornmeal to water. You will need 2-3 cups of corn flour. Add cornmeal to boiling water. Cover the saucepan. Reduce heat to medium temperature. If you cook on a gas stove, reduce the heat to medium temperature.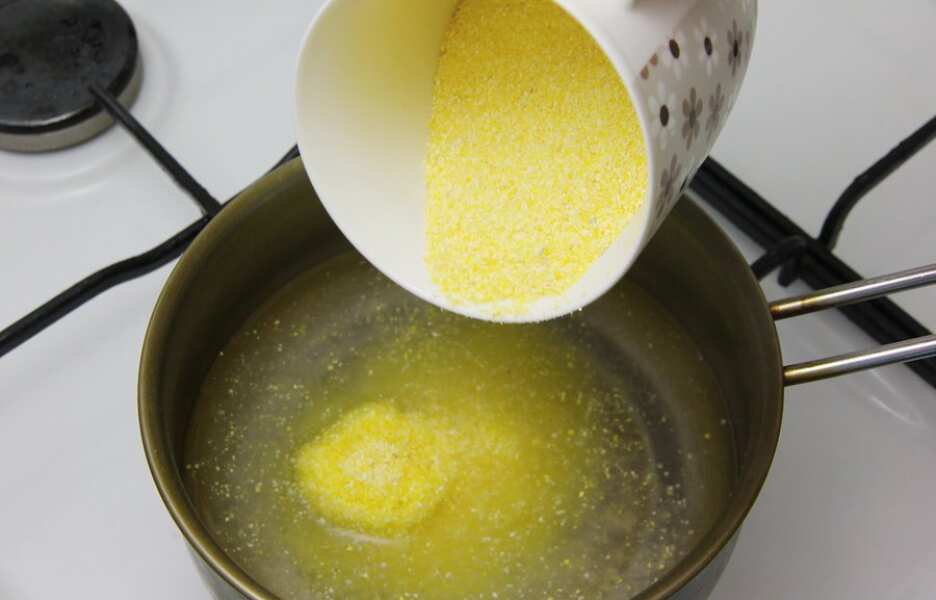 Stir the cornmeal. After you add the cornmeal to the water, bring it to a boil and cook for five minutes under the cover. Then remove the cover. Mix the cornmeal well so that the heat is evenly distributed throughout the dish. You can add a little butter to improve the taste of the dish. Cover the saucepan and reduce the heat to low.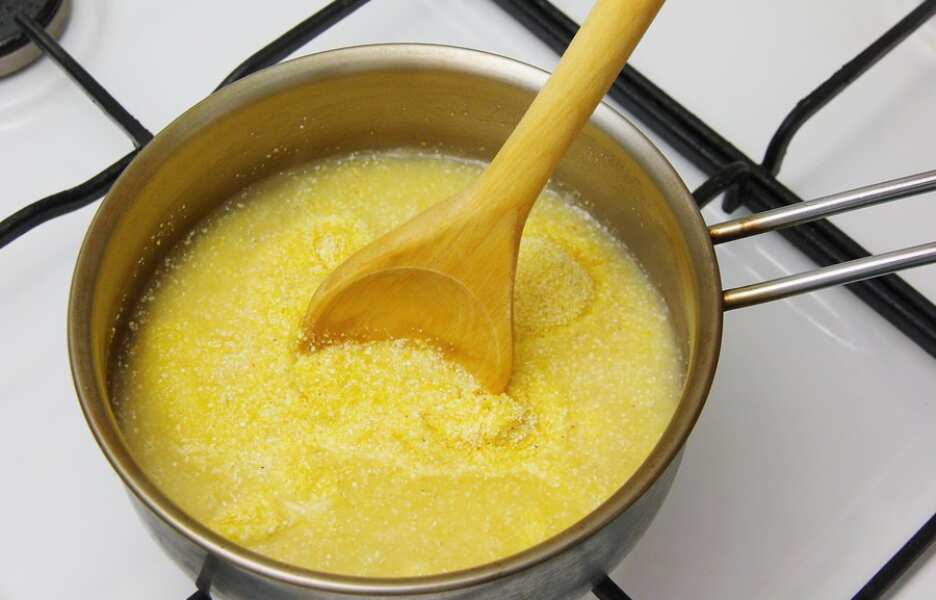 Your meal should not be too thick or liquid. Take some cornmeal in a spoon and tilt it over the pan. If the flour is slowly dripping from the spoon, this is the right consistency.
Cook the dish for another half hour. Remove the lid once or twice to check the dish. After that, cover the pot as quickly as possible. Perhaps it will take you less than half an hour to prepare this dish. Make sure pap doesn't burn. Remove the cover if necessary. However, the pan should be opened for a short time, not more than one minute. Then cover the saucepan again. Also at this stage, you can add butter, if the dish is too liquid.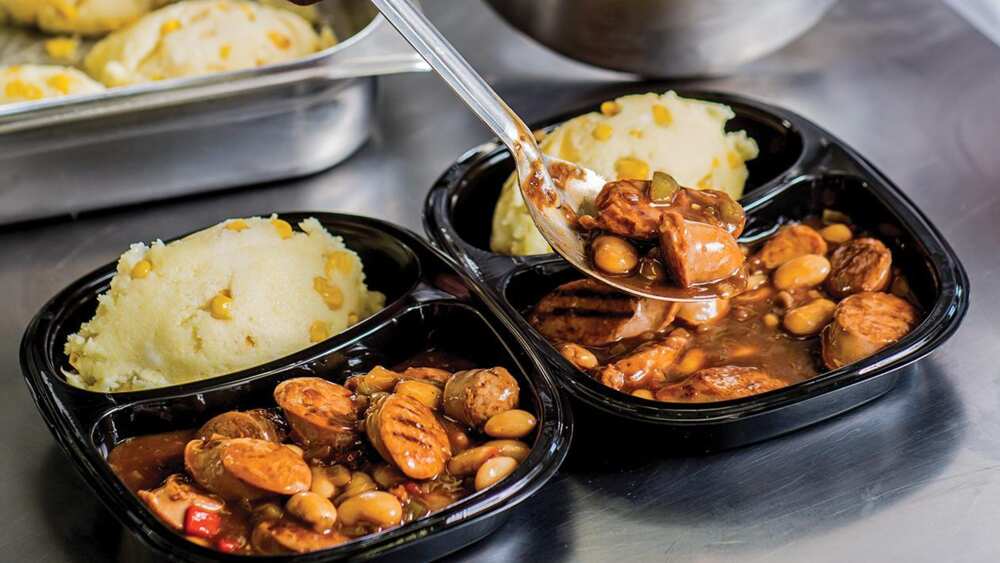 READ ALSO: Plain cake recipe without oven
Turn off the stove. Remove the saucepan from the heat and put it in a safe place so that it can cool a little bit. Do not remove the cover before serving. And it is ready to be served with vegetables or meat. Enjoy your meal!
How to make stiff pap with cheese
Now, we are going to tell you how to make cheesy stiff pap. This recipe is also very easy to perform. The ingredients are all simple, and the cooking process will not take a lot of time.
Ingredients:
2 cups of water;
1 teaspoon of salt;
2 cups of corn flour;
1 package of instant cheese sauce;
3 eggs of large size;

Preparation:
Pour water in a saucepan, add salt and put everything to the boil. Then, add corn flour into salted boiling water and mix it thoroughly. Cook cheese pap base on the low heat for about 10 minutes. To achieve a stiff consistency of a pap, mix it all the time during the preparation.
Remove the saucepan from the stove. Now, mix your instant cheese sauce with egg yolk until the solid consistency. If you prefer it spicier, you can add a bit of any seasoning you like. Then, mix pap and cheesy mixture together.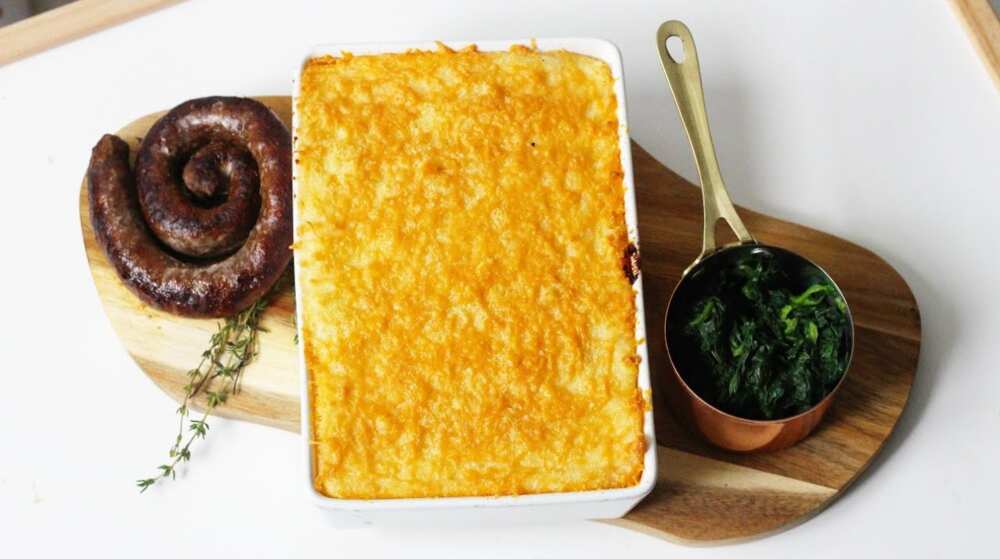 Now, whip the egg whites until firm peaks. To get them, whites must be cold, as well as the bowl where you are going to beat them. Also, add a bit of salt. When the whites are ready, add them gradually into the pap.
Now, prepare a bowl for baking the pap. The oven must be preheated to 180C. Put cheesy pap into it and put into the oven. Bake pap approximately for 20-25 minutes until it is ready. Then, remove it from the baking pot and your delicious cheese pap is ready to be served.
How to make pap with sweetcorn and cheese
Here is another simple recipe of pap for everyone. This one is also with cheese and sweetcorn. It is very simple and do not require much effort and time. So, let's get to the cooking process. And first, we need to find out what ingredient we need for this pap dish.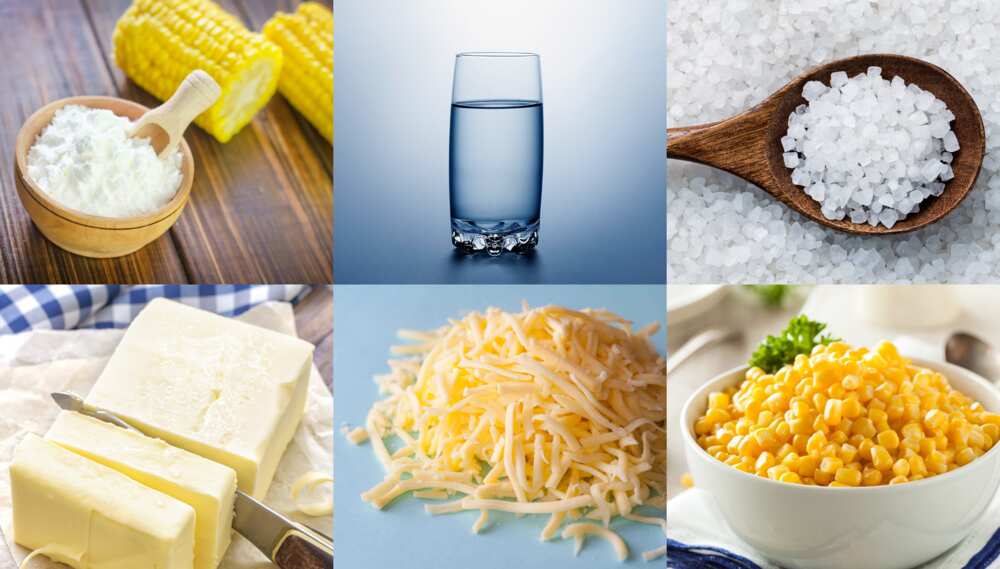 Ingredients:
2 cups of corn flour;
3 cups of water;
1 teaspoon of salt;
250 grams of butter;
1 cup of grated cheese;
1 tin of sweetcorn;
Preparation: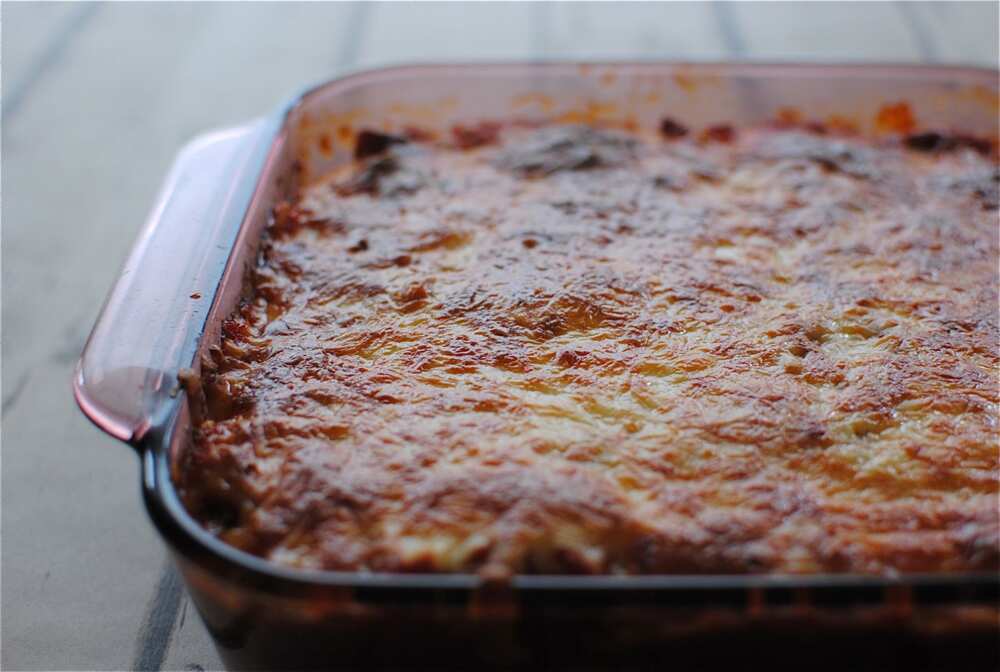 This time we will cook pap in a microwave oven. Mix water with corn flour in a bowl. Also, add some salt. By the way, the bowl should be deep and made of glass. Put the pot into the microwave oven for about 4-5 minutes.
If the power of your oven is not enough, set a timer for a bit longer. When the time is done, get the bowl out of the oven and stir the mixture thoroughly until the solid consistency. Then, add butter, sweetcorn and cheese.
Mix everything one more time. Put the bowl back into the microwave oven, and set a timer for another 5 minutes. When your pap with cheese and sweetcorn is prepared, leave it to cool for about 10 minutes. And now it is ready to be served. Bon Appetit!
READ ALSO: Idoma traditional food: Okoho soup
Source: Legit.ng