Atiku Abubakar's biography: education, net worth, businesses, family
Atiku Abubakar was the 11th Vice President of Nigeria under Olusegun Obasanjo's presidency. Besides politics, he is an avid businessperson and philanthropist. The politician has been on the public scene since the 1980s and has run for office multiple times.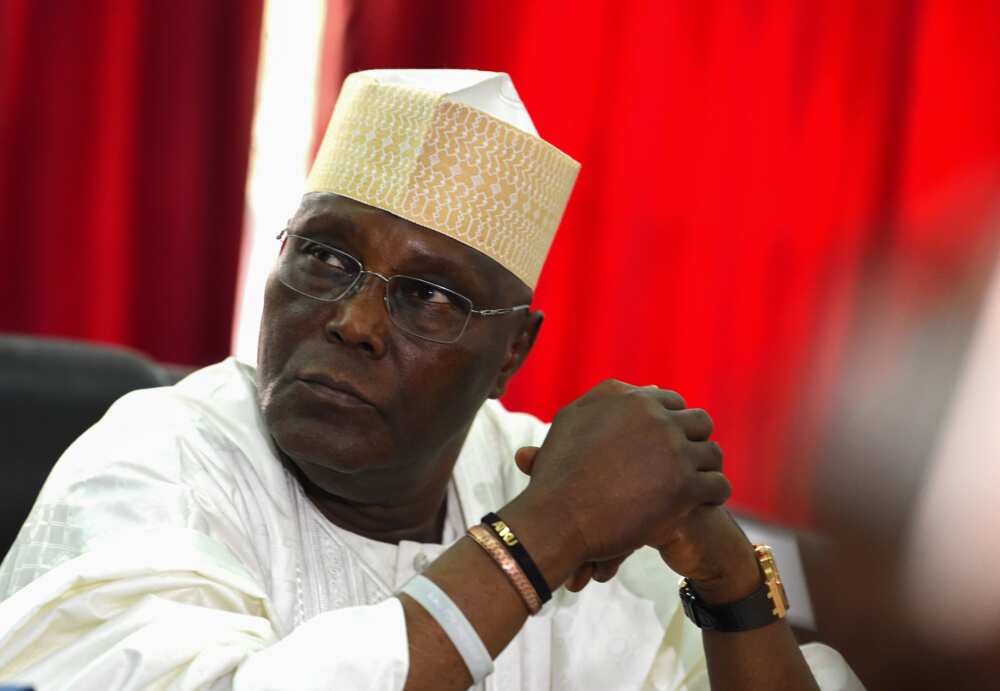 Atiku Abubakar joined politics in the 1980s. Since then, he has been in the limelight and has made significant contributions to Nigeria's political and economic development.
Profile summary
| | |
| --- | --- |
| Full name | Alhaji Atiku Abubakar |
| Gender | Male |
| Date of birth | 25th November 1946 |
| Age | 76 years (as of 2023) |
| Place of birth | Jada, Adamawa State, Nigeria |
| Current residence | Nigeria |
| Nationality | Nigerian |
| Ethnicity | Black (Fulani) |
| Zodiac sign | Sagittarius |
| Religion | Islam |
| Sexuality | Straight |
| Height in feet | 5' 8" |
| Height in centimetres | 173 |
| Hair colour | Black |
| Eye colour | Dark brown |
| Marital status | Married |
| Spouses | Titilayo Albert, Princess Rukaiyatu, and Fatima Shettima |
| Ex-wives | Ladi Yakubu and Jennifer Douglas |
| Children | 28 |
| Father | Garba Abubakar (deceased) |
| Mother | Aisha Kande |
| Siblings | 1 (deceased) |
| Alma mater | Jada Primary School, Adamawa Provincial Secondary School, Nigeria Police College, School of Hygiene, Ahmadu Bello University, & Anglia Ruskin University |
| Profession | Politician, entrepreneur, and philanthropist |
| Twitter | @atiku |
| Instagram | @aatiku |
| Facebook | @Atiku Abubakar |
Who is Atiku Abubakar?
Atiku Abubakar is a politician, entrepreneur, and philanthropist. He is best known as the 11th vice president of Nigeria. He served under former president Olusegun Obasanjo.
How old is Atiku Abubakar?
Atiku Abubakar's age is 76 years as of 2023. Atiku Abubakar's date of birth is 25th November 1946, and his Zodiac sign is Sagittarius.
Where is Atiku Abubakar from?
The former vice president was born in Jada, Adamawa State, Nigeria, formerly Jada, British Cameroon. He resides in Nigeria to date.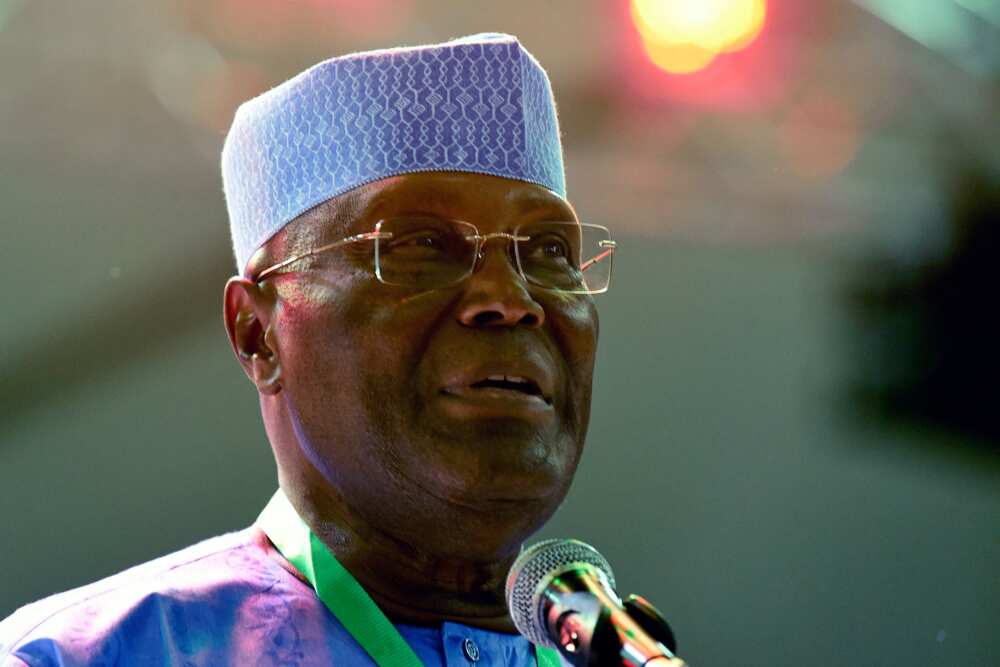 Who is father of Atiku Abubakar?
The politician's father is the late Garba Abubakar. Garba was a farmer and trader who passed away in 1957. He drowned while crossing a river to the neighbouring village called Toungo.
The former vice president's mother is Aisha Kande. Garba and Aisha were blessed with two children, a son and a daughter. Their daughter passed away in her early years, leaving Atiku as their only living child.
What is Atiku Abubakar's tribe?
The politician's tribe is Fulani. His paternal grandfather, Atiku Abdulqadir, was originally from Wurno, Sokoto State. He moved to Kojoli village at Jada, Adamawa State, where he settled and raised a family. The politician is a Muslim.
Educational background
Initially, Garba did not want his son to pursue western education. He was jailed for not taking his son to school. At eight, the politician joined Jada Primary School in Adamawa.
He then proceeded to Adamawa Provincial Secondary School and graduated in 1965. He joined Nigeria Police College in Kaduna but was unable to complete his studies due to a missing O-Level Mathematics result.
He then enrolled at the School of Hygiene in Kano for a diploma programme before proceeding to Ahmadu Bello University's Institute of Administration for a Diploma in Law. In 2021, the politician graduated with a Master's degree in International Relations at Anglia Ruskin University, Cambridge, United Kingdom.
Career
After leaving the Nigeria Police College, the politician worked as a Tax Officer in the Regional Ministry of Finance for a short period. After graduating from Ahmadu Bello University, he secured a position at the Nigeria Customs Service.
He worked in the Nigeria Customs Service for two decades, rising through the ranks. He was the Deputy Director when he retired in April 1989. During this period, he also ran businesses on the side.
After retirement, the politician became a full-time politician and businessman. He has invested heavily in real estate, especially in Yola, Nigeria. At one point, he farmed maize and cotton, but he did not do well in agriculture.
Instead of farming, he preferred to buy and sell food items. He has also invested in the transport industry. He is the founder of Nigeria Container Services (NICOTES), a logistics company operating in Nigerian ports.
Additionally, he co-founded an oil servicing enterprise called Intels Nigeria Limited. Intels replaced NICOTES. He also has interests in beverage and animal feed manufacture and is the founder of the American University of Nigeria (AUN).
Political journey
Atiku started his political career in the early 1980s when he supported Bamanga Tukur's gubernatorial bid. He later teamed up with General Shehu Musa Yar'Adua and other politicians to form the Peoples Front of Nigeria.
He was elected the vice-chair. His party did not meet registration requirements, so it merged with Social Democratic Party (SDP).
In 1989, he won a seat in the Constituent Assembly. A year later, he announced his gubernatorial bid in Gongola State. Before the general elections, the state was divided into two, i.e., Adamawa and Taraba. He was disqualified from contesting the Adamawa seat.
In 1993, he contested the SDP presidential primaries and emerged third. In 1998, the politician joined the Peoples Democratic Party (PDP).
He won the Adamawa State gubernatorial seat. Before swearing into office, he accepted to be the running mate to the PDP presidential candidate, General Olusegun Obasanjo. Obasanjo won the presidency in 1999 and became Nigeria's fourth head-in-chief.
Atiku became the country's vice president for the first time on 29th May 1999. He maintained the position during President Obasanjo's second term. He was the vice president until 29th May 2007.
In January 2011, Atiku contested the presidential ticket under the People's Democratic Party but lost to President Jonathan.
During the presidential primaries held on 28th May 2022, Atiku was named the presidential candidate of the Peoples Democratic Party for the upcoming 2023 elections. His running mate is Ifeanyi Okowa.
What is Atiku Abubakar's net worth in 2023?
The politician is reportedly worth $1.8 billion. His wealth comes from running multiple businesses, his career at the customs desk, and his political endeavours.
Who are the wives of Atiku Abubakar?
The politician has married five times. He divorced one wife to accommodate a fourth one because Muslim men are allowed a maximum of four spouses.
Who is Atiku Abubakar's first wife? His first wife is Titilayo Albert, commonly known as Titi. He married her secretly in 1971 because her family was opposed to the union.
How old is Titi Atiku? Titi, a Nigerian advocate of women and child rights, is 73 years old as of 2023. She was born on 6th June 1949 in Ilesa, Nigeria.
In 1979, Atiku married Ladi Yakubu. The two divorced after bearing six children. In 1983, he married Princess Rukaiyatu as his third wife. In 1886, he married his fourth wife, Fatima Shettima.
Atiku divorced Ladi Yakubu, which allowed him to marry a new wife as permitted in Islam. He married Jennifer Iwenjiora Douglas, commonly known as Jamila Atiku-Abubakar.
On 1st February 2022, Atiku's new wife, Jennifer, confirmed her divorce from the politician. She is based in the United Kingdom.
Atiku Abubakar's children
Atiku Abubakar's family is pretty large because he has 28 known children, although one remains unidentified. He said he wanted a large family because he did not like the loneliness that came with being an only child after the demise of his sister.
The politician's children with Titilayo Albert are Fatima, Adamu, Halima, and Aminu. He had six children with Ladi Yakubu. Their names are Abba, Atiku, Zainab, Ummi-Hauwa, Maryam, and Rukaiyatu.
He has seven children with Princess Rukaiyatu. They are Aisha, Hadiza, Aliyu, Asmau, Mustafa, Laila, and Abdulsalam.
The politician and Fatima Shettima are also blessed with seven children. They are Amina, Mohammed, Ahmed, Shehu, Zainab, Aisha, and Hasfat. On the other hand, Jennifer Iwenjiora Douglas' children are Abdulmalik, Zahra, and Faisal.
How tall is Atiku Abubakar?
The politician is 5' 8" or 173 centimetres tall. He has black hair and dark brown eyes.
Atiku Abubakar is a seasoned Nigerian politician and businessman. He is best known as Nigeria's 11th vice president and is running for the presidency in the upcoming general elections.
READ ALSO: Rian McCririck's biography: age, girlfriend, movies and TV shows
Legit.ng recently published Rian McCririck's biography. McCririck is a rising Canadian actor who rose to prominence in 2020 after being cast as Logan Bruno in The Baby-Sitters Club.
He has also appeared in the film Good Boys. Besides being a young actor, McCririck is an Instagram personality.
Source: Legit.ng