Nigerian music is well known all across Africa and in many other corners around the world. Our country is a home to a huge diversity in styles and there are many talented artists who are extremely popular. Let us talk about the most popular Nigerian musicians and their state of origin. It is so much fun to learn where Wizkid, Don Jazzy, and other celebrities originate from.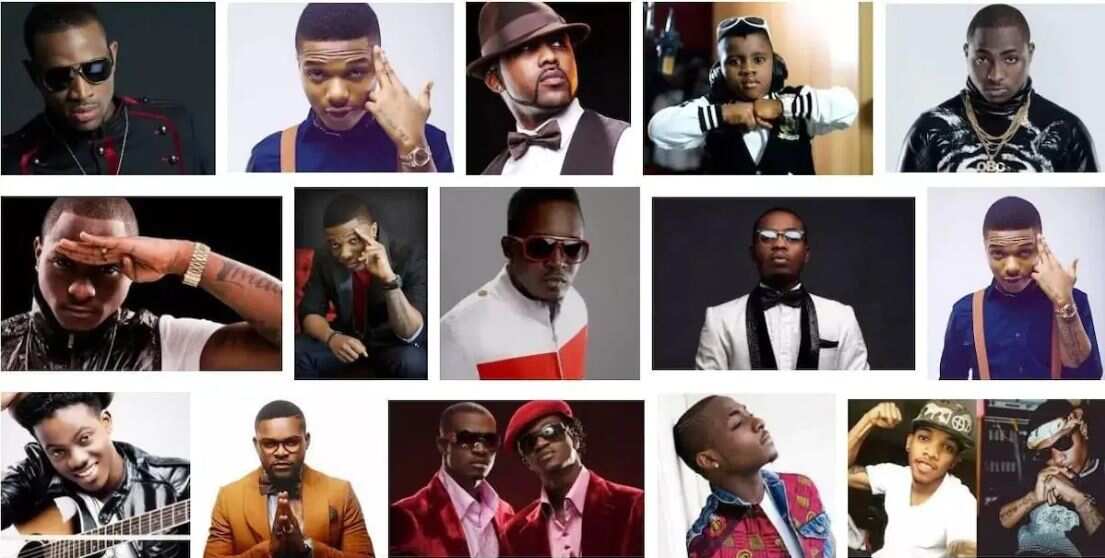 Photo: viralworldlist.com
Nigerian celebrities
The number of Nigerian artists who become famous and conquer numerous countries grows really fast. The entertainment industry has become a part of the country's economy, and just like Nollywood, it blooms and constantly finds and promotes new talents.
The list of Nigerian musicians and their state of origin can be extremely long due to the big number of young artists and well-known celebrities such as Don Jazzy, Wizkid, Davido, P-Square to name a few.
Since the music industry is very competitive, we would like to list only the top names across Nigeria.
READ ALSO: Who is the most popular musician in Nigeria? - Top 10
Top Nigerian artists
We know that all big fans of Nigerian music definitely know the state of origin of their favorite Nigerian artists. Below you can check your memory and see if you remember everything right.
List of 20 Nigerian musicians and their state of origin:
Wizkid – this popular singer whose first recordings were made when he was just 11 years old is known in every city of Nigeria. Wizkid state of origin is Lagos.
Don Jazzy – this well-known singer and producer who stands behind the creation of record label Marvin Records helps to discover new talents from all over the country. Don Jazzy state of origin is Abia.
D'banj – the title holder of MTV Artist of the Year, Europe Music Awards and others D'banj whose real name is Oladapo Daniel Oyebanjo is from Ogun state.
Davido – this stylish songwriter, artiste, and co-owner of record label HKN Music often tops numerous charts across Nigeria is from Osun state, even though he wasn't born here. This superstar originates from Georgia State in the USA. He was born in Atlanta but has become famous in our country and lives here now.
2Face Idibia – you might love the second name of this singer 2Baba. Anyways, one of the top-paid African pop artists was born in Plateau State.
Tiwa Savage – the beautiful and successful Nigerian singer Tiwa Savage whose real name is Tiwatope Savage-Balogun is from Lagos State.
P-Square – even though the popular Nigerian duet of two brothers Paul and Peter Okoye has stopped being P-Square, they can still develop individually, and that is why it is cool to recollect that they both from Anambra State.
Fela Kuti – this is an impressive musician who plays multiple musical instruments and is a pioneer of the now-popular Afrobeat style in the Nigerian music industry. He has many fans, and many of them think he is a true legend in Nigeria. Fela is from Lagos State.
Yemi Alade – this Afropop singer looks gorgeous and sings incredibly. Millions of Nigerians love her hit Johnny that was released in 2013. Yemi Alade was born in Abia State.
READ ALSO: Who is the best musician in Nigeria?
Kcee – many citizens of Nigeria still remember Kcee as one of the top Nigerian artists from Kc Presh. That duo hip-hop band has broken up but Kcee continues his incredible career.
Yinka Ayefele – being extremely productive, Ayefele releases an album once a year or sometimes even more often. This one of the top Nigerian artists in the gospel music industry was born in Ekiti State.
Sinach – fans of gospel music love the songs by Sinach. The little girl who dreamed of singing for a big audience and did everything to turn into a professional grown-up celebrity is from Ebonyi State.
Samsong – this award-winning gospel singer is from Delta State. Samsong has won different titles including The Best Male Vocalist and others.
Joe Praize – this is another gospel singer who is known all across Nigeria and whose music is loved by fans and understood by critics. He was born in Edo State, but he traveled all across Nigeria, different African countries and around the world.
9ice – being called the Best Hip Hop Artist in 2008, this impressive Nigerian celebrity continues to impress millions of citizens with his new hits. Even though he grew up in Lagos, he is from Oyo State.
Banky W – rap music is very popular in Nigeria and when it comes to this style everyone most likely thinks of Banky W. He is a great performer and owns his own label called E.M.E. While millions of Nigerians are in love with his music, we should note that Banky W is from Lagos state
Olamide – the popular hip-hop artist is from Lagos State. He has his own label YBNL and releases impressive music that receives significant awards.
Iyanya – the winner of Project Fame West Africa is from Cross River State. He is the winner of several prestigious awards and has been nominated numerous times thanks to his music.
D'Prince – the stage name of Charles Enebeli also stands out among the top Nigerian artists. D'Prince is the younger brother of Don Jazzy, and his state of origin is Abia.
These are some of the most impressive Nigerian musicians and their states of origin. Our country has many more wonderful names whose music and performances make millions of people happy.
READ ALSO: Top ten richest musicians in Nigeria and their net worth in 2018