Isi Agu attire for ladies
Do you think that Isiagu attire is only for men? No way! It's a pretty material that suits both men and women perfectly well. Within the recent decades, this outfit has become extremely popular with Igbo ladies in many elegant and pretty variations. Just check them out below!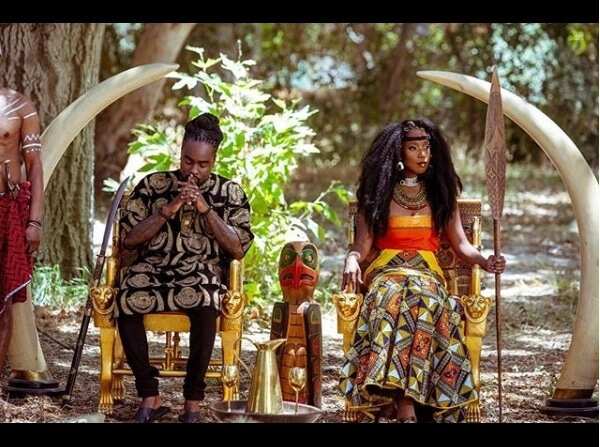 Is there Isi Agu for ladies?
Even now, when we can see ladies wearing this beauty, not all people are completely sure whether women have been recognized as eligible for getting dressed like this. We can say it confidently: Isi Agu is a perfect choice for pretty, strong, elegant women who want to declare their style, perfect taste and their contemporary world outlook.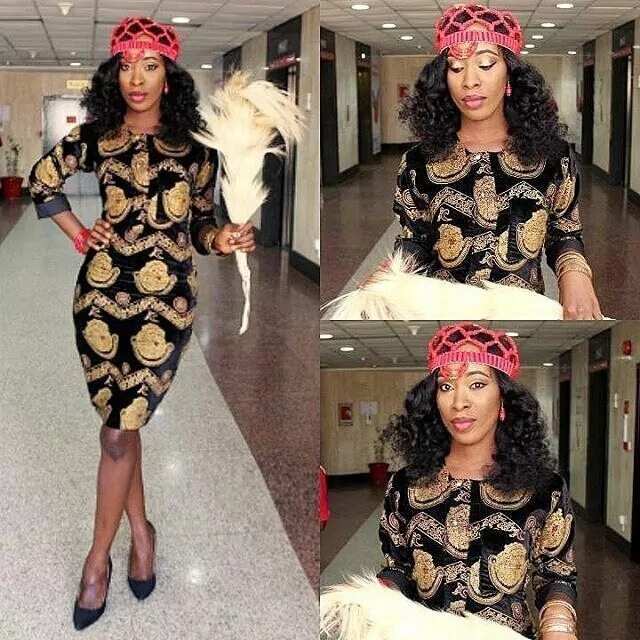 READ ALSO: Niger Delta fashion styles for guys
The very words Isi Agu mean "a lion's head". The name was given to the fabric patterned with lions' heads all over. Once upon a time, this fabric was very expensive and one could rarely see it on people, especially common ones. Could we ever think that a day will come when we will be able to wear this luxurious and doubtlessly beautiful fabric without spending a fortune to buy it?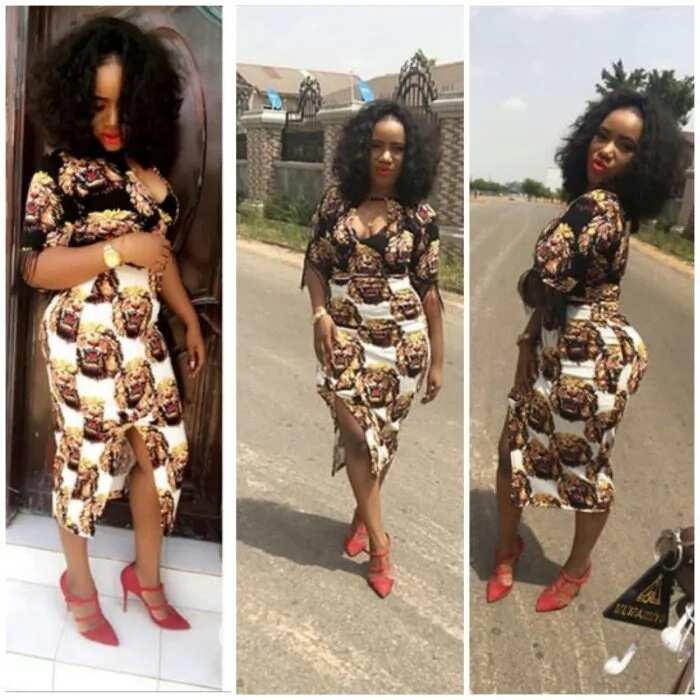 Isi Agu trends for ladies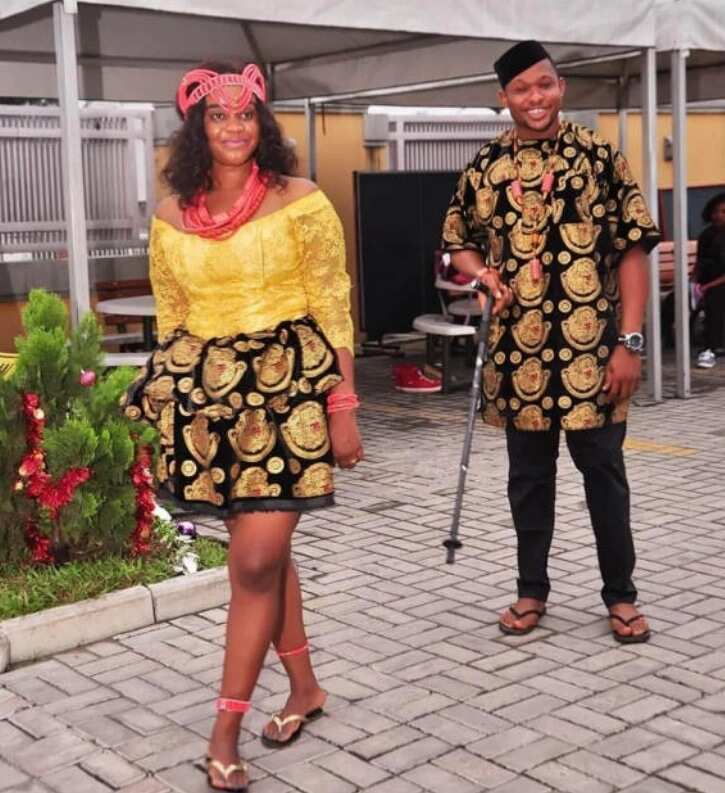 READ ALSO: Hausa dressing styles for ladies
The big advantage of this fabric is in the variability that's available to ladies. Long gone are the times when the fabric was made in some particular colors. Now, you can find any options you like. For example, you can have an item made out of dark fabric with the pattern done in sparkling gold and wear it on special occasions.
Everyday clothes can be made out of simpler options: some ivory background and dark orange lions' heads without any rhinestones, sparkles and so on.
The texture of the available fabrics can be different, too. Sometimes, you can encounter plain and smooth cotton Isi Agu while on another occasion you will see a perfect velvet type. Depending on the choice of the texture, you can choose the best possible style for yourself or vice versa.
The latest Isi Agu styles for women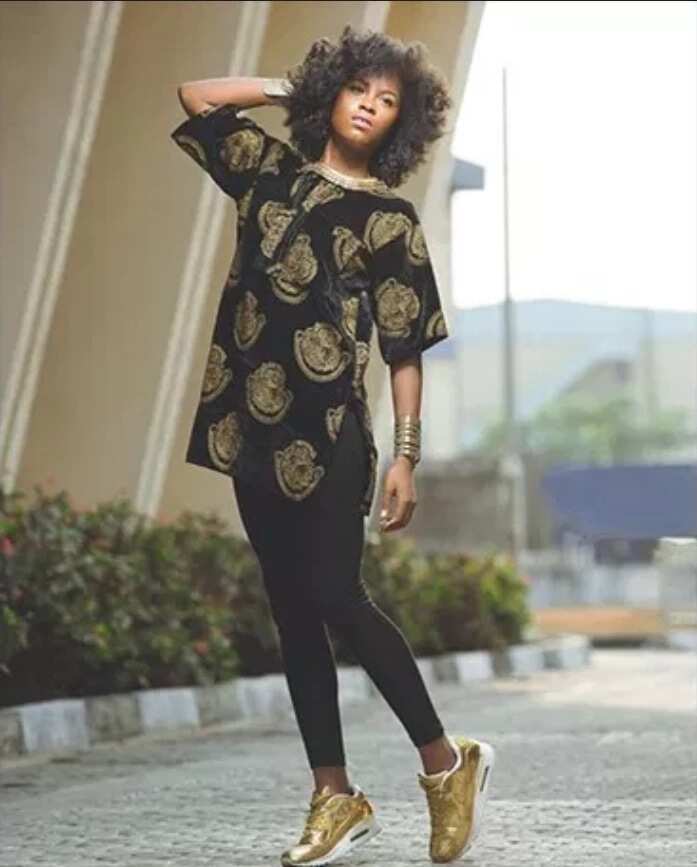 The latest tendencies in the Isi Agu attire for women involve diverse fashions. The most common one remains the traditional shirt like the ones men used to wear since the time the fabric was invented. Such a shirt is usually worn with skinny pants and some modern shoes or sandals. All the details of such a shirt remind of the same fashions in men's clothes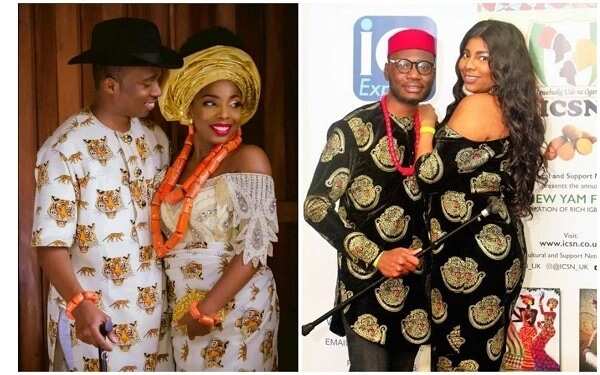 Isi Agu is also used to create lovely wedding dresses and it's often chosen for both the spouses. There are many quite festive and lovely options with a fair background and a bright colorful pattern. However, a dark variation will also look great. Accompanied by bright jewelry, such garments for both the bride and the groom will create a special mood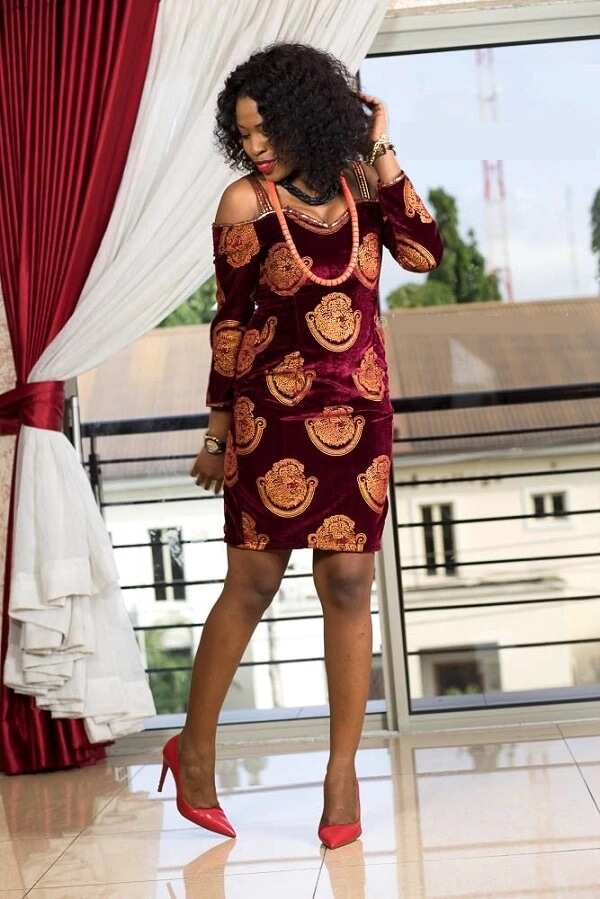 Another lovely option for ladies is a short but luxurious dress like this one. The sheath cut and the impressive dark red velvet make it a perfect item for special occasions. It's a lovely dress for a bridesmaid and even for the bride herself should she want to have a modern wedding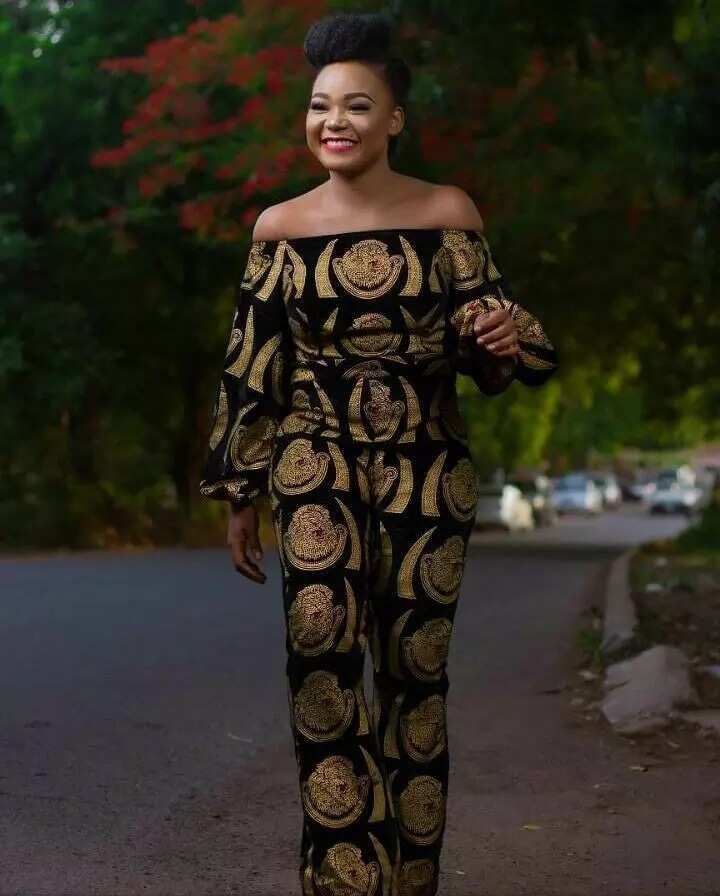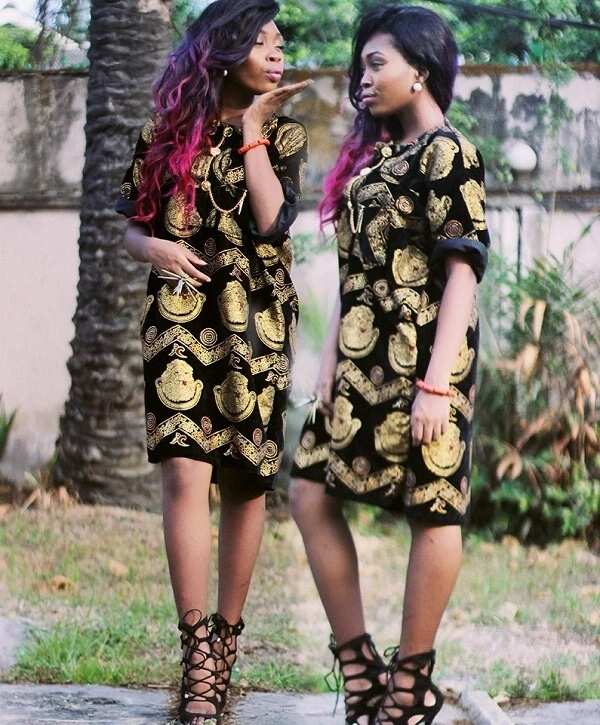 Another lovely garment based on the men's Isi Ago shirt is a lovely shift dress that provides a lot of comfort and plenty of style. Such a dress is a great choice for both a stroll with friends and a party on somebody's birthday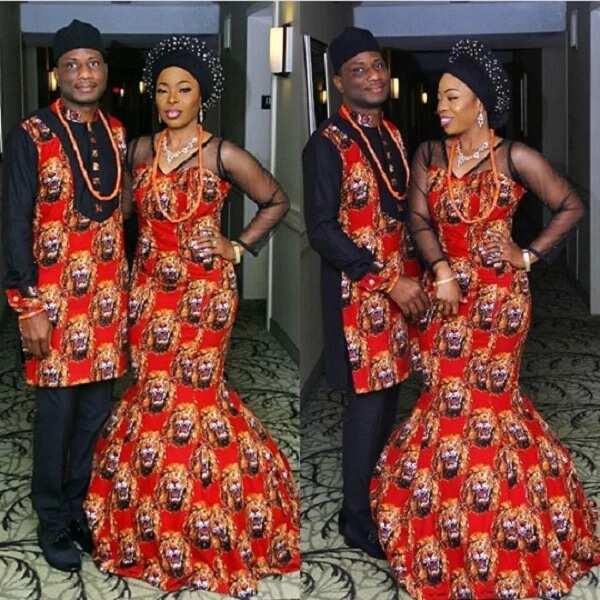 Just look at this wonderful idea of Isi Agu for a couple. Such an elegant dress will obviously make you a centerpiece of everyone's attention. Such outfits are a perfect idea of wedding Aso Ebi for the guests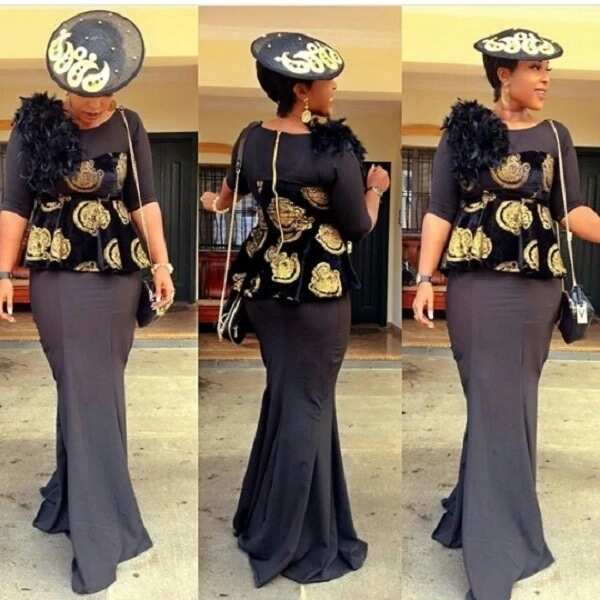 This dress is a masterpiece of elegance. With decorations made out of velvet Isi Agu, this gown is able to turn all heads to you. If you get yourself such a dress, you can be sure that all eyes will be on you and you alone
This is something more suitable for young girls. A bomber jacket made out of Isi Agu will look amazing with a black sheath dress, tight pants or a narrow pencil skirt. This is a rebellious and very attractive daring style that will get you the attention you deserve
• Combinations are a wonderful idea. If you choose a blouse and a wrapper for a wedding, make one item out of Isi Agu and the other out of a plain fabric of the color of the background. You will see how great it will look in the end!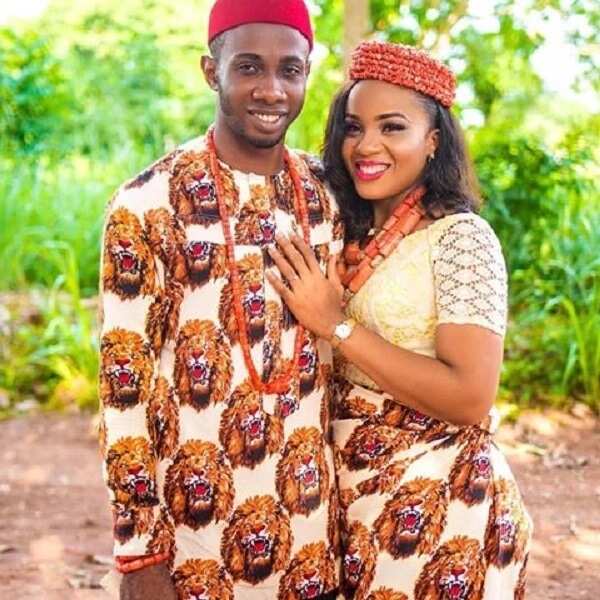 Blouses made out of Isi Agu look really gorgeous. If you manage to place the pattern right, you will receive the perfect look and a decorative effect that will draw all glances at you. You just need to find a gifted tailor who will design such an item for you smartly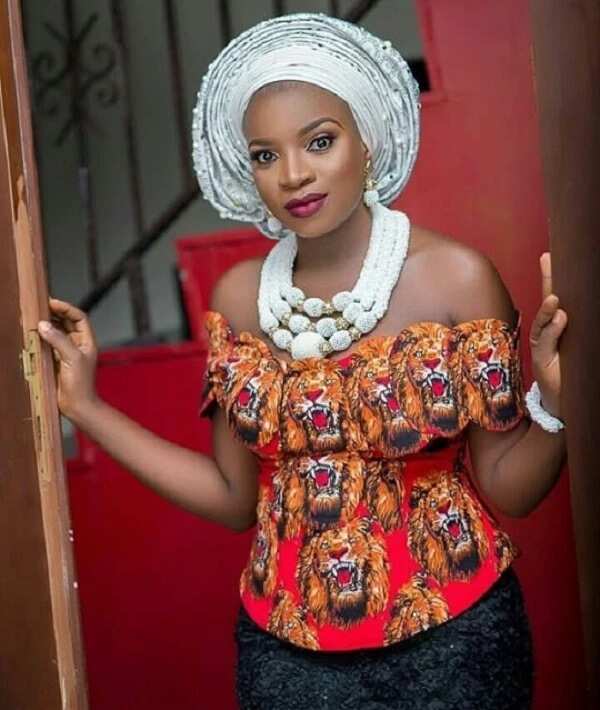 Isi Agu styles for the youngest fashionistas also exist. Such a lovely dress will make a princess out of any girl and give her the feeling of her beauty and power. It's a lovely choice for a little one who's attending some big party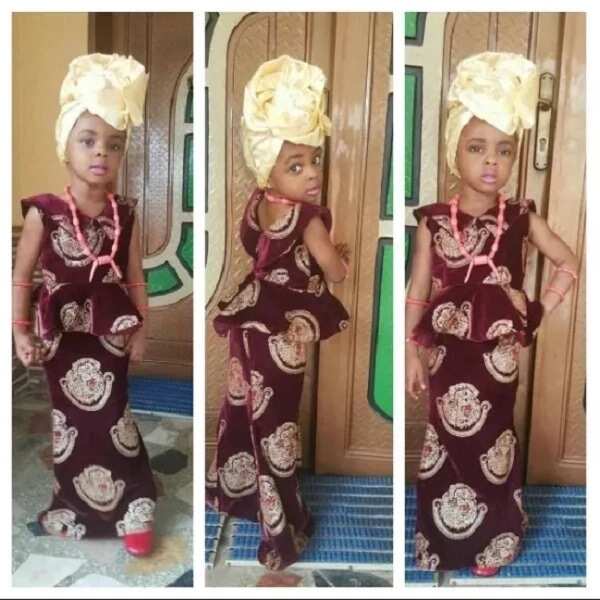 This was a small collection of true Igbo Isi Agu styles for women. If you are into having a wonderful stylish item that won't look like anything else, the Isi Agu is for you. With the available variety of colors, textures, and even pattern styles, you will be able to create something unique, elegant, and very bright.
READ ALSO: Best agbada styles for guys to rock in 2018
Source: Legit.ng