Semolina for babies is a nourishing meal that will keep them perfectly satiated for a long time. Babies who receive no breastfeeding for diverse reasons often gain weight and grow perfectly well when being fed with semo. Now, it's time to find out how to cook a perfect semo for a baby who can't chew.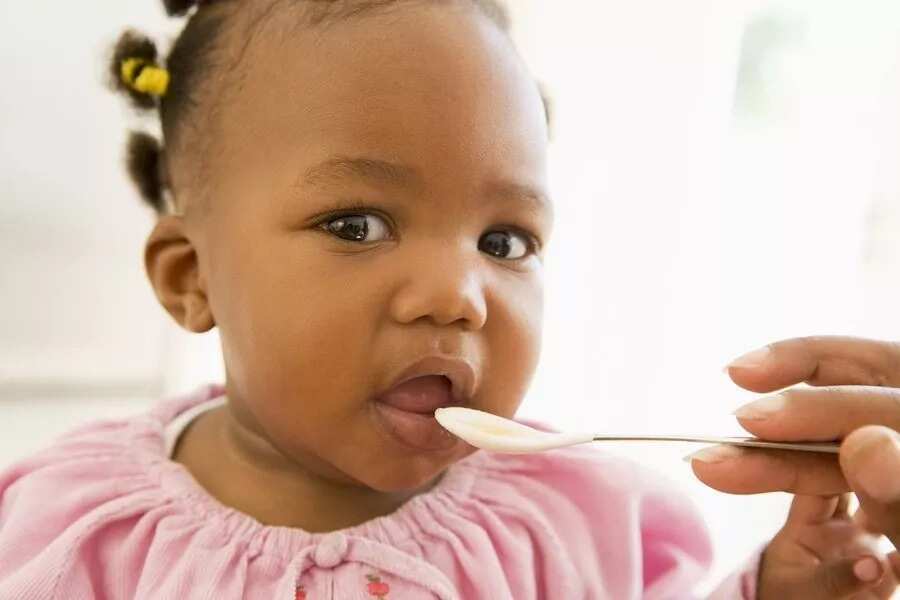 How to make semo in a Nigerian way
In Nigeria, there are several traditional foods that are made out of semolina or with a good deal of it. However, it's totally not a thing a baby would need, especially a toothless one who can't chew.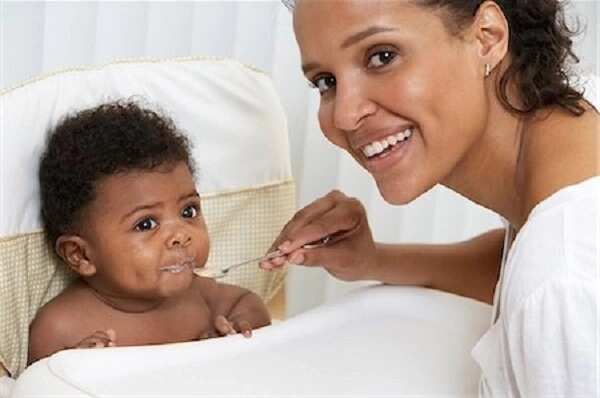 READ ALSO: How to cook eggplant for baby food
If you are cooking semolina for a baby, you need to make it liquid, something between a porridge and a soup to make it easy for the baby to swallow. As a rule, such a meal is cooked with the help of a lot of water or milk, depending on the baby's preferences.
Semolina has the ability to quickly absorb water or milk and become thick. This is why it's necessary to take only a little semolina and add several times as much water or milk. This is how you will cook a porridge liquid enough for a baby to eat easily.
Let's see how to cook semo for a baby so that it does only good to the baby's stomach and health, in general.
How to cook semo with water for a baby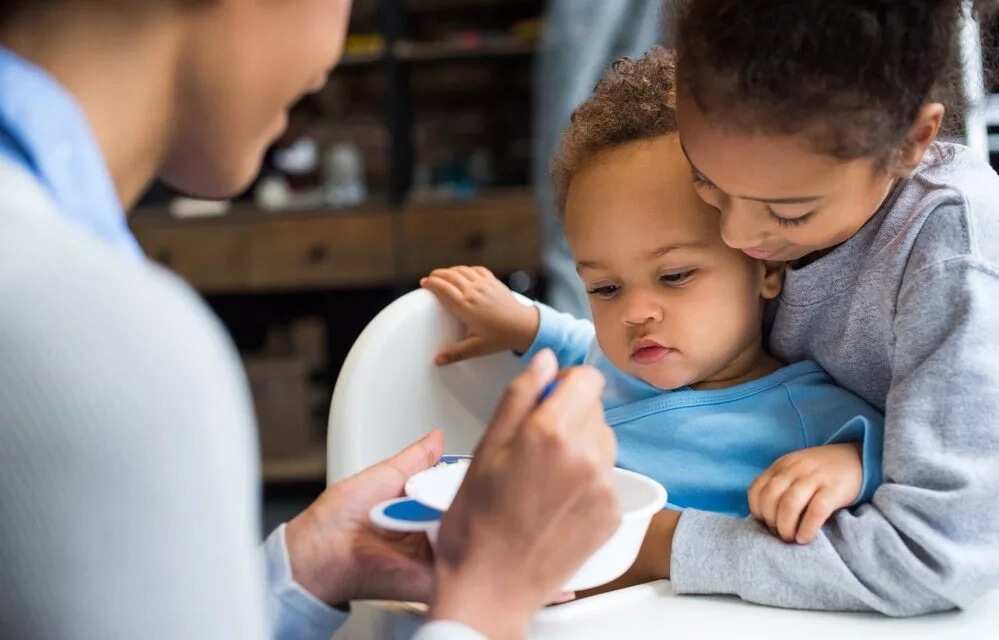 It's necessary to remember that all the porridges and other meals for babies are cooked for only one serving. It's quite unhealty to give the baby any leftovers or cook a lot of porridge for several meals. The health of babies requires only fresh food.
All porridges that are being cooked for babies should better be cooked with water, not with milk. The point is that milk changes its content while boiling for a long time. In case you add sugar, let it boil with the porridge. When the meal is ready, it's possible to add a small piece of butter but do not heat up the porridge with butter for the second time.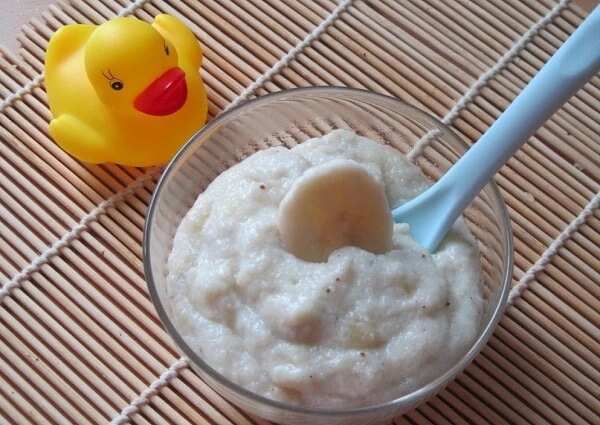 READ ALSO: How to make soya milk powder for babies?
Here are several recipes of semolina for babies:
The most liquid semo for the youngest babies (about 6 months old)
Take a cup of clean water (about 200ml) and let it boil. When it's boiling already, add 2 teaspoons of semolina. While cooking, stir or whip the porridge with a spoon or a fork to cook semolina without lumps. Cook for about 12 to 15 minutes.
Then, add ½ cup of hot but not yet boiling milk and one teaspoon of sugar. Let the porridge boil again and remove from the fire. The porridge (about 200g) should be very watery. The total cooking time is 20 minutes.
A little thicker semo for babies (about 8 months old)
The recipe is the same with the one above but instead of 2 teaspoons of semolina, take 3. It will make the porridge thicker. All the other details remain the same and the cooking time is the same, too. It's important not to reduce the cooking time to make all the ingredients safe for the baby's body.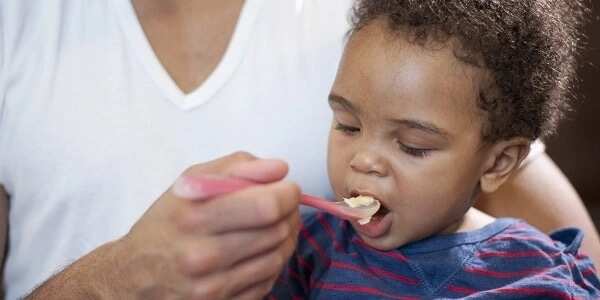 Semo with water (no milk) for babies
Take 1 ½ cups of boiling clean water and add three full teaspoons of semolina. Cook and stir all the time to avoid creation of lumps for 12 to 15 minutes until the porridge is thick. Then, add one teaspoon of sugar, a pinch of salt, let it boil once again and remove from the fire. Add a piece of butter after the porridge is completely ready and don't heat up again. The total cooking time is 15 minutes.
Semo with dried breadcrumbs for babies
Cook the liquid porridge from the first recipe and don't add butter. Take a piece of butter and let it melt on a frying pan. Then, add 2 teaspoons of breadcrumbs made out of white wheat bread and stir for a couple of minutes. Then, add the buttered crumbs to the porridge and stir thoroughly. The total cooking time is about 20 to 25 minutes.
Cook the liquid porridge from the very first recipe. Then, cook the fruit puree out of one apple or 35g of freshly dried fruits or 50g of fresh berries. Fruits or berries are to be washed thoroughly in clean running water, remove the seeds and cook in a small amount of water. After the fruits are cooked, it's necessary to blend them smoothly.

The puree should be cooked with sugar (1 tablespoon) or thickness. Then, the puree can be mixed with the semolina porridge. The total cooking time is about 25 minutes.
Facts about semolina for babies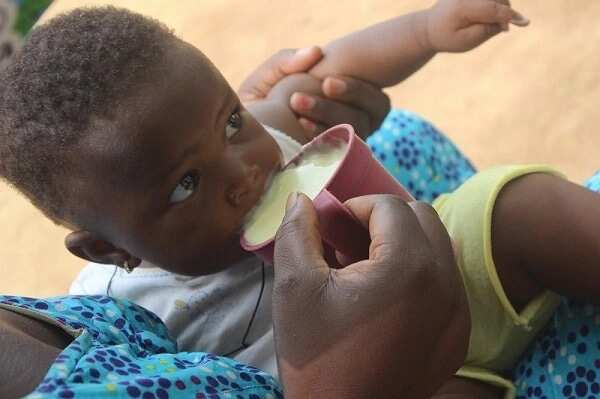 Semolina contains plenty of mineral salts and necessary vitamins. It's rich with food fibers, starch, and proteins. This porridge is easily digested and all the useful elements are absorbed by the body of the baby. Semolina is a perfect food for babies who experience problems with gaining weight or those who have issues with the digestive system.
However, there are no positive sides without negative ones. Semolina contains a lot of the element, which slows down the ingestion of calcium. This is why it's not recommended that a baby eats this porridge more than two times a week.
Some babies can also develop allergic reactions to the wheat protein that's found in semolina. In such a case, it's necessary to stop giving the baby this porridge and search for non-allergic alternatives. However, in most cases, semolina is easily digested and accepted by babies.
READ ALSO: Homemade baby food in Nigeria: best recipes