Latest ankara tops and skirts
Hey, fashionista, take a look at the latest Ankara tops and skirts for everyday wears and festive events! See bright photos of Ankara top and skirt styles for creating trendy images! Enjoy really stunning looks for beautiful Nigerian ladies!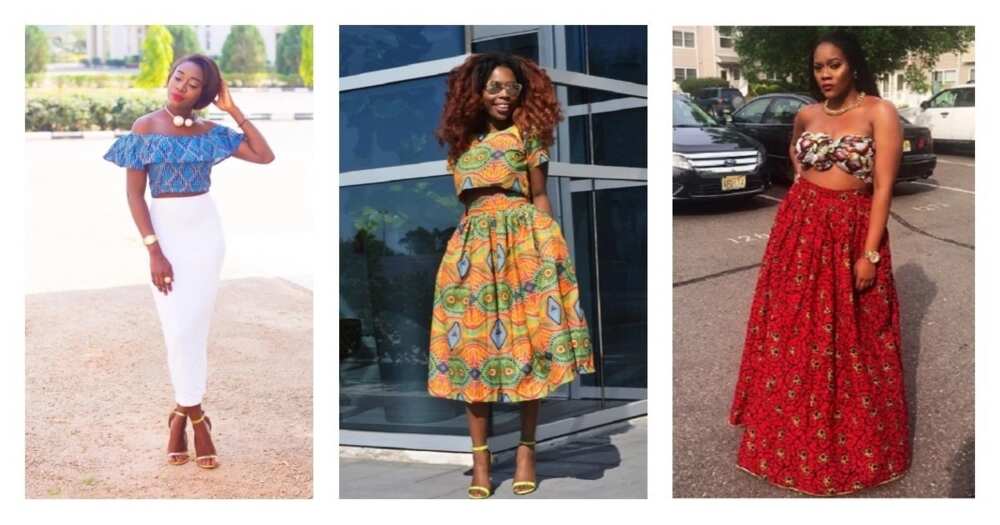 Fashion is cyclical, and it comes back from time to time because beautiful outfits remain in people's memory. Today top and skirt are trendy again.
This combination made of bright Ankara textiles is unique. It focuses an accent on the belt line, which is often displaced above the navel line reaching the bottom of the ribs. The high waist wears are trendy in season 2018. Ankara skirts can have any style:
flared skirt
straight skirt
pencil skirt
wrapped skirt
ball skirt
READ ALSO: Cold shoulder ankara tops: best designs in 2018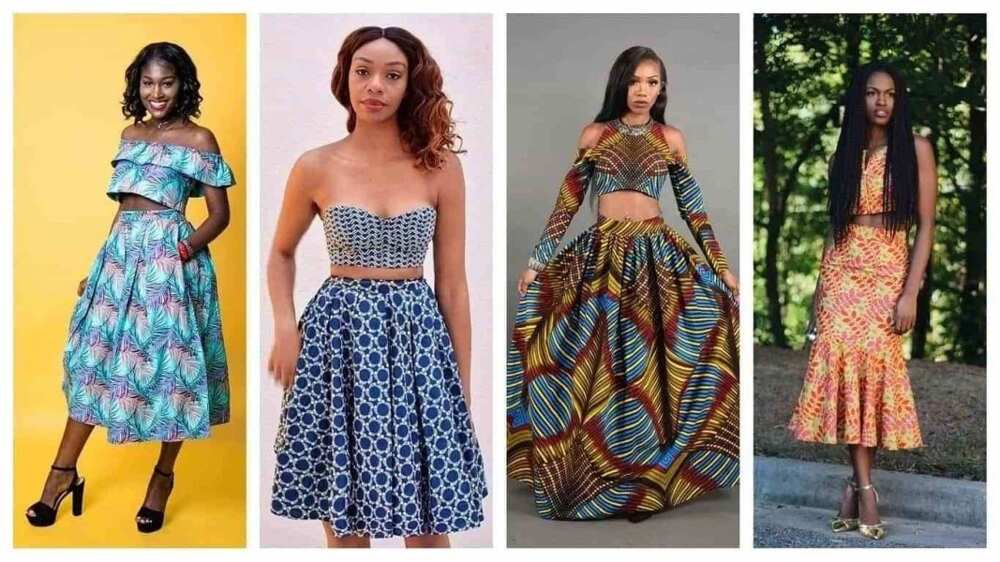 Latest Ankara tops and skirts
The combination of a skirt with an overstated waist and top is ideal for slim girls who can safely choose these two items of any length, color, and style.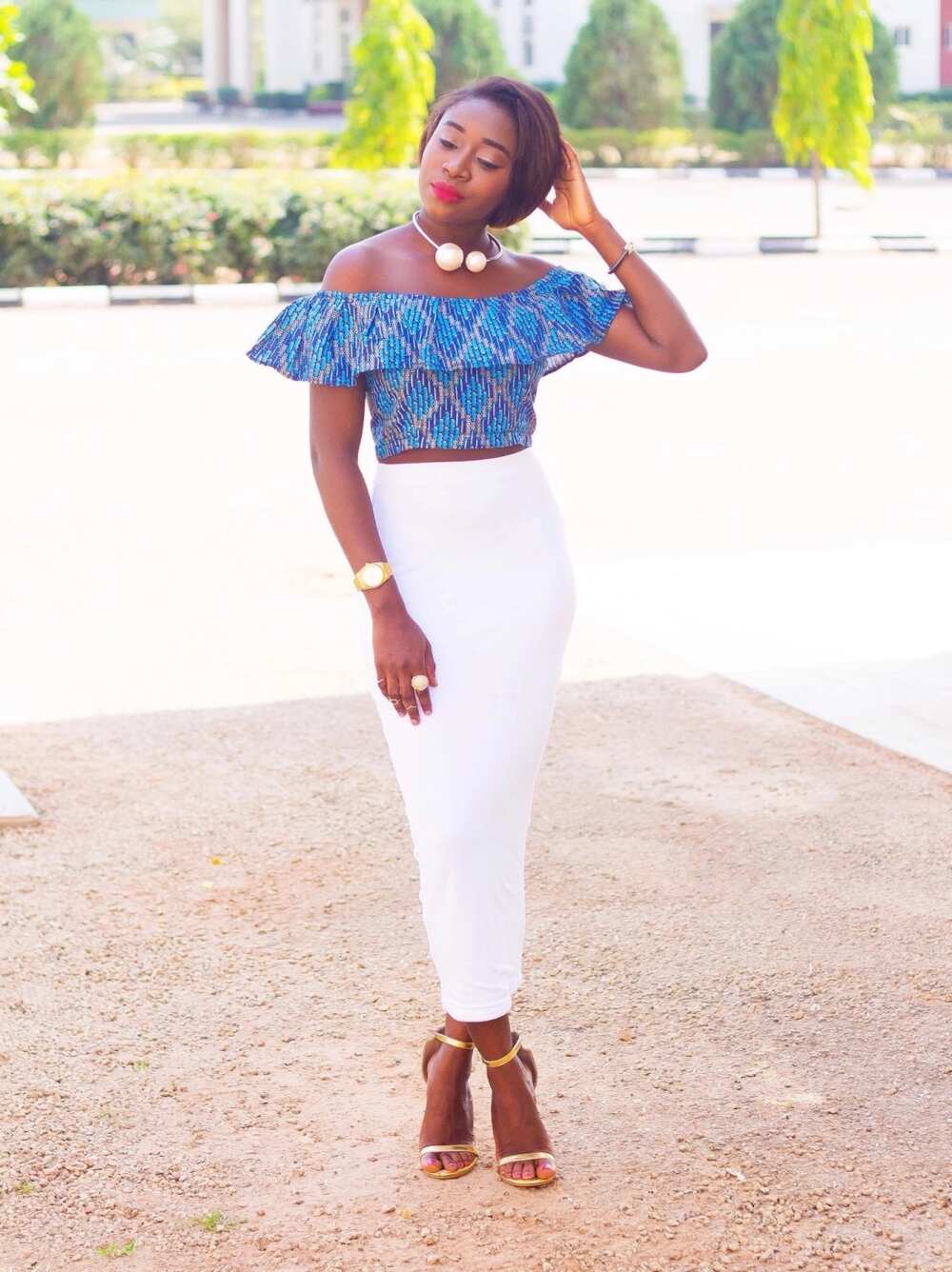 Ankara pencil skirt suits ladies with the "pear" figure type. It emphasizes the curves. The Ankara top should visually increase the chest's volume, as well as the shoulder lines. Trendy off-shoulder Ankara styles are also good.
Women with wide shoulders and narrow thighs can choose Ankara flared skirts. They can balance the bottom and top of the figure, creating the 'hourglass' effect. In this case, the top should be tight-fitted without various bright details on the shoulders and chest.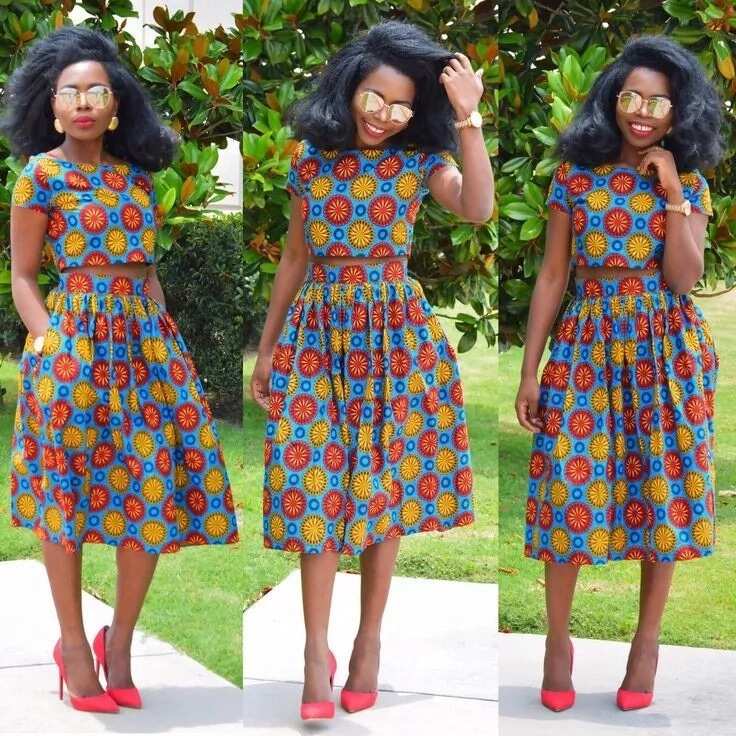 Trendy Ankara costumes
If you do not want to select a skirt and top separately, you can take a ready-made Ankara item. It's harmonious because the texture and color of these two items in the wardrobe are the same.
If the top and skirt are fully matched, this outfit looks like a dress. Moreover, you can wear the options separately, combining with other items in the wardrobe.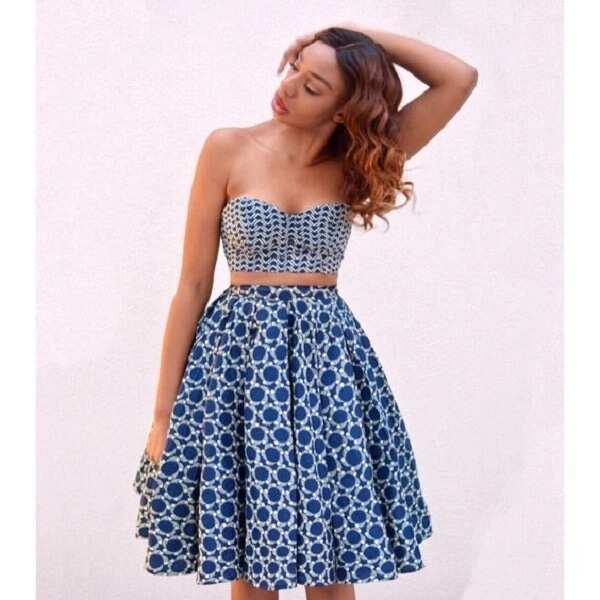 Latest Ankara styles of top and skirt combination
We advise you to consider the following styles made with Ankara to create an ideal image. Every girl and woman will find something for her.
Ankara crop top and midi skirt
Today short and fitted Ankara top styles are in demand. It opens a strip of the naked body in the abdomen. Such a bit provocative option perfectly suits the girls with the ideal figure. This top should be combined with a midi skirt for creating a feminine and elegant image.
Ankara top with lace and pencil or maxi skirt
Ankara top mixed with lace in combination with a high waist skirt is a pick of elegance. In such an outfit you can go on a romantic date or in the theater. This top will look perfect with the Ankara pencil skirt or maxi skirt.
READ ALSO: Ankara short pencil gown: best designs for real fashionistas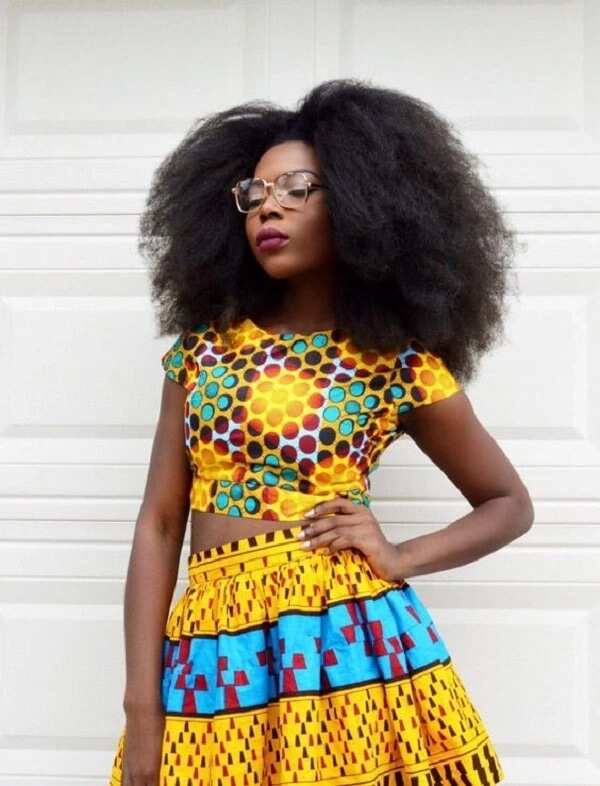 Ankara dress-top
The dress consisting of two parts is quite practical and looks rather ambiguously but at the same time elegant. You can pick up Ankara top and skirt of one color and texture, as well as things differing from each other. A huge styles' selection allows you to choose a suitable Ankara dress-top for a variety of occasions.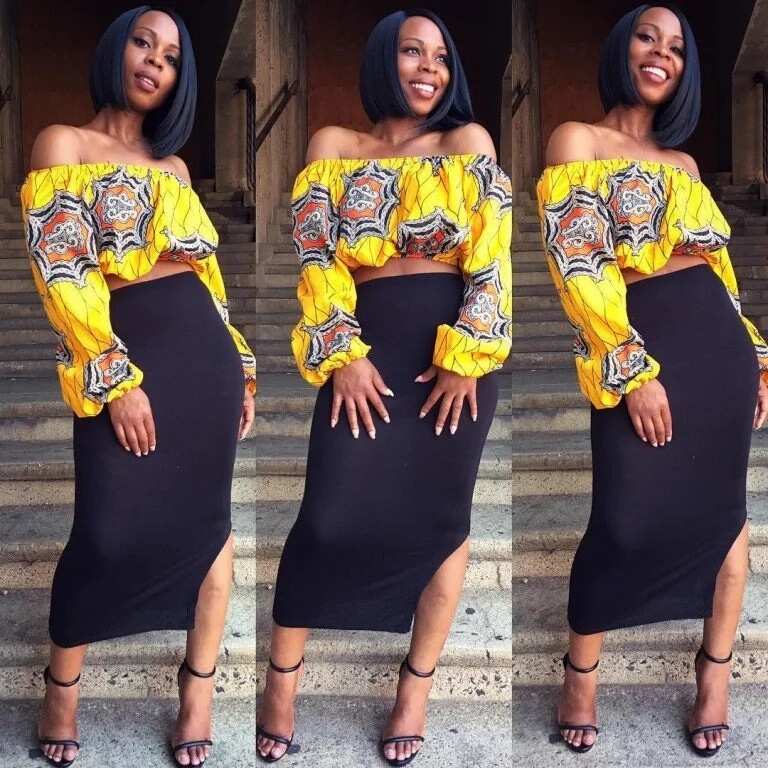 Short Ankara top and skirt with overstated waist
Ankara top ending above the belt line looks bright and trendy. Such top should be combined with Ankara overstated waist's skirt.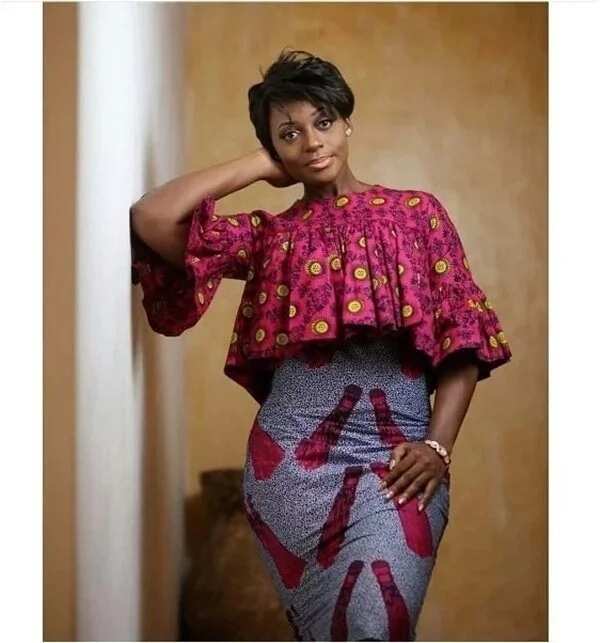 Ankara top with free tailoring and narrow skirt
A straight and loose Ankara tops for ladies slightly hiding the waistline on the skirt and creating the dress effect looks very original.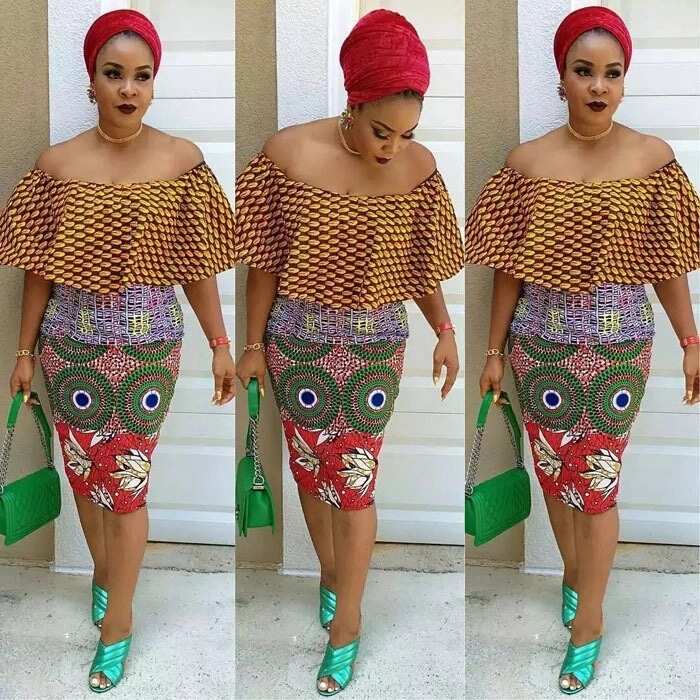 Ankara top without straps and pencil skirt
Ladies with beautiful décolletage should pay attention to the strapless top. It perfectly complements the long or midi skirt with an overstated waist. The bando or bustier Ankara top can open your neck and shoulders, adding sensuality and femininity to your look.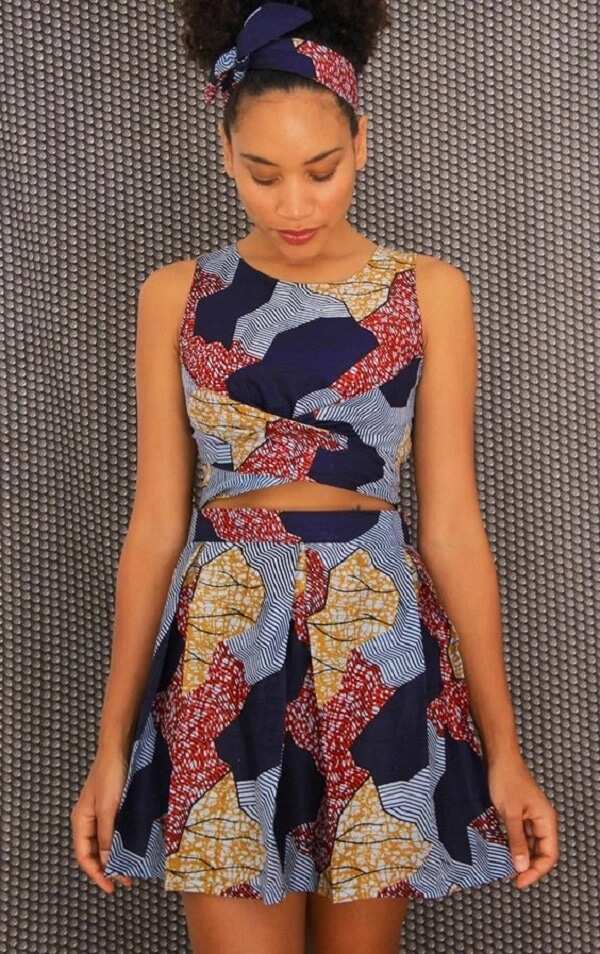 Shortened Ankara top and skirt
Ankara top that covers the waistline is the most versatile and convenient option suitable practically for any skirt. You do not have to worry about the figure's shortcomings because it hides them. This top can be slightly free or tightly fitted the figure.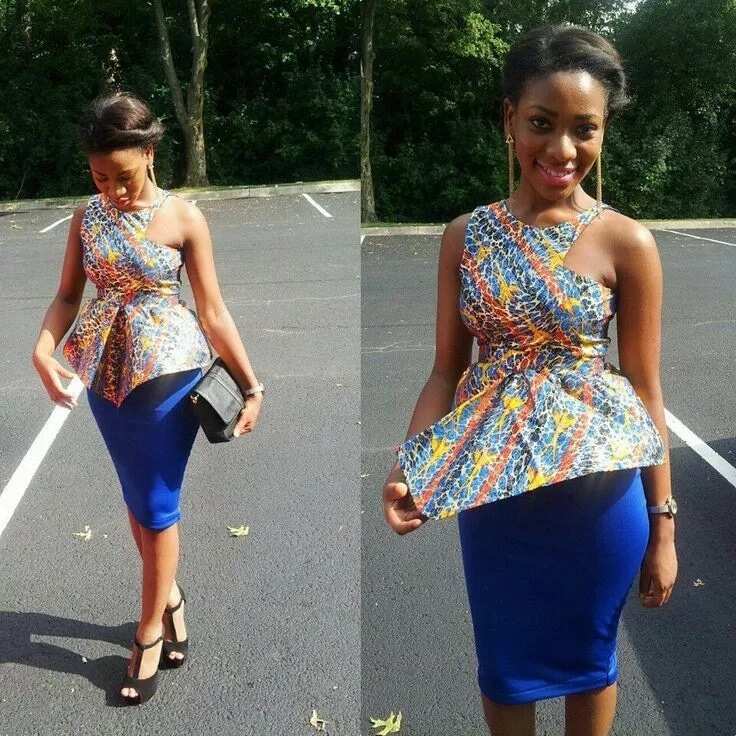 READ ALSO: Ankara evening gowns for special ladies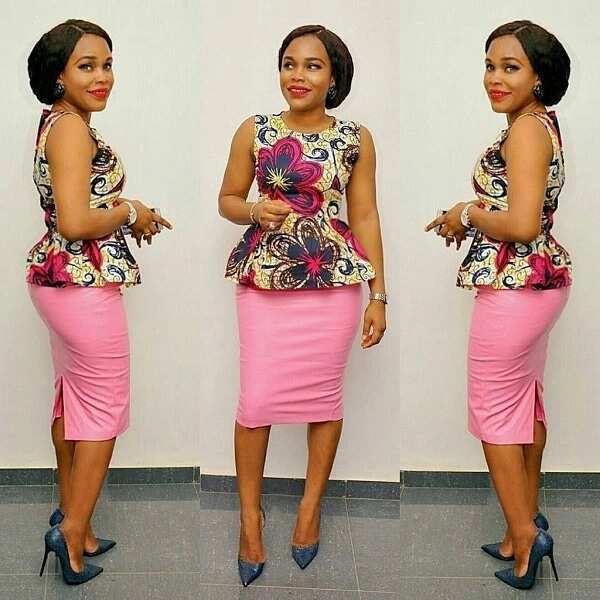 Ankara peplum tops and skirts
Our collection of tops will be incomplete if we don't remember the peplum tops. It's probably the most favorite style of African fashionistas. Ankara peplum tops can be either fitted or slightly loose. Such a top goes well with a pencil skirt, a narrow straight maxi skirt, and a long mermaid skirt.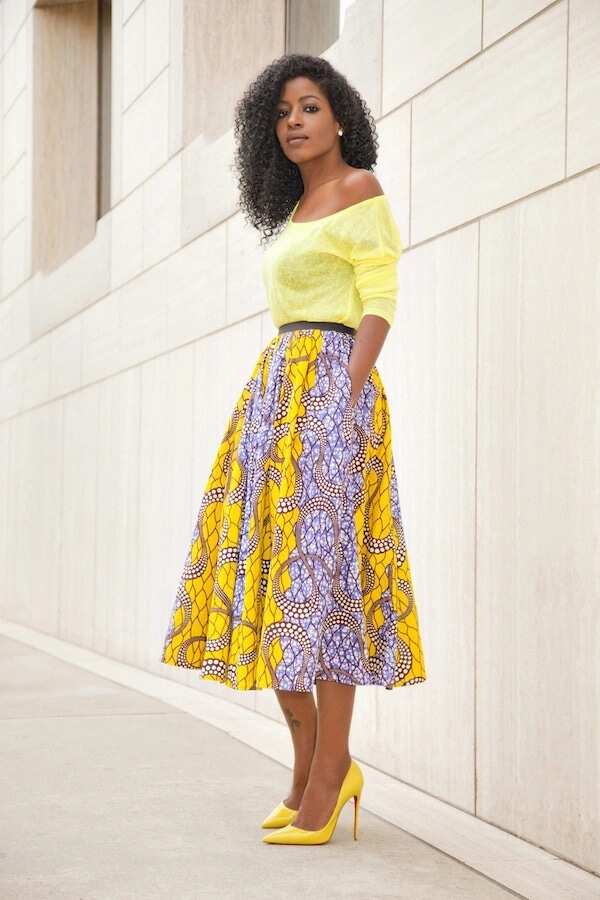 Ankara flared or ball skirts and tops
Ankara flared, or ball skirts with short or midi length go perfectly with the fitted off shoulder tops and bustier tops. Ankara flared, and ball skirts look good with tops on thin straps. If you want to create an image in the baby doll style, this combination of wears would be excellent. Such a look can be dressed for a retro party or date.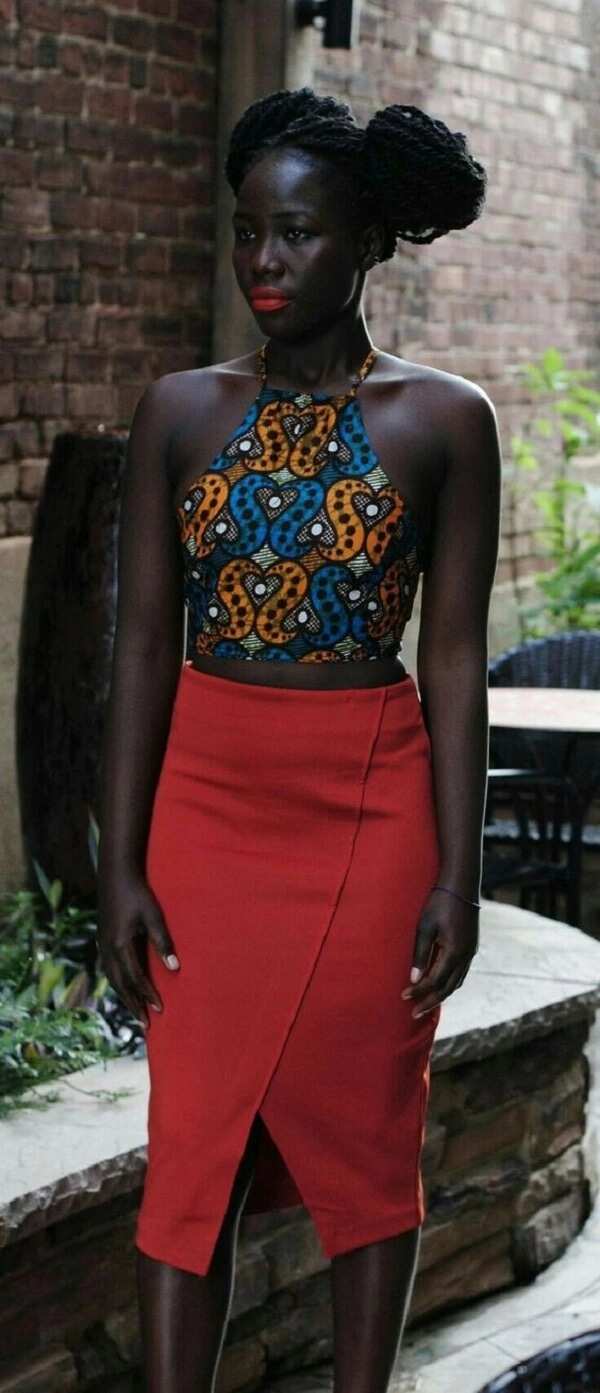 The color palette for Ankara tops and skirts
Red is the color of passion. It immediately catches your eye. It can be combined with black, white, and blue. The most popular combination is a red top and a blue skirt.
Also, a high waist pencil skirt and a black short top with a floral print look very attractive. The main thing is not to allow a conflict of colors and to observe moderation, because the red color is quite bright.
In any situation the classic black color is appropriate. There are no tones that do not match with black. Cold or warm colors and geometrical or floral prints perfectly complement the black skirt or top. This variety of combinations helps you to create a large number of the unique images that will be relevant to any situation.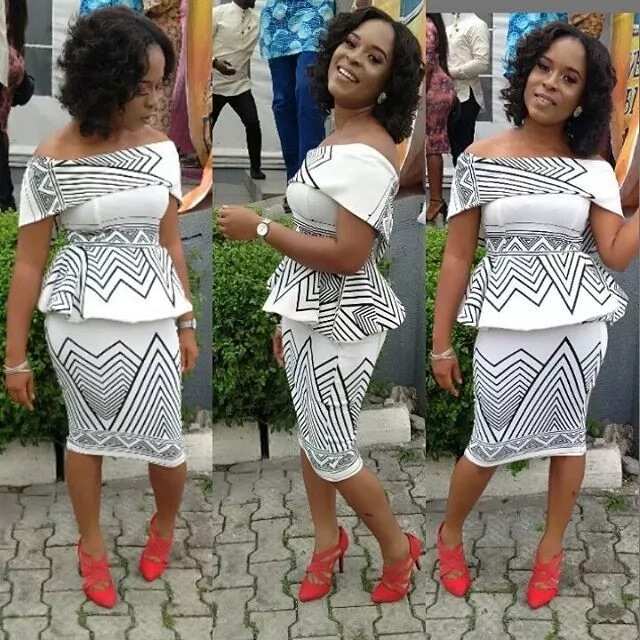 White color or ivory is most suitable for the hot weather. This color is well mixed with both light and dark tones and bright prints. With light and pastel patterns it can create a romantic and gentle image.
White top and black skirt with a small pastel print is a classic option for meeting friends and a romantic date. Besides, a white top and a red skirt are great for party.
The combination of colors and prints for the casual style can be very diverse. Turn on your imagination! For more serious occasions, blue, soft pink, beige and sand tones are appropriate for Ankara tops and skirts.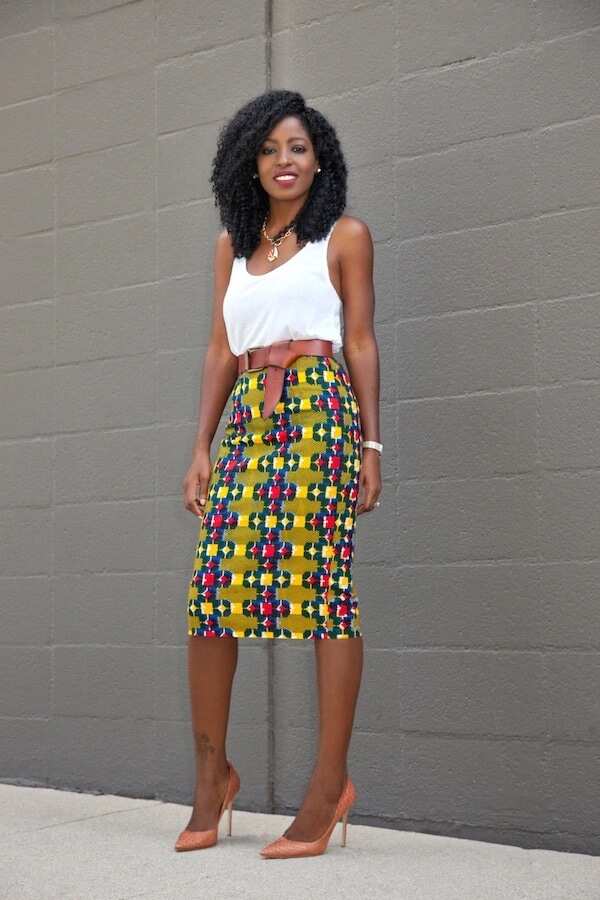 Shoes and accessories for Ankara tops and skirts
Ankara top in combination with a skirt looks bright and does not need a lot of additional details. If you want, you can supplement your clothe with a small handbag, a hat, a bracelet or a pendant. It's very important to observe moderation with Ankara styles.
Selecting shoes, you should consider the skirt's length. Straight classic skirts should be supplemented with shoes at low sole or with a thin high heel. Midi skirts go well with sandals or ballet shoes.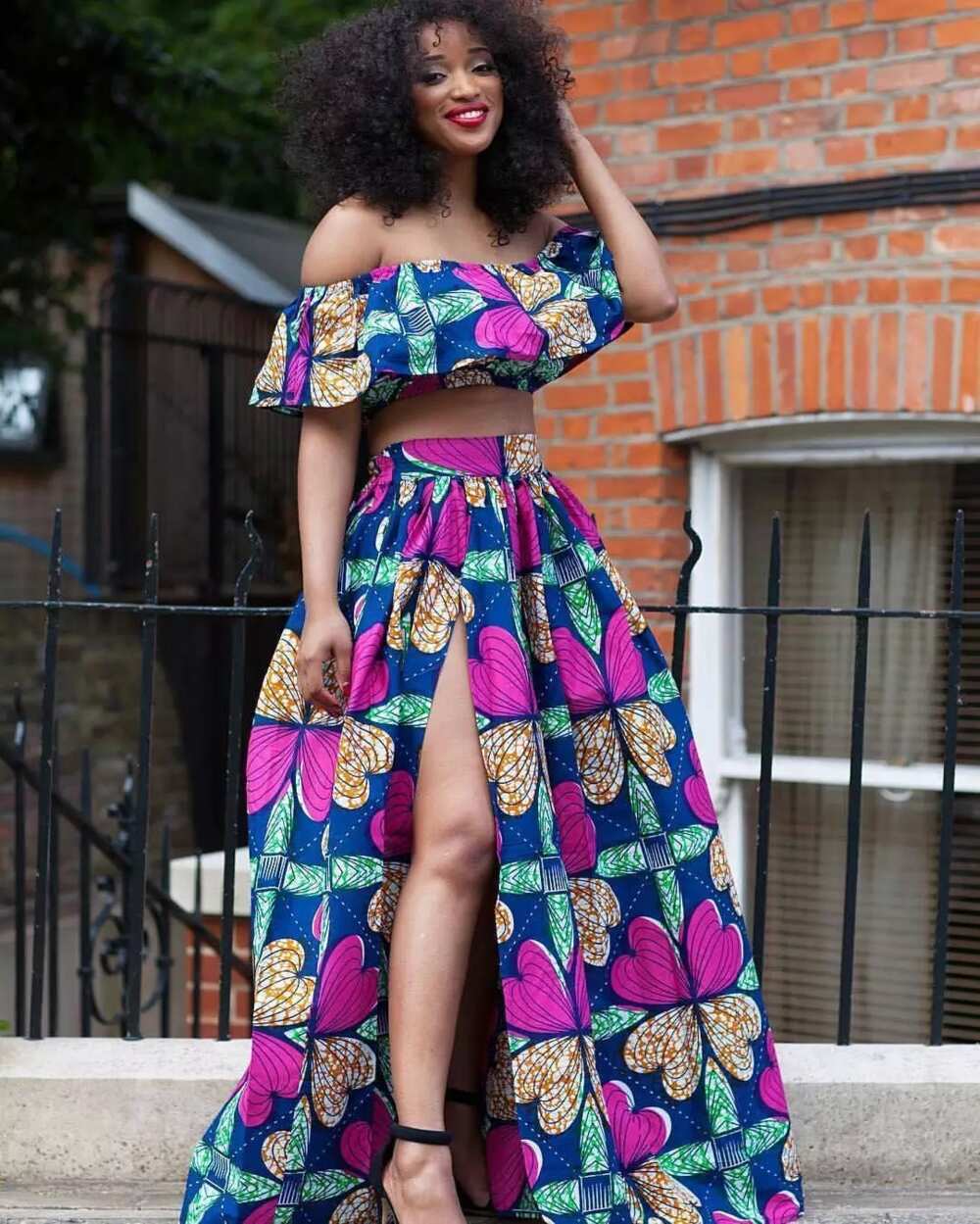 Ankara outfits, consisting of top and skirt are quite versatile. Moreover, mixing a couple of skirts and tops, you can wear a new outfit all week long. Ankara skirt and top are very comfortable wears!
READ ALSO: Off shoulder ankara styles to choose in 2018
Source: Legit.ng