Jim Iyke biography: age, wife, son, house & movies
Are you interested in life and career of Nollywood's "bad boy", Jim Iyke? How did he climb up the career ladder and become one of the most popular Nigerian personalities? Find out everything and more in Jim Iyke biography.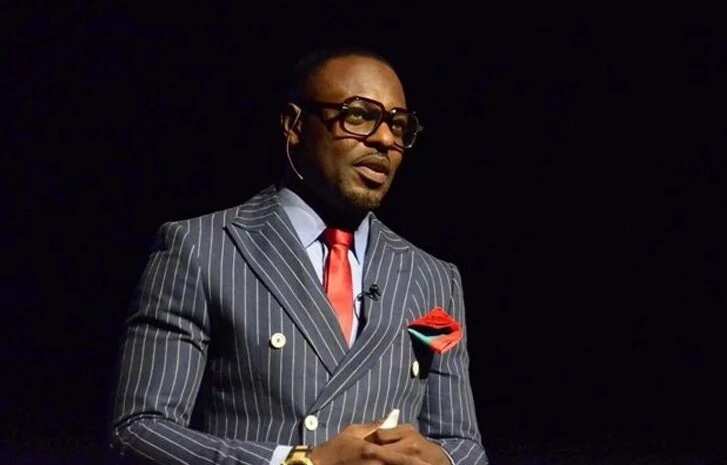 Jim Iyke age
The famous movie star was born on September 25th, 1976. So, he is currently 41 years old. His birthplace was Libreville, Gabon, but he originates from Anambra State in Nigeria. He was born in the family of Stephen Esomugha, and he was one of eight children, among which he was the only boy. He has both older and younger sisters.
Biography of Jim Iyke: who is this man?
The full name of the well-known Nollywood actor is James Ikechukwu Esomugha. However, he goes by the stage name Jim Iyke. He is not only the actor but also a businessman, model, and film producer. Aside from that, he is also a reality TV star and philanthropist. So, we can say that this man has a lot of talents.
Jim Iyke received his education at the University of Jos in Plateau State. He obtained his bachelor degree in Philosophy and then succeeded in getting a diploma in Banking and Finance. However, his heart always wanted to be in the spotlight, so he moved to Lagos right after finishing his education. At first, the big city life gave Jim a lot of difficulties and struggles. But, as destiny would have it, Jim ran into a barrister Victor Opurum, who told him that he has a lot of talent and inspired him to go after his dreams. Jim Iyke accepted Victor's advice and started working even harder. His persistence helped him to overcome the struggle, and eventually, it brought him on top of his career ladder.
Once Jim graduated from the university, he started working as a model in Lagos. He advertised different production. By doing work for commercials, he eventually, paved himself the path to Nollywood. His career officially started in 2001, and since then he has played prominent and secondary roles in more than 150 movies. He also appeared in some home videos. Some of his works portray him as a sassy bad boy, and in some, he is involved in romantic storylines. Nowadays, he is one of the biggest paid actors in the entire Nollywood.
Aside starring in the movies, Jim Iyke also produces his own with the help of his production company. It was founded in 2007 and called "Untamed Productions". So far, he produced two movies, which had mild success. They included some famous actresses, like Tangerine Martins and Judy Shekoni.
He also participated in the production of another movie called "2 Dollaz", which was a sequel to the successful comedy "1 dollar". By the way, Jim Iyke also tried music, as he owns the label "Untamed Records", under which he produced his debut album "Who Am I?". This album featured a few famous Nigerian musicians, Sound Sultan and TuFace Idibia. However, according to Jim Iyke himself, he is not satisfied with his music career and thinks that his acting talent is much more prominent. The large part of proceedings that he got from his album was donated to the orphanages.
Jim Iyke is not just a rich and successful actor – he often uses his money and possessions for charity purposes. The superstar owns the charity organization, called Jim Iyke Foundation. It is created to help children with special needs. In December 2012, Jim Iyke paid a visit to Kenya in terms of the campaign "Make a Change", which was organized by Christopher Grey and Cecile. He also contributes to various other good causes.
Apart from everything else, Jim Iyke has a lot of prestigious awards. He won Teenage Choice Awards three times. He has been acknowledged as the Best Actor at the Nigerian Entertainment Awards. And this is not the full list of his various "bests".
Some of the most famous movies with Jim Iyke are "When Love Comes Around", "Between Kings and Queens", "American Driver" and "And Then There Was You". In case you are interested in discovering this actor's talent, you should surely watch one or more of these exciting movies.
Jim Iyke is labelled as "Nollywood's bad boy" because he is often engaged in some controversies. For instance, there was a viral video of his "deliverance", which took place at the Synagogue. There was a rumour that Jim was possessed by some evil spirits and that is why he is unable to get married. This video caused a lot of discussions and debates among his fans and movie lovers because everyone wished to know the story behind the viral video.
READ ALSO: Nollywood Nadia Buari twins
Jim Iyke house
As we know, Jim Iyke is an ambitious actor, so it would be just right for him to settle for the best. He is known to have a house in the prestigious region of Abuja. As far as the media are concerned, his house is worth about N200 million. He also has a lot of exotic cars.
Jim Iyke wife: does he have one?
The actor often dated different women in the past, and not all of his relationships ended well. For example, Jim Iyke was dating the Jamaican model Keturah Hamilton. He met the beautiful woman in the United States, on his filming tour. Since then, they were inseparable, and Jim Iyke gave his fans a hint that he could be marrying his sweetheart soon. However, they broke up, and he went on to date Nadia Buari, the Ghanaian actress. The media expected them to get married, but their union suddenly crashed a couple of months later. There were a lot of controversies surrounding their relationship. Still, Jim and Nadia later reconciled, and even though they are not a couple anymore, they are on normal terms with each other now.
If you are among these people that want to see Jim Iyke and wife happy together, you will probably have to wait until the bad boy of Nollywood decides to say goodbye to his bachelor life and commit himself to one woman. Perhaps, this will be the mother of his baby son?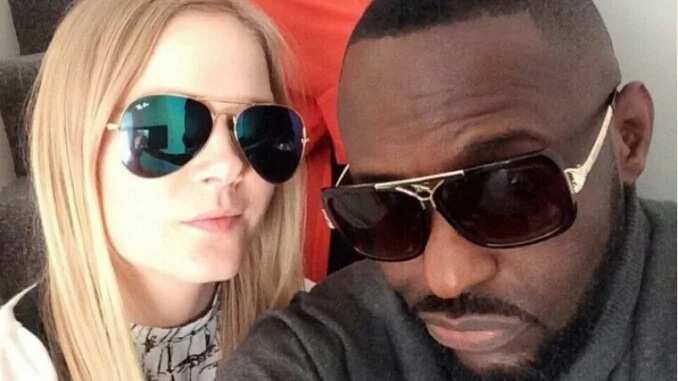 Jim Iyke son
The Nollywood star has a little son, whose name is Harvis Chidubem Iyke. He was born on September 1st, 2015. The mother of little Harvis is Jim Iyke's Lithuanian girlfriend, Dana Kinduryte. Jim Iyke tried his best to hide his relationship with Dana from the public eye because, in his opinion, most of his previous romantic relationships were ruined due to excessive publicity. According to Jim Iyke, his son changed his life and made him a better person. Even though his and his girlfriend's families wanted to help him out with raising his child, he decided that he wants to do it himself. He learned how to take care of little Harvis, and the fatherhood taught him a valuable lesson. Nowadays, he appreciates his boy more than anything and tries to spend every possible minute with him. He regularly goes to Lithuania, where his baby mama and son reside and is incredibly happy to see Harvis.
Jim Iyke praised Dana Kinduryte in the interview, saying that she understood him better than everyone else, and having a son together brought them even closer. He is happy that she is a regular girl and not a superstar. Otherwise, the spicy details about their relationship would be all over the media. However, he did not answer the question about marrying her. We hope that he will soon decide to settle down with his European sweetheart and their little son Harvis.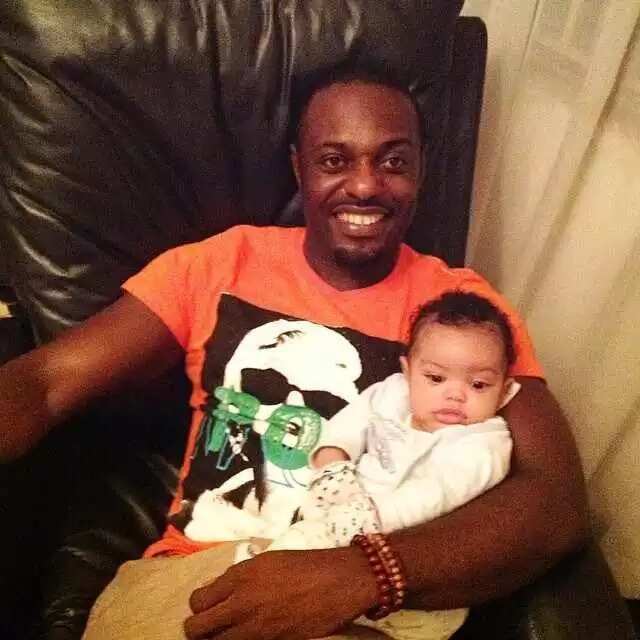 The biography of Jim Iyke is full of ups and downs. We can only wish him happiness in his life.
READ ALSO: Jim Iyke and Nadia Buari son
Source: Legit.ng