Aso Ebi color combinations – this is what occupies the minds of brides and bridesmaids on the verge of the wedding day. Which colors go together well? Which colors will create the desirable mood? Which colors will make the wedding a day to remember? There are several ideas, which are both classic and fresh at the same time. Let's check them out!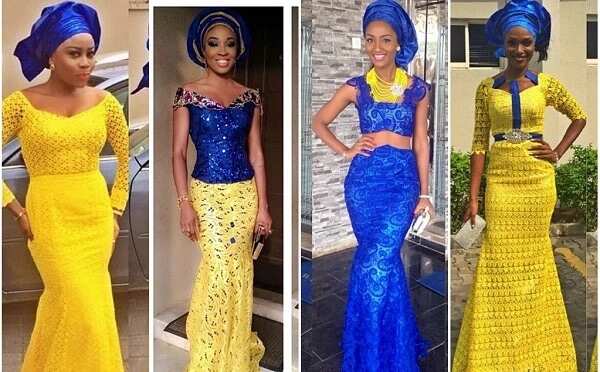 Yellow and blue color combinations
The color blue has always been an attribute of royal persons. It's deep, cool, and serene. It has such a vast number of hues and shades that it's one of the most universal colors. You can create a number of successful combinations that will always be within the latest trends.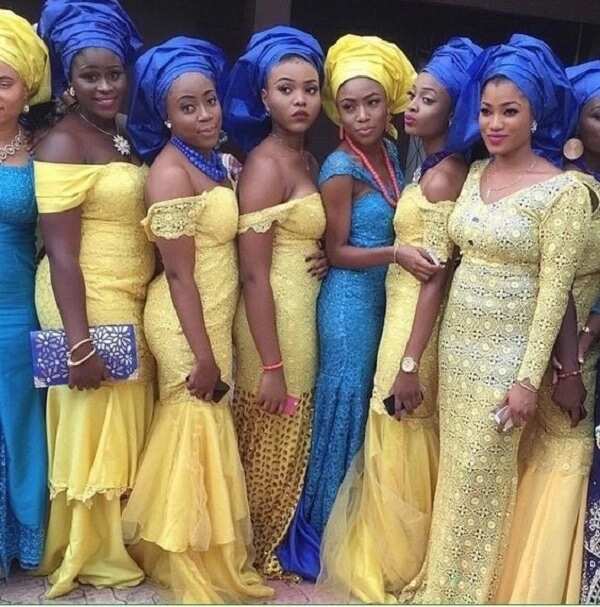 READ ALSO: Aso Oke for Yoruba traditional wedding
There are several most classic combinations: sky blue and white, deep blue and sandy yellow, blue and malachite green, blue and fiery red, blue and grey, blue and brown or orange, blue and pink… However, if you are searching for something really shining and radiant, you need combinations of blue and yellow.
The combinations of blue and yellow are multiple depending on the hues of both these colors. Yet, even if they really go together well enough, you should remember about several compatibility rules. If you choose deep blue, combine it with yellow of the same deepness. Otherwise, the harmony of the combination will be ruined.
Why should your choose Aso Ebi in blue and yellow?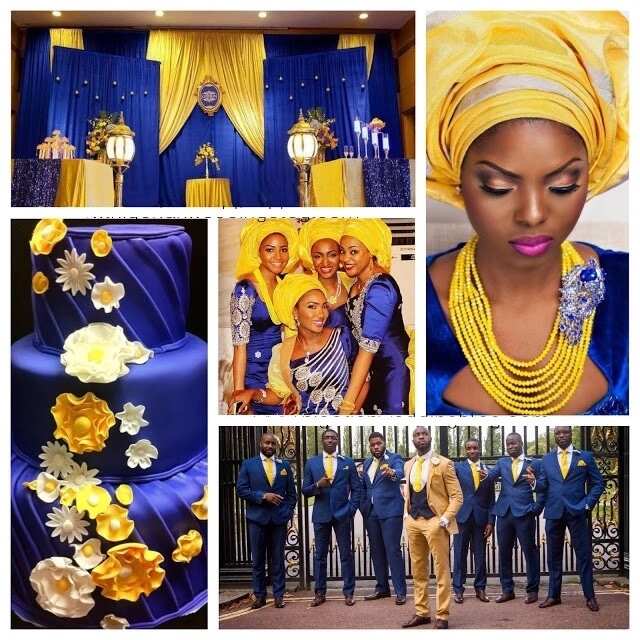 From the psychological point of view, blue and yellow create a perfect combination. Blue colors are felt by viewers as something stable, recreating, serene as oceanic waters. At the same time, this color helps people develop their ability to dream and dive into the world of their fantasies.
The color yellow, on the other hand, is seen as a volcano of energy, freedom, and a desire to communicate. From this point of view, there's nothing that could have brought this color to a better harmony and balance than blue.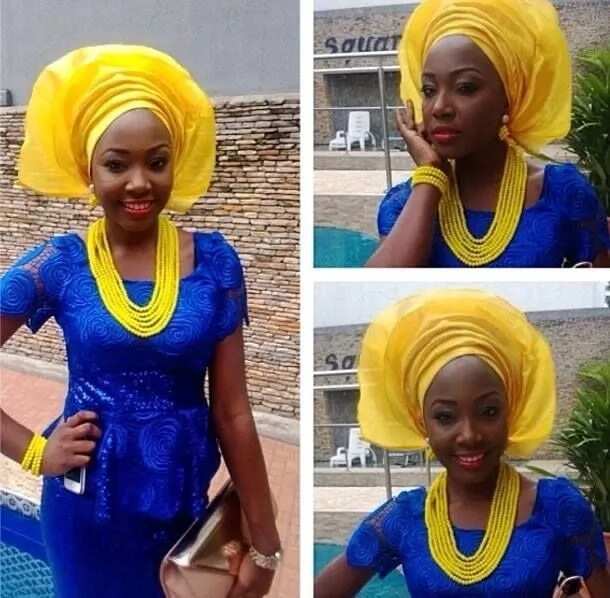 In a combination with each other, these two are able to balance and create a shining sunny mood. Dressed in blue and yellow Aso Ebi, your guests and friends will make your wedding day a day to remember.
The latest Aso Ebi color ideas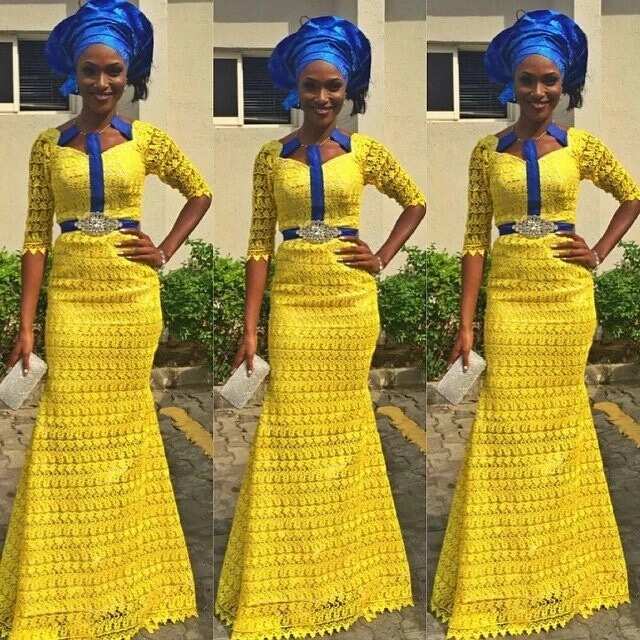 In fact, it's impossible to say that there's a certain tendency in the choice of Aso Ebi colors. Of course, when a certain color becomes a huge trend all over the world, it becomes a trend in wedding dresses, too. The choice of colors for Aso Ebi is often dictated by personal preferences of the bride and groom, not on some certain trends. This is why yellow and blue Aso Ebi seem to always be on top of the wedding fashion.
Now, let's take a look at the available styles and ideas of the regal blue and yellow Aso Ebi.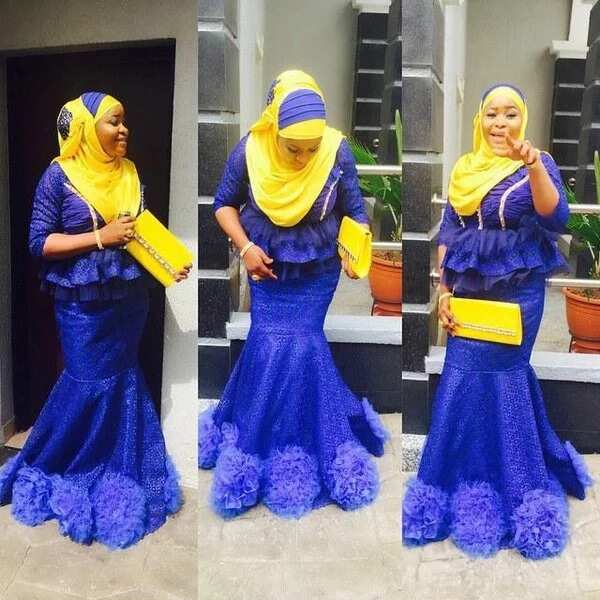 Classical cuts with a skirt that folds from the knees with rich decorations on the bottom look perfect in deep blue hues. Combined with a bright yellow headpiece, such a dress will be a stunning choice for a bright and luxurious Aso Ebi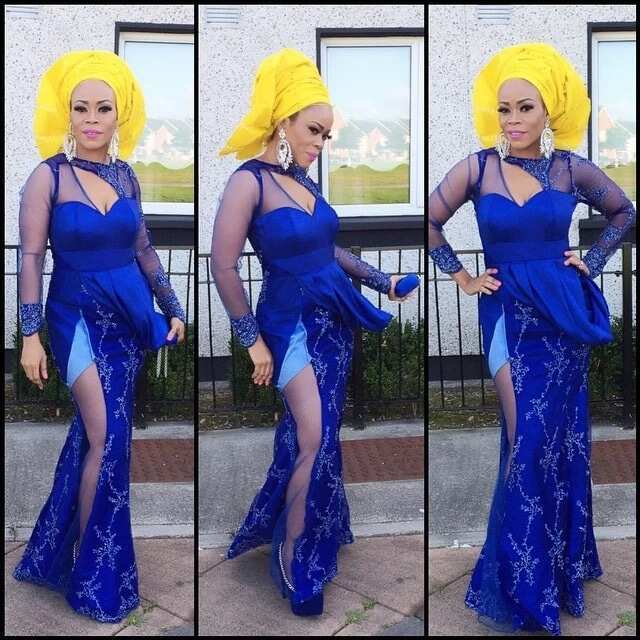 This lovely Aso Ebi also shows a blue dress and a yellow headpiece but this one is much bolder and modern. With a side opening in the skirt that exposes one leg from almost the very top to the heel, this dress will certainly attract all eyes. The yellow gele adds freshness to the entire look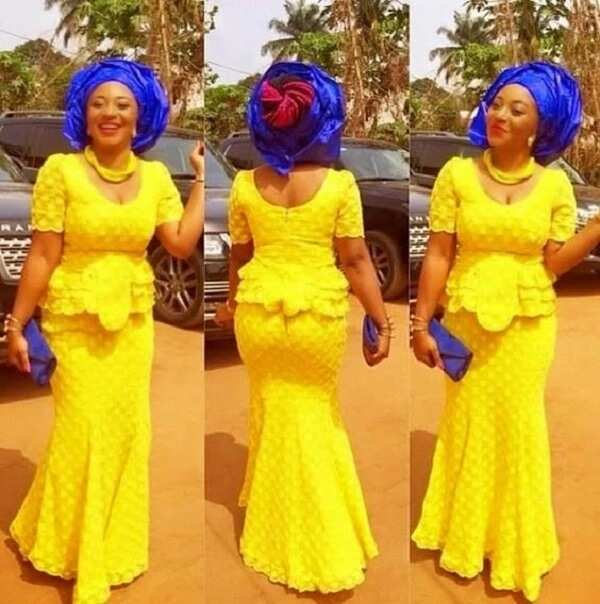 Vice versa, a yellow dress combined with a bright blue headpiece will look incredibly shining and bright.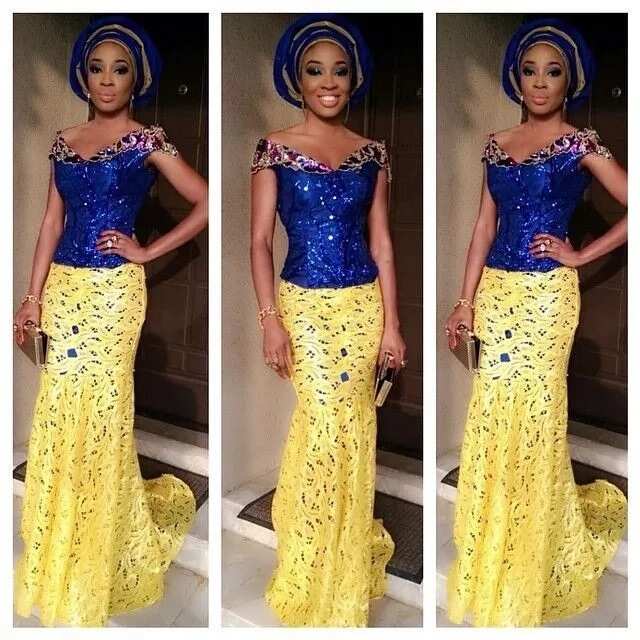 A luxurious option that's worth a really regal wedding. A lace yellow skirt made out of pale yellow is combined with a shining but serene blue top of a corset cut.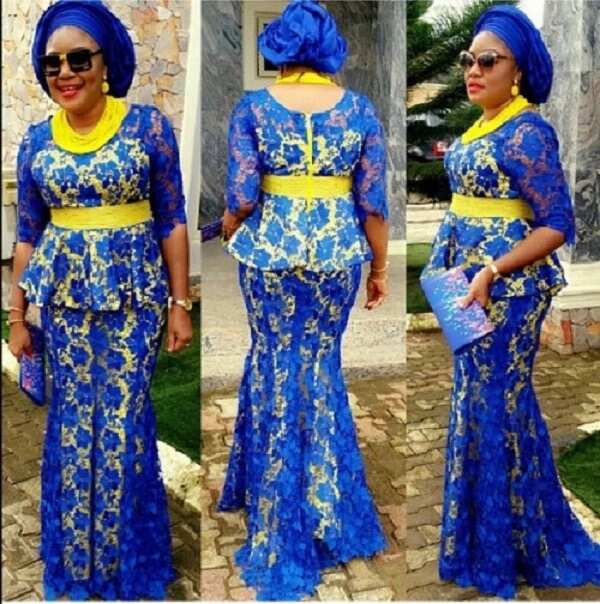 A blue Aso Ebi made out of lace looks especially good when it's lined with yellow. Some yellow details add wholeness to the entire look and create a fresh and incredibly bright outfit. Such an idea is practically universal because such a cut and combination of textures will flatter any body type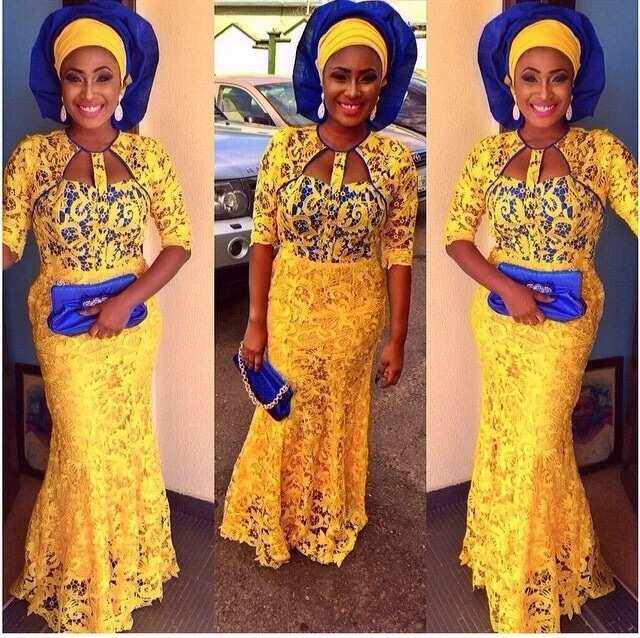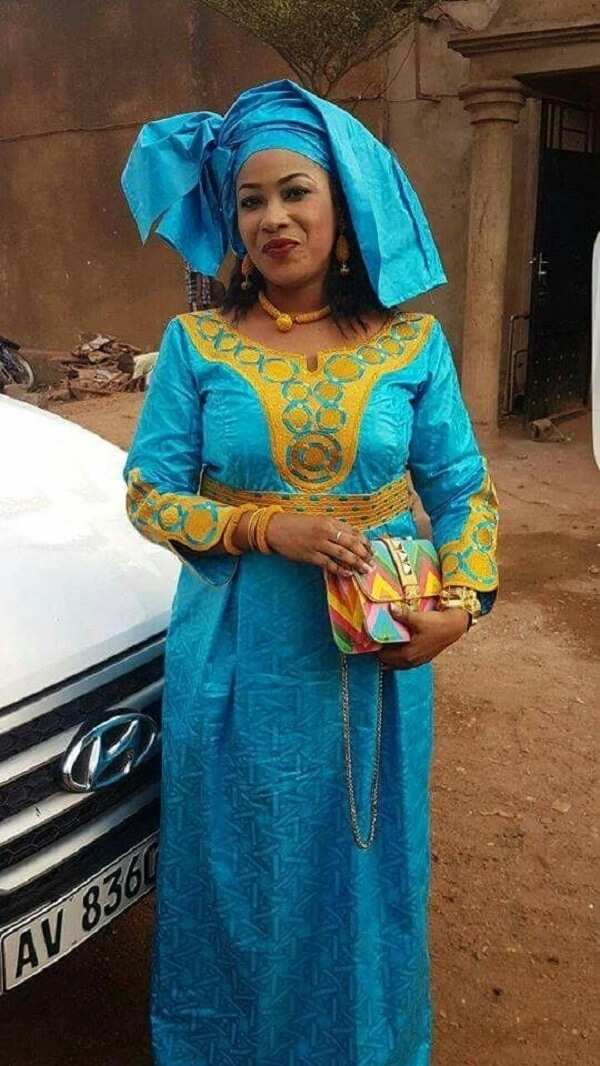 One more interesting idea – a turquoise blue dress is decorated with yellow embroidery on the chest, waist, and cuffs.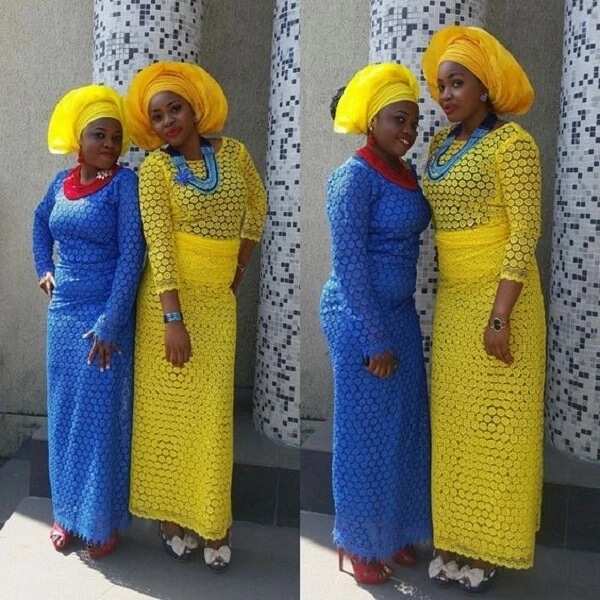 A smart decision for a blue and yellow wedding – some guests are dressed in the solid blue and some are dressed in the solid yellow.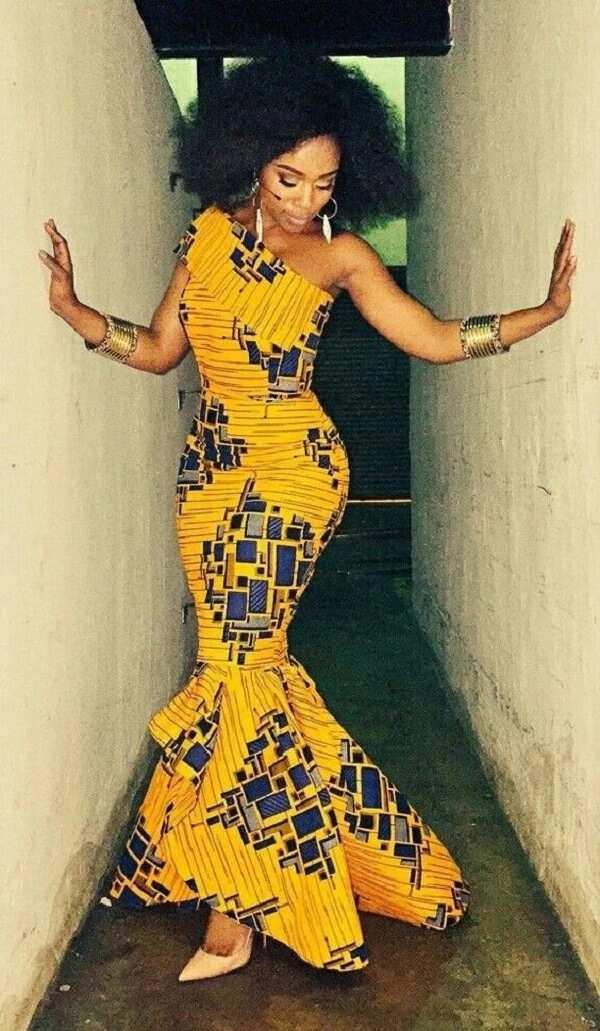 A modern solution for a blue and yellow wedding. Aso Ebi dresses that are made out of yellow and blue Ankara. Why not, after all? The color code is the same and the variety of Ankara fabrics is incredible. After all, you can choose whatever you like or let the guests choose a fabric for themselves under the condition that it's either blue or yellow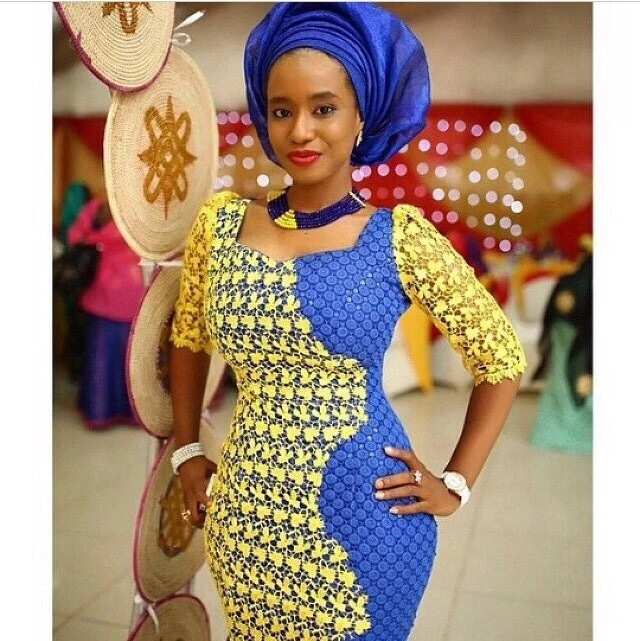 A combination of yellow and blue lace within this Aso Ebi dress creates a totally lovely look. The blue lining increases the blue hue and accentuates the brightness of the yellow shade. A complicated curvy cut adds attraction to the dress and its wearer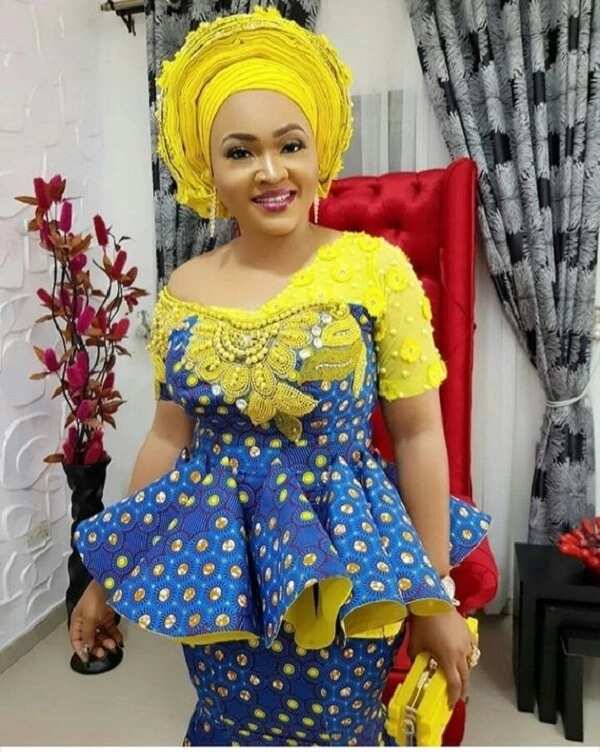 In this Aso Ebi, yellow lace is combined with blue and yellow Ankara fabric. With all the decorations and yellow accessories, the outfit looks absolutely stunning and very interesting. The yellow lining of the frill adds brightness to the blue dress and matches the yellow accessories perfectly well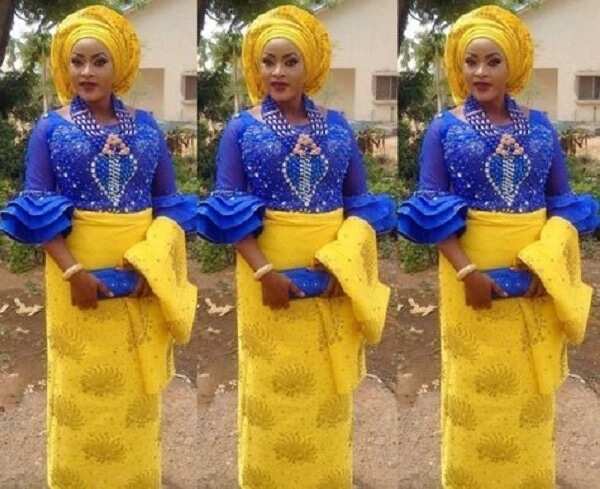 An Aso Ebi that consists of a blue blouse and a yellow wrapper is a great idea! It looks traditional and modern at the same time and gives a touch of uniqueness to the wedding. After all, why not to replace the classical Aso Ebi dresses with something more original?
Combining colors for wedding outfits is interesting and pleasant. As you can see, the blue and yellow Aso Ebi colors 2018 offer plenty of variations, fashions, ideas and cuts. If you are searching for inspiration for your own wedding or the wedding of your best friend, check out these ideas with attention. You are free to use any of these ideas but maybe, you will create a style of your own.
READ ALSO: Latest Aso Ebi designs for guys
Source: Legit.ng