If you love Ankara gowns but do not want one that is very form-fitting, then consider our list of top 10 Ankara free gown styles. With these gowns, you will be able to feel comfortable and fashionable in any situation without worrying about anything. Check them out!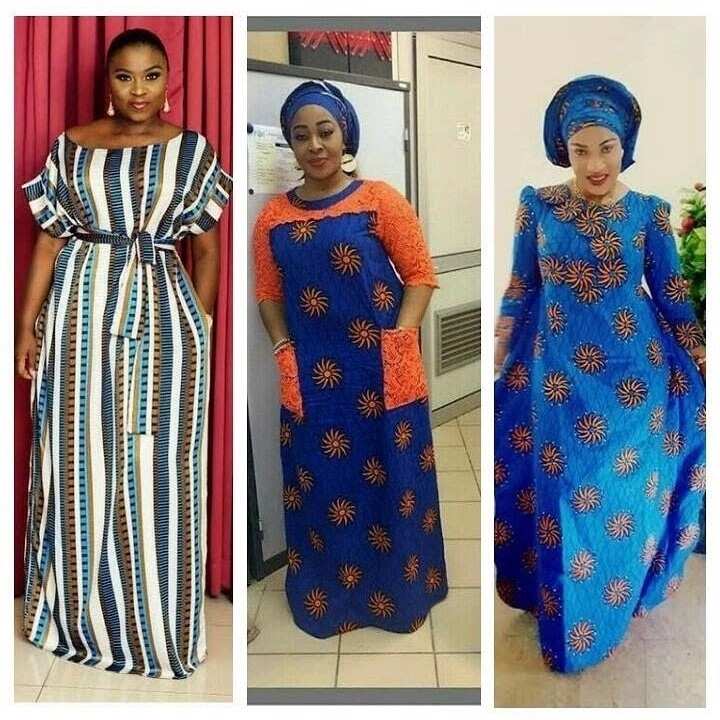 First of all, let's establish what we mean by an Ankara free gown first. This type of gown is very free flowing; it can be anything, from a tent or shift dress to a sundress. In free dresses, you can feel very lightweight and, well, free no matter what size you are. If that is exactly what you have been looking for, then check out our selected Ankara gown pictures and find one for yourself!
Free Ankara short gown styles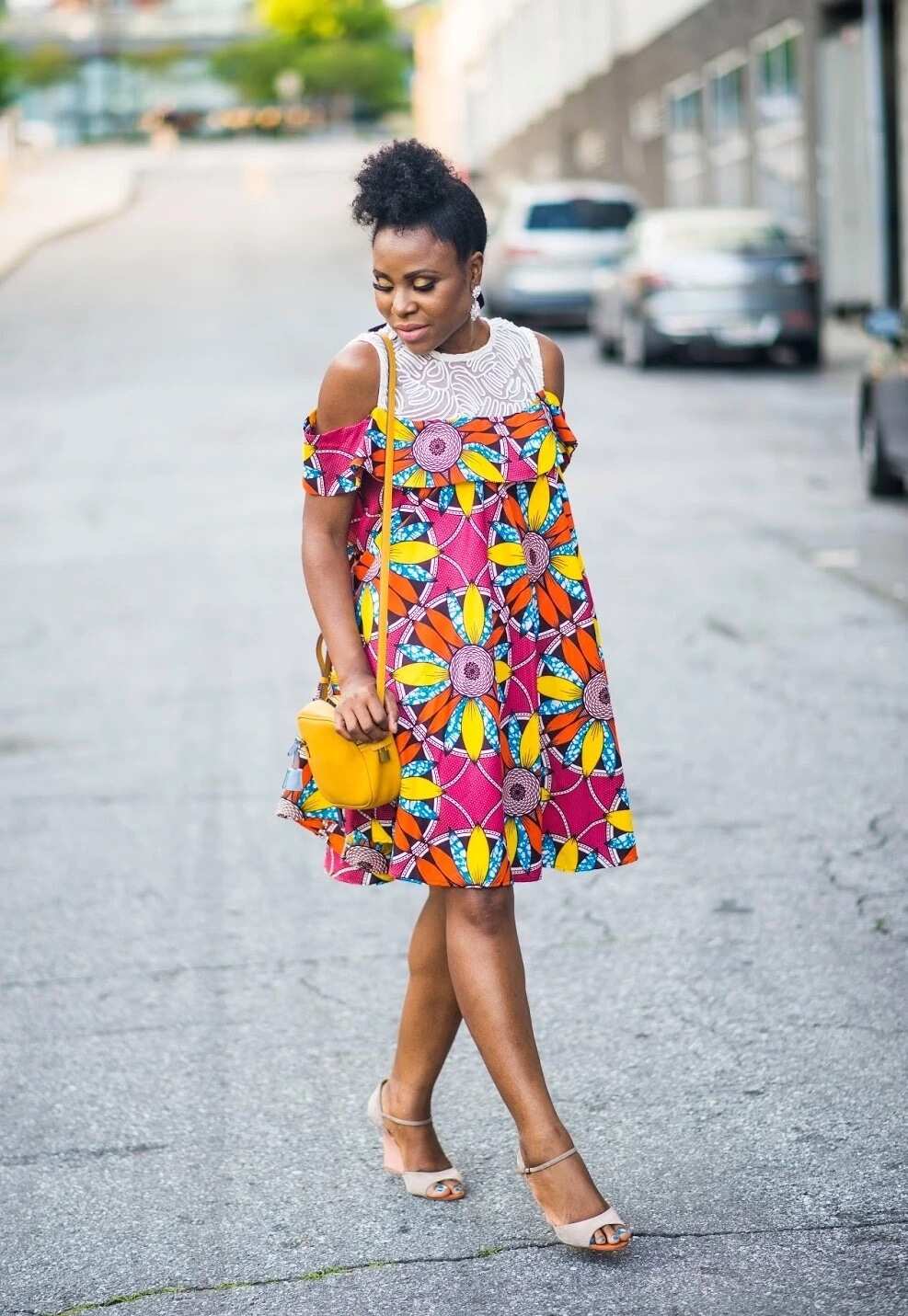 Most of the free Ankara styles we have come across are rather short (slightly above the knee), so we have decided to start with this category first. And what better gown to begin with than this one. This is one of the latest Ankara styles these days, with its cold shoulder and peplum neckline. The lacy top part of the dress is a great contrast to the vibrant pattern of the Ankara fabric, and the two work together well.
Next, we have something a little bit more subdued. The short sleeves and the collar remind us of a school uniform, so if you want to feel young again, try this one! :) The Ankara pattern is not quite as colourful as most similar patterns are, which makes this dress stand out from the rest. Therefore, if you just want a nice dress that will not make you look like you are begging for attention, this would be a great choice.
Here is another great option for those who want a flowy but short Ankara dress. It can easily hide any of your insecurities and make you feel more confident in your look. And if you are an expectant mommy, you can go for something like this, because it will cut into your belly, so you can feel both comfortable and stylish. Regardless of the circumstances, with this dress, you will not have to choose between style and comfort.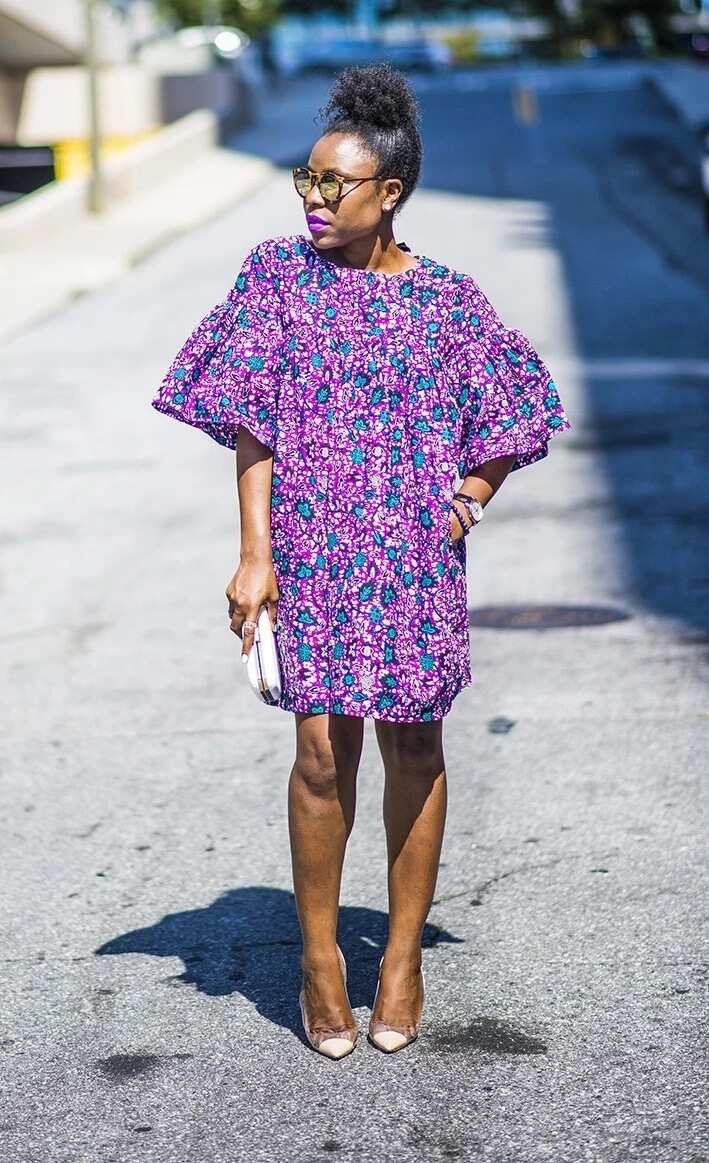 You might think that muumuu dresses cannot be stylish, but one look at this one should be able to prove you wrong. Just look at how cool you'll look in this dress! The flared short sleeves matched with the peculiar Ankara pattern make this garment very special and fashionable. You can wear this gown to a store and to a fancy party and not look out of place at either occasion.
If you are a big fan of geometric patterns, then this gown should be right up your alley. This dress with its vibrant colours and off-shoulder neckline will be a great addition to any wardrobe.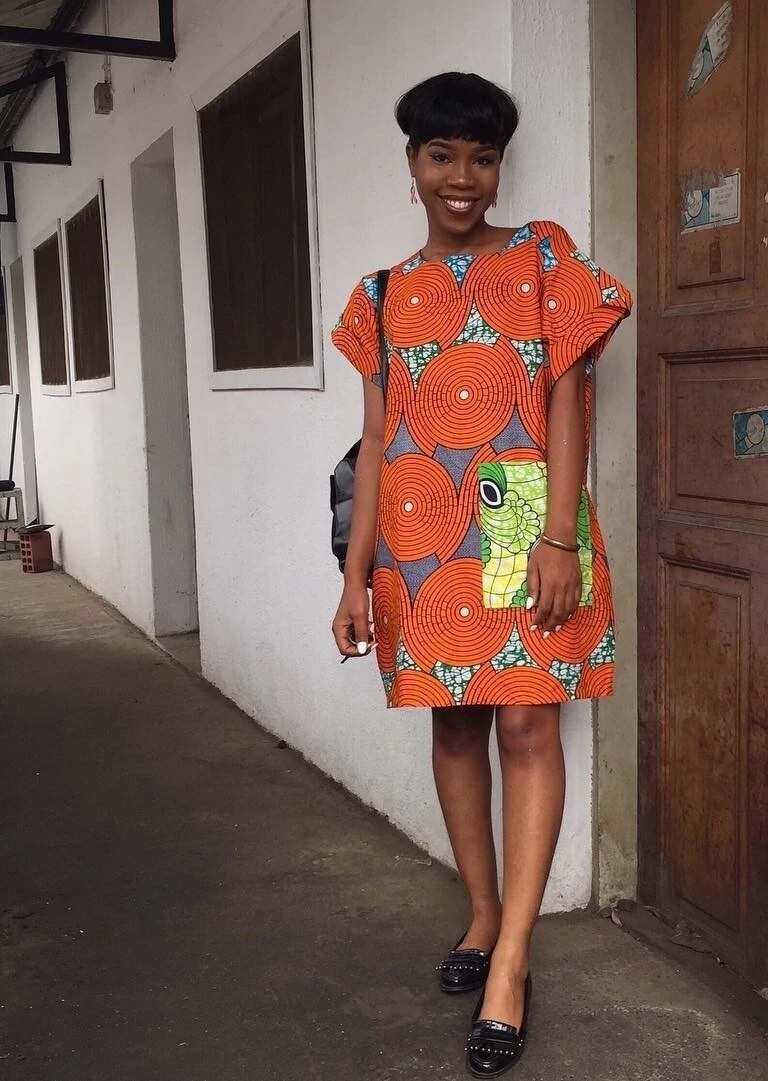 READ ALSO: Nigerian Ankara styles catalogue 2018
Last gown from this category is this lovely number. What could have been just another simple Ankara dress is actually a very interesting garment thanks to the piece of contrasting Ankara fabric sewn to the side. Due to the fact that this gown is quite bright already, you do not have to worry too much about accessories, as the simplest things will do.
Long Ankara free gowns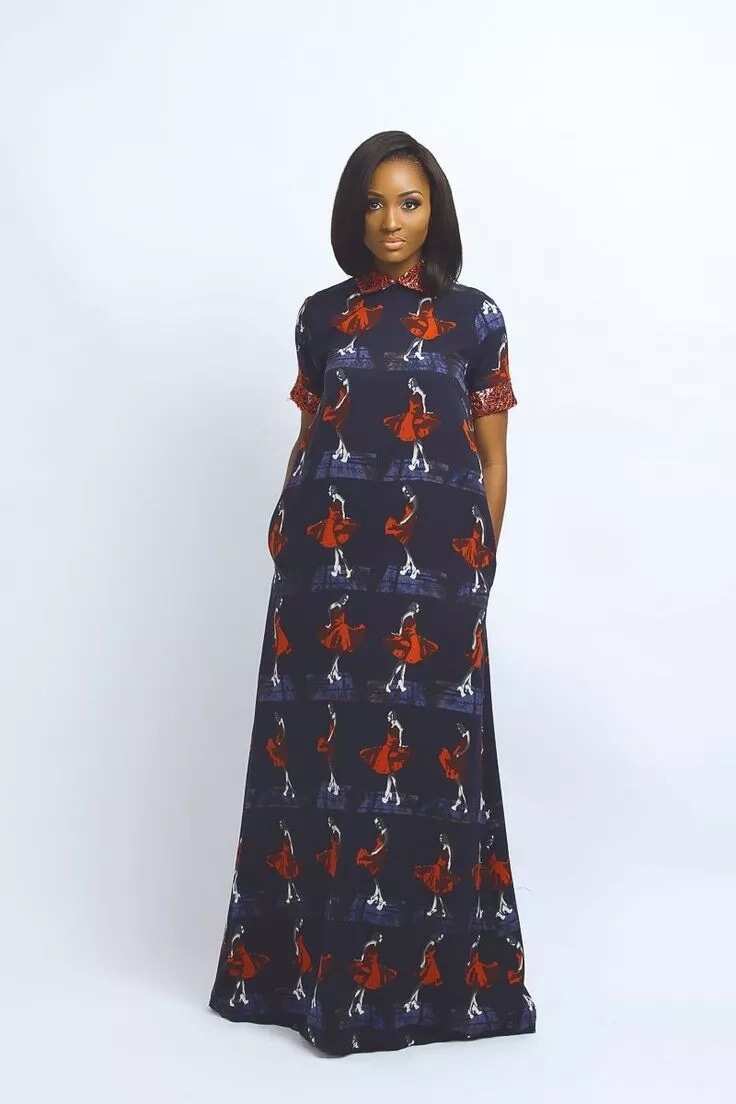 Apart from free Ankara short gowns, there are also gowns that hit the floor. So if you are looking for something that will cover you from the neck down in the most stylish way possible, then this is for you. And our first pick from this category is this 'inception' dress, as it is covered with pictures of a woman in a dress!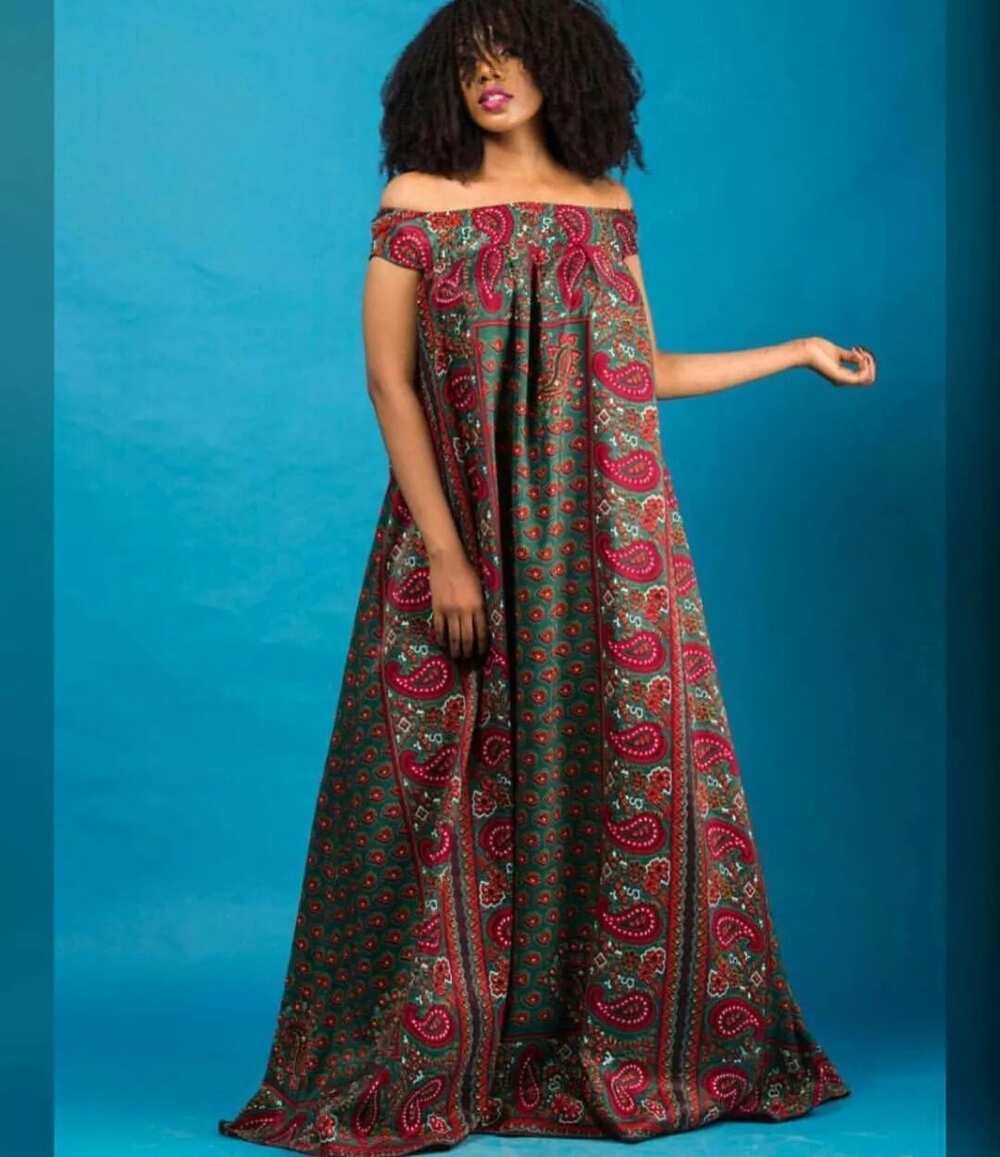 Another option you should consider is this off-shoulder floor-length gown. It looks casual and regal at the same time, so you can feel like a queen on her day off. With a dress like this, you do not have to worry about it riding up or cutting into your skin after that one extra helping of dinner. You can just enjoy yourself and look amazing in the process.
If you want to look high fashion, then try this style. While the silhouette of this dress is quite simple and straight, the unusually cut sleeves make it look very trendy. Paired with the right accessories, this gown can be truly red-carpet-worthy. Another great thing about floor-length free dresses is that you do not have to worry about your shoes (or even undergarments), as they will not be visible anyway.
Our last pick is somewhat reminiscent of the very first dress, especially in terms of the silhouette. So if you liked the first gown but thought that it was too short, this one should be just perfect for you. The wonderful, almost psychedelic pattern of this gown will definitely make you very hypnotising.
And those were all of our picks of Ankara free gowns. As you can see, beauty does not always have to be painful, because you can always combine style and comfort. What do you think about these dresses? Did you like our selection? Do you own any free gowns? Let us know in the comments. We would love to hear from you.
READ ALSO: Beautiful and simple Ankara styles to rock in 2018
Source: Legit.ng