Vice President Yemi Osinbajo biography: age, family, state of origin
Nigeria's second in command, Yemi Osinbajo, is one of the most celebrated politicians in the country and Africa. As a professional lawyer, he has been at the forefront of improving Nigeria's legal system through numerous publications.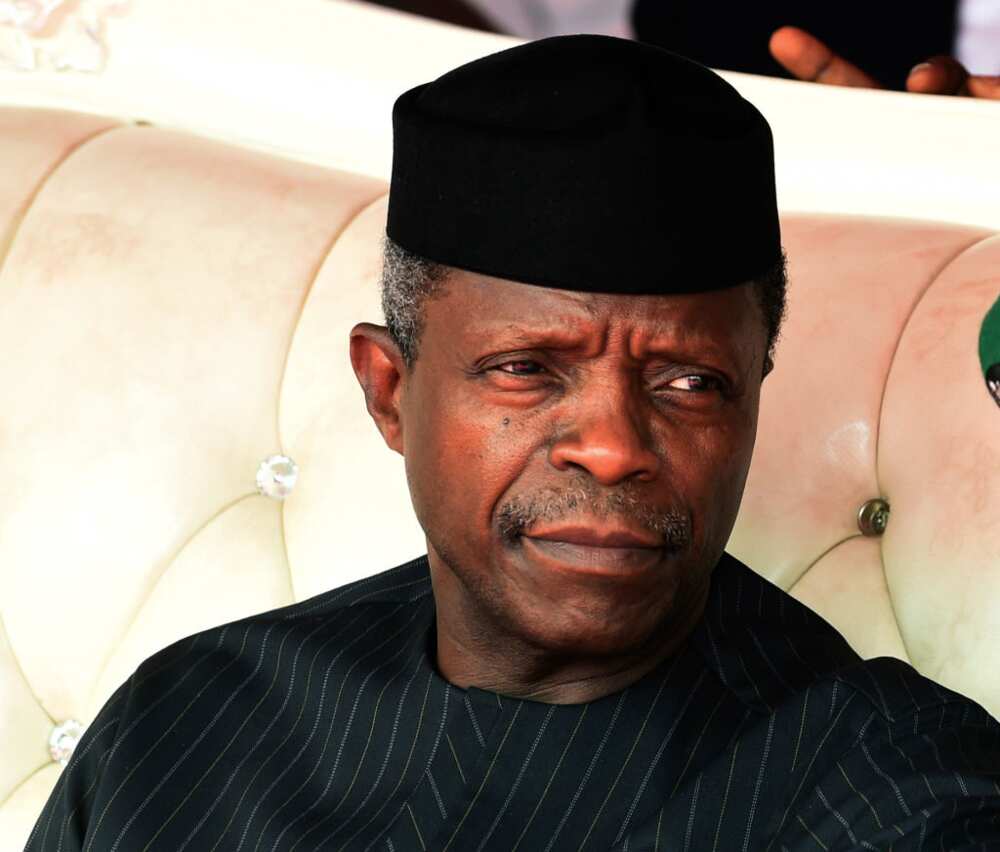 He has managed to attract people's attention throughout his legal and political career thanks to his strict and straightforward modus operandi. However, despite his wide media presence, most people do not know more details about him. His biography here seeks to give an insight into who he is.
Professor Yemi Osinbajo profile summary
Full name: Oluyemi Oluleke Osinbajo
Date of birth: March 8th, 1957
Zodiac sign: Pisces
Nationality: Nigerian
Ethnicity: Black
Gender: Male
Profession: Politician, lawyer, and pastor
Political party: All Progressives Congress
Education: University of Lagos (LLB), Nigerian Law School, and the London School of Economics (LLM)
Religion: Christianity
Marital status: Married
Yemi Osinbajo biography
Vice President Yemi Osinbajo was born on March 8th, 1957, to the late Opeoluwa Osinbajo. Not much information about his parents is known to the public. He has a younger brother called Akin Osinbajo.
How old is Osinbajo?
As of 2021, Yemi Osinbajo age is 64 years. He was born under Pisces zodiac sign, and he celebrates his birthday on March 8th.
Which state is Vice President Osinbajo from?
The Vice President was born at the Creek Hospital in Lagos, Western region of Nigeria. Yemi Osinbajo State of origin is Lagos State.
Educational background
Yemi received his primary school education at Corona School, Lagos, and got his secondary education at Igbobi College Yaba.
Upon graduating, he proceeded to studied Law at the University of Lagos between 1975 and 1978. He furthered his education at the Nigerian Law School in 1981 and later joined the London School of Economics.
Career
Professor Yemi Osinbajo has enjoyed illustrious careers in the legal profession and politics. He is also a pastor. Below is how well he has faired in these professions.
In the legal field
Between 1979 to 1980, Prof. Yemi Osinbajo served compulsory Nigerian youth service in Bendel state. Afterwards, he returned to pursuing his law education and was employed as a Law lecturer at the University of Lagos. It later became his primary career.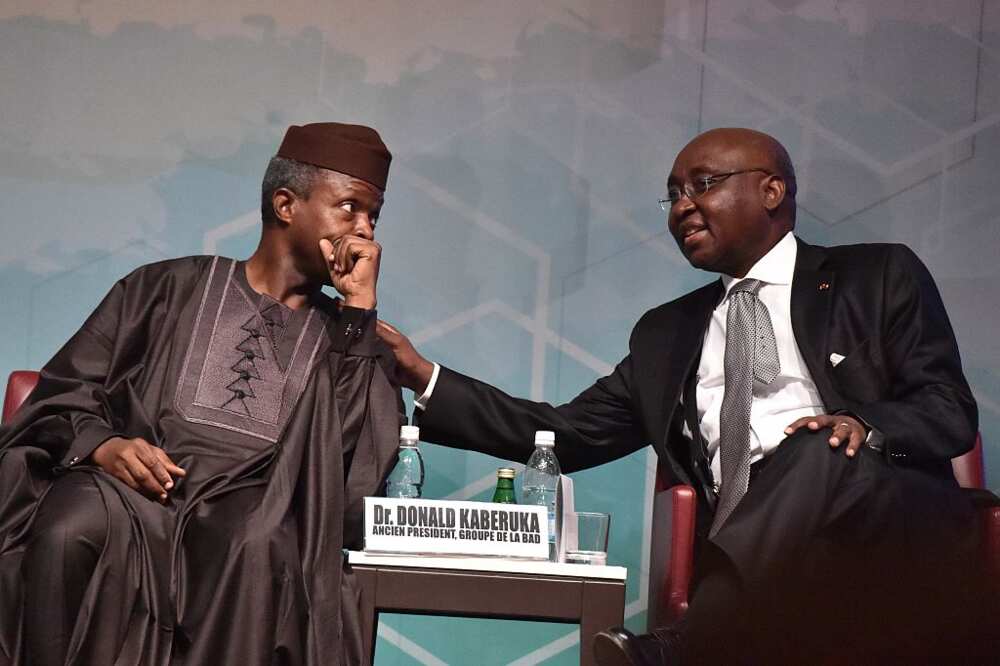 He started lecturing Law at the age of 23 years. In 1983, he was made a Senior Lecturer of Law. Five years later, Yemi became a legal adviser of the Minister of Justice and Attorney General - Bola Ajibola.
In 1997, Osinbajo became a Professor of Law and Head of the Public Law Department at the University of Lagos. From 1999, he had such high positions as Member of Cabinet, Lagos State Ministry of Justice, Attorney General, and Commissioner for Justice, to name a few.
In 2007, Professor Yemi Osinbajo came back to the University of Lagos to give lectures in Law. Aside from being a lecturer, he was also a businessman and an author. He produced numerous law-themed publications on various aspects of the Law.
He is a member of the following professional bodies:
Nigerian Bar Association
International Bar Association
Nigerian Body of Benchers
Council of Legal Education in Nigeria and Senior Advocate of Nigeria
Involvement in politics
Prof Yemi Osinbajo decided to try his hand in politics, which resulted in success. In 2013, he received a task alongside other outstanding Nigerian delegates to prepare a manifesto for their political party - All Progressive Congress.
They came up with a presentation called the Roadmap to a New Nigeria. It included a plan for free meals at school, financial support for over 25 million poor Nigerians who have to educate their children. The manifesto won the hearts of many Nigerians.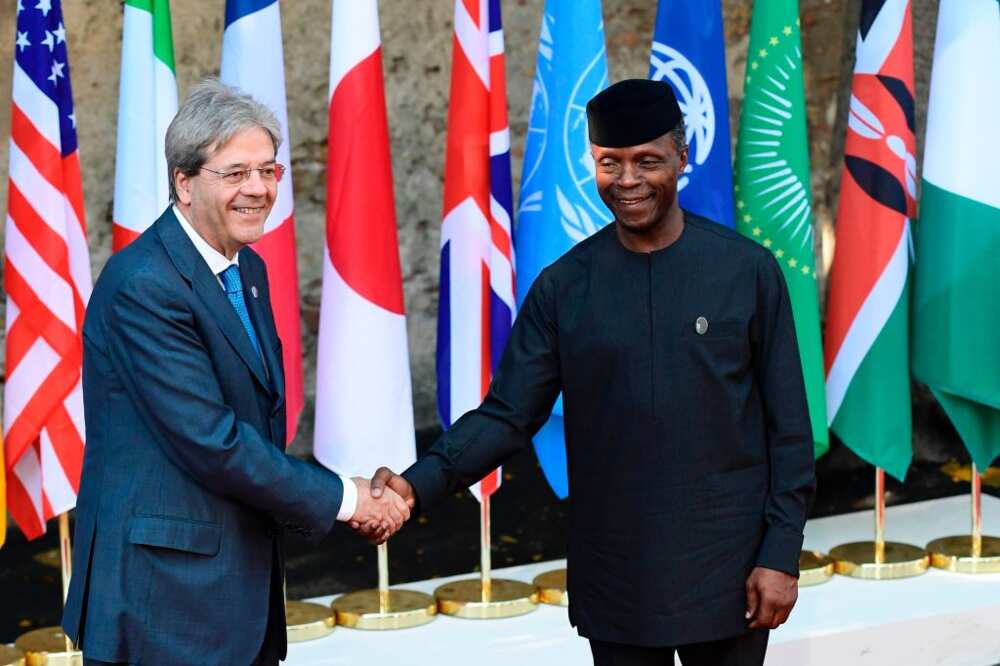 In 2014, Yemi Osinbajo became a running mate of a presidential candidate - Muhammadu Buhari, ahead of the 2015 election. Buhari eventually won the said election, and Yemi Osinbajo became his vice. The official ceremony of swearing-in took place in May 2015.
Yemi Osinbajo stepped into the office after he officially took an oath at the Eagle Square Abuja. The pair was re-elected in 2019.
As a religious man
Apart from being a professor and a politician, he is also a prominent religious leader. He is a pastor of the Redeemed Christian Church of God Lagos province 48. Many people assumed that he left this position after he was elected as Vice President of Nigeria.
However, Yemi insisted that he still is the pastor of the church. He said that he is on loan to the Federal Government of Nigeria, but he never quit his pastor-in-charge position.
Awards and achievements
Prof Yemi Osinbajo has received numerous awards. Below are some of the most notable ones so far:
In 1971, he won the State Merit Award.
In 1972, he won the School Prize for English Oratory.
In 1973, he scooped the Elias Prize for Best Performance in History (WASC).
In 1975, he won the School Prize for Literature.
In 1974, he won the African Statesman Intercollegiate Best Speaker's Prize, 1974
On May 28th, 2015, President Goodluck Jonathan conferred on him the Grand Commander of the Order of the Niger.
How much is Yemi Osinbajo net worth?
As a person who has served in the lucrative legal profession and politics, he must have made a killing. His net worth is estimated at a whopping $7 million. He has made this incredible amount of income from his careers and businesses.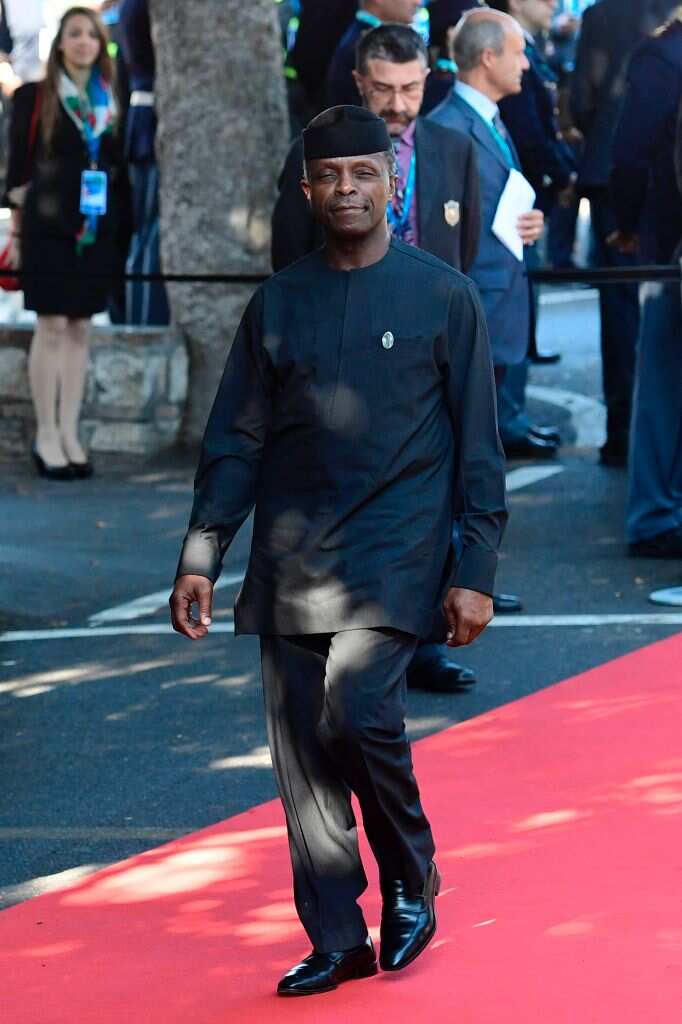 His net worth has afforded him a luxurious lifestyle. According to a Forbes article published in 2015, the Vice President owned a 4-bedroom residence in Victoria Garden City, Lagos, and a three-bedroom flat in Ikoyi, Lagos's highbrow area. He also had a 2-bedroom apartment along the Lagos-Ibadan Expressway, and a 2-bedroom mortgaged property in Bedford, England.
At the time, he also had roughly $1.5 million in cash currently deposited in Nigerian banks. He also owned three vehicles - an Infinity four-wheel-drive SUV, a Mercedes Benz sedan, and a Prado Jeep.
An insight into Vice President Yemi Osinbajo family
Despite being an essential Nigerian official, Yemi still finds enough time for necessary things, especially his big and loving family. He spends as much time with them as he can.
The Vice President is happily married to the love of his life - Dolapo Soyode-Osinbajo. His wife is the granddaughter of the Nigerian nationalist Obafemi Awolowo. Her grandfather was a leader of the Nigerian independence movement.
When did Yemi Osinbajo get married?
They got married on October 25th, 1989. They are not the type of couple who wash their dirty linens in public. As a result, their marriage is admired by many Nigerians.
Yemi Osinbajo's brother revealed that Obafemi Awolowo (Dolapo's grandfather) gave them his marriage blessing fifteen years before their actual wedding. The stability of their union is built on a strong Christian foundation. They are both ministers in the church.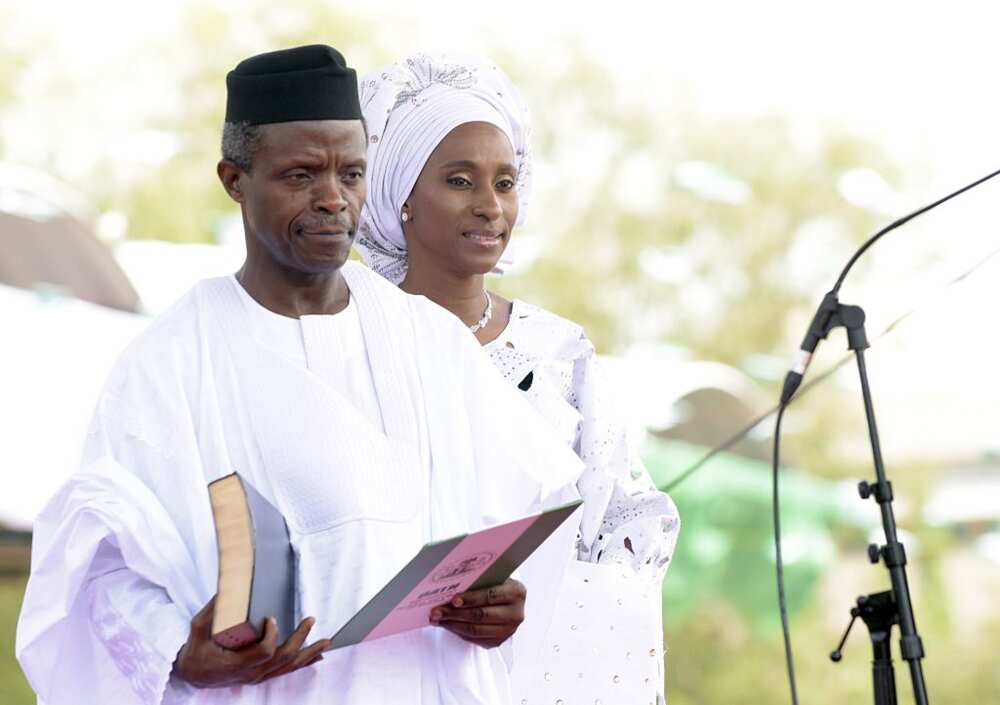 Dolapo is a pastor in the same church as her husband, and she is a leader of ladies fellowship. They did some civil work together, like founding a special Christian organization for promoting patriotism and religious values.
How many children does Yemi Osinbajo have?
The Vice President and his wife have three grown children – two daughters and a son. The names of his two daughters are Kiki and Kanyinsola, while that of his son is Fiyinfoluwa. Yemi has taken good care of his children.
All Yemi Osinbajo children have attended schools in Nigeria and abroad. As a father and husband, he spends a lot of time with his wife and kids. His entire family often shows up at various public events.
His daughter Kiki is a great fan of fashion and is a popular model on Instagram. Like her father, she graduated from the University of Lagos. She founded a charity organization that supports widowed women and poor children.
Kanyinsola, on the other hand, is also well-educated. She has a masters degree in Liberal Studies. As for the son, Fiyinfoluwa had his education in England and aspires to be a photographer.
Social media presence
Like most public figures, Yemi has a vast social media presence. He enjoys an incredible following on Instagram, Twitter, and Facebook. His accounts are as follows:
Yemi Osinbajo is an influential political figure and an educated law Professor. He is also a pastor, a faithful husband, and a loving father of three children. As a dedicated leader, he has won the hearts of many people. He is indeed a voice to reckon with among many leaders worldwide.
READ ALSO: Clark Backo biography: age, height, ethnicity, parents, net worth
Legit.ng recently published an article on the biography of Clark Barko. Clark is a popular Canadian actress who has been a part of several screen projects in her native country and America.
Like most upcoming young actors and actresses, Clark Backo has proven her determination to become a great Hollywood actor through her hard work. Here is her biography to give you exciting details about her.
Source: Legit.ng