President Buhari remains APC's best choice ahead of 2019 - Coalition
- The Buhari/Osinbajo Democratic Awareness Coalition has endorsed President Muhammadu Buhari for the 2019 presidential election
- The group stated that the president remains the best candidate among the politicians in the ruling All Progressives Congress (APC)
- They also declared their unalloyed support to the president
A group known as the Buhari/Osinbajo Democratic Awareness Coalition has committed itself to promoting the achievements of the present administration ahead of the 2019 general elections.
The group stated that its decision stems from its believe that President Buhari remains the best candidate for the APC in the 2019 polls.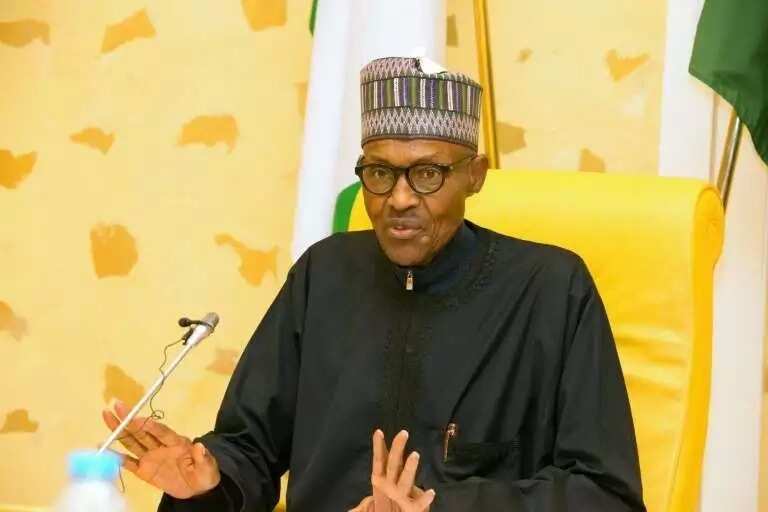 The coalition also called on the youths and well-meaning Nigerians to play key roles in ensuring that the present administration succeeds in office.
The national coordinator of the coalition, Agbaminoja Olatunji George, who made this known during a press briefing on Friday, September 15 in Abuja, opined that Buhari deserved a second term of office.
He said that the current administration has reduced the level of corruption in the country, degraded the dreaded Boko Haram terrorists and took the nation's economy out of recession among others.
READ ALSO: Northern Governors Forum speak on 2019 presidency
His words: "I don't want to talk about politics now but Buhari remains the best candidate for the APC. The future belongs to God and it's God that make kings. Of course, if he decides to run, we will support him.
"The corruption that he is fighting tooth and nail will help to propel this country to its past glory. Nigerians voted the previous government out because of suffering. The country was in a recession.
"After few months, this man (Buhari) led us out of recession. He is not even proud of it. He is still saying that the common man should feel they have stomach infrastructure. Is that a leader not worth fighting for?
"You have a leader that is not stealing money, you have a leader that the ministers are not living flamboyantly, you can see the television that he watched recently, it's the same television I use in my house."
Similarly, the deputy director of media, Buhari Campaign Organisation, Mr Ayo Oyalowo, has stated that Nigerians are lucky to have President Buhari as their leader presently.
Oyalowo, who is also a member of the APC and a popular social media influencer, made the statement on a political programme aired on Channels Television on Sunday, September 11.
"I think he (Buhari) is a good person, I think he's honest, I think Nigeria is blessed and lucky to have him as president.
"From 2011 I have been with the man, I supported him in 2011. I'm very happy that he finally got it in 2015 and if God wills and he wants to do it again, I will gladly support him," Oyalowo declared.
READ ALSO: President Buhari's supporters insist on 2nd term in 2019
Watch this Legit.ng TV video of ex-President Goodluck Jonathan speaking on the chances of the Peoples Democratic Party in 2019:
Source: Legit.ng