Who is Sandra Okagbue? Check out her biography, age, career, whereabouts
Sandra Okagbue is a Nigerian model, actress, and entrepreneur. She has won numerous beauty pageants and has modeled for multiple renowned brands in Nigeria. On top of this, many know her as the sister of Nollywood actor Chris Okagbue and the baby mama of Nigerian singer Flavour N'abania. Continue reading Sandra Okagbue's biography below to learn more about her career and personal life.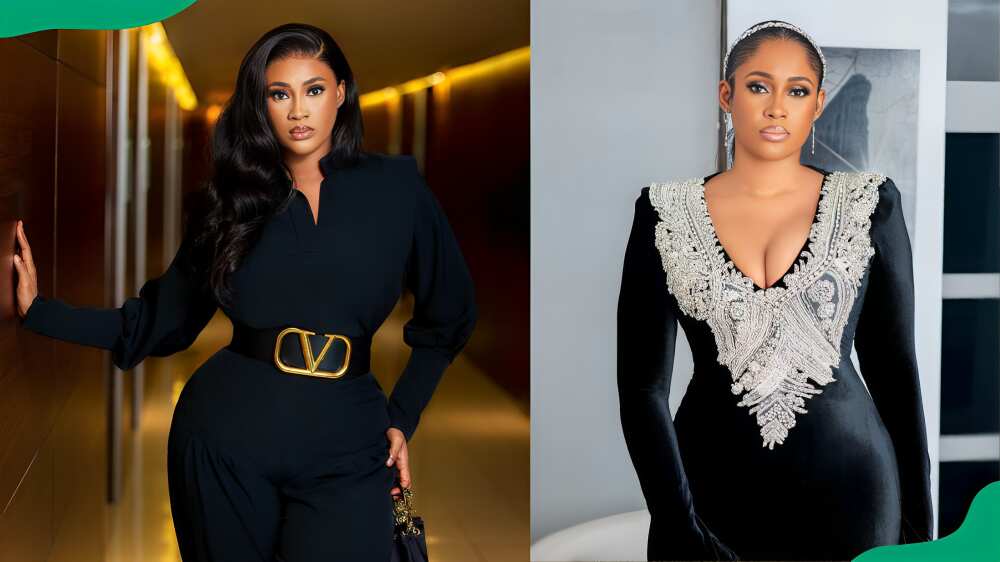 Besides her thriving modeling career, Sandra Okagbue's royal ancestry makes her famous throughout Nigeria. Consequently, the princess has millions of fans who care about how she is faring in her career and personal life. This article shares updated information about Sandra Okagbue's career progress and events in her personal life that caught the public's attention.
Profile summary
| | |
| --- | --- |
| Full name | Uchee Sandra Okagbue |
| Gender | Female |
| Date of birth | December 1, 1985 |
| Age | 37 years (as of September 2023) |
| Place of birth | Onitsha, Anambra State, Nigeria |
| Current residence | Nigeria |
| Nationality | Nigerian |
| Ethnicity | African |
| Tribe | Igbo |
| Height | 6 feet 1 inch |
| Father | The late Igwe Ofala Okechukwu Okagbue |
| Mother | Mrs. Clara Ogechukwu Ofala Okechukwu Okagbue |
| Brothers | 4 |
| Sisters | 1 |
| Marital status | Single |
| Sexuality | Straight |
| Children | Gabrille Okoli and Chikaima Okoli |
| Baby daddy | Mr. Flavour N'abania |
| Career | Model, actress, and entrepreneur |
| Years active | 2010 to present |
| Net worth | $1 million (approximately) |
Who is Sandra Okagbue?
Uchee Sandra Okagbue is a prolific Nigerian model, actress, entrepreneur, and real-life princess. She is the eldest among the six children of the Okagbue royal family.
Who are the Okagbue family?
Okagbue is a famous Igbo royal family of the Onitsha Kingdom in Anambra State, Nigeria. The name comes from Sandra Okagbue's father, the late Igwe Ofala Okechukwu Okagbue. He was the longest-ruling king/Obi of Onitsha (1970 to 2001).
Where is Sandra Okagbue's mother?
Her mum, Mrs. Clara Ogechukwu Ofala Okechukwu Okagbue, lives in Anambra State.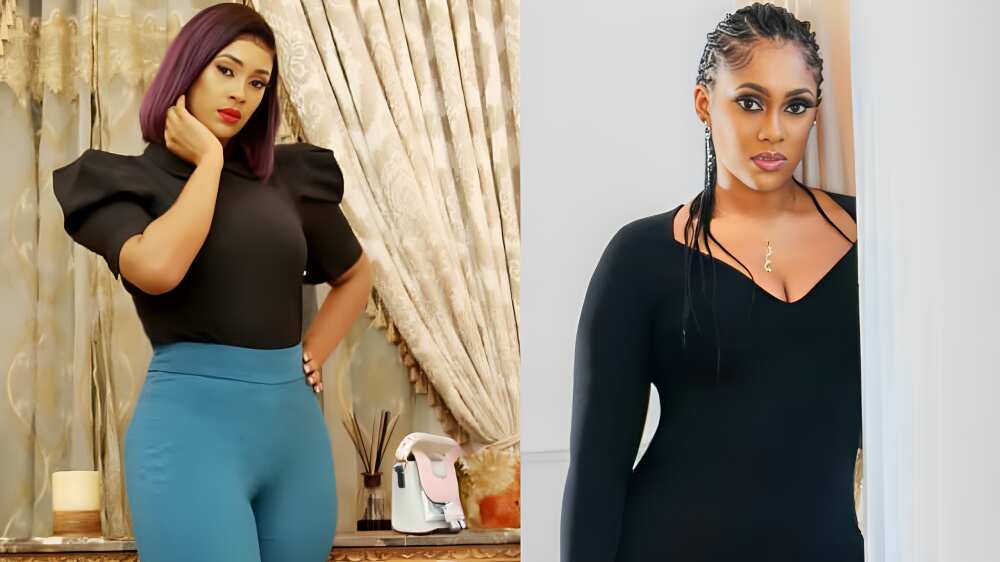 How old is Sandra Okagbue?
Sandra Okagbue's age is 37 years as of September 2023. She was born on December 1, 1985.
When was Sandra Okagbue born?
The model was born in Onitsha, Anambra State, Nigeria.
Who is Sandra Okagbue's brother?
Model Sandra Okagbue's brothers are Prince Ikechukwu Ofala Okagbue, Uche Francis Ofala Okechukwu Okagbue, and twin brothers Christopher "Chris" Ofala Okechukwu Okagbue and Chukwuma Christian Ofala Okechukwu Okagbue.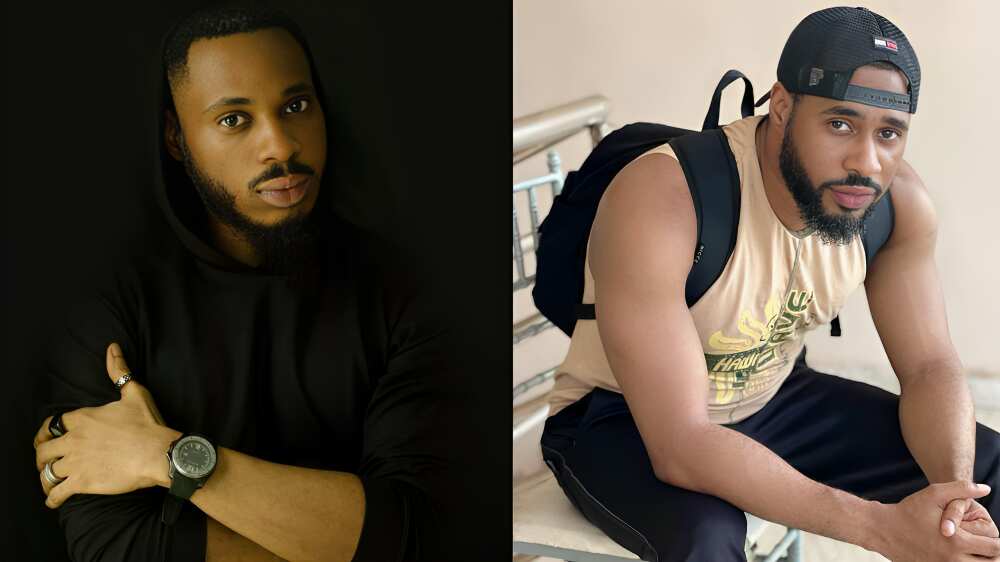 Christopher Okagbue is an actor, model, film producer, and reality TV star. He rose to stardom after winning the Gulder Ultimate Search season 8. Christopher also received "The Ultimate Man" awards for his work in that reality show.
Sandra and Chris have an admirable sibling and professional relationship. For instance, they collaborated in producing Lotanna, with Chris playing the lead role. In the film, Lotanna is stressed about repaying the N20 million he owes his dad. The young man also endangers his life in desperation to make quick and easy money.
Who are Sandra Okagbue's sisters?
Sandra's only sister, Chidimma Esther Okagbue (famously known as Bella Okagbue), is a content creator and reality TV star. She was the second runner-up in Big Brother Naija season seven.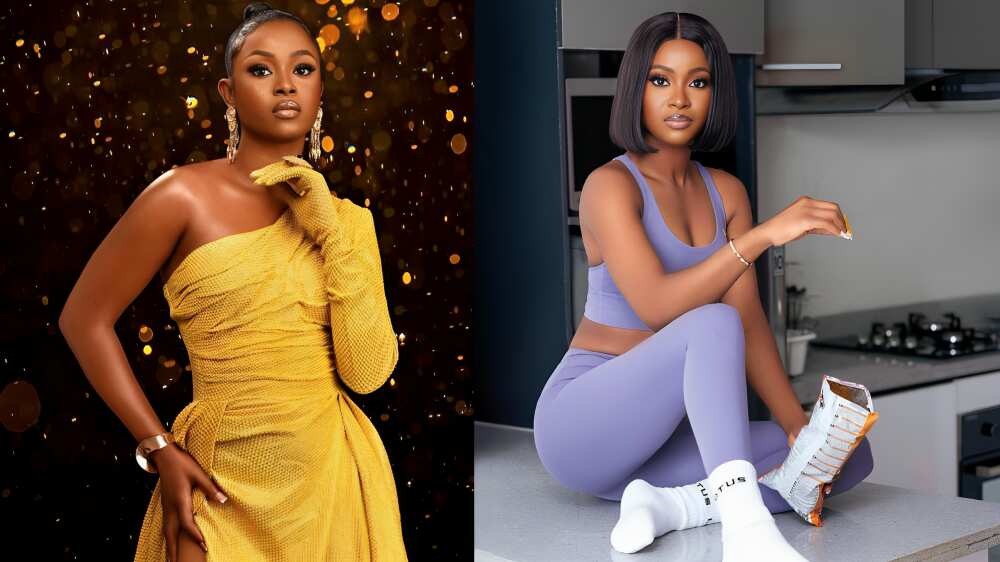 Career history
Sandra has been a model for over twenty years, and because of this, many know her as a fashion and beauty model. With time, people are learning that she is an actress and entrepreneur.
Did Sandra Okagbue win the Delta Soap Pageant?
The Onitsha Kingdom's princess rose to fame after winning the 2010 Miss Delta Soap Pageant, which the Orange Group organized.
After that, Sandra Okagbue became the face of Delta Soap, and brands like Cadbury, Airtel, MTN, LG, and GLO also hired her for their TV commercials and adverts on billboards, handbills, newspapers, and calendars.
Moreover, her brother, Chris, also became the Orange Group and Passion Energy Drinks brand ambassador in 2010. He has appeared in numerous TV commercials for multinational companies over the years.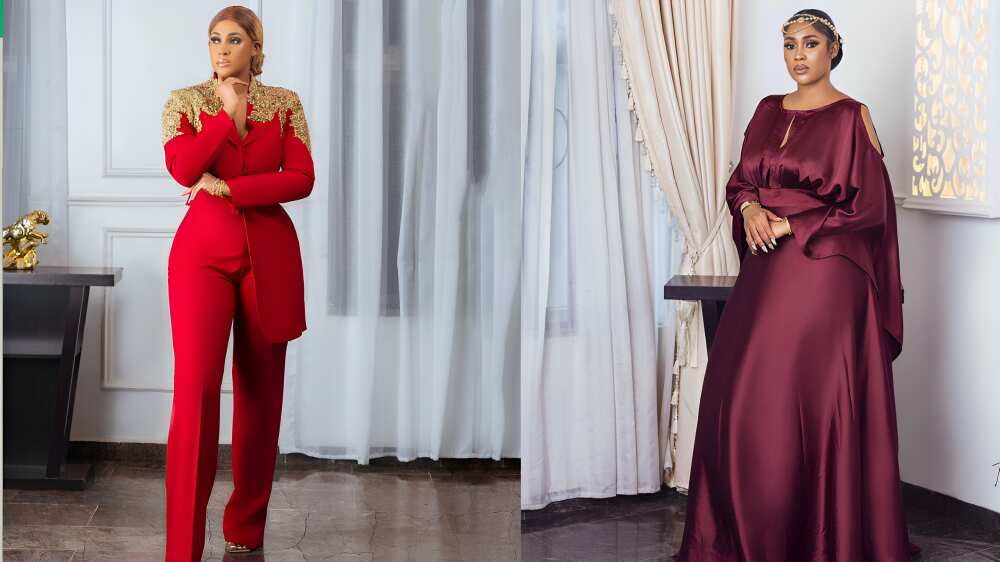 Sandra and Chris are not related to Tony Ifeanyichukwu Ezenna, the owner of the Orange Group. The Nigerian businessman was born and raised in Port Harcourt, River State, Nigeria. He relocated to Onitsha when he was already an adult.
What does Sandra Okagbue do for a living now?
Sandra is the CEO of Borderline Business Solutions Limited. Besides that, she still models for fashion brands and participates in filmmaking projects.
How rich is Sandra Okagbue?
Sandra Okagbue's net worth is guesstimated at around $1 million. Her wealth comes from modeling, acting, and brand ambassadorship deals.
Was Sandra Okagbue and Mikel Obi in a relationship?
John Mikel Obi was in a relationship with Sandra Okagbue between 2010 to 2013. The former Super Eagles captain/midfielder retired in 2022 after playing professional football for two decades. Mikel also played for numerous international clubs, including Norwegian club Lyn and Chelsea FC.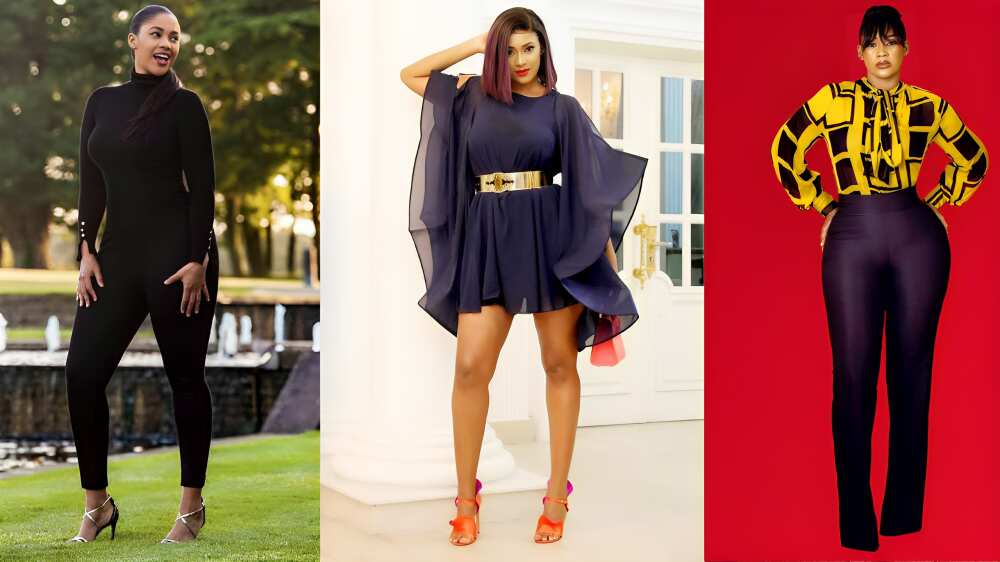 What happened to Mikel Obi and Sandra Okagbue's wedding?
In 2013, the model released a statement to the press denying wedding rumors circulating in the media about her Mikel Obi. Her statement read:
This is to inform the general public that the current stories foretelling a proposed wedding between I, Sandra Okagbue, and Mikel Obi, is entirely incorrect. There has never been such a proposal between either of us let alone an agreement, or even a wedding date as rumored. There is no truth in the reports that Mikel Obi and I are getting married.
There have been too many false stories about me in the papers, and several blogs. My name has been linked with several people whom I am supposedly familiarly linked with. Some of these false reports even went as far as claiming that my family house was bought by these imaginary suitors. This is disheartening. I come from a reputable royal family and, we are a hardworking people. We have achieved all we have through faith in God and hard work.
I will like to implore the respectable ladies and gentlemen of the press to please always officially verify whatever information they would like to publish about me before publishing.
Thank you for your usual support.
What happened between Sandra Okagbue and Flavour N'abania?
The media fueled reports about singer Chinedu Izuchukwu Okoli (alias Flavour N'abania) and Sandra Okagbue's wedding plans in 2015 and 2020. Nonetheless, the two never got married.
Who is Sandra Okagbue's baby?
The Nigerian supermodel has two daughters with Flavour N'abania. Gabrielle Munachimso Okoli was born on September 29, 2014, and Chikaima Okoli was born on November 23, 2018.
Singer Flavour calls Gabrielle "my Ugbege," which means "my little mirror" in Igbo, while Chikaima's name has been shortened to Kaima. The second daughter shares her birthday with her father.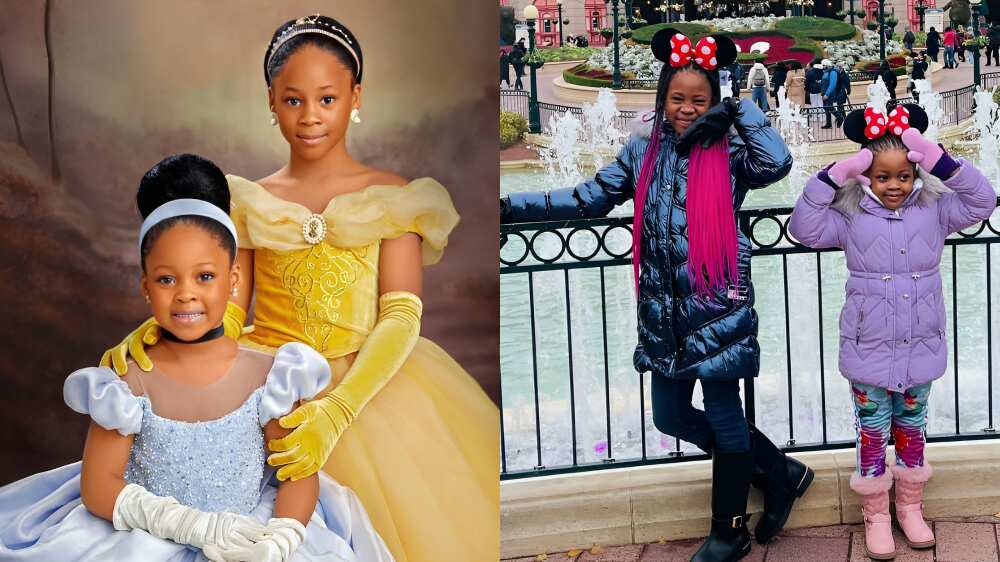 Before Sandra had Chikaima with the singer, Flavour had another daughter, Sophia Chinedu Okoli, with Anna Ebiere Banner (a Nigerian pageant winner and actress) on August 1, 2015.
The singer also adopted a Liberian boy named Semah, whom he met at one of his events in Liberia in March 2017. Like Sandra, Flavour is also an Igbo from Anambra State, and reports claiming they married in secret were false.
Who is Sandra Okagbue's husband?
She is not married and has not shared her relationship status with the public.
Social media presence
Sandra Okagbue is only active on Instagram. Her account has beautiful pictures of her daughters, siblings, and modeling images.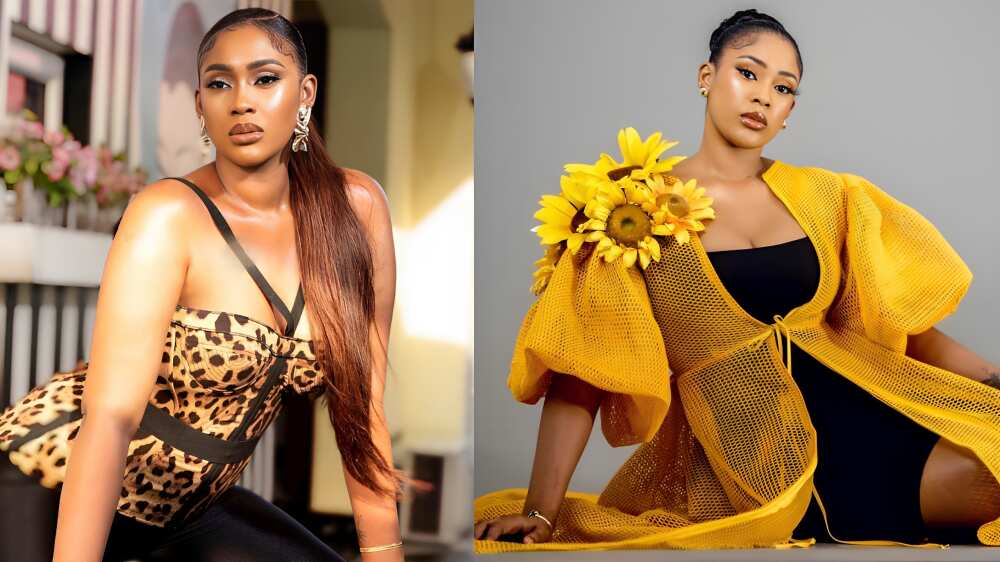 Facts about Sandra Okagbue
Being an "Adanne" eldest daughter of her family makes her a second mother to her siblings.
Her Instagram posts imply she loves traveling and spending time with her kids and family.
The only controversy Sandra has been involved in is speculated misunderstandings between her Mr. Flavour N'abania's other baby mama, Anna Banner.
Sandra Okagbue has built a name for herself in the Nigerian entertainment and fashion industries without relying on her royal family's influence and the celebrities she is affiliated with.
Legit.ng also shared Chris Attoh's biography. He is a Ghanaian actor, film director, on-air personality, television presenter, and producer. Chris' brother, Ken Attoh, also works as a director, cinematographer, graphic designer, and photographer in the Ghanaian film industry.
Chris is best known for playing the role of Kwame Mensah in the Nigerian soap opera Tinsel. His late wife, Bettie Jenifer, was gunned down in a parking lot in Greenbelt, Maryland, in 2019. The article unveils more about the actor's career and personal life.
Source: Legit.ng