Israel-Hamas War: US Lists Nigeria Under 3rd Tier of Worldwide Travel Alert to Americans
The unrest in Gaza, occasioned by the war between Israel and Palestine, has led to a recent move by the United States of America
As part of its efforts to safeguard its citizens across the globe, the US has released a list of countries Americans should avoid
The US has urged its citizens to apply extreme caution when visiting some countries, including Nigeria
The United States of America has highlighted some countries its citizens should not travel to, and even if they decide to go, they should be extremely careful.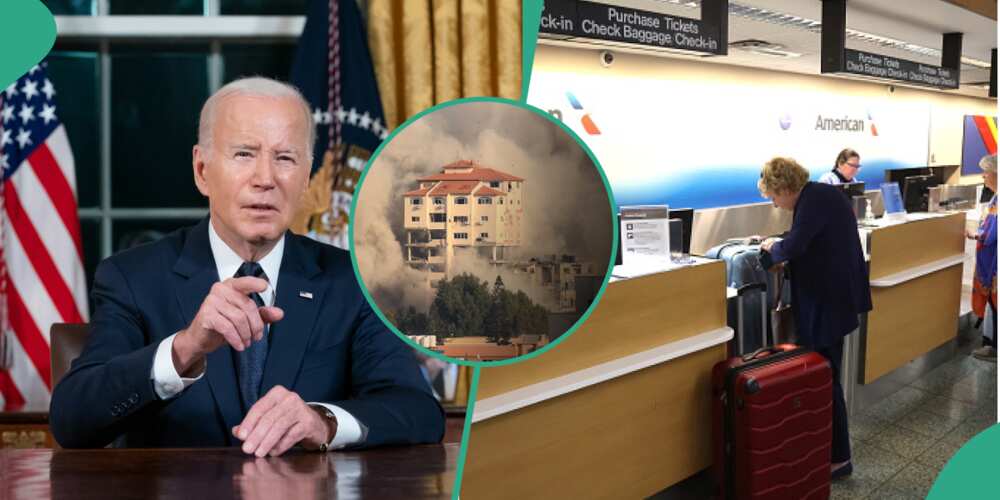 US lists countries citizens should avoid
The US citizens travelling abroad have been told to "exercise increased caution" in light of the heightened global tensions spurred by Hamas' terror attack on Israel and the unfolding Israel-Hamas war.
In a statement on Thursday, October 19, the US State Department said the travel advisory was necessary due to increased tensions in various locations around the world in the wake of the Israel-Hamas war.
The State Department said in a post shared via its website on X page (formerly Twitter):
"Due to increased tensions in various locations around the world, the potential for terrorist attacks, demonstrations or violent actions against U.S. citizens and interests, the Department of State advises U.S. citizens overseas to exercise increased caution," officials said in the "worldwide caution" alert.
List of African counties with the highest level of travel alerts
The department also told Americans overseas to "stay alert in locations frequented by tourists, and enrol in the Smart Traveler Enrollment Program (STEP) to receive information and alerts to make it easier to locate them in an emergency overseas.
African countries with the highest levels of travel alerts (Do not travel) were:
Niger
Libya
South Sudan
Mali
Burkina Faso and
Central Africa Republic.
List of African countries under third-tier caution alert
In the list of the countries under the third tier of caution alert on the US travel advisory website, Nigeria was listed under the (reconsider to travel), with the State Department highlighting Adamawa, Bauchi, Kogi, Yobe, Borno, Zamfara, Sokoto, Kaduna, Gombe, Kano and Katsina.
Also mentioned were Abia, Anambra, Bayelsa, Delta, Enugu, Imo, and Rivers states (with the exception of Port Harcourt) due to crime, kidnapping, and armed gangs.
"The U.S. government has limited ability to provide emergency services to U.S. citizens in many areas of Nigeria due to security conditions," the statement noted.
Biden supports Israel's narrative
Legit.ng also reported that the US President, Joe Biden, revealed those who could be responsible for the attack on a hospital in Gaza.
Biden said that based on what he had seen, the hospital attack looked like the "other team" carried out the bomb attack and not Israel.
Man stabs 6-year-old Palestinian-American boy to death in US
Meanwhile, reports in the United States have confirmed that a 71-year-old man has been arrested and charged with murder and a hate crime for fatally stabbing a six-year-old boy and seriously injuring his 32-year-old mother.
According to Aljazeera, he allegedly targeted the victims because of their faith and in response to the conflict between Israel and Hamas.
Source: Legit.ng