Isreal-Hamas War: Man, 70, Stabs 6-Year-Old Palestinian-American Boy to Death in US, Biden Reacts
A tragic incident has claimed the life of a 6-year-old American boy of Palestinian descent in Chicago
The boy, identified as Wadea Al-Fayoume, was stabbed multiple times by a 71-year-old man because of his Islamic faith concerning the conflict between Israel and Hamas
The boy's mother, 32, was also attacked by the man, which sparked an immediate reaction from President Joe Biden
Chicago, US - Reports in the United States have confirmed that a 71-year-old man has been arrested and charged with murder and a hate crime for fatally stabbing a six-year-old boy and seriously injuring his 32-year-old mother.
According to Aljazeera, he allegedly targeted the victims because of their faith and in response to the conflict between Israel and Hamas.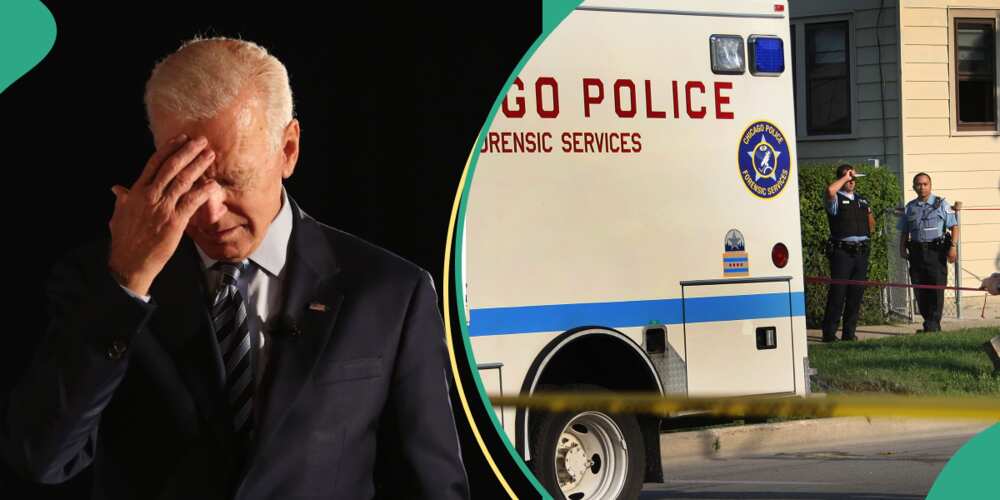 This development was contained in a statement released by the Will County Sheriff's Office in suburban Chicago on Sunday, October 15.
The statement reads:
PAY ATTENTION: Share your outstanding story with our editors! Please reach us through info@corp.legit.ng!
"Detectives were able to determine that both victims in this brutal attack were targeted by the suspect due to them being Muslim and the on-going Middle Eastern conflict involving Hamas and the Israelis."
It was also confirmed that the incident occurred at a residence located approximately 40 miles southwest of Chicago, and the victims were discovered by police on Saturday morning.
President Biden reacts
President Joe Biden extended his condolence to the deceased boy's family in a social media post via X.
He also noted that he would not be silent in the face of hate as he urged Americans to work together and clamp down on horror incidents like the gruesome killing of a 6-year-old.
Biden wrote:
"Jill and I were sickened to learn of the brutal murder of a child and the attempted murder of the child's mother yesterday in Illinois. Our condolences and prayers are with the family.
"This act of hate against a Palestinian Muslim family has no place in America.
"As Americans, we must come together and reject Islamophobia and all forms of bigotry and hatred. I have said repeatedly that I will not be silent in the face of hate.
"We must be unequivocal."
It was further gathered that the young boy, identified as Wadea Al-Fayoume, who was of Palestinian-American descent and had recently celebrated his sixth birthday, succumbed to his injuries.
He had been stabbed 26 times with a military-style knife, as revealed by a post-mortem examination conducted on Sunday by the sheriff's office.
The mother, Hanaan Shahin, sustained over a dozen stab wounds but was expected to survive as she remained hospitalized on Sunday.
The suspect, whose identity remains undisclosed, was found at the scene on Saturday with a cut on his forehead and was taken into custody.
The suspect is reportedly awaiting a court appearance, facing charges of first-degree murder, attempted first-degree murder, two counts of hate crimes, and aggravated battery with a deadly weapon.
Israeli ground forces enter Gaza as thousands scamper for safety
Meanwhile, thousands have begun to scamper for safety following an announcement by Israeli troops to launch an operation inside Gaza within 24 hours.
However, reports have confirmed that Israeli ground troops have already broken into Gaza trips in an attempt to decimate the Islamic resistant group Hamas.
It was gathered that Palestinians, in hundreds of thousands, have fled northern Gaza to the southern part for safety.
Source: Legit.ng