US President Biden Supports Israel's Narrative On Those Responsible For Gaza Hospital Attack
US President Joe Biden has backed the narrative that Tuesday's attack on a hospital in Gaza was not carried out by Israel
Biden said with what he has seen of the tragic incident, it appears to him that the "other team" was responsible for the attack
He stated this while speaking at a press conference in Tel Aviv alongside Israeli PM Benjamin Netanyahu on Wednesday, October 18
Tel Aviv, Israel - United States President Joe Biden has revealed those who could be responsible for the attack on a hospital in Gaza.
Biden said that based on what he has seen, the hospital attack appeals like the "other team" carried out the bomb attack and not Israel, Al Jazeera reported.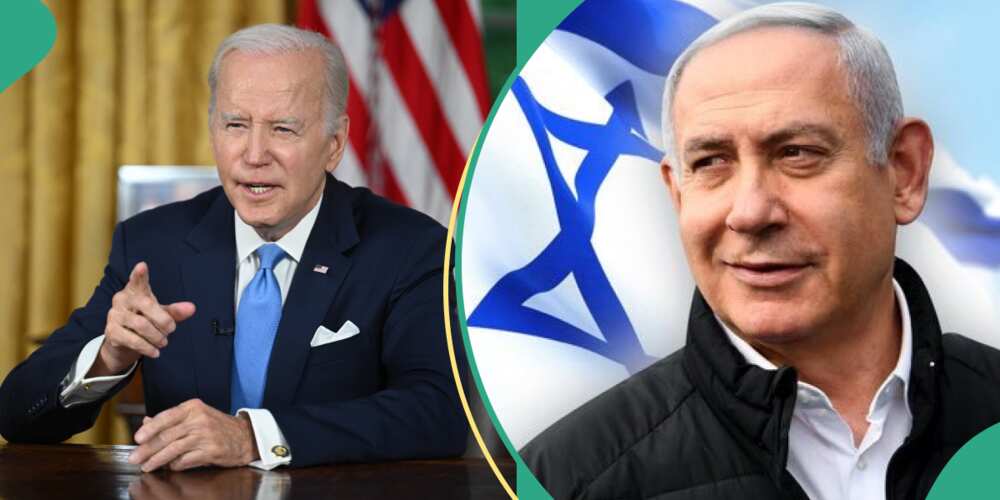 He stated this while speaking at a news conference after arriving at the Israeli capital, Tel Aviv.
The US president's visit to Israel is said to be for a diplomatic scramble to prevent the Gaza war from spiraling into an even larger conflict.
Biden was received at the Ben Gurion airport in Tel Aviv by Israeli Prime Minister Benjamin Netanyahu and President Isaac Herzog on Wednesday, October 17.
He said:
"I was deeply saddened and outraged by the explosion of the hospital in Gaza yesterday, and based on what I've seen, it appears as though it was done by the other team, not you."
"But there's a lot of people out there not sure, so we've got a lot, we've got to overcome a lot of things."
Biden added:
"The world is looking. Israel has a value set like the United States does, and other democracies, and they are looking to see what we are going to do."
Israel denies involvement as 500 die in Gaza hospital attack
In an earlier report by Legit.ng, no fewer than 500 people have been killed while hundreds have been injured by an alleged Israeli air raid on Al-Ahli Arab Hospital in Gaza.
A Palestinian Ministry of Health spokesperson in Gaza, Ashraf al-Qidra, said ambulance services are trying to evacuate bodies and count the dead, among whom are many children.
Israeli Army has, however, denied any involvement in the deadly hospital attack.
Israel vs Palestine: "Netanyahu is trying to start world War III", ex-minister
Legit.ng, Nigeria's former foreign minister, Professor Bolaji Akinyemi, said Benjamin Netanyahu, the Prime Minister of Israel, was pushing for World War III.
Akinyemi, in an interview, said the Israeli leader was trying to do that by pitching the United States against Iran. Israel had declared war on Palestine following an unprecedented attack by the Palestinian armed group Hamas on its land.
Source: Legit.ng