BREAKING: Apprehension As Heavy Protest Hits US Capitol Over Israel - Palestine War, Video Emerges
U.S. Capitol police arrested dozens of people who were protesting inside the rotunda of the Cannon House Office Building
The protesters demanded that Congress pass a cease-fire resolution in the Israel-Gaza war amid a humanitarian crisis
Legit.ng understands that the demonstrators include American Jews and allies who are 'worried about the situation in Gaza'
Washington, USA - Hundreds of people protesting the Israel-Hamas war on Wednesday, October 18, occupied one of the buildings in the U.S. Capitol complex.
Some of the demonstrators were subsequently arrested by U.S. Capitol police.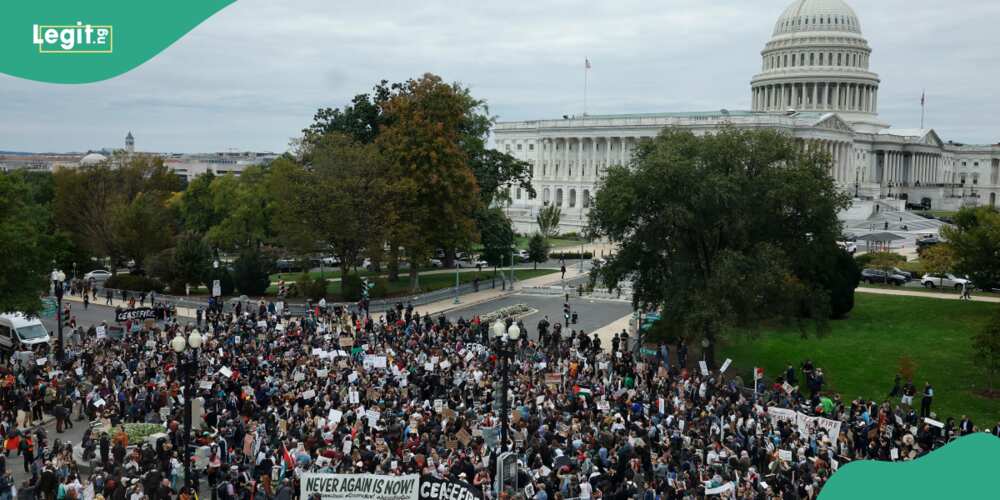 Israel-Palestine war: US police make arrests
The demonstrators entered the building at different security entrance points and then assembled in the Cannon House Office Building rotunda, a Capitol police spokesperson said, according to ABC News.
Activists with Jewish Voice for Peace and the IfNotNow movement are believed to have organised the protest to call for a cease-fire in the Israel–Hamas war.
Colin Rugg, a writer who specialises in international topics, however, claimed they are pro-Palestine protesters.
He wrote on his verified X (formerly Twitter) handle:
"The United States Capitol has been taken over inside and outside by pro-Palestine protesters as Rep. Rashida Tlaib spoke with a crowd nearby.
"Are we only allowed to call people like these insurrections when they are Donald Trump supporters?
"Police are now making arrests inside the Capitol.
"Sad day for democracy."
There were Jewish people wearing prayer shawls during the protest.
Per Capitol police, the demonstrators arrested inside the complex will be charged with illegal demonstration.
"Sever ties with Israel": Islamic group
Earlier, Legit.ng reported that the Conference of Islamic Organisations (CIO), called on international communities to "retrieve the monopoly of the United States of America (USA) in midwifing the peace process between Israel and Palestine".
The CIO alleged that the USA is "part of the problem", accusing Washington of showing "enough bias" as part of the alleged Israeli occupation in Gaza.
Biden supports Israel's narrative
Legit.ng also reported that the US President, Joe Biden revealed those who could be responsible for the attack on a hospital in Gaza.
Biden said that based on what he has seen, the hospital attack appeals like the "other team" carried out the bomb attack and not Israel.
Source: Legit.ng