"A Visual Feast": Beautiful Photos of Blue Supermoon Rises and Lights Up Skies Worldwide
On Wednesday night, August 30, stargazers around the world were treated to the rare sight of a "blue supermoon"
The blue supermoon is a full moon that came unusually close to the Earth, making it seem larger and brighter in the night sky
A moon is said to be "blue", well, when it is the second full moon to occur in a calendar month but blue supermoon happens about every 10 years, and the next one isn't until 2037
A rare blue supermoon, described as the closest full moon of the year, dazzled stargazers around the world on Wednesday night, August 30, AlJazeera reported.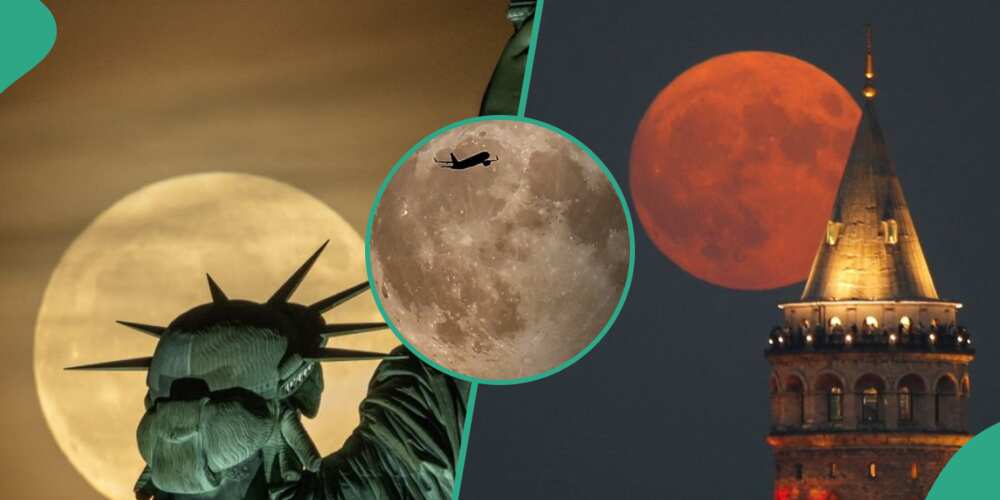 A "blue moon" comes around only, once in a blue moon. This event, when a year sees 13 full moons rather than the ordinary 12, occurs once every two or three years, CNN report noted.
But a "blue supermoon" is an even rarer lunar event.
Not only did Wednesday night see the second full moon of August, but it came at its the closest point in its orbit around Earth.
The super blue moon
It was the second full moon in August, which is why it's called a "blue" moon. The "blue" designation doesn't have anything to do with its color.
A moon is called a supermoon when it is unusually close to Earth. When the two occur simultaneously, it is called a blue supermoon.
The next super blue moon is until 2037
The last time two full supermoons were seen in the same month was in 2018.
The next blue supermoon is not until 2037, but another regular supermoon is on the horizon at the end of September and will be the last one this year.
Behold mosque renamed 'Mary, Mother of Jesus' in Dubai
In another development, the Shaikh Mohammad Bin Zayed Mosque renamed 'Mariam, Umm Eisa' — Arabic for 'Mary, the mother of Jesus' signifies the beauty of religious tolerance to the rest of the world.
The 'Mary, Mother of Jesus' Mosque was renamed in 2017 and it is located in Al Mushrif, a district in the capital of Abu Dhabi.
His Highness Shaikh Mohammad Bin Zayed Al Nahyan, Abu Dhabi Crown Prince and Deputy Supreme Commander of the UAE Armed Forces, ordered the renaming of the mosque.
India's 'Chandrayaan' 3 hours away from historic Moon landing after Russia's failed attempt
The Indian's Chandrayaan-3 spaceship mission is a couple of hours away from a successful landing on the moon after a failed attempt by a Russian ship.
A similar moon exploration was undertaken by a Russian space jet but crashed on its way to landing on the mood.
However, India is on the verge of making history this Wednesday, August 23, by becoming the first country whose spaceship would land on the moon's south pole.
Source: Legit.ng