Breaking: 55 Dead As Israel Steps Up Gaza Strikes, Details Emerge
Israel reportedly raided Gaza overnight and killed no fewer than 55 people, the Hamas government confirmed in a statement
The government on Sunday, October 22, disclosed that Israel announced it was stepping up strikes and this has led to more deaths in Gaza
Hamas government hinted that more than 30 homes had been destroyed in the hours after an Israeli military spokesman announced that raids would be increased
Israel has reportedly stepped up its attack in Gaza. This is coming after it ordered civilians in Gaza to evacuate to the south.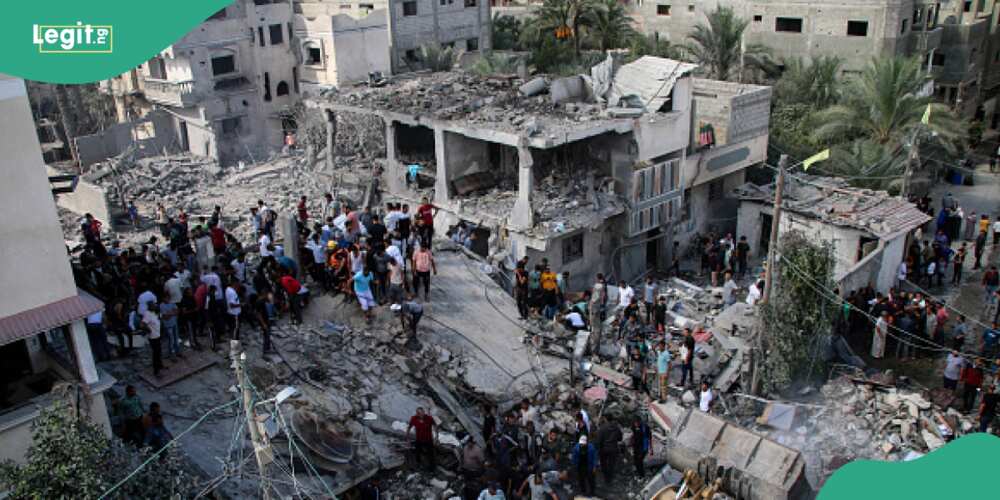 55 dead as Israel ground Gaza in overnight raid
Israel warned civilians in Gaza they would be treated as terrorist sympathisers if they did not heed their call to leave the country, and settle in the southern region of Gaza.
Legit.ng reported that the National Security Council made this known in a statement on Saturday, October 21,
The message was delivered in leaflets marked with the Israel Defense Forces name and logo from Saturday and sent to people via mobile phone audio messages across the Gaza Strip.
"Urgent warning, to residents of Gaza. Your presence north of Wadi Gaza puts your life in danger. Whoever chooses not to leave north Gaza to the south of Wadi Gaza might be identified as an accomplice in a terrorist organisation," the leaflet said.
Israel has pounded Gaza with airstrikes since the Palestinian militant group Hamas launched a deadly attack on Israeli soil on October 7.
On Sunday, October 22, Hamas said at least 55 people were killed in overnight raids on the Gaza Strip, as Israel announced it was stepping up strikes, The Telegraph reported.
"More than 55 martyrs," the government press office said in a statement on the latest night of bombing in response to the Hamas attacks on Israel on October 7.
It added that more than 30 homes had been destroyed in the hours after an Israeli military spokesman said that raids would be increased.
The Hamas government says more than 4,300 people, mostly civilians, have been killed in Israeli raids since the war started in response to the worst attacks suffered by Israel with 1,400 dead, also mainly civilians.
Israel has massed tens of thousands of troops around Gaza for a widely predicted ground invasion. It says its daily raids have already killed many Hamas leaders and military commanders.
"From today, we are increasing the strikes and minimising the danger," an Israeli military spokesman said late Saturday. "We will increase the attacks and therefore I called on Gaza City residents to continue moving south for their safety."
Israel denies involvement as 500 die in Gaza hospital attack
Meanwhile, Legit.ng reported that no fewer than 500 people have been killed while hundreds have been injured by an alleged Israeli air raid on Al-Ahli Arab Hospital in Gaza. Palestinian authorities in the besieged territory disclosed this.
A Palestinian Ministry of Health spokesperson in Gaza, Ashraf al-Qidra, said ambulance services are trying to evacuate bodies and count the dead, among whom are many children.
However, Israel Defense Forces has denied any involvement in the Gazza hospital attack.
Biden supports Israel's narrative on those responsible for Gaza hospital attack
United States President Joe Biden has revealed those who could be responsible for the attack on a hospital in Gaza.
Biden said that based on what he has seen, the hospital attack appeals like the "other team" carried out the bomb attack and not Israel.
Source: Legit.ng