BREAKING: "Only Legitimate Niger Govt Can Cut Military Ties", France Rejects Junta's Move to Sever Pacts
The urgent move by the Niger junta to sever bilateral military pacts has been countered by France
The French foreign ministry on Friday, August 4, maintained that only a legitimate government could cut off military ties
This is coming a few hours after the ECOWAS delegation exited Niamey, Niger Republic, without meeting with the junta leaders as planned
The crisis in Niamey, Niger Republic, worsened on Friday, August 4, as France rejected the Niger junta's move to cut off bilateral military ties with Nigeria, France, and other countries.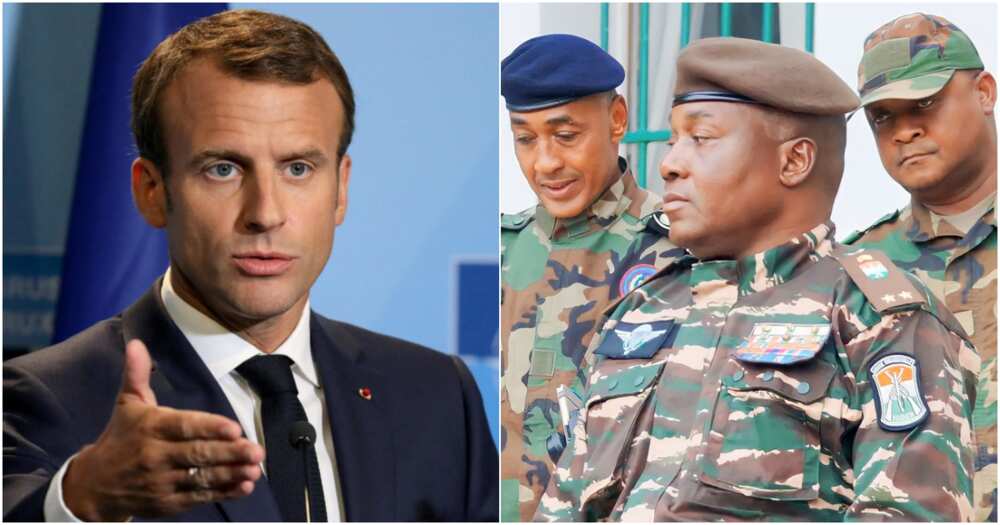 France rejects Niger Junta's move to cut off military ties
The French foreign ministry maintained that the West African country's "legitimate" leadership alone was entitled to do so, The Punch reported.
"The legal framework of France's defence agreement with Niger is based on accords that were signed with the legitimate Nigerien authorities," the foreign ministry said after the junta in Niamey said it was cancelling military cooperation agreements with Paris.
Germany urges continued 'mediation efforts' with Niger junta
Meanwhile, Germany's foreign ministry on Friday also urged continued "mediation efforts" with Niger's junta after a West African delegation failed to secure the return to power of the country's elected government, a France24 report added.
"It is important that we give space for mediation efforts," a foreign ministry spokesman in Berlin told a press briefing. "We hope that they can lead to a successful end ... a political solution."
ECOWAS team exits Niger without meeting coup leader
What could be described as a failed mission is the trip embarked upon by a team from the West African bloc, the Economic Community of West African States (ECOWAS) envoy.
The ECOWAS team left without fulfilling scheduled meetings and plans.
The delegation had arrived in the capital, Niamey, on Thursday, August 3, 2023, "but did not spend the night" as scheduled, a delegation member said Friday, August 4.
Niger Republic breaks off ties with Nigeria, details emerge
The junta in Niger Republic has cut off ties with Nigeria after the efforts of the Economic Community of West Africa States (ECOWAS) to resolve the ongoing impasse failed.
The delegation led by General Abdulsalami Abubakar (rtd) only met with representatives of the junta on Thursday.
Subsequently, Niger severed ties with Nigeria, Togo, France, its coloniser, and the United States on Friday
Niger coup leaders to recall Ambassador from Nigeria, details emerge
The General Abdourahmane Tchiani-led military junta in the Republic of Niger is planning on recalling the Nigerien Ambassador to Nigeria after failing to come to terms with the delegation of the Economic Community of West African States (ECOWAS), on the return of democracy in Niger.
The junta is also planning to recall Nigerien Ambassadors to the US, France, and Togo, as it pushes to evict French and US troops in the country while declaring an end to all Memorandum of Understanding (MoU) between France and the Republic of Niger.
The newspaper said Defence sources privy to the ongoing meeting in Niamey, the Niger capital, confirmed the development to its correspondent.
Source: Legit.ng