"We'll Spend N5bn To Renovate Governor's Office": Cross River State Governor, Otu Gives Reason
Cross River State Governor, Bassey Otu has revealed the actual amount he needed to renovate his office
The governor disclosed that he needed the sum of N5billion to renovate his offices in Abuja, Lagos and elsewhere
According to Otu, his office, the governor's office is not up to the standard that would appeal to investors willing to do business with the state
Governor Bassey Otu, of The Cross River State, has said that he needed the sum of N5 billion to renovate the state governor's office in Calabar, the state capital to befit his current status.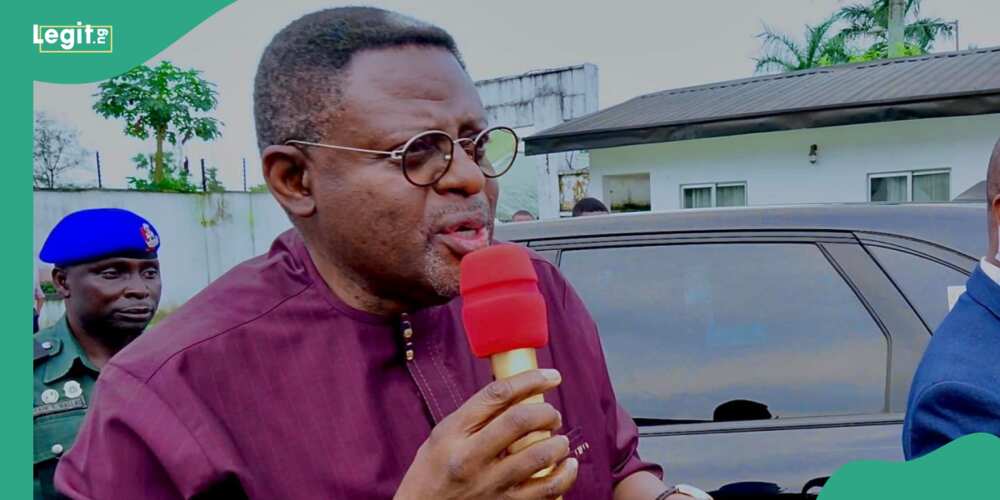 Governor Otu made this known on Friday, September 15, during an interaction session with newsmen in the state, saying that governor's office ought to be the signpost in the state, SaharaReporters confirmed.
The governor said he would also renovate all the state liaison offices in Abuja, Lagos and elsewhere to similarly carry the same signpost insignia.
Otu stressed that the governor's office was not befitting when he took over power and that renovating it to a befitting standard would help to appeal to investors willing to do business with the state.
"The renovations will be done with transparency. It is estimated that the costs of the renovations will be between N3 to N5 billion. But for now the contractors are working pro bono," PM News quoted the governor as saying.
Education: APC Gov to revitalise, digitalise library for students, researchers, others
Legit.ng reported earlier that Bassey Otu has vowed to revitalise the State Library and digitalise it for students, researchers, and other users of the academic structure.
Governor Otu made this pledge on Monday, June 12, during a facility visit to the dilapidated library in Calabar, the state capital.
Governor Otu also noted that the revitalisation of the library would help foster the reading culture of students in the state.
Demolition, banned sit-at-home, other key decisions made by new state governors within 20 days in office
After assuming office on Monday, May 29, some governors have hit the ground running with some drastic decisions.
Plateau State's Governor Caleb Mutfwang, Benue's Governor Hyacinth Alia, and Sokoto State's Governor Ahmad Aliyu, within 20 days in office, have revoked appointments made by the previous administrations.
While in Cross River state, Governor Bassey Otu ordered the verification of civil servants working there.
Source: Legit.ng