"Lagos is a Yoruba land": State Assembly to Make Laws Protecting Indigenes' Property, Obasa Declares
Honourable Mudashiru Obasa said the Lagos assembly would make laws protecting the property and economy of the indigenes
Obasa described Lagos as Yoruba land and said the laws passed by the assembly will now be translated into the Yoruba language
He stated this on Tuesday, June, 6, during his acceptance speech as the speaker of the house for the 3rd term
Ikeja, Lagos state - Speaker of the Lagos State House of Assembly, Mudashiru Obasa, has described the state as a Yoruba land, adding that the assembly will do anything within its power to protect the interest of indigenes
Obasa disclosed that the assembly would make laws to protect indigenes' property and economy.
He stated this during his acceptance speech as the speaker of the house for the 3rd term on Tuesday, June 6, TheCable reports.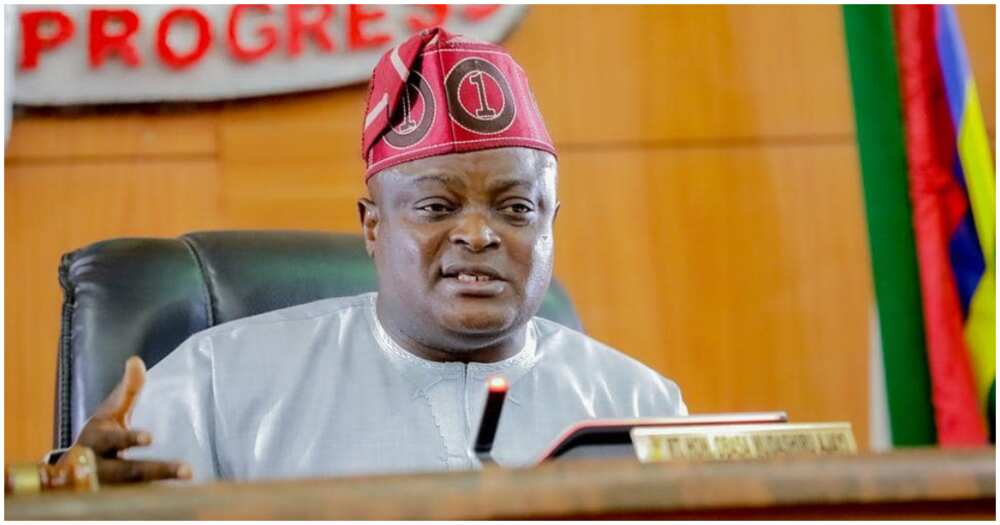 According to Obasa, Lagos is a "Yoruba land", and the laws passed by the assembly will now be translated into the Yoruba language.
The speaker added that the lawmakers would "reverse all that is reversible to protect the interest of the indigenes".
He said:
"Lagos is a Yoruba land as against the assertions of some people that it is a no-man's land.
"Therefore, part of our legislative agenda is to ensure the translation of laws passed by this House to Yoruba Language.
"We also aim at achieving our collective goals of creating a robust legislative framework that protects the interest of our people.
"Going forward in this wise, we are going to employ all legislative instruments for the support of the indigenes of Lagos.
"There would be laws and resolutions in the areas of economy and commerce, property and titles."
Obasa re-elected as Lagos assembly speaker for 3rd term
Legit.ng earlier reported that Mudashiru Obasa has been re-elected as the Speaker of the Lagos State House of Assembly for the third term.
Obasa, who represents Agege 1 constituency, emerged as Speaker of the 10th Lagos House of Assembly shortly after Governor Babajide Olusola Sanwo-Olu, proclaimed the Assembly on Tuesday, June 6.
39 Lagos lawmakers-elect reveal who they're backing to become speaker
Thirty-nine lawmakers-elect of the Lagos State House of Assembly, have revealed their preferred candidate to become the next Speaker in the 10th Assembly.
The chairman of the House Committee on Transportation, Hon. Adewale Temitope, said the 39 lawmakers-elect are supporting Speaker Mudashiru Obasa for continuation.
Source: Legit.ng