BREAKING: Femi Gbajabiamila Dissolves 9th House of Representatives
The House of Representatives on Wednesday, June 7, 2023, held its valedictory as a way to formally close up the Assembly, giving way for the new incoming legislature
Speaker Femi Gbajabiamila on Wednesday, delivered his valedictory speech as he officially dissolved the 9th assembly
In an emotion-laden speech, Gbajabiamila said the joint efforts in nation-building by members were to ensure that the dreams of the nation's founding fathers did not die
Memories and emotions ran high during the House of Representatives valedictory session on Wednesday, June 7.
This is as the outgoing Speaker of the House of Representatives, Femi Gbajabiamila has officially dissolved the 9th Assembly, PM News reported.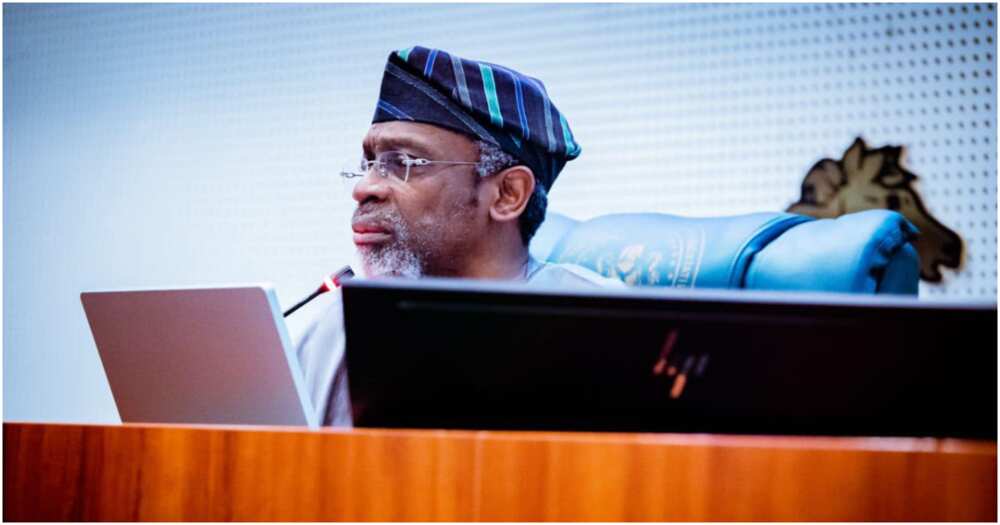 Gbajabiamila dissolves the 9th Assembly
Gbajabiamila occupied the seat as Speaker of the Ninth Assembly from 2019 to 2023, The Punch report added.
Rep. Alhassan Ado-Doguwa, the Majority Leader of the House, had moved a motion to commence the valedictory session, while Rep. Ndudi Elumelu, the Minority Leader, seconded the motion.
In an emotion-laden valedictory speech, Gbajabiamila said:
"I will miss all of you and miss this house, you have enriched my life and I cannot express how much you have impacted the house.
"We have come, we have seen and while we are yet to conquer, my enthusiasm to serve remained undiminished."
Since he assumed office, Gbajabiamila said the house had changed drastically in such a manner he had not witnessed, adding that the change came with speed as witnessed in the last four years, Vanguard report further confirmed.
George Akume sworn in as new SGF, makes promises to Nigerians
The newly sworn-in Secretary of the Government of the Federation (SGF), George Akume, has made a promise to Nigeria after he was appointed by President Bola Tinubu, on Friday, June 2.
Akume promised not to disappoint Nigerians, President Tinubu, and his party, the All Progressive Congress (APC).
The former Benue state governor stated this while addressing newsmen after he was sworn in by President Tinubu, on Wednesday, June 7.
Shehu Sani, Omokri, others react as Tinubu names Gbajabiamila Chief Of Staff, picks Buhari's minister as SGF
Reno Omokri, a former media aide to President Goodluck Jonathan, former Kaduna Central senator, Shehu Sani, and others have reacted to the appointment of Femi Gbajabiamila and George Akume as Chief of Staff and Secretary to the Government of the Federation respectively by President Bola Tinubu.
Omokri said President Tinubu has kept his promise of not Islamising his administration by appointing a Muslim South Westerner as his Chief of Staff and a Christian Middle-Belter as SGF.
Source: Legit.ng