Details Emerge as President Tinubu Meets With Falana in Aso Rock Over Subsidy Removal, Economy
Details of the Saturday meeting between President Bola Tinubu and Femi Falana have emerged
The meeting was said to be about issues surrounding the fuel subsidy removal by President Tinubu after he assumed office
Falana, who confirmed the meeting, said they focused on how to tackle waste in government and recover looted funds
Aso-Rock, Abuja - Details of the meeting between President Bola Tinubu and human rights lawyer Femi Falana (SAN) at the Presidential Villa on Saturday, June 3, have emerged.
The closed-door meeting was to discuss issues surrounding the looming strike following the removal of the petrol subsidy, Nigerian Tribune reported.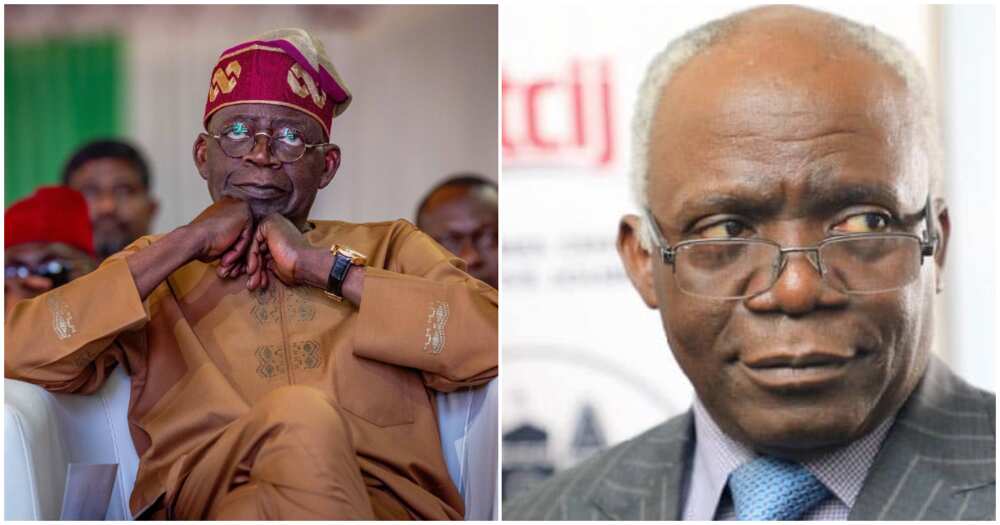 Falana was said to have also discussed how best to recover funds stashed in foreign countries and navigate the war against corruption with Tinubu.
The meeting was reportedly a sequel to a letter that Falana had written to President Tinubu on the economy and how he could succeed.
The newspaper reported that an associate of President Tinubu, who confirmed the meeting said:
"Falana met with Tinubu on Saturday. They discussed how best to handle the removal of subsidy and how to ensure that the pain of Nigerians does not worsen.
"Tinubu will continue to consult respected Nigerians in his administration, including members of the opposition and civil rights groups."
Falana gives details of the meeting with President Tinubu
According to Tribune, the senior advocate confirmed the meeting in a telephone conversation.
The human rights lawyer said:
"It is true that I met with President Tinubu on Saturday. We discussed subsidy and how to tackle waste in government and recover looted funds. The aim is just to ensure that the economy picks up quickly."
Fuel subsidy removal: Tinubu gets fresh demands from TUC to avert strike
Meanwhile, Legit.ng reported that the Trade Union Congress (TUC) on Sunday, June 4th, presented to the representatives of President Bola Ahmed Tinubu a list of demands to be met following the removal of petroleum subsidy.
At the meeting, the TUC presented a list of demands to the government, including increasing the minimum wage to cushion the effects of the rise in fuel prices, tax holidays for certain categories of people and reverting to the status quo as negotiations continue.
Fuel subsidy: Ex-NLC boss Adams Oshiomhole speaks on Tinubu's contingency plan
Former chairman of the Nigerian Labour Congress (NLC), Comrade Adams Oshiomhole, said he is confident that President Bola Tinubu will overcome his current ordeals to remove fuel scarcity.
He made this known on Sunday, June 5, during a late-night interview with Channels Television.
Source: Legit.ng