BREAKING: Asiwaju Bola Ahmed Tinubu Sworn In as President
The Chief Justice of Nigeria (CJN), Justice Olukayode Ariwoola, has sworn in Asiwaju Bola Ahmed Tinubu as the 16th President of Nigeria.
President was declared President after completing the recitation of his oath of office conducted by the CJN.
Shortly after the formalities were done, President Tinubu hopped into the inauguration van and waved to all sides of the crowd at the iconic Eagle Square
FCT, Eagles Square - Bola Ahmed Tinubu has been sworn in as the 16th Nigerian President. He mounted the podium alongside his wife, Senator Oluremi Tinubu.
Former President Muhammadu Buhari and his wife, Aisha Buhari, stood behind Tinubu as he swore an oath.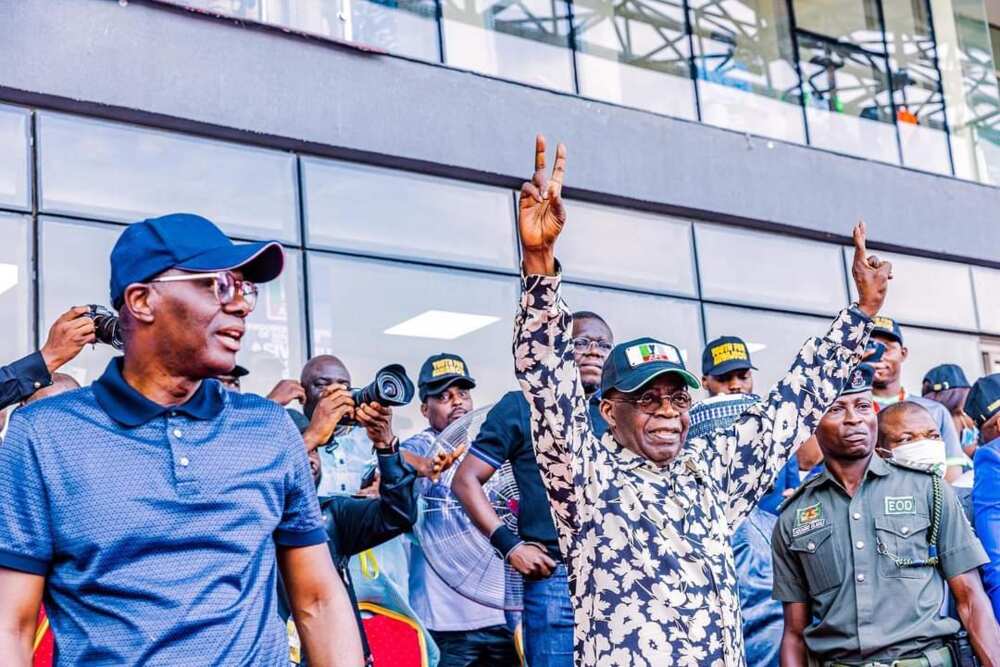 Similarly, the former governor of Borno State, Senator Kashim Shettima, was sworn in as the 16th Vice President of the Federal Republic of Nigeria.
Like Tinubu, the Chief Justice of Nigeria (CJN), Olukayode Ariwoola, at the iconic Eagles Square, Abuja, administered the oath of office.
Thousands of Nigerians, delegates and diplomats from around the world present at the venue were seen applauding the historic moment.
Shortly after the swearing-in, the military formalities were held where the old defence flags of the administration of ex-President Buhari were brought down and that of President Bola Tinubu was hung up to symbolise the beginning of a new era.
After completing the protocol, Ex-President Buhari stepped down from the podium and headed into a black SUV, waving to the crowd for the last time as he left the venue for the Nnamdi Azikiwe International Airport.
President Tinubu, on the other hand, entered the inaugural van and waved to all sections of the crowd who cheered his name as the parade session continued afterwards in commemoration of the new President.
Buhari Jets to Daura After Handing Over to Nigeria's New President Bola Tinubu
Meanwhile, the outgoing President Muhammadu Buhari has left the inauguration venue in Abuja after handing over to Bola Tinubu, the new president of Nigeria.
The former Nigerian leader and his wife are presently at the airport, the Nnamdi Azikiwe International Airport Abuja.
According to reports, former President Buhari will be headed for his hometown in Daura, Katsina State.
Source: Legit.ng