Bola Tinubu's Path to Power: A Timeline of His Political Journey
Known to many as a political master strategist and a game changer, the President-elect, Asiwaju Bola Tinubu's political journey to Aso Rock is nothing short of years of experience, political investment, courage, and building bridges, amongst others.
Tinubu, came into the national limelight, politically in 2015 when he helped the incumbent president, Muhammadu Buhari become president after four failed attempts.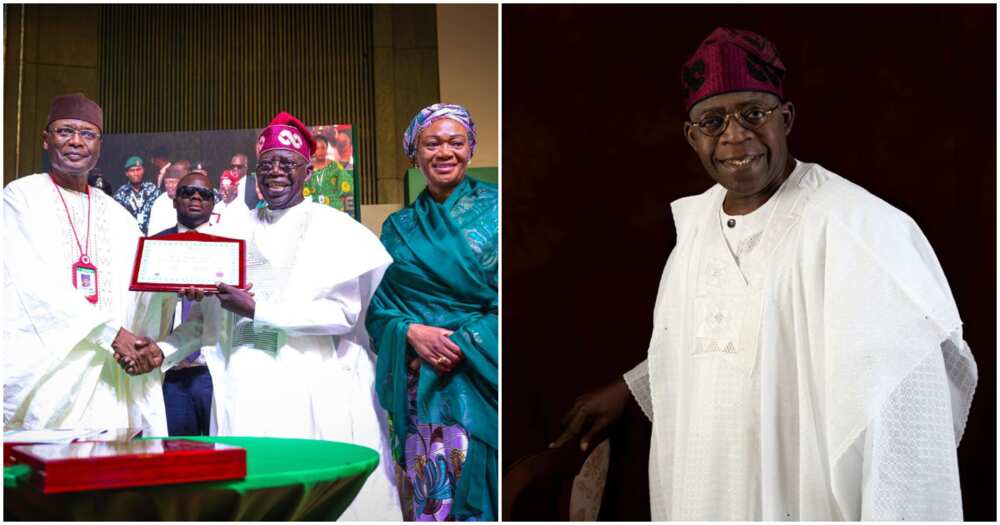 In this write-up, Legit.ng, will focus on Tinubu's political journey from a Lagos-West Senator in 1993 to President-elect in 2023.
Tinubu's early days in politics
Tinubu joined the Social Democratic Party (SDP) in 1992 and was elected senator to represent Lagos West district under the platform of the SDP.
PAY ATTENTION: Сheck out news that is picked exactly for YOU ➡️ find the "Recommended for you" block on the home page and enjoy!
The third republic was, however, aborted after the then military Head of State, Ibrahim Babangida (IBB) annulled the June 12, 1993 presidential election that produced Chief M.K.O. Abiola.
In his attempt to realise Abiola's mandate, Tinubu joined the National Democratic Coalition (NADECO) to fight against the imprisonment of MKO by the late General Sani Abacha's regime. He later fled into exile in 1994 and became a financier of the group.
Abacha came into power after he overthrew the interim government of Ernest Shonekan, after 84 days in office.
Tinubu's return to Nigeria from exile
After spending 4 years in exile, Tinubu returned to Nigeria in 1998 after the death of Gen Abacha to continue his political career.
Recall that General Abdulsalami Abubakar had agreed to return Nigeria to democracy in 1999 after he took over power in 1998.
Tinubu became Lagos state governor in 1999
Tinubu emerged as the Lagos State governorship candidate of the Alliance for Democracy (AD) in January 1999 after defeating other aspirants in the primary election.
He also won the gubernatorial election to become governor in 1999.
Tinubu won his re-election in April 2003 after he survived President Olusegun Obasanjo's attempt to sweep all the Southwestern States into his ruling People's Democratic Party (PDP).
The President-elect outsmarted the ruling PDP and their federal might to become the only surviving AD governor in the southwest.
It was during this period that he became a political godfather, building a political dynasty and investing in people like Vice President, Prof Yemi Osinbajo, Former Lagos state governor and minister of Works and Housing, Babatunde Fasola, former Osun state governor and minister of Interior, Rabiu Aregbesola
Obasanjo seized Lagos funds meant for local councils
In continuation of his power tussle with President Obasanjo, the federal government seized funds meant for local councils in Lagos state in spite of the decision of the Supreme Court against Obasanjo.
The federal government seized funds following Lagos state government's plan to create new Local Council Development Areas (LCDAs) to meet its large population's needs.
Tinubu declares to run for presidency
In January 2022, Tinubu declared his intention to run for the 2023 presidential election after a meeting with President Muhammadu Buhari at the presidential villa in Abuja.
The former Lagos state governor was the first in the APC to announce his presidential ambition,
Buhari's body language
Unlike Tinubu, who was all out in support of President Muhammadu Buhari during his quest to become president in 2015 and during his re-election in 2029, Buhari did not endorse Tinubu's candidature until after the APC primaries.
Recall that during an interview in June 2021, Buhari said: "You cannot sit there in Lagos… and decide the fate of APC on zoning."
The "Emi Lokan" outburst
Tinubu made the "Emi lokan" (it is my turn) remark in Abeokuta, Ogun State while addressing delegates of the All Progressives Congress (APC) in June 2022.
Tinubu stated that it was his turn to become president after helping President Buhari emerge president in 2015.
Tinubu fought Emefiele over naira crush
It appeared Tinubu found a home in Abeokuota, the Ogun state capital to voice out the deepest thought of his heart
During his campaign in Abekuota, the President-elect spoke out against the ill-fated currency redesign policy of the Central Bank of Nigeria (CBN) Godwin Emefiele, and fuel supply shortage that had lingered for several months across the country.
Tinubu wins presidential election with over 8m Votes
At the break of a new month on March 1, the Independent National Electoral Commission (INEC) declared Tinubu the winner of the Saturday, February 25, presidential election, having scored 8,794,729 votes.
The President got the required 25 per cent in 30 states to defeat his major opponents, Atiku Abubakar of the Peoples Democratic Party (PDP) who came second with 6,984,520 votes and followed by Peter Obi of Labour Party (LP), who scored 6,101,533 votes.
Source: Legit.ng