Aftermath of presidential election: Rivers, other states Obidients are targeting to win
The result of the February 25 presidential election has continued to generate reactions and anger among some Nigerians
Some of them are referring to INEC as 'High Neck' while others refer to it as 'Eye Neck' to express their disappointment at the commission
The presidential election was keenly contested by the top 3 candidates, where they all won 12 states each
FCT, Abuja - From referring to the Independent National Electoral Commission, INEC, as 'High Neck', to calling the commission 'Eye Neck,' some Nigerians have continued to express their anger and disappointment over the outcome of the just concluded presidential election.
Legit.ng recalls that in a keenly contested election, Bola Tinubu of the All Progressives Congress, APC, defeated PDP's Atiku Abubakar and Labour Party's Peter Obi to emerge president-elect ahead of the official inauguration billed for May 29.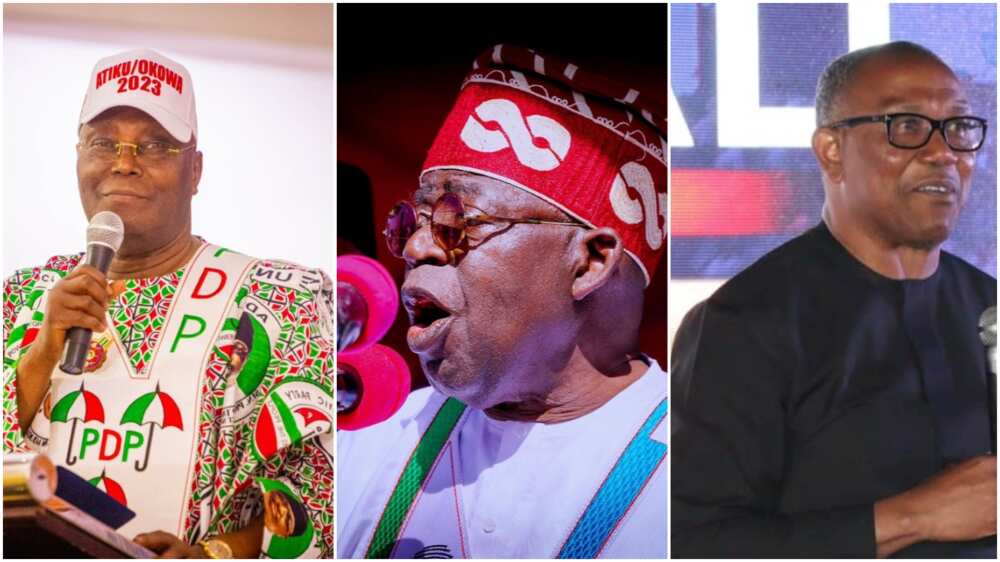 Tinubu polled a majority vote of 8,794,726, followed by Atiku Abubakar, who polled a total of 6,984,520 votes. This was closely followed by the Labour Party, LP's Peter Obi, who got 6,101, 533 votes.
But analysts, observers, and many voters have faulted the exercise, which they said was marred by vote-baying, voters' intimidation, violence, and technical hitches on the part of INEC alongside other logistics issues.
PDP, LP reject results
Both the PDP and the Labour Party have rejected the result of the election. They have requested through the court to be allowed to inspect materials used for the election.
The LP has equally filed a suit requesting a total cancellation of the polls after INEC failed to transmit results directly from the poling units as assured ahead of the poll and as stated in the electoral act.
According to the Labour Party's presidential candidate, Peter Obi, the mandate stolen from him will be reclaimed. In a speech, he said:
"Let me reiterate and assure my good people of Nigeria that we will follow all available legal and peaceful procedures to reclaim our mandate."
He consequently urged his supporters not to be so disturbed but to come out to vote for the candidates of the LP in this Saturday's election.
Obi's comment inspires Obidients
His comment has further ignited a fresh campaign ahead of the governorship election holding this Saturday.
Legit.ng observed that Obidients have vowed to grab power from State Governors who deprived them of victory in their states through alleged manipulations and intimidation. Some of the states the Obideints have vowed to grab from governors they considered worked against Obi's aspiration are Akwa Ibom, Rivers, Lagos, Adamawa and Benue.
Payback for Wike
It has been alleged at different quarters that Wike, the Rivers State Governor worked for the victory of Bola Tinubu in Rivers State, intimidating, harassing and stopping Obi's supporters from exercising their franchise on the election day.
A source told Legit.ng that Wike had threatened to sack any Local Government Chairman that fails to deliver his local govt during the election. This made all the chairmen to go all out with the support of the state security apparatus to shield them from harm.
A Peter Obi supporter and senior lawyer in Port Harcourt who does not want his name in print said it will be tough for Wike in the Saturday Guber poll if INEC and the federal government provide the necessary security support to protest them against Wike's men during the polls.
He said:
"We the Obideints are ready to vote out Wike's candidate in this Saturday's election. But my issue will be INEC. Can they provide a safe environment for a free and fair election? Boys are not smiling.
"What Wike and his people did to us was terrible. We won that election but they used everything to deny us the victory. It's payback time. Come this Saturday, Mrs. Beatrice shall be crowned."
But Governor Nyesom Wike has said that the victory of Bola Tinubu at the just concluded election has settled the imbalance that would have occurred if another northerner had emerged. He is yet to comment on his role in Rivers State.
Obidients angry with Benue Guber candidate
Similarly, Obidients in Benue State have vowed to embark on voting vendetta against the All Progressives Congress candidate in the state, Father Aliya, saying that for a Reverend Father to now begin to campaign and support a Muslim-Muslim ticket, his interest may not be exactly to transform Benue, but for personal gains.
Andrew Otene, a supporter of the Obi/Datti presidency, said:
"It will be difficult for Father Aliya to win the Benue governorship election because he is running with an APC agenda. The APC government has done nothing to address our security challenge since the outgoing government of Ortom has been shouting and calling for help. Just a few days after the same party claimed victory in Benue, many were attacked and killed by herdsmen. We can't gamble like that."
But the APC in Benue and it's candidate believe Alia has what it takes to change the narrative upon assumption of office.
Recall that the fight between the APC and the PDP in the state is mainly a struggle for leadership of the state by two former allies, George Akume and the sitting Governor, Samuel Ortom. But Labour Party supporters in the state may be taking their own fight from a different angle.
Labour Party moves to repeat feat in Lagos
Similarly, in Lagos State, it is a fight to finish, according to LP supporters. Angered by the recent outcome of the presidential election in Lagos State, 03 media boss, Alex Ozone, said the Lagos State election is as important as the presidential election.
He said Lagos was no man's land, urging all LP supporters to troop out on Saturday to enthrone a new leadership in the state.
PDP jitters in Akwa Ibom
Similarly, the Labour Party in Akwa Ibom state has vowed to pay Governor Udom Emmanuel back in his own coin by forming an alliance with the Young Progressives Party, YPP. This development has since sent fears into the camp of the PDP in the state.
Legit.ng has observed that despite the euphoria of its loss in the presidential election, social media campaigns are on for the LP to install their governorship candidates across the country. Whether this is realizable is yet to be seen.
Source: Legit.ng