2023 Presidency: Post-Election Report Reveals Inconsistencies in Rivers, Imo Election Results
The aftermath of the 2023 presidential polls has been brought to the fore in Yiaga Africa's post-election report
According to the report, inconsistencies were discovered at the polling units in two notable states
Rivers and Imo state elections were flagged as the two states where irregularities were discovered
PAY ATTENTION: Сheck out news that is picked exactly for YOU ➡️ click on "Recommended for you" and enjoy!
FCT, Abuja - The post-election report released by Africa's foremost election observer group, Yiaga Africa, has confirmed inconsistencies in the election results of two states in southern part of Nigeria.
Yiaga Africa made this known on Wednesday, March 1, at its post-election press briefing attended by Legit.ng at the Transcorp Hilton in Abuja.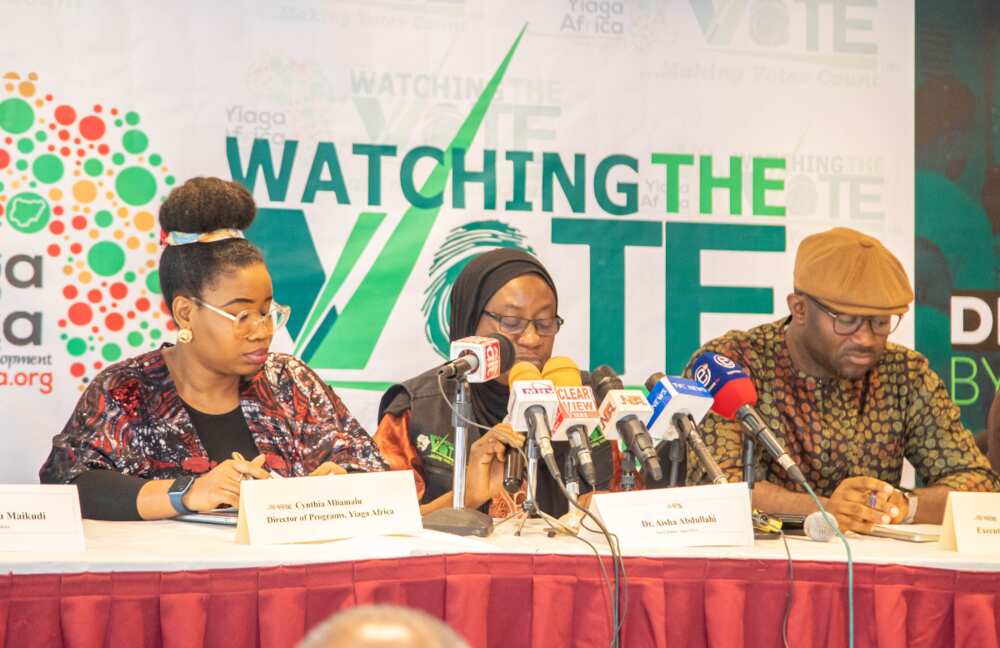 The report reeled out by Dr Aisha Abdullahi, the board chair for Yiaga Africa, revealed that the Imo and Rivers states' elections were riddled with inconsistencies.
While speaking on the result released by the Independent National Electoral Commission (INEC), she said:
"The state-level presidential results for Imo and Rivers are inconsistent with the Yiaga Africa WTV projections for both states. For Rivers, INEC announced 231,591 votes for APC or 44.2 percent; 175,071 for LP or 33.4 percent; and 88,468 for PDP or 16.9 percent.
"This is in sharp contrast to the Yiaga Africa WTV estimates for Rivers which are: APC 21.7 percent ±5.0 percent; for LP 50.8 percent ±10.6 percent; and PDP 22.2 percent ±6.5 percent.
"For Imo, INEC announced 66,406 for APC or 14.2 percent; 360,495 for LP or 77.1 percent; and 30,234; for PDP or 6.5 percent. Again, this is at variance with the Yiaga Africa WTV estimates for Imo which are: APC 5.1 ±2.3 percent; LP 88.1 percent ±3.8 percent; and PDP 5.7 percent ±2.3 percent."
It will be recalled that in the last quarter of 2022, there were agitations from Yiaga Africa and other civil society groups seeking the withdrawal of some INEC Resident Electoral Commissioners with political affiliations and records of corruption.
When asked by Legit.ng if the INEC officials were later removed or were retained and cleared by the Senate, Yiaga board member Ezenwa Nwagwu said there was a series of push and agitations over the matter.
He revealed the individuals were retained despite numerous efforts by civil society groups to change the anomaly.
Nwagwu failed to comment on whether the situation impacted the election result declared by INEC.
President Buhari Refuses to Withdraw INEC REC Nominees Accused of Corruption
In another development, President Muhammadu Buhari said he would not withdraw some of the nominees for the INEC Resident Electoral Commissioners position.
The nominees were accused of corruption and partisanship by some opposition political parties and CSOs.
Some of the nominees are Muhammad Bashir, Sylvia Agu, Pauline Onyeka and Queen-Elizabeth Agwu.
2023 Polls: "Publish List of Invalidated Voters," Yiaga Africa Tells INEC
Meanwhile, there is a growing appeal for INEC to conductively hasten the process of PVC collection.
Yiaga Africa urged INEC to help bridge the gap of having too many crowds at the PVC centres by publishing the names of invalidated registrants.
Executive director of the electoral observation group, Samson Itodo urged INEC to also consider extending the PVC collection deadline.
Source: Legit.ng