Nigerian Stock Investors Lose N162 Billion After Five Hours Trading, as New President Emerges
Stock investors in Nigeria lost N162 billion within five hours of trading on the Nigerian Stock Exchange
The All Share Index (ASI) dropped by 0.53%, with losses recorded in Airtel Africa, ETI, United Capital, Lafarge Africa, and UACN, among others
Despite the downturn, the market breadth closed positively, with 30 stocks gaining and 12 declining
Nigeria stock investors kicked off the new month of March with N162 billion loss, ending five-day of gains.
The losses recorded came on the same day, Bola Tinubu received his certificate of return as Nigeria's next president.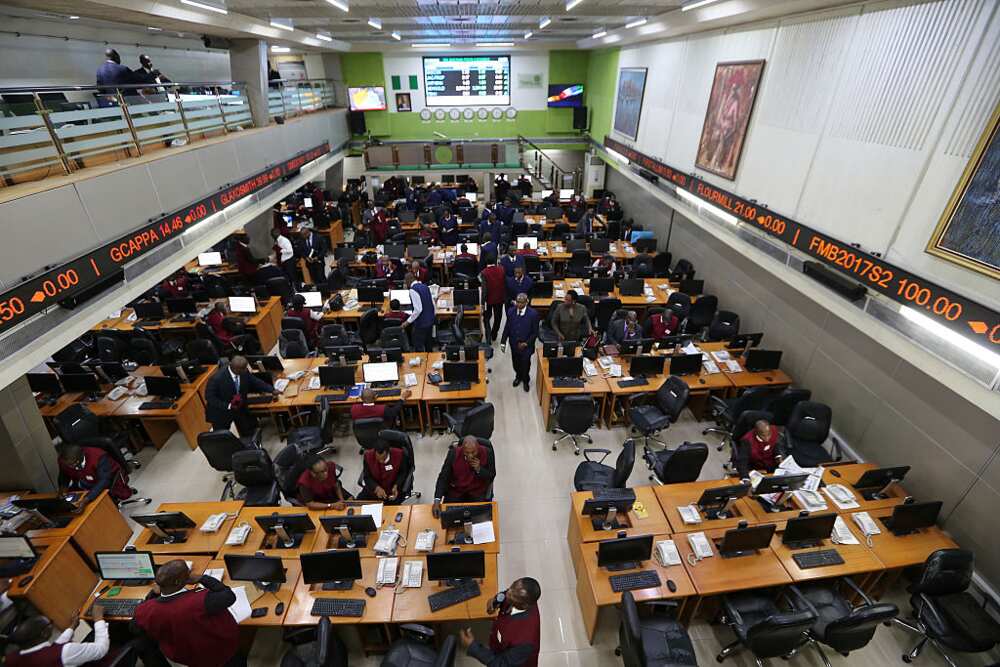 How did investors lose that much
Data obtained from NGX showed that after five hours of trading on Wednesday, 1 March 2023, the All Share Index (ASI) fell by 297.65 absolute points, representing a decrease of 0.53% to close at 55,508.61 points.
Accordingly, investors lost N162 billion in value as market capitalisation declined to N30.239 trillion.
Daily Trust reports that 29 companies' stocks gained during the trading, but they were not enough to counter the impact of 12 companies' stocks that dropped in value.
The companies that caused the N162bn loss
The decline in the stock market was driven by losses in several medium and large capitalised stocks such as Airtel Africa, Ecobank Transnational Incorporated (ETI), United Capital, Lafarge Africa, and UAC of Nigeria (UACN).
ETI, a bank conglomerate, was among the losers, shedding 7.69% to close at N12 per share, followed by Airtel Africa, a communication giant, which lost 5.25% and closed at N1,535 per share.
WAPCO, a cement producer, also saw a decrease in its share price by 1.46% to close at N27. Other companies that lost in value included John Holt, which declined by 9.66%, and May and Baker, which lost 1%.
The strong performing companies
Veritas Kapital Assurance was the best-performing company on March 1, with its share price gaining 10% and closing at 22 kobo.
Ardova Plc (AP) followed closely with a gain of 9.76%, closing at N18.55 per share, while Wema Bank gained 8.75% and closed at N4.35 per share.
The Initiates Plc (TIP) saw an appreciation of 8.33% to close at 52 kobo, and Geregu Power gained 8.20% to close at N298.10 per share.
The volume of shares
The overall number of transactions on the Nigerian Stock Exchange surged by 138.57% to 4,340 deals totaling 565.823 million units valued at N6.579 billion.
The most active shares were those of Capital Hotel, with 333.236 million shares trading hands for N2.333 billion.
Transnational Corporation followed with 47.893 million shares worth N67.002 million, while Guaranty Trust Holding Company (GTCO) traded 46.626 million shares valued at N1.258 billion.
Oando's shares were traded at 19.977 million units worth N102.326 million, and Access Holdings transacted 19.417 million shares worth N186.210 million.
Dangote makes N293bn from cement sales in 2022
Meanwhile, in another report, reportAfrica's richest man will be walking home with over N293 billion as dividends from his cement company, Dangote Cement.
Aliko Dangote's cement company recorded a revenue jump of 16.96% in 2022 to hit a high of over N1.61 trillion
Dangote's dividend is more than the budget of 25 states for the fiscal year of 2023
Source: Legit.ng