ANA congratulates Tinubu, warns Obasanjo against undermining democracy
Asiwaju Bola Ahmed Tinubu, the president-elect, has been hailed on his victory at the just concluded election
The Arewa New Agenda (ANA) sees Tinubu's victory as well-deserved, saying the country would fare better under his watch
ANA, however, warned former president Olusegun Obasanjo against truncating democracy
The Arewa New Agenda (ANA) has congratulated Asiwaju Bola Ahmed Tinubu for winning the 2023 presidential election.
Legit.ng reports that the group also warned former president Olusegun Obasanjo against truncating the democracy of the country with inciting press releases.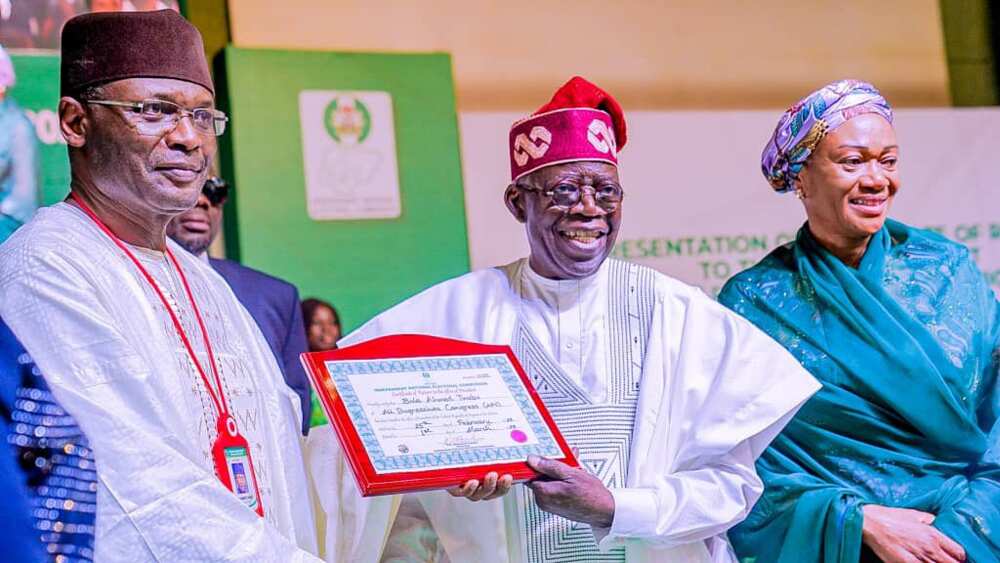 While describing Obasanjo's administration as the worst democratic adherence to processes and procedures, the group fingered him as the reason the PDP became a disdainful outcast with no respect for the rule of law and internal democracy.
The group said he was the chief architect of the collapse of the PDP as a formidable party and therefore, posit that he represents the worst advocate of political righteousness.
In a statement by the convener of the group, Senator Ahmad Abubakar Moallahyidi, urged all Nigerians to close ranks and support the incoming administration to  take the country to greater heights
He also  called on the good people of  Nigeria to disassociate themselves from the inciting press release by former president Obasanjo as he is trying to undermine  democracy that  people have laboured for since the commencement of the release of guidelines by INEC for the 2023 national elections as this is unacceptable, we encourage all and sundry who have issues to seek redress through laid processes."
Explain how the presidential election was rigged, ANA tells Obasanjo
He challenged the former president to explain how Tinubu was rigged and called to deliver Lagos. 
He added:
"Ganduje couldn't deliver Kano, El-Rufai couldn't deliver Kaduna, Buhari couldn't deliver Katsina; APC chairman couldn't deliver Nasarawa; Ahmed Lawan couldn't deliver Yobe; Lalong couldn't deliver Plateau and even lost his senatorial bid; Philip Aduda couldn't deliver Abuja; southeast governors lost in the southeast, is this same election that you are vilifying as a corrupted process?
"Food for thought: Peter Obi wins Tinubu's Lagos Atiku wins Buhari's Katsina. Tinubu did not even win Osun, Atiku did. Kwankwaso wins Ganduje's Kano Peter Obi wins Abdullahi Sule's Nasarawa Atiku wins Mai Mala's Yobe.
"What other transparency can be better than this? We of the Arewa New Agenda commend President Buhari for opening up the space for everyone to exercise his/her franchise and discharge his responsibility to the nation by voting freely. We encourage the INEC chairman and his hardworking staff to remain steadfast and undaunted in this national assignment."
Senator Moallahyidi however commended security men and women for holding the country together to ensure a peaceful election on Feb 25th 2023.
Moallahyidi:
"We look forward to seeing another successful outing on March 11th 2023. Finally, we suggest that Chief Obasanjo consider being circumspect in his speeches lest he misleads the public into assuming that he has anything good to offer."
Asiwaju Bola Ahmed Tinubu: Buhari congratulates president-elect
Meanwhile, Legit.ng had previously President Muhammadu Buhari hailed president-elect Asiwaju Bola Ahmed Tinubu for winning the presidential election conducted by the Independent National Electoral Commission (INEC) on Saturday, February 25.
It was reported that in his congratulatory message to Tinubu on Wednesday, March 1, President Buhari described the former Lagos governor as the best person for the job with whom he promises to work "to ensure an orderly handover of power."
The president noted that despite Africa's recent history of military coups this election demonstrates democracy's continued relevance and capability to deliver for the people it serves.
Source: Legit.ng